23 Incredible Egg Carton Crafts Kids Can Make
Recycled art projects like these egg carton crafts are a great way to teach kids about reusing materials rather than tossing them out in the trash. What can you make out of an egg carton? The possibilities are endless! With a little imagination and creativity, you can make lots of fun things.
I prefer cardboard egg cartons because they're recyclable and compostable. But you can't always find eggs in cardboard cartons in the stores, right? If you're working with Styrofoam egg cartons, you'll need to make sure to use acrylic paint because washable paints (like tempera) will not adhere to foam.
Notice: This post contains affiliate links. To learn more, read our Disclaimer Here.
With that in mind, let's get to some common craft materials you'll find useful when making egg carton crafts for preschoolers.
Materials Needed for Crafts with an Egg Carton
Egg Carton Animals
We'll kick off this list of things you can make with egg cartons with some adorable animal crafts. From bees to sharks and everything in between, these projects will surely get your creative juices flowing.
1. Egg Carton Bee
Warm weather is abuzz with all sorts of interesting bugs, so make these bees in honor of all the flying critters you see! It's a great way to introduce kids to the benefits of bees to our ecosystem while you're crafting together.
2. Egg Carton Shark
Can you hear the Jaws theme in your head now? Fortunately, these sharks aren't scary at all and are lots of fun to make for Shark Week or as part of a unit study on marine animals.
Instead of using the egg cups from the carton, you'll use the pointy bits to make the shark's head and body. Add funs and a face, and your ocean predator is complete.
Other fun crafts:
3. Goldfish Craft
You can't help but smile at these colorful egg carton goldfish. Tissue paper is the perfect material for their flowy fins, and the mouth is made using a pipe cleaner. Add black and white pom-poms for the eyes, or use googly eyes, if you'd prefer.
4. Frog Finger Puppet
Act out your favorite frog-themed stories or songs with these interactive frog finger puppets. Stick your fingers in the two cups to make the frog's mouth open and close. Time to catch some flies!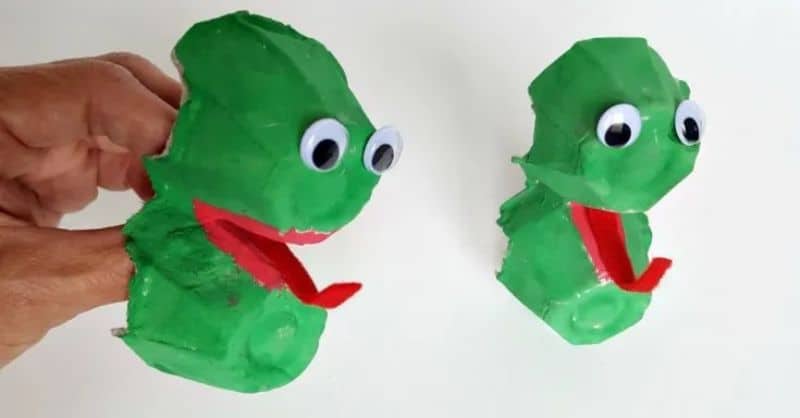 5. Egg Carton Bunnies
When Easter comes around, keep these egg carton bunnies in mind for holding popular treats like Cadbury mini eggs or jellybeans. Yum! The long craft foam ears and fluffy pom-pom nose make these bunnies extra cute.
6. Egg Carton Turkeys
Create some turkeys to adorn your Thanksgiving table this year. You can even put names on them to serve as placeholders! The craft feathers are a colorful and whimsical touch.
Top picks:
7. Ant Craft
Use three segments of an egg carton to make a model of an ant. Explain that it has three parts — head, thorax, and abdomen — while you paint and assemble each part. What a fun project for an insect unit study!
8. Egg Carton Butterfly
A group of four egg cups is the perfect shape for a butterfly! Paint the cups beautiful colors, and add a pipe cleaner body in the middle (with antennae).
9. Egg Carton Ladybugs
Did you know that ladybugs (or ladybirds) are considered good luck in some cultures? These beautiful cute bugs go great with a story about ladybugs, such as The Grouchy Ladybug, Ladybug Girl, or Ten Little Ladybugs.
10. Egg Carton Sheep
Add some cotton balls and googly eyes to an egg carton cup painted black, and you have a cute little sheep. Not "baaaad" for a 10-minute craft!
11. Egg Carton Caterpillar Craft
Cute little caterpillars are the beginnings of beautiful butterflies. Make this version using pipe cleaners, googly eyes, and egg cartons.
You don't have to paint them at all, but you can if you'd like. Paint them red and green to look like Eric Carle's Very Hungry Caterpillar.
12. Egg Carton Narwhal
Narwhals sound like the stuff of legends — like unicorns — but they really exist! Teach the kids about these fantastical creatures by making egg carton narwhals using egg cartons, paint, glue, and googly eyes.
More Fun Egg Carton Crafts
Animals aren't the only thing you can make with recycled egg cartons. Try one of the projects below — snowmen, boats, and apple trees — wow!
13. Egg Carton Snowman
Trying to find something fun to do on a snow day? Make an adorable egg carton snowman using buttons, fabric scraps, pipe cleaners, googly eyes, and foam.
You'll need three consecutive egg cups attached together to make the snowman's body. Paint them white, and add your accessories to make your own version of Frosty the Snowman.
14. Egg Carton Garden
Create a standing flower garden using an egg carton (for the grass), popsicle sticks, and construction paper flowers. Won't this look lovely in your window this spring?
15. Egg Carton Apple Tree
Whether it's back-to-school season, fall, or your child is just learning about apples for fun, this egg carton apple tree project is the perfect way to spend an afternoon. Placing the "apples" helps kids practice dexterity and other fine motor skills. Use pouch caps or pom-poms for the apples.
16. Monster Treat Holders
These not-so-scary monsters are perfect for holding Halloween treats. They'll make fun favors for your party guests; the kids can help you assemble them.
17. Egg Carton Halloween Crafts
Speaking of Halloween, you can also use egg cartons to make a pumpkin, a witch, a ghost, a vampire, and Frankenstein's monster. Who knew you could make so many things from a single egg carton?
18. Mushroom Craft
Egg carton mushrooms are so cute and easy to make. Kids can add them to their fairy gardens or use them when playing with Trolls or Smurfs.
19. Egg Carton Goggles
Call them superhero, spy, or pilot glasses — no matter their name. They're super fun to make and wear. You'll need two attached egg carton cups per pair of goggles, along with some pipe cleaners and paint.
Cut the bottoms out of the egg cups so you can see (little ones will need help with this), and you're ready to rock your cute eyewear.
20. Egg Carton Easter Basket
What are egg cartons perfect for? Holding eggs, of course! Turn one into an Easter basket to hold your plastic eggs. You'll need pretty pastel paints and pipe cleaners in coordinating colors to make the handles.
21. Egg Box Bird Feeder
Turn a carton into a bird feeder for our fine feathered friends. Run yarn or twine up through the holes in the carton, and fill the bottom with birdseed. Hang it on a tree branch and keep an eye out to see what kinds of birds come to visit.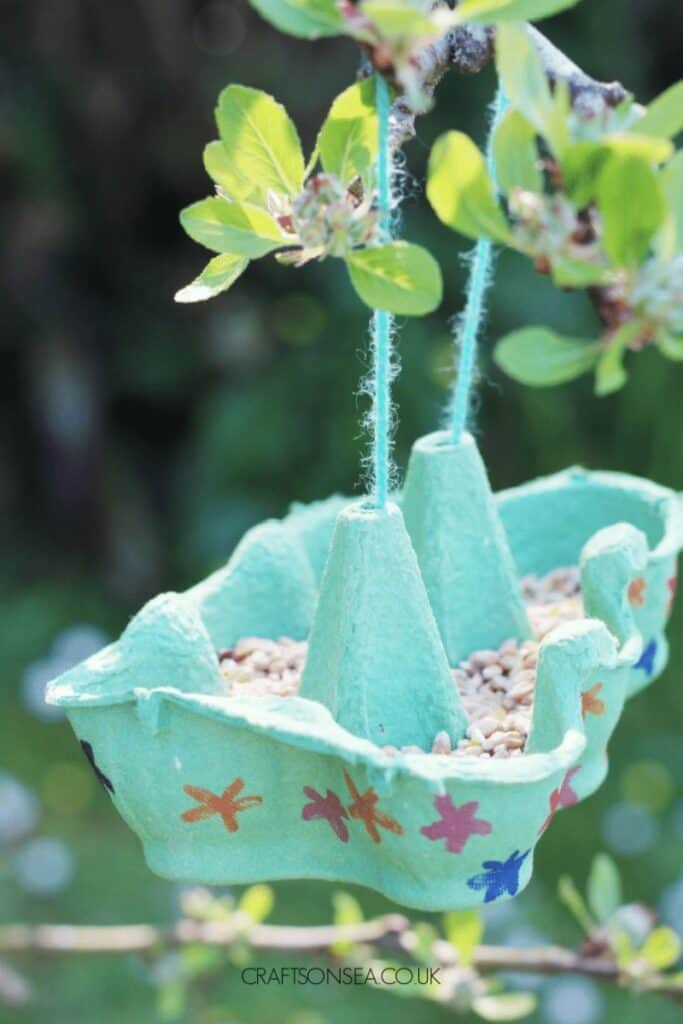 22. Mayflower Boat
Learn about history with a hands-on craft that's perfect for the Thanksgiving season. You'll use an egg carton to make the Mayflower.
Paint the bottom, and use patterned scrapbook paper and straws to make the sails.
by Woo Jr.
23. Egg Carton Flowers
One of the most beautiful things you can make with recycled egg cartons are flowers. Perfect for springtime, these flower cards make beautiful DIY gifts for Mom or Grandma on Mother's Day.
Summary- Egg Carton Crafts For Kids
Egg cartons are inexpensive and easy to come by, making them a great crafting material for kids. And the best part? Once you finish your egg carton craft project, you can use it as a decoration that your whole family can enjoy!
Egg carton crafts for kids are so much more than just a fun activity – they're an opportunity for young minds to create something unique to display around the house. So what are you waiting for?
Grab your egg cartons, some glue, and markers, and start having a creative afternoon! You never know just what kind of amazing creations their imaginative minds will come up with!
Fun Spring Crafts for Kids
Fun Craft Books:
This book has 35 fun craft ideas you can make out of recycled material. This would be such a fun gift for a friend or your child!
Put your egg cartons to use with these fun egg carton projects!
Want to craft another day? Pin this list of egg carton arts and crafts to come back to later!