17 Festive Apple Crafts For Preschoolers
Notice: This post contains affiliate links. To learn more, read our Disclaimer Here.
Preschool Apple Crafts
Are you ready for some fun with apples? If so, this is the post for you! There are so many amazing apple-related crafts perfect for preschoolers. From making a handmade apple tree to decorative suncatchers, these 17 craft ideas will be sure to keep your little ones busy and learning while they explore the world around them in a creative way.
Whether it's Fall or just another beautiful day outdoors, let these crafts provide hours of enjoyment and delight while also developing their fine motor skills.
So get those supplies ready – it's time to have an apple good time!
Materials to Make Apple Crafts
Here are some common supplies that you'll find useful for making colorful apple arts and crafts. This list is not all-inclusive of every craft listed.
Please refer to the instructions for each project for a detailed list of materials.
You'll also love these crafts ideas: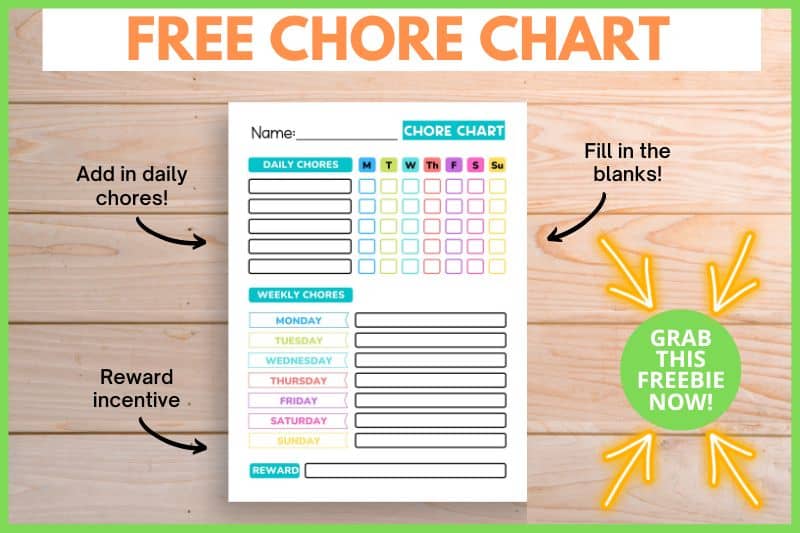 17 Apple Crafts for Kids
We've got 17 different crafts with apples that will bring excitement and a creative outlet for your little one. From applerific art projects to play-doh recipes and even apple stamping — our collection of apple crafts will surely provide hours of educationally stimulating entertainment.
So strap on your aprons and join us in discovering these amazing activities!
#1
Apple Tree Print
Use apple slices to make your own apple tree! Simply grab some paint, paper, a paintbrush, and a sliced apple, and get to work creating your apple tree from apple slices.
Source: A Little Pinch of Perfection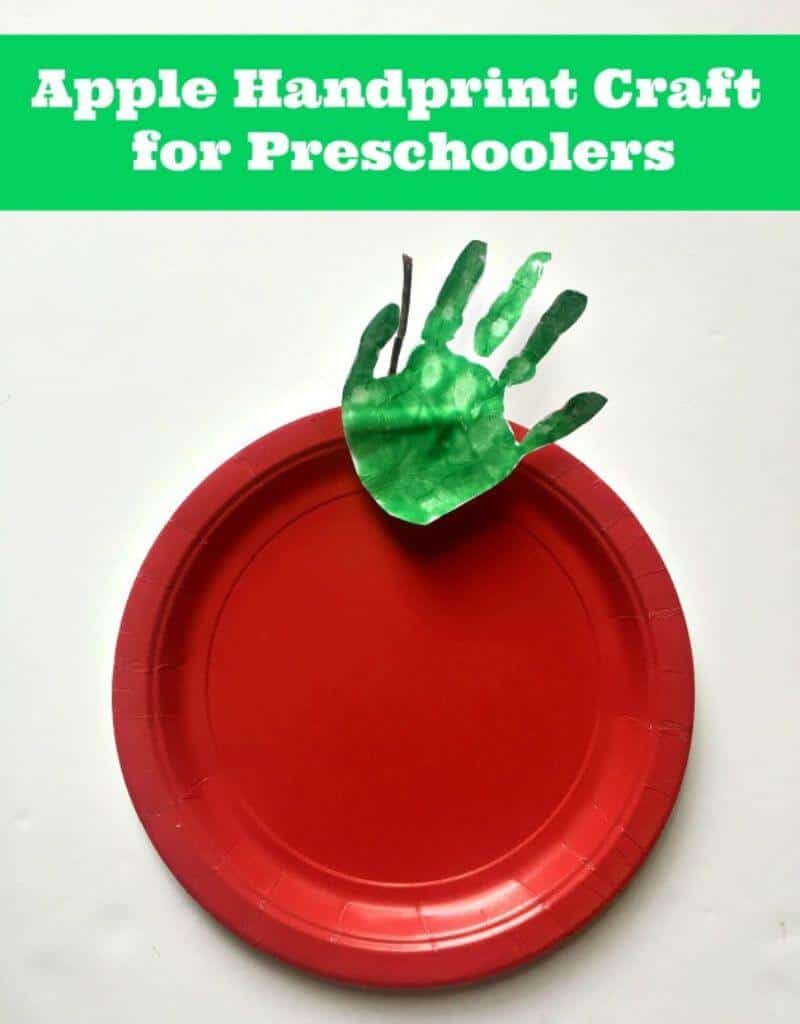 #2
Apple Handprint Craft
Here's a fun apple handprint craft you can make using your handprint, paint, and a paper plate. Hang it up in your home for everyone to see! It's a great way to showcase your artistic skills.
Source: Family Focus Blog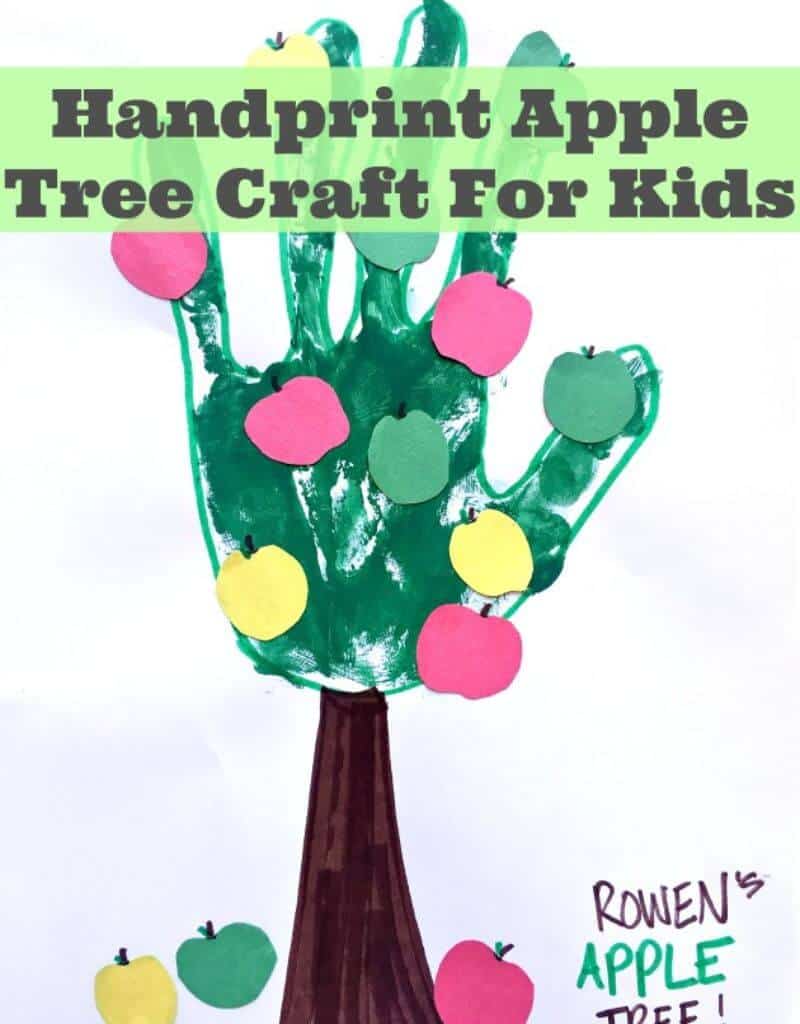 #3
Handprint Apple Tree
Create a charming apple tree inspired by handprints to rejoice in everything apple-related! With paint, paper, markers, and a pencil, you can effortlessly craft the most adorable handprint apple tree to exhibit in your house.
Source: Family Focus Blog
#4
Paper Plate Apple Craft
Are you in search of an easy fine motor activity that involves apples? You might want to try this enjoyable apple-weaving project that is suitable for all age groups.
Grab a paper plate, yarn, a hole puncher, and popsicle sticks, and you'll be on your way to creating this fun apple-weaving craft!
Source: Busy Blooming Joy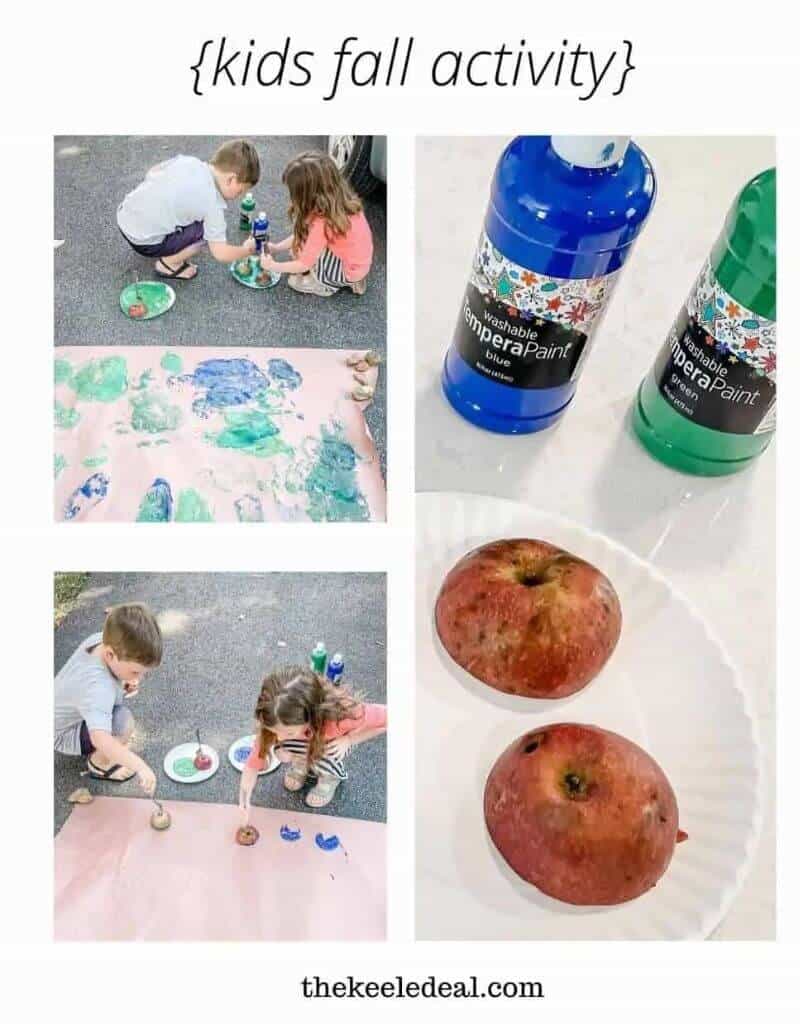 #5
Paint with Apples
Who would have thought that painting with apples would be so fun?
Grab a roll of paper. We love this kind! Cut some apples in half. Squirt out some paint and start apple painting! It doesn't get any easier than this apple craft!
Source: The Keele Deal

#6
Yarn Apple Craft
Don't you think these yarn apple crafts are absolutely adorable? To begin, you'll only need cardboard, yarn, and a pen. Just cut out an apple shape from the cardboard and begin wrapping it with yarn.
And before you know it, you'll have the cutest little apples.
Source: Red Ted Art
#7
Apple Suncatcher
If you're looking for a fun and easy apple craft for kids, try making an apple suncatcher! First, gather supplies such as colorful tissue paper, clear contact paper, and scissors.
Cut out an apple shape from the contact paper. Have the kids cut the tissue paper into small squares and stick it onto the sticky side of the contact paper apple. Lastly, place the apple suncatcher in a sunny window!
Source: Crafts By Amanda
#8
Paper Plate Apple
Creating a paper plate apple craft is a simple activity for kids of all ages. Start by painting a paper plate red, green, or both colors to resemble an apple. Use the template provided for its eyes, mouth, and stem.
Hang the finished paper plate apple on the wall or use it as a decoration for a fall-themed party.
Source: Simple Everyday Mom
#9
Apple Name Craft
What a fun way to practice spelling your name. Once you complete it, display it on your fridge or in your bedroom.
It would also be a fun fall project at school!
Source: Simple Everyday Craft
#10
Egg Carton Apple
Making an apple craft from an egg carton is a fantastic way to upcycle materials and create something fun and unique!
Have the kids paint the egg carton red, and once it's dry, cut out a stem and leaf from a green pipe cleaner and put it on top of the apple.
Source: Easy Crafts For Kids
#11
Salt Crystal Apple
Making a salt crystal apple is a fun and educational science experiment that kids will love! To start, you'll need some basic materials such as a pipe cleaner, string, a jar, water, and salt.
In a few days, the salt crystals will start to form on the pipe cleaner, creating a cool crystal apple!
Source: Stem Sational
#12
Apple Slime
Making fluffy apple slime is a great sensory activity and a fun way to play with science! You'll need some basic materials such as glue, shaving cream, food coloring, liquid starch or borax, and a bowl.
Kids will love playing with the fluffy apple slime!
Source: Stem Sational
#14
Marble Painting Apple Craft
Children thoroughly enjoy the activity of marble painting. Apart from being a beneficial exercise for developing fine motor skills, it is an enjoyable pastime suitable for all ages.
Why not give this fun apple craft a go?
Source: Simply Full of Delight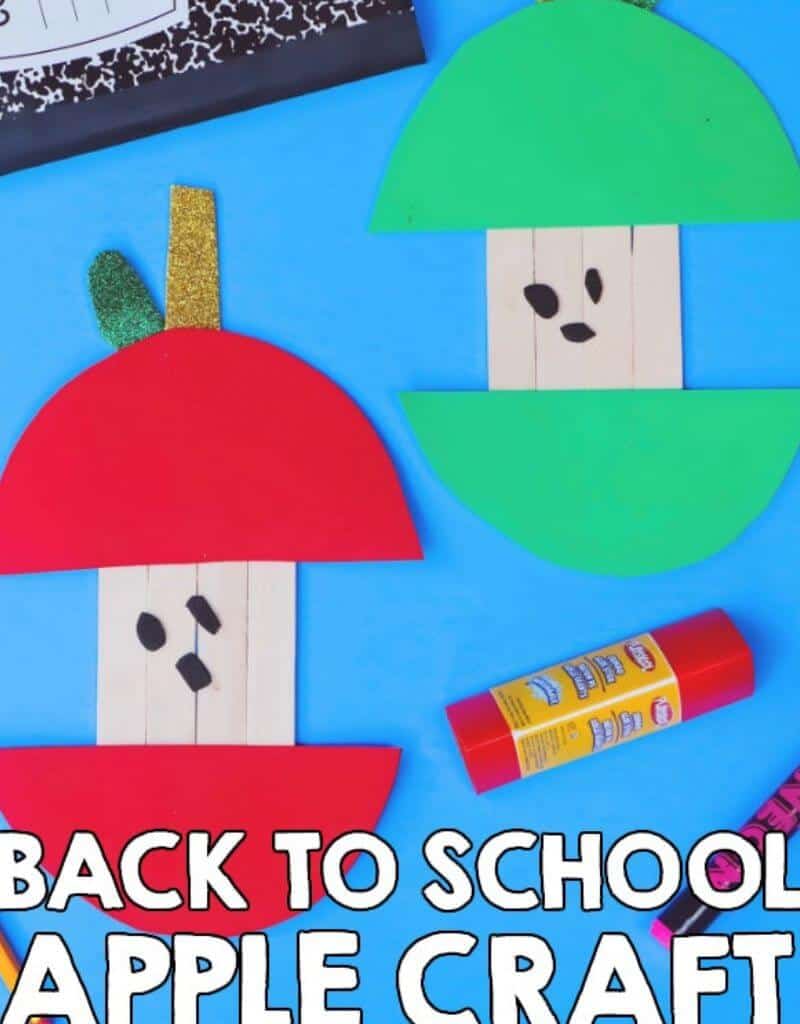 #15
Popsicle Stick Apple Core
Why not try creating a fun apple craft with popsicle sticks? It's a great activity to do with your child during the fall season.
To make it even more enjoyable, you can read the book "Ten Red Apples" aloud while your child works on their craft.
Source: Parenting Chaos
#16
Sew an Apple
What a fun way to learn how to sew!
Source: Mommy Evolution
#17
Apple Scented Playdough
If you're looking for a fun apple craft! Why not try making apple-scented playdough? This playdough recipe only requires two ingredients, and it doesn't get simpler than that!
Make sure to try out these other playdough recipes while you're at it.
Source: Rainy Day Mum
Must-read Apple Books
Be sure to check out these great books all about moms and why we love them! These make for a great addition to any Apple craft.
Introduce your kids to Johnny Appleseed, a young conservationist who traveled the country planting apple trees. This book would be a great addition to any apple craft!
This is such a great book for early elementary-aged students who are interested in the life of an apple! Such a great book for learning about how apples grow.
Enjoy this story about a brother and sister who are overly excited to visit an apple orchard. Follow them along as they race through the apple orchard to find the perfect apples.
Summary- Apple Art For Preschoolers
Fall is such a great time of year to bring apple crafts into your home or classroom. Not only are they easy to make and fun, but they offer a wealth of educational opportunities as well. From exploring textures and colors to developing fine motor skills, there is no shortage of ways these crafts can help preschoolers explore their world.
It's also a wonderful opportunity for you to get creative and crafty with your kids! Whether it's paper plate apples or an apple garland display, take some time this fall to create something special with your little ones.
You won't regret the memories you make together as you enjoy these 17 fun apple crafts for preschoolers! So grab those glue sticks and supplies now – let the crafting begin!
Follow us on Pinterest for more fun kids crafts and activities!
Fun craft ideas: