15 Totally Adorable Panda Crafts For Kids
If you have a child who's obsessed with pandas, here are 15 panda crafts that they'll love to make! These projects include everything from paper bag panda puppets to panda notebooks for sketching or scribbling notes in.
If your child needs something new and fun to do or just wants a project idea for an upcoming rainy day, check out these panda bear craft ideas!
Notice: This post contains affiliate links. To learn more, read our Disclaimer Here.
Kids love crafting, and so do grown-ups. But sometimes, it can be hard to come up with a craft that will keep the attention of both parties. That's why these DIY panda crafts are perfect! They're cute and easy for kids to make. And they'll give you time to relax while your child is happily occupied with their project. What could be better than that!?
P.S. If you're studying pandas with the kids, here are some awesome giant panda fun facts!
Materials Needed to Make These Panda Craft Ideas
Here are some of the craft materials you'll need to make these panda bear crafts below. This list isn't all-inclusive, but it'll be a great start for lots of projects!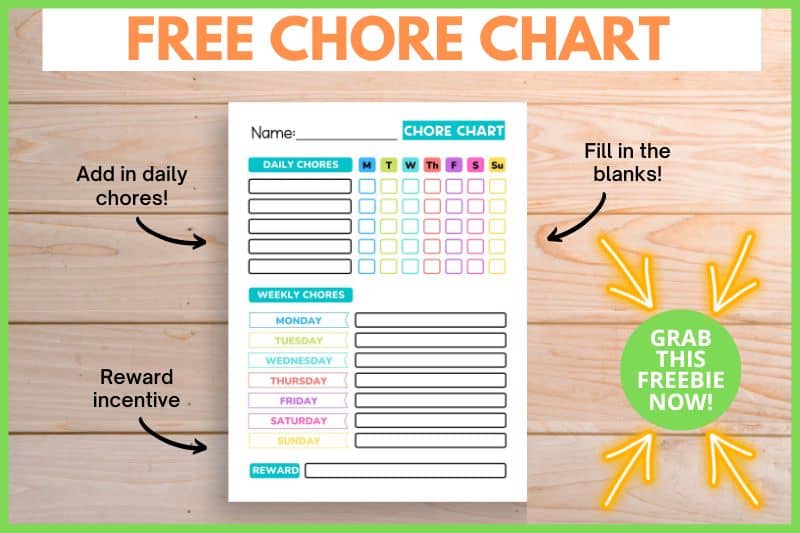 Fun Panda Crafts for Kids
Here are 15 panda crafts your child will love! Give one or all of them a try.
1. Panda Headband
This panda headband would be such a fun project for any child obsessed with panda bears. Use the link below and follow the instructions to learn how to make your own panda headband for your head.
2. Paper Roll Panda
Next time you run out of paper towels or toilet paper, save the paper roll. These cute panda toilet paper rolls will be a hit at home and in the classroom. Use the link below and get to work on your panda toilet roll.
3. 3D Bobble-Head Panda
Are you ready to introduce 3D objects to your child? If so, this panda papercraft is a great place to start! This is a great tutorial on how to make a paper panda.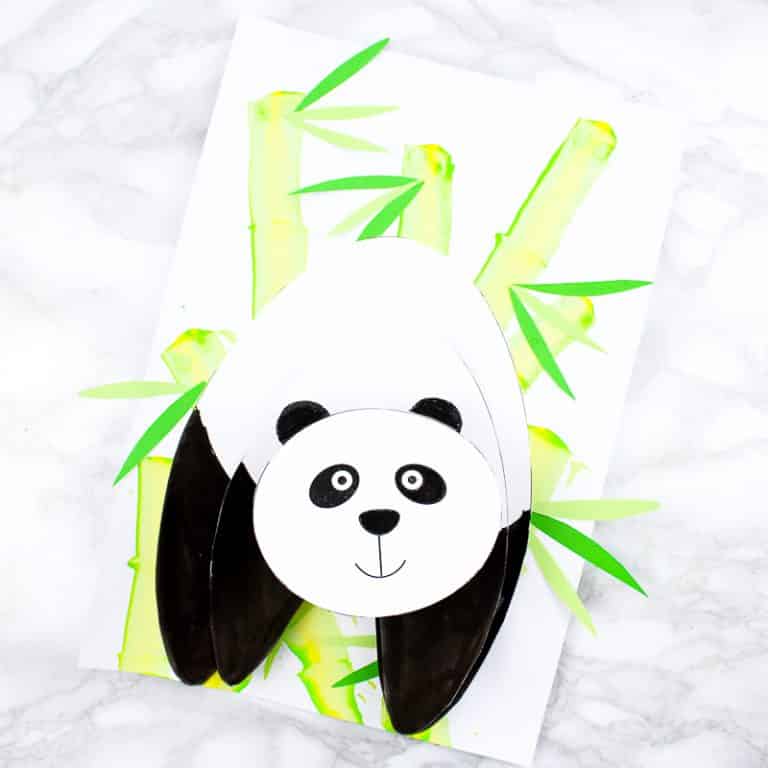 Other fun craft ideas:
4. Panda Paper Bag Puppet
As kids, we all love puppets! This panda puppet craft is no stipulation. Grab the following supplies and work on your paper bag puppet.
Supplies needed for panda puppets:
5. Panda Mother and Baby
This panda craft would make for a great Mother's Day card. Grab some construction paper, markers, and googly eyes, and get started.
Also, check out 21 adorable Mother's Day card ideas!
6. Panda Art Project
Ready to try and take your panda crafts to the next level? Why not try painting a panda. Follow the step-by-step instructions above and create a panda masterpiece.
7. Panda Box
Turn this panda box into a piggy bank or even a valentine's box. This multi-use box would be the perfect craft idea.
8. Cupcake Liner Panda
Did you know you could make a panda craft out of a cupcake liner? This panda cupcake liner craft takes minimal supplies.
9. P is for Panda
Are you ready to start introducing the letters of the alphabet to your child? Creating letter crafts is a great way for your child to visualize each letter so they can start the memorization process.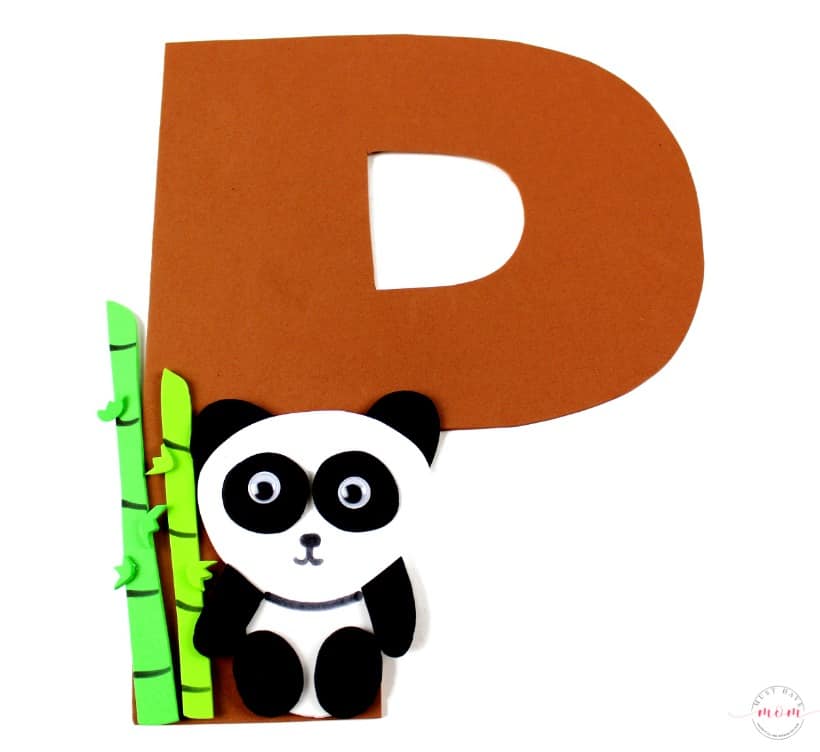 10. Panda Craft Stick Puppet
Isn't this the cutest panda puppet craft? If your kids love imaginative play, they will love these panda puppets. Also, make sure to check out these mermaid puppets.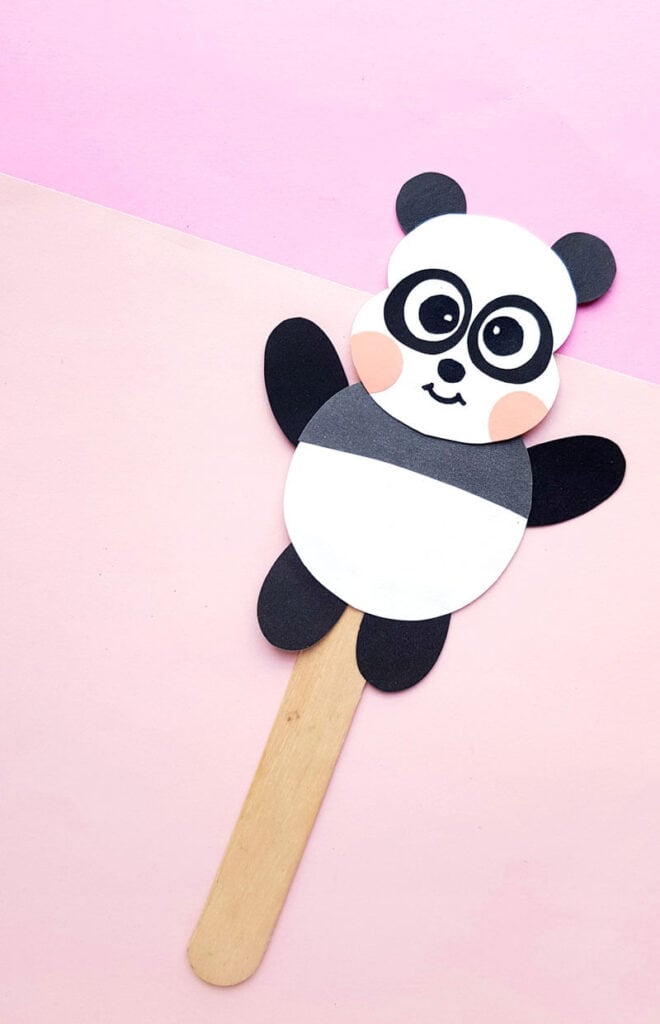 11. Panda Mini Notebook
These mini panda notebooks are so fun to make. If your child loves to draw or write, these notebooks would be perfect for them.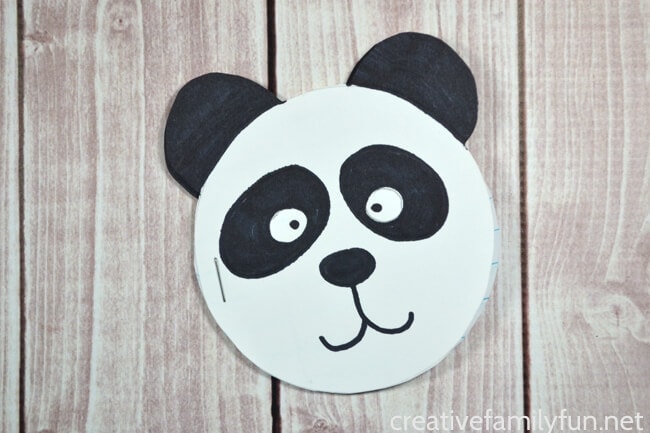 12. Coffee Filter Panda
There are so many different uses for coffee filters, and this coffee filter panda on a popsicle stick is one of them. If you have extra coffee filters lying around your home, make sure to give this panda craft project a try.
13. Paper Plate Panda
Paper plate animals are so fun to make. Add in some yarn, and you have yourself a good time. Make sure to try this paper plate panda next time you are crafting.
by Danya Banya
14. Panda Corner Bookmark
This is one of the easiest panda crafts you'll find. Grab some paper and a marker and get to work.
by Red Ted Art
15. Geometric Panda
Is your child ready to work on shapes? Why not cut out different shapes and have your child build his or her own panda?
Also, be sure to check out these pattern blocks! They are a fun way to teach your child shapes.
Panda Crafts For Kids- Summary
With a bit of time and creativity, you and your kids can have countless hours of fun with these panda crafts. It is a great way to spend time together, and you can also make some amazing-looking projects.
If nothing else, your kids will be able to learn how to make a craft that is both cute and fun. From making panda headbands to panda bookmarks, there are plenty of ways to get creative while learning something new.
So, go ahead and try some panda crafts for kids today! And don't forget to share your creations with the world – who wouldn't want to see colorful paintings or DIY decorations inspired by pandas?
If you enjoyed this craft, make sure to save it for later and follow us on Pinterest for more fun craft ideas.
Let's Read All About Pandas!
Let's keep the fun going with these fun reads! There are so many benefits to reading aloud to kids. It's even been found that reading books to toddlers can help build their empathy, aiding in social-emotional development.
Furthermore, one study found a direct correlation between being read to as a child and higher academic achievement later in life! Regardless of age, the advantages of instilling a love for reading early on are vast and should not be overlooked.
Gaint: A Panda of the Enchanted Forest
Come follow this panda's story as he tried to find the family he lost.
Enjoy this colorful book all about Pandas!
Fun craft ideas: