25 Best Butterfly Crafts for Kids to Make
Spring and summer are peak times for butterflies. Let's celebrate those beautiful bugs with some of the BEST butterfly crafts for kids. These arts and crafts capture the beauty and whimsy of the butterfly's colorful, fluttery wings — and, of course, they capture the attention of creative kids!
You can make butterflies out of so many different simple craft materials. Use toilet paper tubes, construction paper, coffee filters, tissue paper, beads, and more to see what sort of butterfly you can come up with.
But first, check out this list of butterfly arts and crafts for inspiration.
Notice: This post contains affiliate links. To learn more, read our Disclaimer Here.
Materials to Make Gorgeous Butterflies
Here are some of the craft materials you'll need to make the butterfly crafts below. This list isn't all-inclusive, but it'll be a great start for lots of projects!
Beautiful Butterfly Crafts for Kids
Beautiful beads, paper crafts, galaxy print wings — you'll find loads of colorful and creative butterflies here.
1. Beaded Butterfly Craft
You don't want to miss this butterfly craft from yours, truly! You'll use pipe cleaners, clothespins, and pony beads to make a colorful butterfly.
Threading the beads is excellent fine motor practice for little fingers, but even your older kids will enjoy making this bright and cheery project.
2. Mosaic Monarch Butterflies
Mosaic crafts are a fun way to let kids practice their cutting skills. Cut out colorful pieces of construction paper and glue them to the black butterfly wings to make those colors really pop. Add a thin popsicle stick to the center to make the butterfly's body.
3. Folded Paper Butterfly
Work on building those hand muscles and improving finger dexterity with this fun folded paper butterfly craft. Folding the paper back and forth creates a fan-like effect that's so pretty!
4. Galaxy Butterflies
Wow — these galaxy butterflies are out of this world! Painted paper covered in glitter and white specks to look like stars makes up the wings. The bodies are fluffy, glittery pom-poms.
5. Chunky Rainbow Butterflies
How adorable are these round rainbow butterflies? Wooden circles serve as the base for these cute bugs, but you can use paper circles instead if you prefer. If you add strong magnets to the back, they will make super cute magnets for a fridge or filing cabinet.
More Spring Crafts for Kids
6. Felt Butterflies
Let the kids work with fabric instead of paper. Felt is inexpensive and very forgiving. With some felt circles and scraps and a pipe cleaner, you can make an eye-catching butterfly that can be used to add to room décor, turned into a hairbow, and so on.
7. Puffy Tissue Paper Butterflies
If you've never made puffy tissue paper crafts with the kids, now's the time to try. They'll love their puffy, fluffy butterflies. You can get the effect in a couple of ways: by using an eraser to place the tissue squares on wet glue or simply allowing your child to scrunch up the paper and place it using their fingers.
Either way, it'll look great.
8. Origami Butterflies
Learning the art of origami can turn into a fun and creative hobby for parents and kids alike. Make these origami butterflies and then turn them into decor by gluing them onto some twigs (to place in a vase) or turning them into a mobile to hang from the ceiling.
9. Butterfly Windsock
What a lovely spring decoration for your home or classroom! Hang one of these butterfly windsocks in a breezy spot to watch it flutter in the wind. You'll need toilet rolls, yarn, construction paper, and a few other simple materials to put them together.
Easy Butterfly Crafts for Preschoolers
Spend time crafting with your preschooler to build those fine motor skills!
10. Coffee Filter Butterfly
Did you know you can create watercolor art even if you don't have watercolor paint? It's super easy to do using washable markers! Let the kids color coffee filters and then spritz them with water to create that beautiful watercolor effect.
Crimp the filters in the middle, pinch them with a clothespin, and add pipe cleaner antennae to complete the butterfly.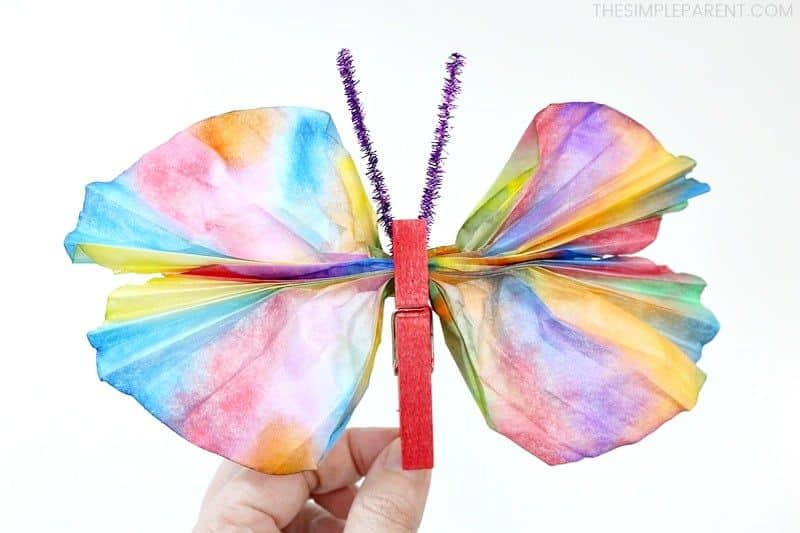 11. Butterfly Suncatcher
Use the butterfly template here to make a gorgeous suncatcher to display in your window. It'll look stunning on a sunny day with the light streaming through the colorful tissue paper squares.
12. Line of Symmetry Butterfly Craft
Looking for an easy way to introduce the concept of symmetry? Try this symmetrical butterfly created by dropping paint onto a piece of paper and smashing it between the folded halves. It creates the same pattern on both halves; all that's left is to cut the painting into wing shapes.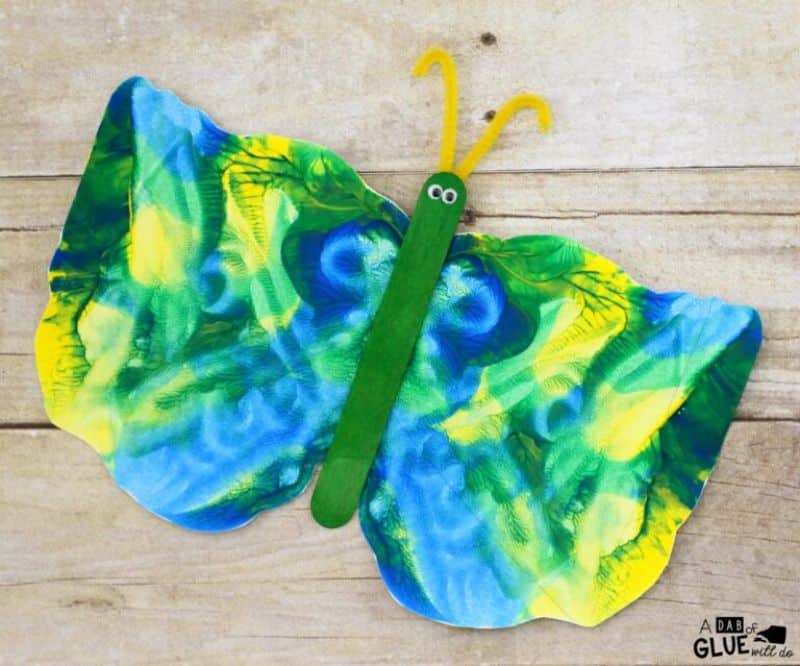 13. Handprint Butterfly Craft
Create a lovely keepsake for spring or summer with this bright and colorful handprint butterfly. It'll serve as a sweet reminder of how small your child's hands were when you made it.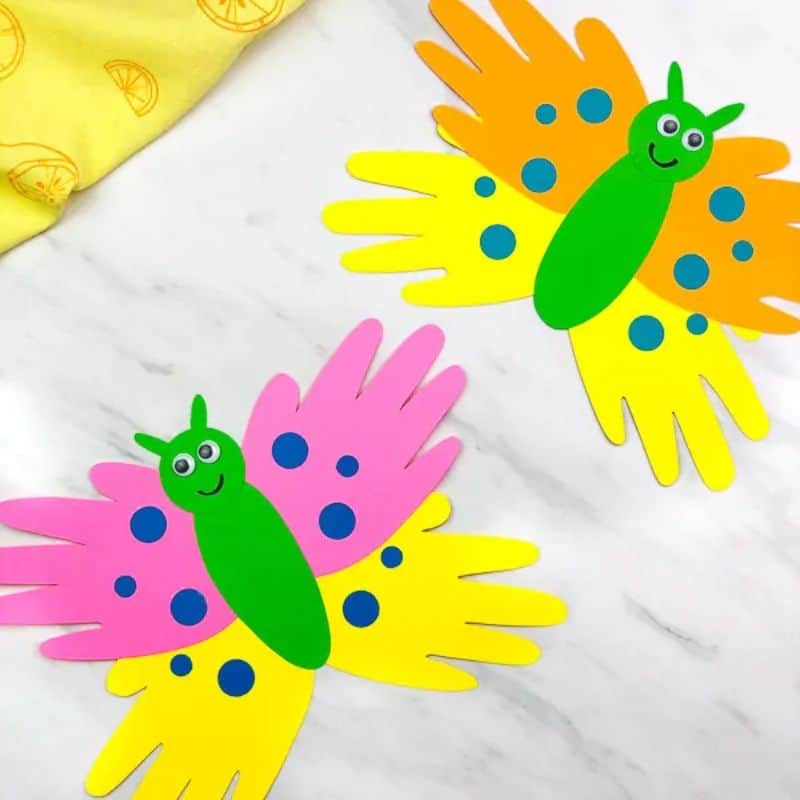 14. Butterfly Nature Craft
Go into your backyard to gather materials for this creative nature craft. It's as simple as filling in the butterfly outline with flowers, leaves, pieces of grass, twigs, etc.
15. Toilet Paper Roll Butterflies
I hope you save those empty toilet paper tubes. They're a great starting point for lots of kids' crafts, like these toilet roll butterflies. Paint the cardboard tube, adding coordinating wings decorated with colorful buttons.
16. Printable Butterfly Craft
For a low-prep, inexpensive project, try this printable butterfly craft. With both colorable or craft versions, you can fit this craft even if you have just a few minutes of attention from your wiggly little preschooler.
17. Butterfly Masks
What kid hasn't wondered what it would be like to be a butterfly? Get that feeling with these vibrant printable butterfly masks for pretend play. If your child wants to wear it instead of holding it, simply punch holes on either side and tie a piece of elastic through them.
18. Fall Leaf Butterflies
Nothing compares to the beautiful colors of fall. Capture those vivid, warm colors by making leaf butterflies this autumn. You can use faux leaves, as you see here, or find some pretty leaves in your yard.
19. Heart Butterflies
You don't have to wait for Valentine's Day to make these pretty pink heart butterflies. They're cute any time of year! Make wings out of construction paper hearts, paint the clothespin to make the butterfly body, and add googly eyes and pipe cleaner antennae.
20. 3D Paper Butterfly Craft
Children can practice cutting straight lines, curves, and circles with this printable butterfly project with a cool 3D effect. The wings lift off the page!
21. Pasta Butterfly Craft
Making pasta crafts is a nostalgic activity for parents, but as they say, it's an "oldie but a goodie." With fun shapes like bowtie pasta, the sky is the limit. Those bowtie noodles are the perfect shape for making beautiful butterflies.
Add flower stickers at the bottom, and it looks like butterflies fluttering over a flower garden. If you'd like to use noodles for the flowers, too, rigatoni pasta is the ideal shape.
22. Shaving Cream Butterfly
Explore the fun technique of making shaving cream paintings. You'll add shaving cream to a tray or pan, add color, and use a straw to mix and swirl the colors together.
Place your paper on top of the swirls to cover it in the colors and patterns, and then cut the paper into a butterfly shape. Add the butterflies to a coordinating background to make a vibrant piece of art or a cute card for a friend.
23. Popsicle Stick Butterflies
This craft is super easy, using the template to make beautiful butterfly wings and painted popsicle sticks for the body. Wouldn't a few of these make adorable wall decorations for a playroom or nursery?
24. Butterfly Paper Bag Puppets
Kids will have an absolute blast playing with these butterfly puppets. They're bright, colorful, and easy to make. Plus, the wings are made with your child's handprints. What could be cuter than that?
25. Bubble Wrap Butterflies
Save the bubble wrap from your packages to use to create a textured look in your art projects. It's as simple as cutting your bubble wrap into the desired shape, painting over the bubbles, and stamping the plastic onto the paper.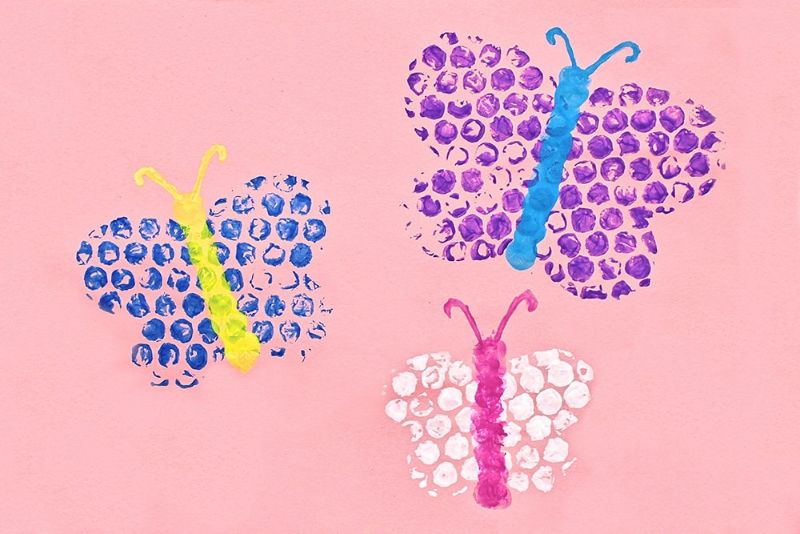 Summary – Butterfly Craft Ideas for Kids
With these amazing butterfly craft ideas, your kids will have a blast bringing these beautiful creatures to life! From coloring butterflies to creating 3D versions made out of everyday items, there's no limit to the possibilities when it comes to these fun activities.
Not only are they enjoyable for kids of all ages, but an added bonus is that most crafts require very little monetary investment or preparation – just get creative! So the next time you hear your children asking what they should try and make next, why not suggest one of these wonderful butterfly crafts and see where their imaginations take them?
Get started today with your own unique butterfly craft and create something magical that your kids will treasure forever. Now go ahead and explore the world of butterfly crafts for kids – let's get crafting!
More fun craft ideas:
Must Read Books About Butterflies:
Be sure to check out these great books all about butterflies! These make for a great addition to your butterfly craft.
Read all about how a chubby butterfly transforms into a beautiful butterfly.
Join long as early readers are introduced to the life cycle of a butterfly.
Follow along as a beautiful monarch butterfly befriends a caterpillar.
Don't forget to share and pin it to come back when you're in a crafty mood!