20 Fantastic Frog Crafts for Kids
Looking for a way to keep those little hands busy on a rainy day? You've hopped to the right place! Our roundup of frog crafts is perfect for kids who are fascinated by these leaping, green creatures. From paper bag puppets to recycled frog crafts made using toilet paper rolls and egg cartons, these crafts are a fun way to explore the world of amphibians.
Notice: This post contains affiliate links. To learn more, read our Disclaimer Here.
Whether you're a parent searching for a quiet indoor activity, a teacher looking to supplement a biology lesson, or simply someone who loves frogs, there's something here for everyone. These crafts are easy to make, require simple materials you probably already have at home, and most importantly, they're ribbit-ing fun!
Ready? Let's jump right in and pick a few frog crafts to make.
Materials Needed for These Fun Frog Crafts
Here are some of the common materials needed for many of the frog crafts listed below. Keep in mind, this list is not all-inclusive; specific crafts may require additional items.
Toilet paper rolls
Plastic eggs
Remember, this list is a general guide and may not cover all the materials needed for each individual craft. Always check the specific craft instructions to ensure you have everything you need.
Related crafts: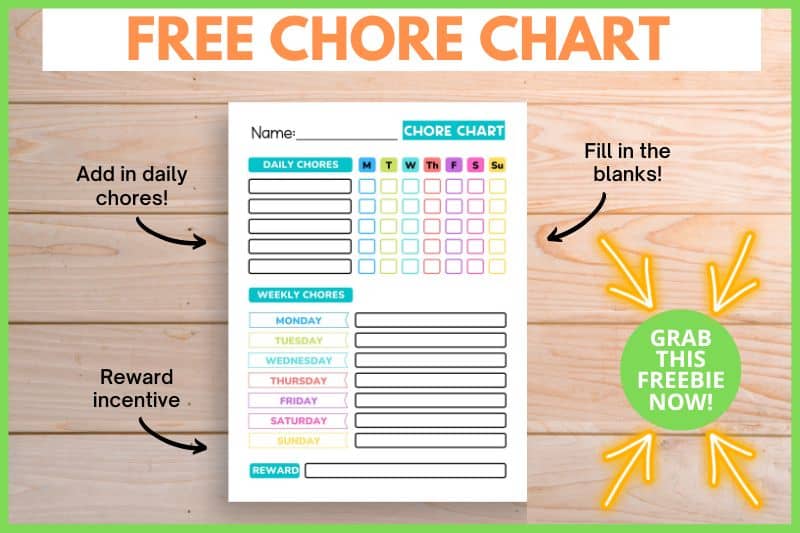 Easy Frog Crafts for Kids
With so many to choose from, it'll be hard to pick just one frog craft to make with the kids. We recommend making it a week of froggy-themed fun!
1. Frog Paper Bag Puppet
Using paper bags and cardstock, kids can make adorable frogs that they'll play with for hours. And with a free template provided, it's a breeze to get those froggy features just right. Perfect for imaginative play or a puppet show!
2. Egg Carton Frog
Recycle and craft all in one with this egg carton frog. The head is made from egg carton cups, while a piece of a foam cup serves as the body. Pipe cleaner legs and button eyes (with googly eyes on top) give this frog its quirky charm. It's a fun way to teach kids about upcycling!
3. Toilet Paper Roll Frog
Turn that empty toilet paper roll into a cute green frog! With a splash of green paint and some cardstock for eyes, tongue, and legs, kids can create an adorable amphibian. It's a simple craft that's sure to bring smiles.
4. Frog Stick Puppets
Storytime just got a lot more fun with these frog stick puppets. Use the free template to cut and paste the frogs together, and then attach them to craft sticks to turn them into puppets. They're perfect for interactive storytelling or when singing along with nursery rhymes like "Five Little Speckled Frogs."
5. Fly Catching Frog Hand Puppet
This isn't just any frog puppet; it's a fly-catching sensation! Made from folded cardstock, this hand puppet features large googly eyes and a red yarn tongue, complete with a fly at the end. Kids will have a blast making their frog "catch" its meal.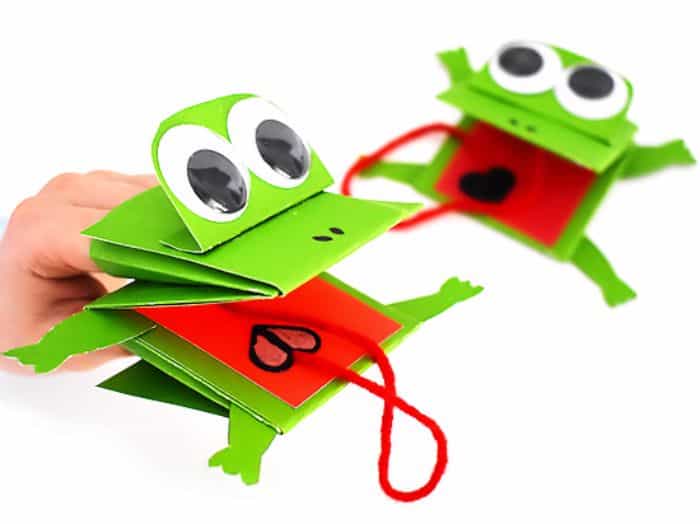 6. Popsicle Stick Frog
Painted popsicle sticks come together to make the cutest little wooden frog ever. Add a long, red curled paper tongue and a big set of googly eyes to finish the frog. A lily pad underneath completes it. Ribbit! You can also find this project featured in our roundup of popsicle stick animals, and make sure to check out this fun mermaid popsicle stick craft while you are at it!
7. Plastic Egg Frog
If you've been hanging on to those plastic Easter eggs and aren't sure what to do with them, turning them into adorable animals is a fun option. Add legs and a tongue made out of cardstock, and pop some pom poms and googly eyes on top for those big peepers.
Be sure to check out this fun roundup of crafts using Easter eggs.
8. Frog Headband
Hop to it! Make a fantastic frog headband to wear for imaginative play. This is the perfect frog craft for preschoolers and kindergarteners, especially when paired with an educational unit study about these fascinating amphibians.
9. Paper Plate Frog Craft
Pair paper plates and pipe cleaners to make a cute frog face. The best part about this craft is that kids can twist the tongue all sorts of different ways to make their frogs look as silly as they'd like.
Be sure to check out these paper plate crafts as well!
10. Construction Paper Frog Craft
Roll construction paper into circles to make this cool 3D frog. Folding and manipulating the paper pieces is great for fine motor practice.
11. K-Cup Frog
Save your used K-cups for some miniature crafting! You can turn the cups into tiny animals like this little froggy. Pair the craft with this skip counting activity to practice those early math skills.
by Artsy Momma
12. Cut and Paste Frog Craft
Practice scissor skills with a simple cut-and-paste frog. There's a version that kids can color as well as a template to trace and cut out of construction paper or cardstock. Wouldn't these look adorable on a bulletin board in the classroom?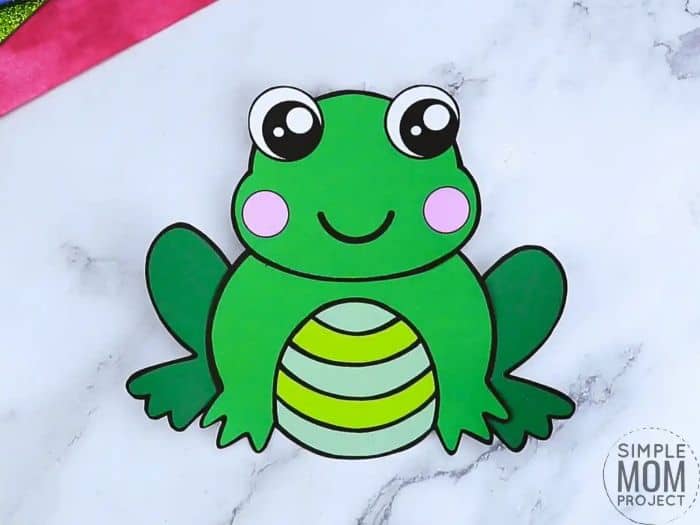 13. Frog Life Cycle Craft
Learn about the life cycle of the frog with a craft that goes through all the phases: egg, tadpole, froglet, and frog. Hands-on activities like this make scientific information more memorable for children.
Once you are done learning about the life cycle of the frog, come learn all about the life cycle of the butterfly!
by Surviving a Teacher's Salary
14. Yarn Pom Pom Frog
If you've never made pom poms from yarn, it's a lot of fun. You can then turn those pom poms into lots of crafty things, like fuzzy green frogs, for instance. Just add big eyes, feet, and a smiling mouth!
15. Origami Jumping Frogs
A little folding and physics are in order to make these jumping frogs. Follow the step-by-step photos to learn how to fold them just right. Then, press down using your fingers to make the frogs "jump."
by Red Ted Art
16. Coffee Filter Frog
Practice color mixing and scissor skills with this colorful coffee filter turned into a frog. Using an eye dropper to apply the food coloring, kids make use of their fine motor skills by squeezing and pinching the pipette. A few cuts here and snips there to make the legs and eyes, and you're all set with a "hoppy" little frog.
Keep the fun going with this fun coffee filter butterfly!
17. F is for Frog Craft
Letter of the week crafts can be so much fun! You're learning all about letter sounds and new words to boot. This 'F' is turned into a fantastic green frog by adding eyes, legs, and a big red tongue that's sticking out to catch some flies. Perfect for toddlers, preschoolers, and kindergarteners.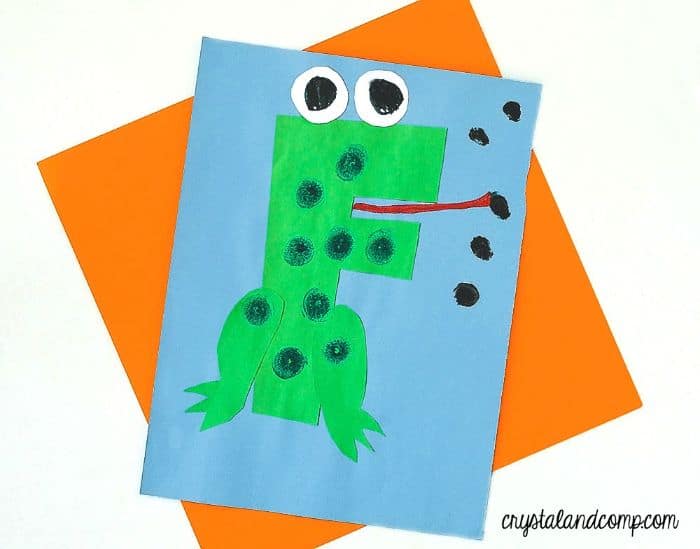 18. Pom Pom Frog Life Cycle
Here's a different way to look at the frog life cycle. This time, you'll build the pieces using pom poms. From tiny eggs on a felt lily pad to a tadpole, froglet, and a full-grown frog, you'll be surprised at how fun learning about the various phases can be.
19. Cupcake Liner Frog Craft
Grab some green cupcake liners to make this fast and easy frog craft. One liner becomes the frog's head, while the other is cut into pieces to make the legs and eyes. Don't be afraid to get wild with the colors, though. After all, many frogs in nature are bold colors, like blue poison dart frogs and tomato frogs.
20. Oi Frog! Paper Plate Craft
Based on the book, "Oi, Frog!" by Kes Gray, this whimsical frog is colorful and wacky. There's a corresponding recipe idea in the post that looks super fun to make, too. Pairing a craft, book, and snack sure sounds like an afternoon of fun.
Let's read about frogs!
Let's keep the fun going with these fun reads about frogs! There are so many benefits to reading aloud to kids. It's even been found that reading books to toddlers can help build their empathy, aiding in social-emotional development.
Follow along with this story about a young frog who doesn't want to be a FROG.
Come follow the story about three young frogs who live together and don't like to share!
20 Easy Frog Crafts for Kids
Exploring the world of frog-themed crafts with your kids can be a delightful and educational experience. These 20 easy frog crafts offer a fantastic way to spark creativity, develop fine motor skills, and teach children about these fascinating amphibians.
So, whether you're looking for a rainy day activity, a themed birthday party idea, or simply a way to engage your children's creativity and curiosity, these 20 frog crafts for kids are a fantastic choice.
That rounds out our list of easy frog crafts. For more animal-themed crafting, check out the posts below.
More Animal Crafts for Kids: