20 Heartwarming Mother's Day Handprint Crafts
Show love and appreciation for the incredible moms in your child's life with one of these adorable Mother's Day handprint crafts. Not only are they fun and easy to make, but the projects make heartfelt, memorable gifts that any mom or grandma will cherish.
From handprint flowers and cards to personalized tote bags and picture frames, there are so many creative ways to incorporate a child's handprints into a DIY gift or card.
Notice: This post contains affiliate links. To learn more, read our Disclaimer Here.
Materials to Make Handprint Crafts for Mother's Day
Here are some common supplies that you'll find useful for making a unique and colorful handprint surprise for Mom. This list is not all-inclusive of every craft listed.
Please refer to the instructions for each project for a detailed list of materials.
You'll also love these crafts ideas:
Handprint Paper Crafts for Mom
This section includes crafts made mostly with paper, so they're inexpensive and totally doable with just one child or a group of kids in the classroom. They're quick, easy, and so sweet.
1. Paper Roll Handprint Flowers
Mom will love these 3D handprint flowers made with empty toilet paper rolls and cardstock. You'll need a bit of green paint for the cardboard tube, but otherwise, it's as simple as tracing handprints in pretty colors and making some leaves.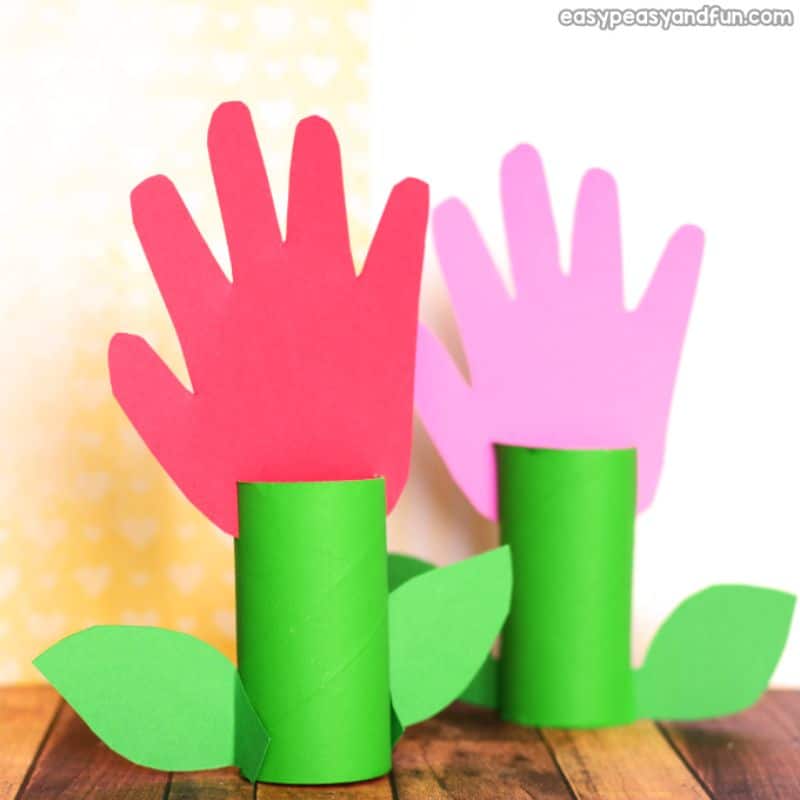 2. You Are My Sunshine Card
Tell Mom what a bright spot she is in your life with this super sweet "You Are My Sunshine" card based on the popular song. It's sure to brighten her day!
3. Handprint Flower Bouquet
Here's a fun way for siblings to create something together for Mom! The flower bouquet is made of handprints, and another handprint is holding the flowers. It's absolutely adorable and will make her heart melt.
4. Handprint Swan
Swans are beautiful and elegant, just like mothers. Make this cute craft for the important women in your life. Double up the handprint on the wing, allowing one to swing open to reveal a sweet message underneath.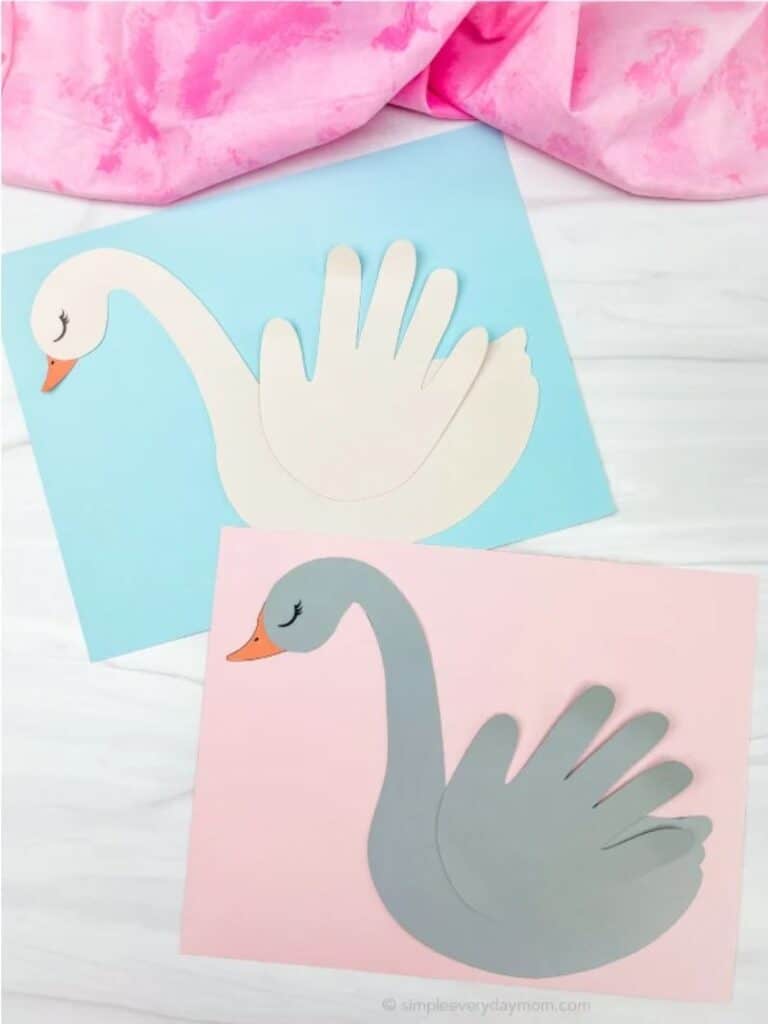 5. Cactus Handprint Craft
This project from yours truly is perfect for Mother's Day. Easily turn this cactus handprint it into a card by writing a special message for mom on the flower pot.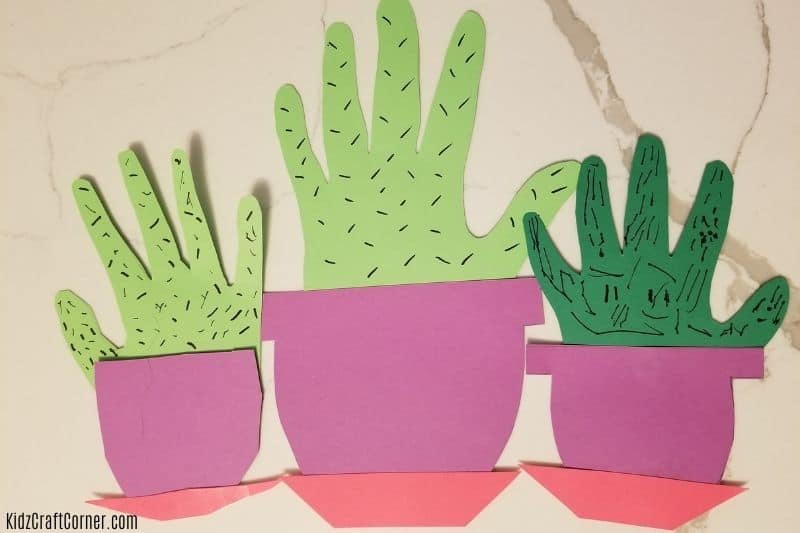 6. Handprint Flowers in a Vase
Choose from two different designs for this bright and bold craft featuring handprint flowers in a vase or planter. The paper straw stems, and paper leaves add to the floral look.
7. Handprint Cupcake Card
Isn't Mom the sweetest? Tell her so with this whimsical cupcake card with a free printable template. Once you have the printable, add a colorful handprint, the cupcake liner, and the cherry on top.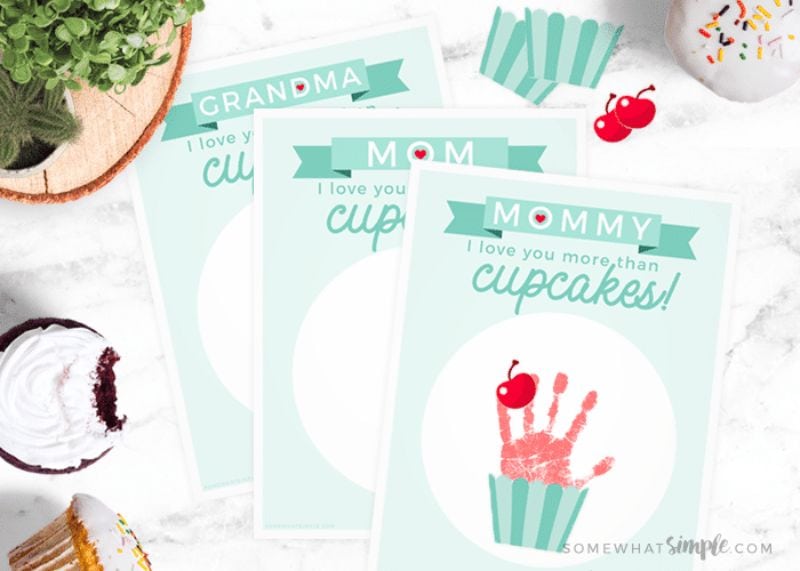 8. Paper Mother's Day Banner
How creative is this fun banner for Mother's Day? The teapot, spring flower, and to-go coffee cups are all made with handprints. String it along the front of the table on Mother's Day so she can see it when she pops into the kitchen for a delicious breakfast made in her honor.
9. Handprint Flower Pot Card
Plant a sweet handprint flower in a cute little flower pot with a loving message written inside. The fun thing about this project is that you can slide the flower out of the pot if you'd like.
10. Flamingo Handprint Art
For Moms who love flamingos, this card is a terrific choice. It's bright, colorful, and easy to make. Grab the printable, add the handprint, and present it to Mom to tell her how fabulous she is.
11. Handprint Card for Mom
Looking for a heartfelt and creative way to show your appreciation for mom this Mother's Day? Check out this tutorial for making a DIY Mother's Day card that looks like her! Paint the fingers the same color as Mom's hair and add pretty accessories and embellishments. How fun!
12. Handprint Flower Card
This handprint card for Mom will remind her of all those times the kids have picked flowers for her from the yard and brought them to her to put in a vase or jar.
It's another cute idea that's perfect for siblings, but a single child can complete it as well.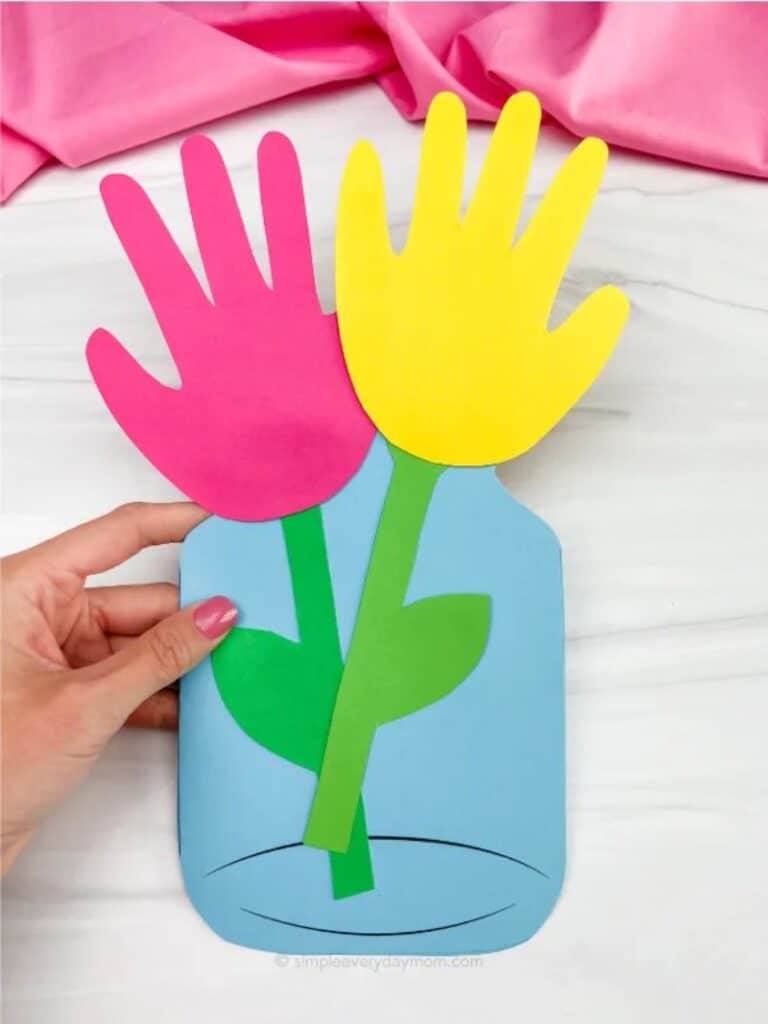 13. Handprint Koala Craft
Any quality (or "koality") Mom will love this super sweet craft featuring a mama koala and her baby clinging to her back.
More Mother's Day Handprint Crafts
These Mother's Day crafts require more materials, effort, and time, but they're perfect for older children who are a little more independent or for making with a group when you have more time for crafting.
14. Handprint Tote Bags
Give her a gift she can carry with her while shopping, running errands, or getting books to and from the library. A personalized tote bag is a practical and thoughtful gift that Mom will cherish for years to come.
by Nifty Mom
15. Salt Dough Handprints Candle Holder
Give Mom something she can use all year round. Anytime she lights a candle, she'll be reminded of those precious little handprints. It's a DIY gift that can last for years to come and is a great gift for Grandma, too.
16. Handprint Pillow
Every spring, when Mom puts out this pillow, she'll smile at the colorful handprint flowers! Simply buy a white pillow cover and some fabric paints to whip up a beautiful gift in no time.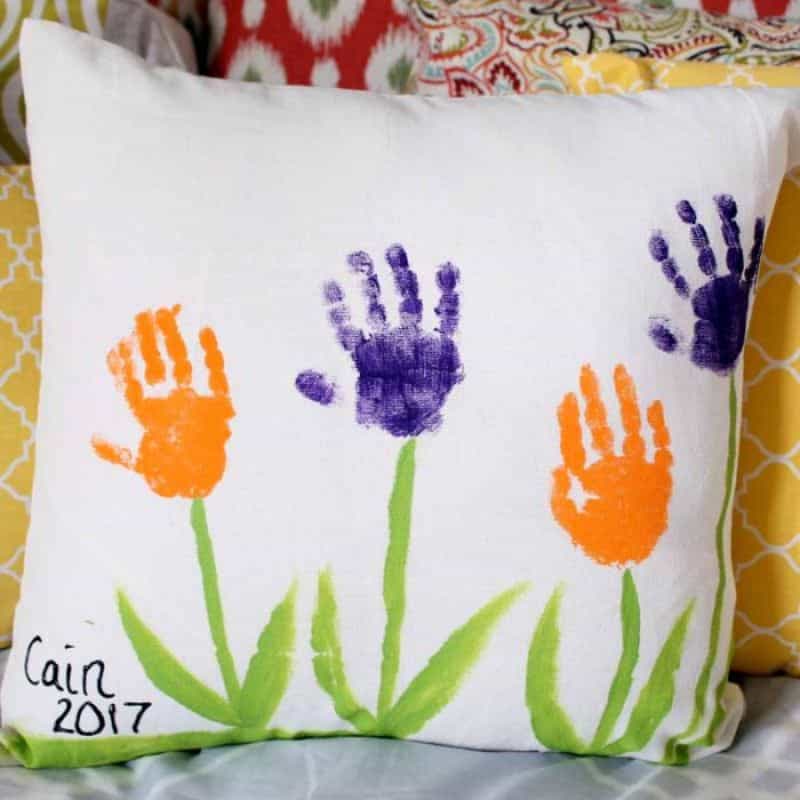 17. Salt Dough Handprint Bowl
Turn a handprint into a useful trinket bowl. Paint it any color scheme you'd like to match the décor or go wild with Mom's favorite colors. It's just the right size for a ring, coins, or a small bracelet.
18. Handprint Flower Pot
For the mom who loves to garden, nothing beats a gorgeous flower pot with a tiny little handprint right in the center. Plant her favorite flowers in the soil! Also, be sure to check out these fun garden crafts!
19. Handprint Shrinky Dink Keychains
Create something special that Mom can take with her wherever she goes — like a keychain! While a standard handprint craft would be much too large, shrinky dink material solves that problem.
Once the handprint is made, shrink it down until it's small enough to fit on a keyring.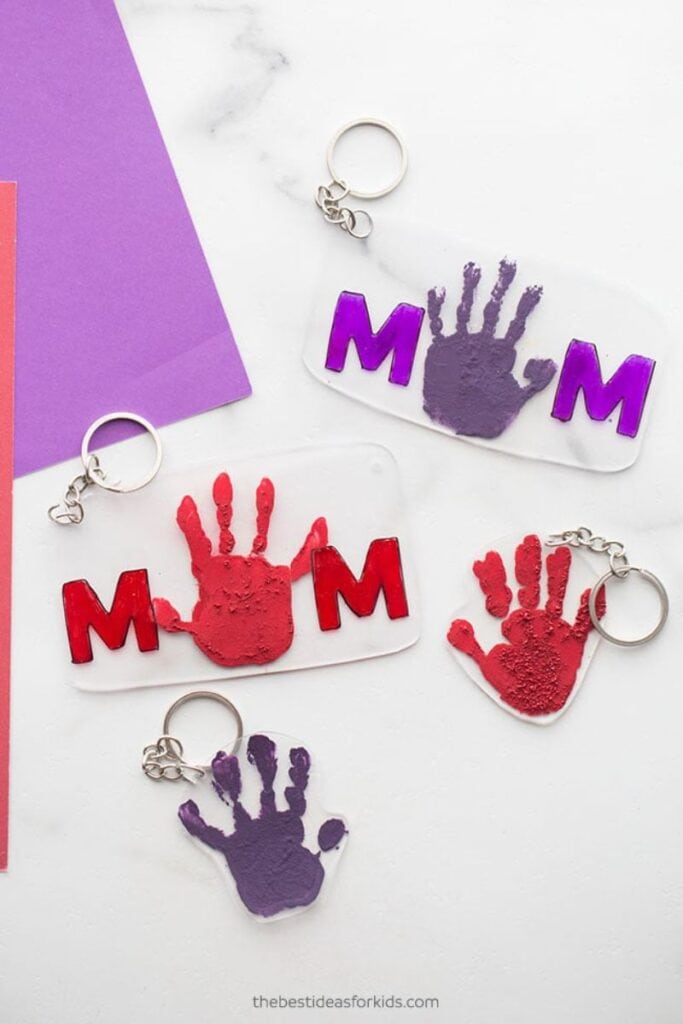 20. Handprint Flower Picture Frame
Grab an inexpensive picture frame (the Dollar Tree has loads of options), and embellish it with tiny baby handprints. If you want to get a handprint in ink or paint, make sure to use a non-toxic product and wash your hand thoroughly immediately after you're done.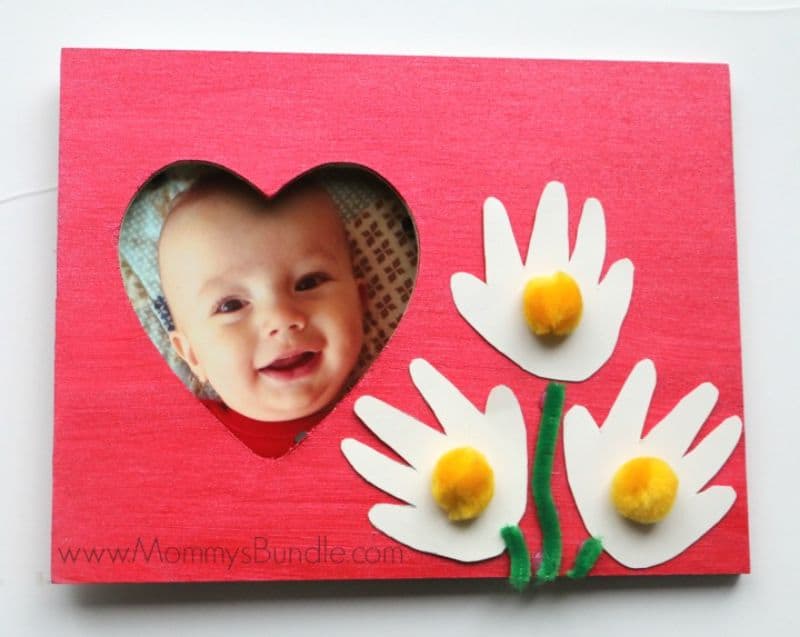 Must-Read Mother's Day Books:
Be sure to check out these great books all about moms and why we love them! These make for a great addition to any Mother's Day craft.
Follow along in this tale about the love between a momma and a baby bear!
Follow along with this cute book, The Night Before Mother's Day. A dad and kids prepare for mother's day!
The Berenstain Bears: We Love Our Mom
Join the Bears as they search for the perfect gift for Momma Bear!
Mother's Day Handprint Art- Summary
We hope you enjoyed this list of cute Handprint Mother's Day Crafts and found the perfect project to make for the special moms in your life.
Whatever keepsakes you make will surely be cherished for years to come.
If you enjoyed this craft, save it for later and follow us on Pinterest for more fun craft ideas.
Other fun craft ideas: