15 Fun Hedgehog Craft Ideas For Kids
Hedgehogs are a favorite animal for kids and adults alike. With their prickly spines, adorable faces, and wiggling noses, they make for great crafts! This blog post will show you 15 creative hedgehog craft ideas that you can do with your children.
Whether it's printing a cute hedgehog paper bracelet to color and wear or making a silly craft out of toilet paper rolls, there is something here to suit every crafting style.
Notice: This post contains affiliate links. To learn more, read our Disclaimer Here.
Fun fact: Did you know that hedgehogs can swim and climb trees? They mostly stay on the ground, though; we know them for their cute quills and rolly-ball shape to protect themselves.
Supply List For Hedgehog Activities
Here are common supplies you will need for a majority of these crafts. Pick and choose what supplies you use for which projects. Most importantly, have fun!
Related craft ideas:
15 Fun Hedgehog Crafts
Ready to make some cute little hedgehog crafts with the kids? Let's get started!
1. Hedgehog Corner Bookmark
This hedgehog bookmark is adorable! Kids will be excited to read and save their page with one of these cute hedgehog bookmarks.
2. Fall Leaf Print Hedgehog
Grab this cute hedgehog printable and let your child get to work painting with fall leaves. Grab your hedgehog craft template printable below the image.
3. Paper Plate Hedgehog
This hedgehog paper plate craft is fun for kids of all ages. If you are looking for a fun activity, give this hedgehog craft a try.
4. Hedgehog Paper Bracelets
What child doesn't love a new bracelet? Get creative and make a hedgehog bracelet.
5. Printable Hedgehog Bookmark
These printable hedgehogs are so unique and fun. If your child loves reading, this hedgehog bookmark is going to be a big hit.
6. Leaf Hedgehogs
Who could have guessed that you could make a hedgehog out of a fall leaf? This leaf hedgehog is adorable! Head here to learn how to make your own leaf hedgehog. The simplicity of this craft makes it perfect hedgehog craft for toddlers.
Also, make sure to check out these other crafts made out of leaves!
7. Paper Bag Hedgehog
Do you have extra brown paper bags hiding in your pantry? If so, this paper bag hedgehog would make a great craft. Also, check out how to make this paper bag ghost!
8. Pom Pom Hedgehog
Isn't this pom pom hedgehog art project the cutest thing? Make sure to use the link provided below and follow the steps so you can make your own pom pom craft.
By Red Ted Art
9. Toilet Paper Roll Hedgehog
Let's face it, we all have plenty of extra toilet paper rolls around our house. If you don't, make sure to save some so you can make this cute toilet paper roll hedgehog.
10. Simple Hedgehog Paper Craft
It doesn't get any simpler than this hedgehog paper craft. Grab some construction paper and get to work.
11. Fork Painted Hedgehog
Is your little one ready to work on their colors? Go grab your free hedgehog printable and let them paint this hedgehog using their favorite colors.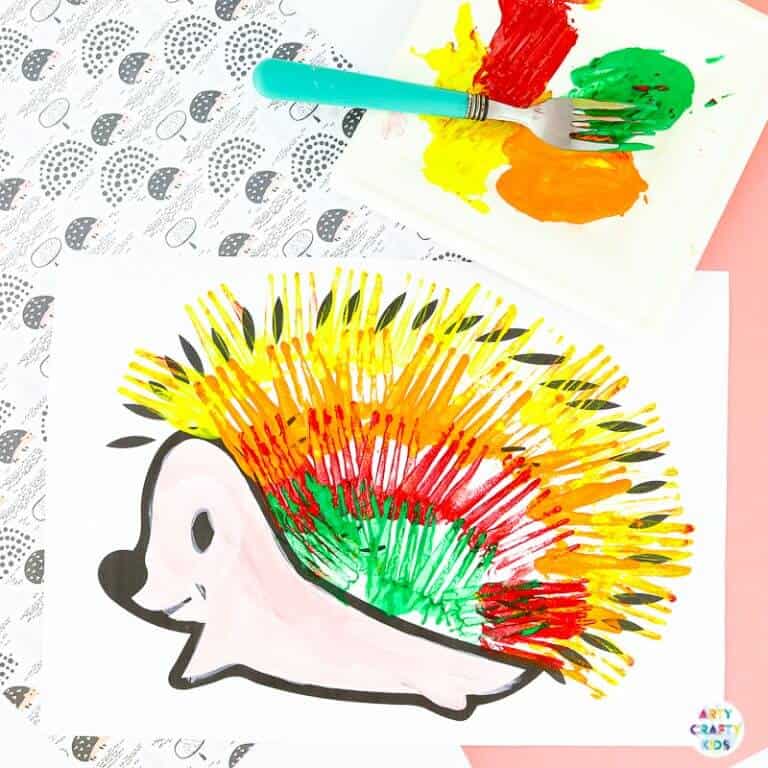 By Arty Crafty Kids
12. Pinecone Hedgehogs
Pinecones are so fun to collect. You can make so many different crafts with them. Go on a pinecone hunt and follow these step-by-step instructions to make your pinecone hedgehog.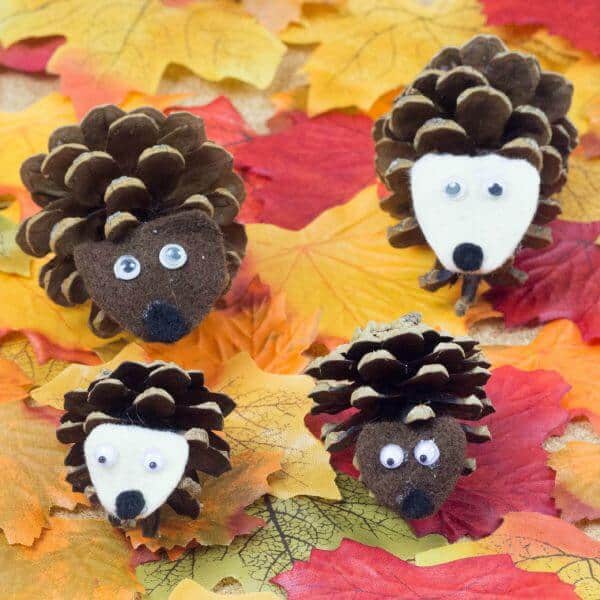 By Mum in the Madhouse
13. Rainbow Hedgehog Costume
This rainbow hedgehog is a hedgehog craft preschool favorite! Make sure you check out how you can turn a piece of cardboard into a fun hedgehog costume in no time.
By Hello, Wonderful
14. Hedgehog Fan
If your littles are a fan of hedgehogs, try making this unique hedgehog fan.
15. Quilled Hedgehogs
These little hedgehogs are a fun craft for older kids who have the dexterity to roll paper. Head here to make your own quilled hedgehog!
By The Inspiration Edit
Hedgehog Crafts – Summary
Looking at all of these fun hedgehog crafts makes us so excited to play around with our own crafty creations! Whether you have a preschooler who loves art projects or a tween looking for something fun to do on the weekend, these 15 hedgehog crafts are bound to bring some smiles and spark new ideas.
Your child will love creating one of these adorable hedgehogs. Plus, there's no need for any expensive materials—most things needed are useful items from around the home. So get ready to get crafty!
Enjoy making one of these hedgehog crafts with your kiddos today, and start sparking creativity, encouraging exploration, and having lots of fun along the way.
Let's Read About Hedgehogs
Not ready for the excitement to end? Why not check out these fun books, all about hedgehogs?
There are so many benefits to reading aloud to kids. It's even been found that reading books to toddlers can help build their empathy, aiding in social-emotional development.
Furthermore, one study found a direct correlation between being read to as a child and higher academic achievement later in life! Regardless of age, the advantages of instilling a love for reading early on are vast and should not be overlooked.
Follow along with this sweet story about a mom hedgehog and her babies, and she teaches them how to survive on their own.
Filled with facts, pictures, and just about everything a child needs to know about their friend the hedgehog. This is a must-read for ages 6 and up.
If you enjoyed this craft, make sure to save it for later and follow us on Pinterest for more fun craft ideas.
Related crafts: