20 Fun Garden Crafts for Kids
With spring just around the corner, we're all itching to get outdoors for more sunshine and fresh air. Make a few fun garden crafts for kids to get ready for the season of renewal.
You'll find loads of crafty projects, like planters and markers, perfect for the garden. But when it's rainy and cold out, you can bring the bright colors of the garden inside with paper garden crafts like a carrot patch or a flower garden.
Ready to get started? Choose a craft or two and gather your materials to begin!
Notice: This post contains affiliate links. To learn more, read our Disclaimer Here.
Planters and Garden Markers
Any good garden needs some fun, colorful planters and garden markers to make identifying the plants easy.
1. Funny Face Seedlings
You'll smile every time you see your child's silly face looking back at you from a green, growing seedling. You need clear cups, packaging tape, a silly picture to make the planter, and some soil and seeds or seedlings to fill it. The grandparents are sure to love one, too!
2. Tin Can Planters
Recycle your tin cans instead of throwing them in the trash. With a coat of brightly-colored paint, they can be made into gorgeous planters for small plants like succulents or herbs. They make great DIY Mother's Day gifts.
3. Mini Lego Planters
Many of us parents have Legos to spare — they turn up in the strangest of places, don't they? Use some to make mini planters for mini succulents or cacti. Kids can use their problem-solving skills and learn about caring for plants at the same time.
Fun must-try crafts: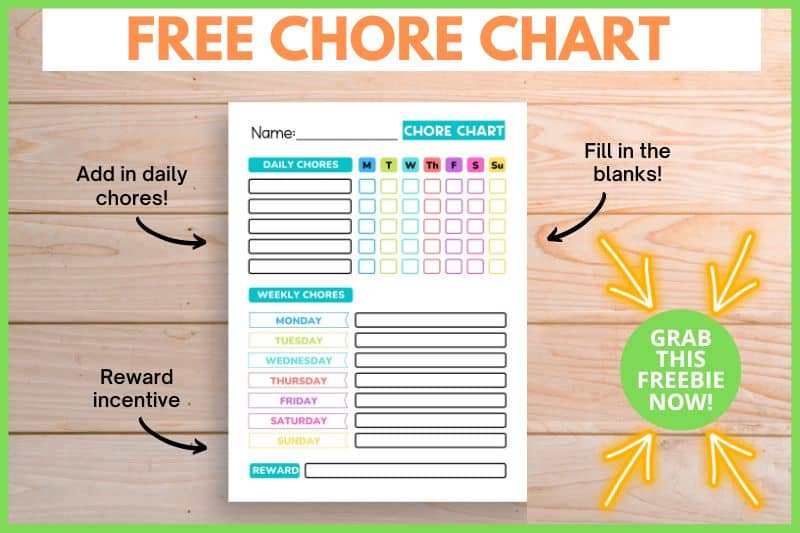 4. Stick and Pebble Garden Markers
How whimsical are these stick and pebble markers? They look almost like magic wands and will suit nearly any garden space. You'll need sticks from your backyard, glass pebbles, and the veggie printable to make some of your own.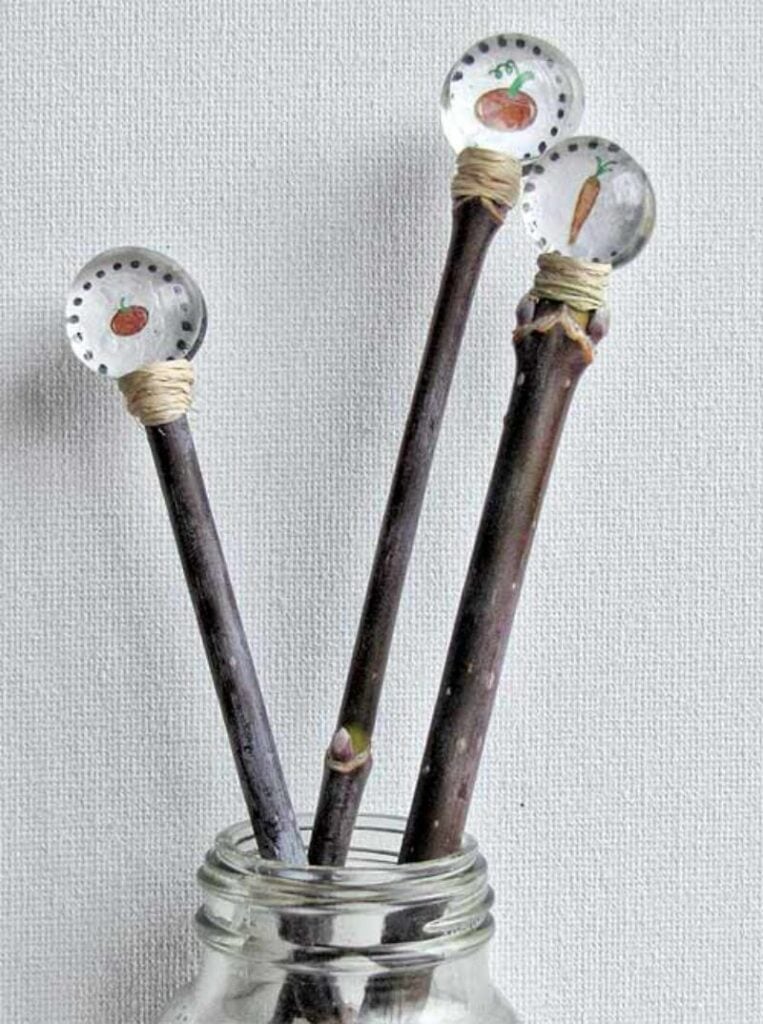 by Woo Jr.
5. Plastic Spoon Garden Markers
Coat plastic spoons in paint, and write the name of your plants on the back of the spoon. Add some easy designs like dots, swirls, or stripes, and you have some colorful and inexpensive garden markers on your hands.
6. Garden Gnomes Garden Markers
These felt garden gnome markers are best suited for indoor houseplants, herb pots, and fairy gardens. They add whimsy and a pop of color and are super easy to make with only felt, scissors, glue, and craft sticks.
7. Beaded Garden Markers
Practice spelling, work those fine motor muscles, and make something pretty for the garden at the same time. These beaded garden markers allow kids to do all three and have loads of fun while making them!
Also, check out how to make this pretty beaded butterfly!
8. Popsicle Stick Garden Markers
Use popsicle sticks and paint to make miniature signs for your garden plants. Even your youngest kids can help by painting the base coat while the older children draw the veggies and write their names.
by Gluesticks
Paper Garden Crafts for Kids
From construction paper to paper plates, these garden crafts are simple, inexpensive, and so pretty.
9. Paper Veggie Garden
Grab your construction paper and the template (or draw the shapes yourself) to make this paper veggie garden of carrots and radishes.
Must-read Spring books:
10. Garden Spinner Craft
Teach your child the names of various garden plants like sunflowers, carrots, potatoes, and strawberries with an interactive garden spinner. Kids can color and assemble their spinners, so it's double the fun.
11. Interactive Paper Plate Flower Garden
Looking for a rainy-day craft? Gather some paper plates and craft paper to make a cute bee buzzing among colorful flowers. The best part is that the craft is interactive, so the bee moves up and down using the stick.
12. Bee in the Flower Garden Craft
We wouldn't have flowers without bees — they are important pollinators! That makes this bee craft perfect for spring when kids are learning about bugs and plants and all the things that make spring fabulous.
13. Carrots in the Garden Craft
Turn cardstock, paper shreds, and paper plates into a cute patch of carrots! Little ones will love that they can slide the carrots in and out of their pocket. Make a bunch of carrots to help your preschooler practice counting.
Painted Rocks Garden Crafts
Add some of these fun-painted rocks to decorate your garden this spring!
14. Painted Rock Cactus Garden
If you and your kids have more of a black thumb than a green one, perhaps a garden that never needs watering is in order. These painted rock cacti are colorful and fun, adding a vibrant touch to any room, but they will also look great on the patio or deck.
You can make them as large or as small as you'd like! This is a fun craft for kids of all ages — even tweens and teens will enjoy it.
by Woo Jr.
15. Painted Rock Garden Markers
Want to start your own herb or veggie garden? These painted rock markers will help you remember where you planted each type of plant. That's pretty handy when so many of them look alike, especially in the early growing stages.
16. Painted Rock Flower Garden
Here's a fun garden craft that's inspired by the retro floral patterns of the 60s. The kids will have just as much fun mixing and matching the stems, leaves, and flower heads as they do painting the rocks.
17. Painted Rock Garden Gnome
While this craft calls for making a concrete shape, we're pretty confident you can find a rock with a sort of pointy shape to make this cute garden gnome craft. And if it doesn't have a flat bottom, you can always give him a little "kickstand" in the back using a stick. This cute little guy can brighten up any garden space.
Creative Garden Craft Ideas
Get crafty with these garden projects made with felt, egg cartons, and other materials.
18. Felt Vegetable Garden
Crafting with felt is so much fun, especially when it's a no-sew project. This no-sew-felt vegetable garden is perfect for toddlers and preschoolers. They can put them on a felt board, arranging the pieces over and over as much as they'd like.
19. Egg Carton Garden Craft
Save your egg cartons to make gorgeous flower gardens to display on your shelves or windowsills. This project would make a fantastic Mother's Day craft for Mom or Grandma.
20. Garden Stepping Stones
If you're a crafter, you likely have lots of bits and bobs around the house that you've been saving — buttons, glass beads, marbles, rocks, and faux gems are all great pieces to include in some DIY garden stepping stones.
Pin this list of garden crafts to work on with the kids this spring!
Spring Crafts for Kids of All Ages
Other fun crafts: