15 Easy Octopus Crafts For Kids
Kids are fascinated with marine life, particularly when it comes to strange and wonderful creatures like octopuses. With their large heads, sucker-covered tentacles, deadly ink, camouflage abilities, amazing intelligence, and other cool octopus facts, it's no wonder kids are eager to find out more about these ocean animals.
These awesome octopus crafts are a great place to start!
Notice: This post contains affiliate links. To learn more, read our Disclaimer Here.
These simple octopus crafts are perfect for preschoolers, kindergarteners, and elementary-aged kids learning about the many animals we have in the ocean.
You'll find super easy crafts like a cupcake liner octopus or printable octopus puppet, to more involved crafts for the older kids, like the fine motor octopus and the puffy bubble wrap version of this cephalopod.
Materials Needed to Make Octopus Craft Ideas
Here are some craft materials you'll need to make the octopus craft ideas below. This list isn't all-inclusive, but it'll be a great start for many octopus projects!
15 Fun Octopus Crafts You Must Try Today!
Below are 15 fun octopus crafts you should try during your next craft session. Kids of all ages will love these easy octopus crafts.
1. Paper Plate Octopus
This paper plate octopus is so easy to make. Grab your art supplies and start creating this fun paper plate octopus.
2. Toilet Paper Roll Octopus
Do you have extra toilet paper rolls lying around your home? Grab a few and give this fun toilet paper roll octopus a try.
3. Cupcake Liner Octopus
Do you have extra cupcake liners lying around? If so, this cupcake liner octopus will be a hit in your household.
Other fun crafts:
4. Cardboard Bubble Wrap Octopus
These cardboard bubble-wrapped octopuses are the cutest little things and are a blast to create. Grab some paint and cardboard, and create your own bubble wrap octopus!
5. Paper Bag Octopus
Your child will love this fun paper bag octopus. Best of all, you might already have all the craft supplies at home.
6. O is for Octopus Alphabet Craft
Are you working on learning your letters with your child? If so, this could be a great supplement craft project to accompany the letter O.
Go grab some craft paper and get to work.
7. Paper Cup Octopus
These paper cup octopuses are so cute! Your child will love making and playing with this neat art project.
If you love crafting with paper cups, make sure you check out our paper cup bat and paper cup ghost craft!
8. Fine Motor Octopus
This fine-motor octopus was a big hit with my 4-year-old, and I'm sure your child will love it too. All you need to get started is a string, pasta noodles, a paper plate, and some markers.
9. Clothespin Octopus
Kids love playing with clothespins, so why not incorporate them into your craft projects? Be sure to try out this fun clothespin octopus craft!
10. Handprint Octopus
We all love a good handprint craft. Let your child trace their handprint or trace them for them and make these cute little handprint octopuses.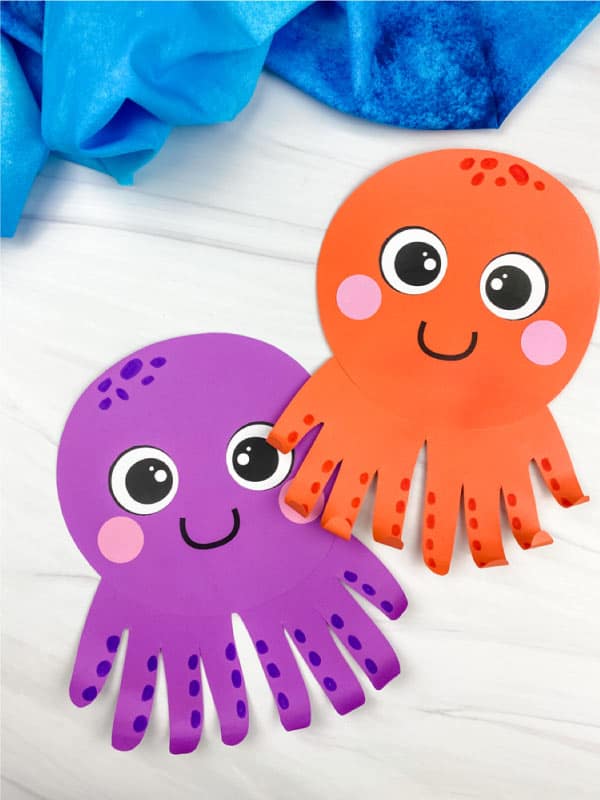 11. Printable Octopus Art
Be sure to grab this neat octopus printable and let your child get creative. Let your child paint, or color it with crayons or markers.
12. Octopus Paper Bag Puppet
Do you have a paper bag lying around? Come learn how to make an octopus paper bag puppet! When your child is done creating their puppet, have them put on a puppet show!
13. Streamer Octopus Craft
Streamers are so fun to make, especially when cheerios are involved. Go give this fun octopus streamer craft!
14. Hank the Pipe Cleaner Octopus
Working with pipe cleaners is a lot of fun. Get to work creating a whole clan of pipe cleaner octopuses.
15. Puffy Bubble Wrap Octopus
Kids love bubble wrap, so attempting this puffy bubble wrap craft is a must.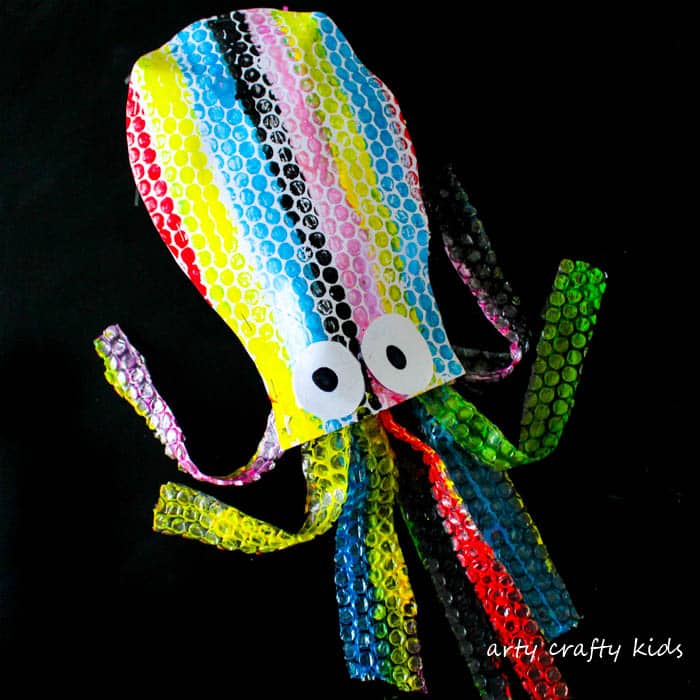 Summary- Easy Octopus Craft
Whether you're crafting with your kids at home or making something fun with the students in your classroom, these octopus arts and crafts are sure to inspire loads of creativity and interesting questions about our eight-legged friends.
Must-Read Octopus Books:
Keep the fun going with these fun octopus books. There are so many benefits to reading aloud to kids. It's even been found that reading books to toddlers can help build their empathy, aiding in social-emotional development.
Furthermore, one study found a direct correlation between being read to as a child and higher academic achievement later in life! Regardless of age, the advantages of instilling a love for reading early on are vast and should not be overlooked.
This I Spy book is great for kids ages 2-5! Have your kids learn their ABCs by following along with this fun book.
Follow along as this octopus escapes his aquarium and heads for the ocean! You won't want to miss this Inky's journey based on a true story!
An octopus falls from the sky! Follow his journey as he lives on the roof.
If you enjoyed this craft, make sure to save it for later and follow us on Pinterest for more fun craft ideas.
Related crafts: