21 Super Easy Snowman Crafts for Kids
Winter is here, and whether you get snow days where you live or not, the cooler weather definitely means you'll be spending more time indoors. Keep the kids entertained with one of these adorable snowman crafts!
You'll find snowmen made of all sorts of materials like socks, felt, paper cups, bowls, and more. We have snowman-themed projects for kids of all ages, and with 21+ to choose from, you have plenty of variety to keep you busy all winter long.
Let's get started!
Notice: This post contains affiliate links. To learn more, read our Disclaimer Here.
Other fun winter crafts: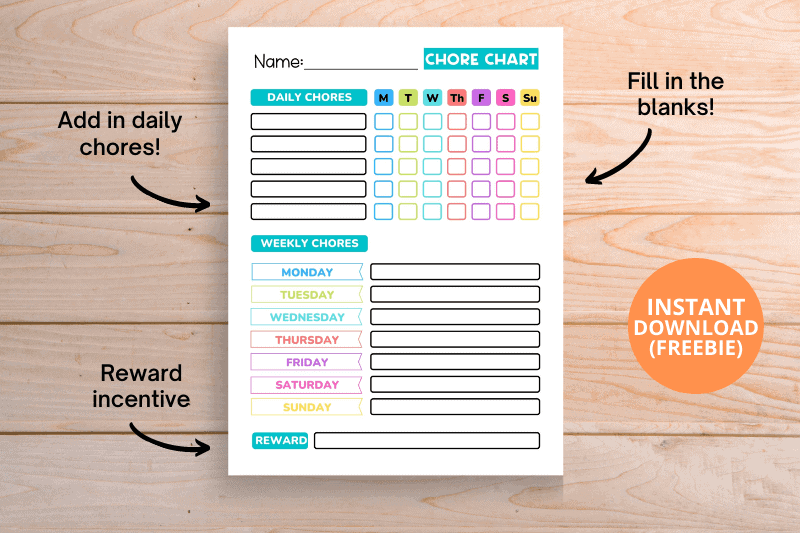 Cute Snowman Crafts
Enjoy these 21 super easy snowman crafts for kids!
Nothing could be cuter than this adorable snowman made out of a sock! It's a fun craft for adults to join in with the kids. You could use some of your scrap crafting materials to make it.
2. Printable Snowman Craft
Looking for a no-fuss craft to set up for your kids or students in a flash? This printable snowman is easy as pie and super cute. They'll look great in your windows or on your bulletin boards.
3. Paper Cup Snowman
The kids will be delighted with this charming paper cup snowman with a light-up nose. Add him to your Christmas decor, or just put him on display to brighten up a dreary winter day.
4. Snowman Photo Craft
Make a fun winter keepsake with the kids using this snowman photo craft template. Just cut out the pieces, add your child's picture, and your personalized snowmen are ready to display.
5. Snowman Handprint
Speaking of keepsakes, some of my personal favorites are my kids' handprints. This handprint snowman is an adorable option for winter. Each finger can represent a different member of the family.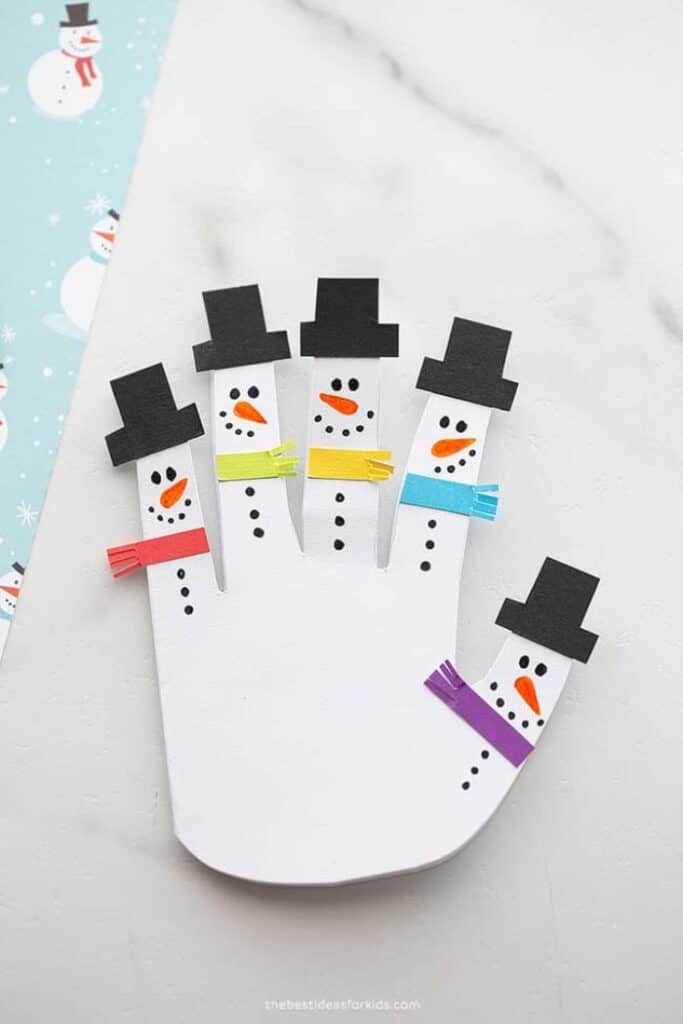 6. Cotton Ball Stamped Snowman
Odds are you made a snowman like this when you were a kid. Using paint and cotton balls to stamp out a snowman is a classic craft that never gets old. It's perfect for toddlers and preschoolers.
7. Snowman Picture Frame
Do you want to build a snowman frame? It'll make your winter pictures look so cute!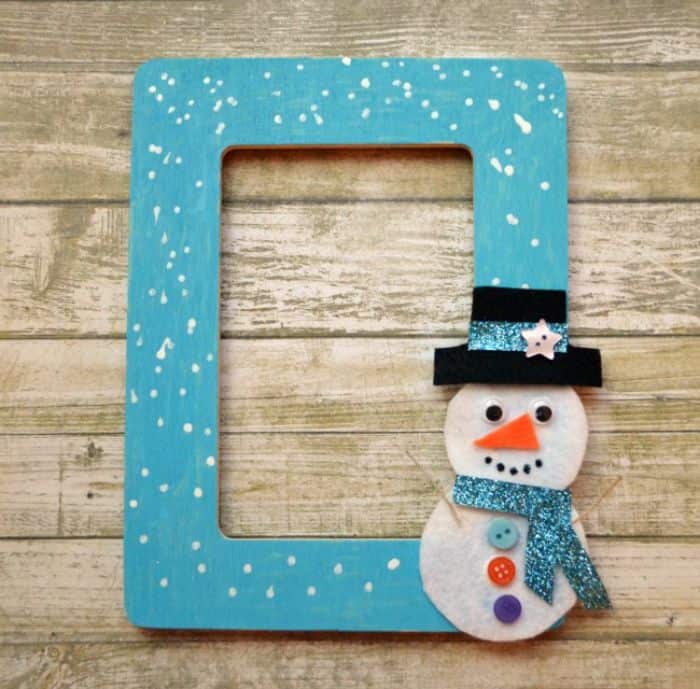 8. Felt Snowman Activity
Cut up some pieces of felt to make snowman accessories for your toddler to play with. Little ones will have so much mixing up and rearranging the pieces to create a colorful snowman. Plus, you don't have to worry about paint, glue, or anything sticky — just good ol' felt.
9. Paper Bowl Snowman Craft
You've probably got some paper bowls stashed away in a cabinet somewhere. Turn a couple into cute little snowmen you can hang on the wall to add some cheer to your room. To finish this cute craft, you'll need craft foam sheets, googly eyes, pipe cleaners, and pom poms.
10. Snowman Windsock
I love a good toilet paper roll craft, especially when it's as adorable as this snowman windsock. Hang it near a window for your neighbors to see or from a chandelier for some winter whimsy throughout your home.
Fun Snowman Craft Ideas
11. Felt Snowman
Does your child like to sew or want to learn how? Try this felt snowman. It's a sweet beginner project that's perfect for elementary ages and up. Turn it into an ornament for the Christmas tree!
Related: 20 Handmade Christmas Ornament Ideas
12. Melting Snowman Craft
Usually, it's not fun when a snowman melts. But this melting snowman craft is an exception. To make this, you'll need some felt, pom poms, buttons, ribbon, googly eyes, and small twigs gathered from the backyard.
13. Q-Tip Painted Snowman
Practice fine motor skills by using q-tips to dab paint on the page using this handy snowman template. The result is an adorable dot-painted snowman that's a great jumping-off point for discussing pointillism.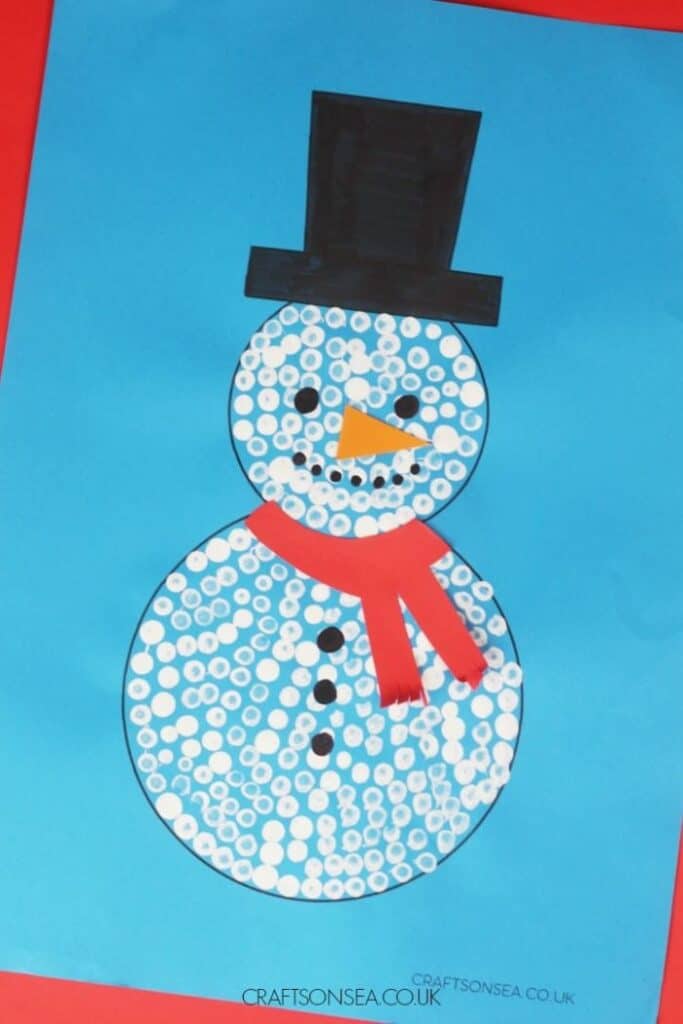 14. Paper Plate Snowman
If you're not afraid of glitter, try this sparkly paper plate snowman. Just add buttons and puffy paint to finish his silly little face.
If you like crafting with paper plates, be sure to check out how to make this paper plate Owl and paper plate Turkey!
15. Egg Carton Snowman
Saving egg cartons isn't just for folks who raise chickens. Those cardboard egg cartons are great for crafting, too. Look at this delightful snowman decked out in a cloth scarf with a pipe cleaner and pom pom earmuffs. Too cute!
16. Snowman Candy Bars
Give the gift of something sweet this winter. These snowman candy bars are easy for kids of all ages to put together and make wonderful gifts for Christmas, winter birthdays, or Valentine's Day.
17. Snowman Lantern
Light up the night with a magical snowman lantern made with a mason jar, tissue paper, construction paper, and mod podge. Keep things safe with a battery-operated votive candle inside the jar.
18. Paint Stick Snowman
You've probably seen craft stick snowmen, but have you thought of trying it out on a large scale? These paint-stick snowmen make wonderful yard decorations during the Christmas season. They can also be used as garden markers in your flower pots.
19. Snowman Paper Plate Mask
Make a cute photo prop for a winter party using this snowman paper plate mask tutorial. It'll make for adorable holiday photos for kids of all ages and is a great way to use up some of your spare paper plates.
20. Snowman Mason Jar
This idea is similar to the lantern above, but you can turn this snowman jar into a piggy bank, a pencil holder, or a holder for your makeup brushes. There are so many uses for this festive DIY decor.
21. Craft Stick Snowman Ornament
Group several craft sticks together and paint them white to make some craft stick snowmen for your Christmas tree. You can also use them as gift tie-ons to make your gifts extra special this year.
We hope you've enjoyed this roundup of cute snowmen crafts for kids of all ages. Which one is your favorite?
Don't forget to pin this post for later and return to it on your next snow day. Also, join us on Pinterest for more fun craft ideas!
Related Post Ideas: