21 Adorable Mother's Day Cards for Kids to Make
Mothers deserve to be honored and celebrated every day of the year, but every May, there's one special day set aside for making a fuss over Moms. To help kids surprise their mothers (and grandmas and aunties) with something heartfelt, we've made a list of 21 totally adorable Mother's Day cards kids can make.
There's something here that will appeal to any child—from macaroni art to photo projects to a card made of Legos. Scan this list, pick a few projects, and help the kids make them for the special women in their lives.
Notice: This post contains affiliate links. To learn more, read our Disclaimer Here.
Supplies for Homemade Mother's Day Cards
Here are common supplies you will need for a majority of these crafts. Pick and choose what supplies you use for which projects. Most importantly, have fun!
Cute Ideas for Mother's Day Cards from Kids
Let's dive into these cute cards that moms are sure to love.
1. Macaroni Art Mother's Day Cards
Painted pasta has never looked more beautiful! These whimsical cards take macaroni art to a whole new level. Recreate the floral designs you see here or use them as inspiration to make a flower design of your own.
2. 3D Tulip Card
Use the printable template to craft a Hallmark-worthy card for Mother's Day. With cardstock, pipe cleaner stems, scissors, and glue, you can assemble a beautiful and heartfelt card in no time.
Write a special message on the flower pot to show Mom how special she is.
3. Cactus Handprint Card
Succulents and cacti have been popular for years now, but this craft has a sentimental touch—cute little handprints! Turn those sweet handprints into a beautiful cactus card that Mom can add to her scrapbook and treasure forever.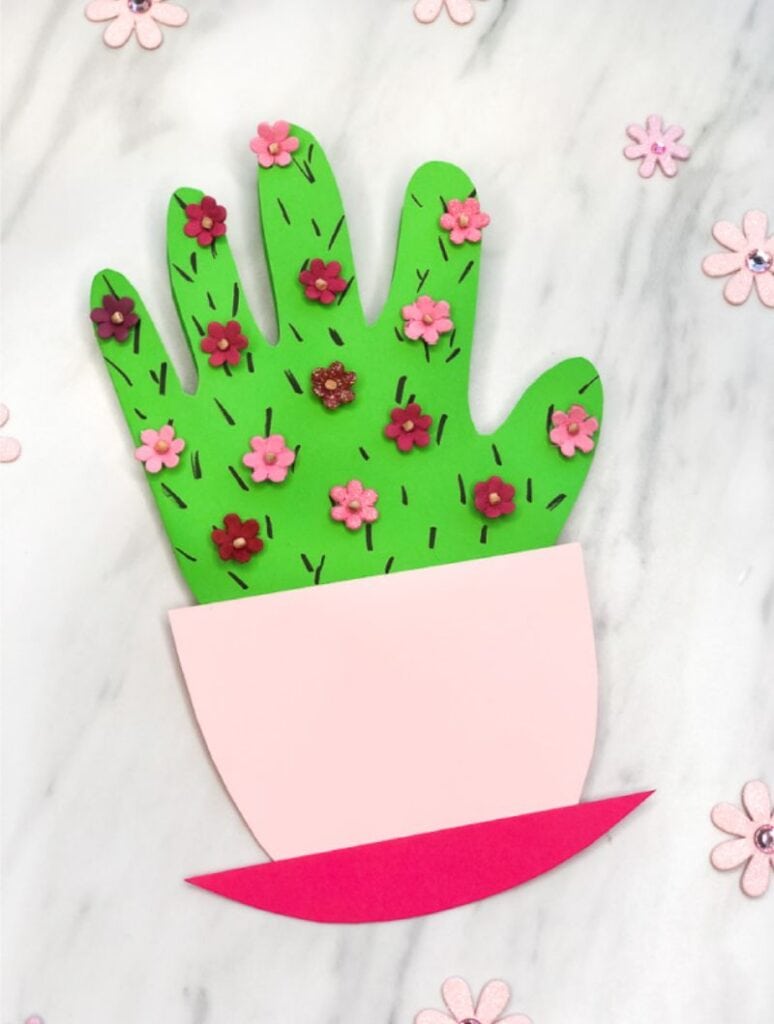 4. Q-Tip Flower Art Mother's Day Card
We've mentioned this card in our post on spring flower crafts, but it's also worth mentioning here. Teach kids the pointillism technique while making a lovely card for Mom.
Not only is painting with Q-tips fun, but it's easier for toddlers and preschoolers because they don't have to worry about brushstrokes. All they need to do is dip the Q-tip in the paint and then dab it on the page.
5. Printable Fingerprint Flower Cards
Those fingerprints that dot windows and walls won't be small forever. Preserve them just as they are now with this flower card for Mother's Day.
Grab the template that includes the flower stems and centers, and then let the kids get to work adding their fingerprint petals.
Other fun crafts:
6. Rainbow Heart Mother's Day Card
Give Mom a beautiful rainbow heart card for her special day. Use foam shape cutouts to make this rainbow silhouette craft easier.
7. Whale Mother's Day Card
With this whale-themed photo craft, mom will have a whale of a time on Mother's Day. It reads, "We Whaley love you," but you can change the phrase to whatever you want.
"You're a Whaley great mom" is a great idea, too!
8. Tulip Heart Card
Here's another pretty tulip-themed card that's sure to be a hit on Mother's Day. This time, it's a 3D tulip inside a heart-shaped card. Mom will enjoy displaying this card for a long time after May.
9. Flowers in a Jar Card
Any mom who loves mason jars will enjoy this card featuring pretty blooms in a jar. Each flower has a kind word that describes Mom's character or personality.
What a thoughtful way to show her how much her children care for her!
10. Dandelion Mother's Day Card
Have you ever picked a dandelion, made a wish, and blown the seeds away into the wind? That magical moment is captured in this dandelion-themed card for Mom wishing her a Happy Mother's Day.
11. Heart and Flower Card
This lovely card fills a simple heart with 3D flower petals and leaves. Once the craft is finished, write a special message inside to tell your mom how much she means to you.
12. Lego Mother's Day Card
Kids who enjoy building will get a kick from this Mother's Day card built with Legos. With a heart on the front and a sweet message inside, this creative project is sure to make Mom smile.
13. Plastic Cap Flower Card
This eco-friendly card is easily made using basic craft supplies and recycled plastic lids. The lid serves as the flower center. Add petals, stems, and leaves, and complete the rest of the picture with grass and sunshine.
14. Butterfly Kisses Art
Pair a photo with butterfly cutouts, and you get a gorgeous piece of art Mom can display all year.
Although technically, it's not a card. We're including it in this list because you can easily turn it into one. Fold a piece of cardstock in half, add the butterflies and photo to the front, and write a special message inside.
Of course, it'll look just as lovely on canvas. You'll need a butterfly hole punch to complete this craft.
15. Footprint Butterfly Card
What a sweet way to remember tiny baby feet! This is the perfect card for moms who are celebrating their first year of motherhood with their babies. It's also a cute choice for toddlers to make, too.
The sweet poem on the template is sure to bring about a happy tear or two.
16. Unicorn Flower Art
Like the butterfly art above, this unicorn art idea can be turned into a large card. Simply staple or glue another sheet of cardstock to this one to write a special note to Mom inside.
Decorating with real flowers is a fun way to incorporate nature into this spring project.
17. Heart Fingerprint Card
We love the simplicity and sentimentality of this card. Use fingerprints and a pen or marker to make a bundle of heart-shaped balloons on a piece of folded cardstock. Write your personalized message inside for Mom, and you're all set.
by Kiddy Charts
18. 3D Flowers Card
This 3D flower craft is made with coffee filters and is perfect for moms and grandmas. Even if you don't drink coffee, keep some filters on hand to make simple, beautiful crafts like this one.
19. Fingerprint Bird Card
What could be more fitting for spring than a mama bird and a baby bird? This multimedia craft incorporates paint, buttons, and sticks for a charming card that's simple enough for all ages.
20. Cupcake Pop-Up Card
Here's another delightful photo card—this time with a cupcake theme. Kids can embellish the cupcake and add a photo that pops up using the popsicle stick. Sweet!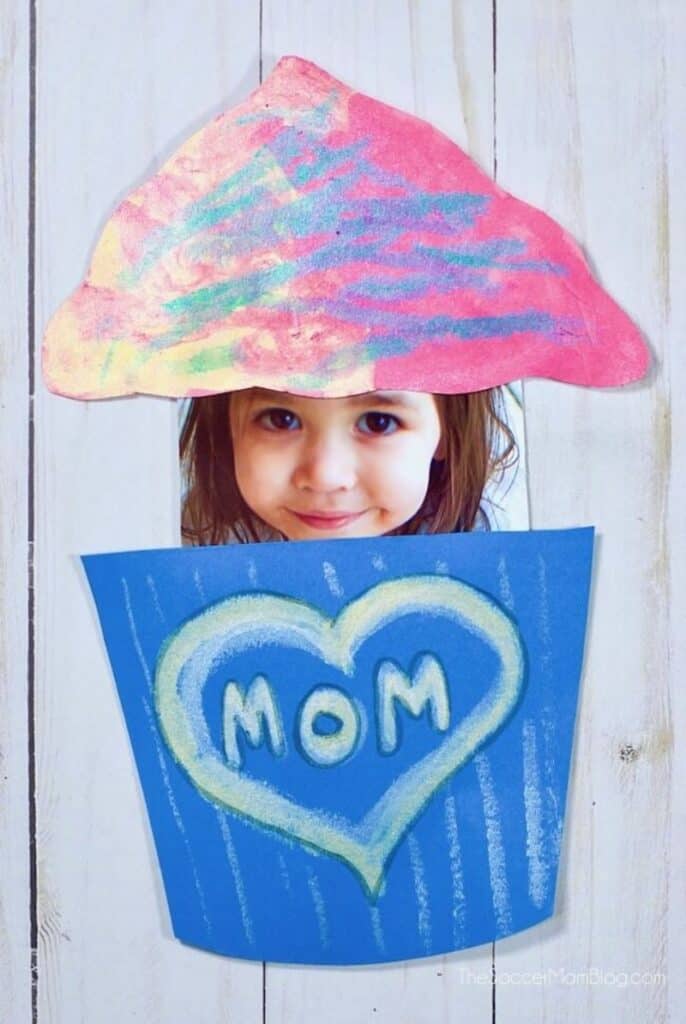 21. Tissue Paper Flower Card
Grab some tissue paper from your stash of gift-wrapping supplies to make these simple flower cards. Use scraps of green yarn to make the stems, or substitute green construction paper or pipe cleaners if you don't have yarn.
Summary- Homemade Mother's Day Card Ideas
That rounds out our Mother's Day Cards list for kids to make. We hope you find an idea or two so you can surprise Mom with a beautiful card on her special day.
Must-try spring crafts:
Must-read Mother's Day Books
Be sure to check out these great books all about moms and why we love them! These make for a great addition to any Mother's Day craft.
Follow along in this tale about the love between a momma and a baby bear!
Follow along with this cute book, The Night Before Mother's Day. A dad and kids prepare for mother's day!
The Berenstain Bears: We Love Our Mom
Join the Bears as they search for the perfect gift for Momma Bear!
Don't forget to share and pin it to come back when you're in a crafty mood!