21 Cute Bunny Crafts Perfect For Easter
Looking for a fun way to celebrate Easter? Make some cute bunny crafts with your kids! There are so many adorable ideas out there, from simple paper plate bunnies to fun bunny paintings.
Whether you're looking for something to keep the kids occupied or want to create a cute Easter decoration for your home or classroom, these bunny crafts are sure to please.
Notice: This post contains affiliate links. To learn more, read our Disclaimer Here.
Get ready to get crafty and have some Easter fun!
Materials to Make Bunny Crafts For Kids
Below are some craft materials you'll need to make the rabbit crafts. This list isn't all-inclusive, but it'll be a great start for many projects!
Fun Easter Bunny Crafts for Kids
1. Handprint Bunny
Children's handprints don't stay little for long. Preserve them for a lifetime with a cute handprint bunny that makes the perfect Easter keepsake.
Use the template along with colored cardstock, pipe cleaners, and pom-poms to create adorable bunnies worthy of the scrapbook or memory box.
2. Paper Strips Bunny
Hop into the Easter season with a craft that helps kids develop their cutting and fine motor skills. This cute bunny is made with paper strips and is a little more challenging, so it's a terrific project for kids in kindergarten or higher.
If you'd like to make quick work of the paper strips, use a paper cutter instead. This bunny craft would make a cute decoration on your table or mantle!
More fun craft ideas:
3. Cotton Ball Bunny Cards
One of the qualities we love most about bunnies is how fluffy they are. Recreate that fluffy feeling with cotton balls!
Turn this bunny craft into a card for grandparents, friends, or teachers. Kids will have a blast making the card and writing a special message inside.
4. Easter Bunny Paper Craft
Grab some pom-poms and colored paper to make colorful, adorable bunnies that you can hang on the wall or turn them into large stick puppets.
Follow the step-by-step instructions to cut out each shape needed, and then glue them together and draw in the details of the face.
You'll have a sweet little bunny finished in just minutes, so why not make several?
5. Carrot Nibbling Easter Bunny Cards
What do hungry rabbits like to nibble and nosh on? Why, carrots, of course! It's only natural that the two should come together in an Easter card.
The carrot opens and closes for kids to write a fun Easter message inside.
Use the printable template to trace the pieces onto colored cardstock, or print them directly onto colored paper to make this project go a little faster.
6. Washcloth Bunnies
These washcloth bunnies make terrific mini Easter baskets for the kids, or you can teach them to make them for some festive decor around the house.
The best part is that there's no sewing involved. Just fold, roll, and tie the washcloth into a bunny shape. Glue on some eyes and a nose and tie with a cute ribbon, and the cute bunny craft is complete.
7. K-Cup Bunny Craft
If you use a Keurig to make your coffee, start saving the K-cups. The kids can turn them into so many cute things, like these K-cup bunnies!
It's a nifty way to teach kids to upcycle materials that would normally be tossed out. Plus, they'll have adorable miniature bunnies that they can play with or display in their rooms.
by Artsy Momma
8. Build-a-Bunny Cut and Paste Craft
Teachers looking for cute bunny crafts will love this super easy cut-and-paste craft. All you need is paper, scissors, and glue!
They'll look absolutely adorable on a bulletin board or your classroom door with the kids' names on the bunnies' tummies.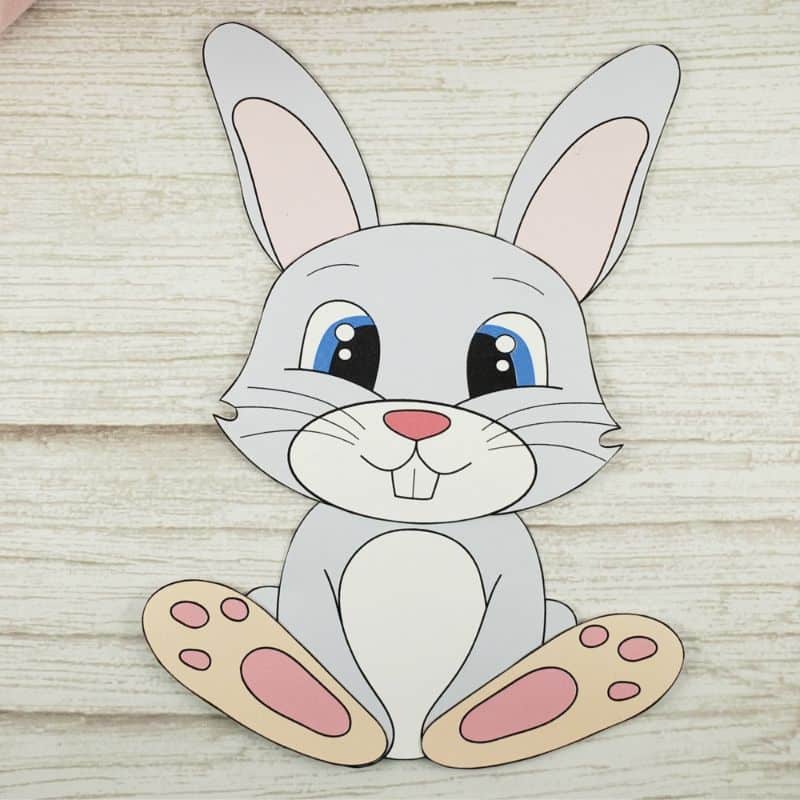 Must-Read Easter Books:
9. Toilet Paper Roll Bunny
Don't toss those empty toilet paper tubes! They're the perfect frugal material for crafting.
Take these toilet paper roll bunnies, for instance. They're colorful and fun, and will look charming on your windowsill or on a table or mantle this Easter.
Add some faux flowers in the tube for an extra spring touch.
10. Bobble-Head Paper Plate Bunny
This craft takes the traditional paper plate bunny to a whole new level! It has a cute bobblehead that bounces from the bottom plate when you move it.
Kids will love the bright colors and bounciness of this bunny craft. It even has a lovely little pom-pom tail on top.
11. Easter Bunny Mask
Kids can pretend they're the Easter bunny with this fun and frugal paper plate craft. It will be a huge hit for pretend play and will make a nice photo prop for an Easter party, too.
If you don't have felt, you can finish the ears and nose with pink paper instead.
by She Saved
12. Bunny Corner Bookmarks
These bunny bookmarks are as adorable as they are practical. Make several to mark your spot in your favorite springtime chapter books.
Bookmarks are a great idea for a classroom craft. Students can make extra to donate some to the school library as well.
by Red Ted Art
13. Chalk Pastel Bunny Art
You're in for a lot of fun if you've never worked with chalk pastels before. It can get a bit messy, but the bright colors look so vivid and beautiful against the black background.
The printable bunny template will help you create the perfect bunny outline surrounded by rays of gorgeous color.
14. Yarn-Wrapped Easter Bunny Cards
Send "Hoppy" Easter greetings with lovely yarn-wrapped bunnies turned into sweet cards to give to friends and family.
Yarn wrapping is great fine motor practice for little hands, plus it creates a beautiful effect when viewed through the bunny-shaped cutout in the card.
15. Paper Plate Bunny Silhouette
Showcase a bunny silhouette made with just paint a paper plate, a bunny cutout, and a fluffy pom-pom.
You can choose any color combination you like, so if pastels aren't your thing, select bright, bold colors, as you see here.
It'll look great hanging above your mantel for Easter!
16. Paper Plate Bunny with Flower Crown
This pretty bunny is more like your traditional paper plate bunny but with a sort of boho twist.
The bunny is wearing a flower crown!
It's super easy to make, too. Just grab a plain white paper plate, the printable template, scissors, and glue. Cut out the ears and flowers, and glue them on after attaching the curlicue pipe cleaners.
17. Bunny Paper Bag Puppet
Put on a puppet show with these easy paper bag bunny puppets!
With lunch sacks, construction paper, and pipe cleaners, you can have your very own rabbit puppet in less than half an hour.
And this craft is just as cute outside of the Easter season. You can make a brown or gray bunny instead to look more like a natural rabbit.
18. Popsicle Stick Easter Bunnies
Add to your Easter decor with these beautiful bunnies made from popsicle sticks. This is a fun craft for all ages (even adults), and it can be used for so many things!
Add magnetic tape to the back to turn them into fridge magnets. Glue them to the side of a picture frame to make pictures with the Easter bunny extra special. Slide one into a basket of goodies for a friend or neighbor. You get the idea.
19. Paper Bobble Head Bunny
Decorate your Easter brunch table with these simple yet cute paper bobblehead bunnies. Make them in an assortment of colors to add a bright touch to your decor.
The kids will have such fun making purple, blue, yellow, green, and white Easter bunnies.
20. B is for Bunny Craft
Is your toddler learning the alphabet? Work on the letter B with this fitting B is for Bunny craft for Easter.
Toddlers will love squishing and squeezing the soft cotton balls between their fingers as they glue them into place along the B.
21. Easter Bunny Painting
Finally, let's finish this list with a multimedia art project that you'll want to bring out for display every Easter.
Use acrylics, watercolors, and sharpies to make a bunny that's looking up at the Easter eggs. It's an adorable piece of art that kids will be proud to show off.
Bunny Crafts For Kids- Final Thoughts
And that's the end of our list of cute bunny crafts. Which one is your favorite? What do you think your kids will be most excited to make? Let us know!
Don't forget to pin this post to Pinterest and return to it when you want to make some cute bunny crafts this Easter!
More fun craft ideas: