20 Festive Fall Nature Crafts For Kids
What better way to get in the spirit of fall than with a few DIY crafts, especially when they're made from things you can find right outside your door?
Fall nature crafts for kids are not only a great way to spend some quality family time, but they also introduce children to nature. And what's more fun than that!
Notice: This post contains affiliate links. To learn more, read our Disclaimer Here.
We've collected 20 unique and creative nature crafts for fall that are perfect for kids of all ages. From making pine cone owls or corn husk dolls to creating acorn decorations like squirrels or mice, these autumn crafts will help you welcome cooler weather and colorful leaves into your home.
Related fall crafts:
20 Festive Nature Crafts for Fall
1. Pine Cone Pumpkin
Turn pine cones into lovely pumpkins with this easy tutorial! It's easy enough for kids of all ages to have fun. Plus, it doubles as a charming decor piece on your fall mantle!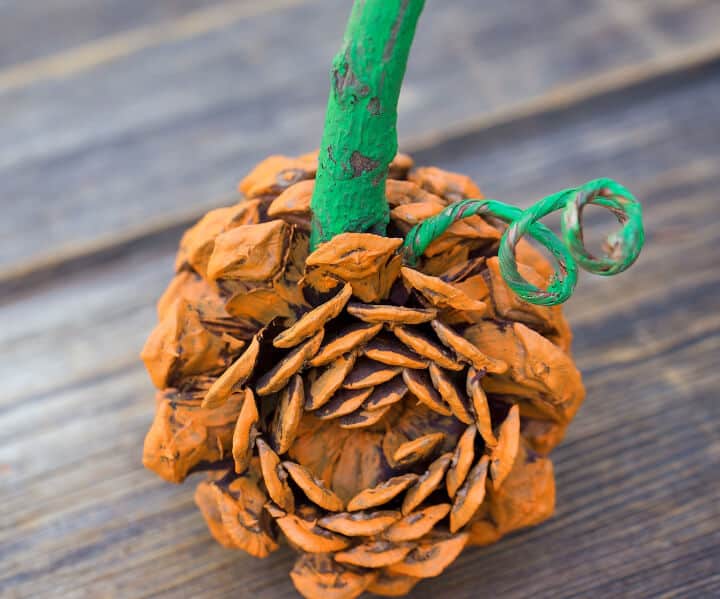 2. Squirrel Acorn Craft
If you're trying to encourage independence in your little ones, this adorable acorn squirrel craft is all you need.
Because it's just so easy to put together, kids can make this cutie on their own with little supervision.
3. Painted Acorns
Take out your paintbrushes and invite your kids to learn how to make this eye-catching rainbow acorn craft! Not only is it a super fun activity for kids, but it also makes a cute centerpiece.
4. Nature Small World Play
With the help of twigs, some pretty flowers, and lots of imagination, your kids can create this small world play and have tons of fun!
Check out our Fall Busy Book, which is full of educational entertainment! This book includes creative craft activities, games, puzzles, and more – perfect for a rainy day!
5. Nature Hedgehog
Besides being super cute, this endearing little hedgehog craft is excellent for encouraging natural exploration. Plus, kids can learn how to create art with natural elements they can find right in their backyard!
Head here for 15 fun hedgehog crafts!
6. Nature Frames
Let your child capture the stunning fall season colors by making this lovely frame! This fun nature frame is perfect for displaying their favorite fall nature finds. All you need is a few basic supplies, like cardboard, leaves, glue, and whatever you can find outside.
Have fun making this one-of-a-kind frame that will surely bring out the best in those memories! Go get started!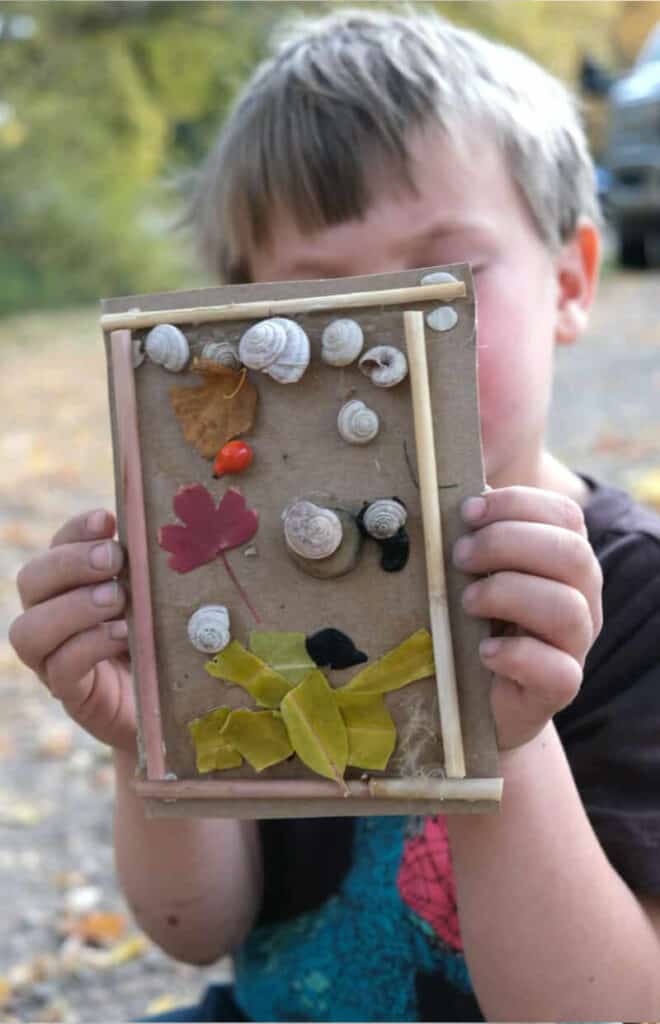 7. Corn Husk Flower Pencil Topper
Add a fun touch to school supplies with this adorable corn husk flower pencil topper. A fantastic idea for the back-to-school season!
8. Pine Cone Owls
Your kids will have a blast making these cute little pine cone owls made with acorns, pine cones, bark, and seeds! For the whole experience, you can go on a nature walk with the kids to gather all the natural elements needed and turn this craft into a fun STEM activity!
Related craft: Try Making This Paper Plate Owl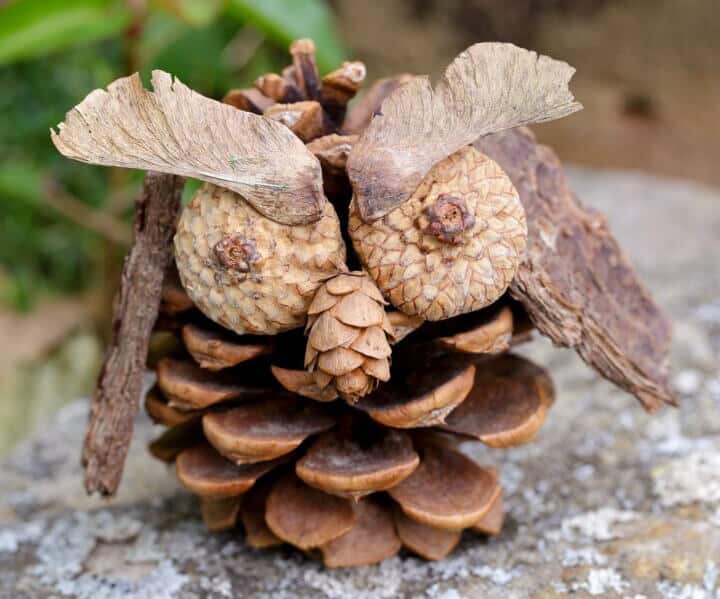 9. Fall Leaf Crowns
Follow the step-by-step instructions to make this enchanting crown using paper and real leaves! There are many options: an autumn leaf crown, a wristband, and three forest friends headbands, all equally enchanting!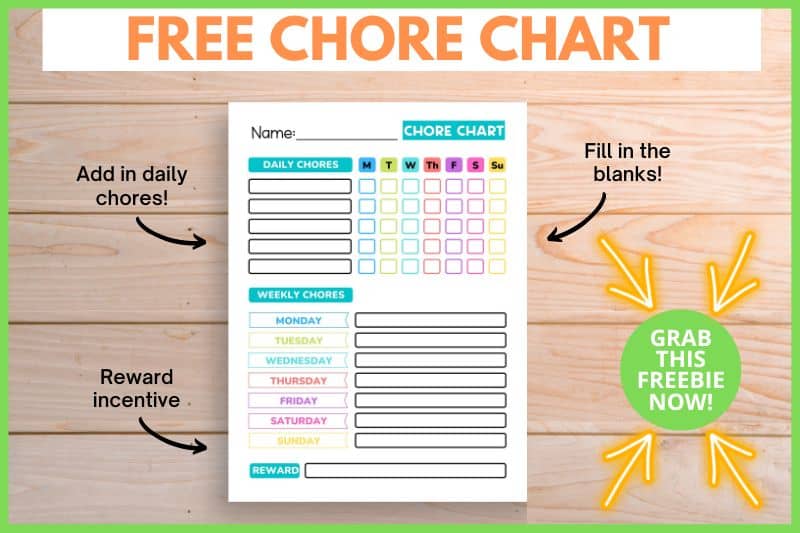 10. Leaf People
If you're looking for a fun craft project that will let your child explore nature while nurturing their creative side, this craft checks all the boxes!
Your little ones can create leaf people using leaves and natural elements like twigs and acorns!
11. Butterfly Fall Leaf Craft
Follow along with this craft's instructions using the link below the image to make these enchanting butterflies made with real fall leaves!
If your child loves butterflies, check out our fun tie-dye butterflies and beaded butterfly crafts. Also, use this fun craft to learn about the life cycle of a butterfly!
12. Nature Mask
Top off your next nature craft project with these fantastic nature masks! This craft is such a simple but super fun project to make! In addition, the mask printable is free and ready to print!
Grab our free fall bucket list printable and see how many activities you can check off!
13. Corn Husk Dolls
Looking for the ideal DIY project to keep little ones entertained during those long, rainy days? Try these charming Corn husk dolls! All you need are corn husks, string, and markers!
These dolls are such a fun and original idea for kids of all ages.
14. Fall Bean Mosaics
Spark your child's creative side with this artsy craft project!
Making these leaf-shaped bean mosaics is such a fun and relaxing activity for your little ones! It teaches them to be creative and encourages fine motor development while they work.
To get started, you'll need some leaves of various shapes and sizes, dried beans of different colors (preferably with a variety of textures for more interesting designs), glue, and cardstock or heavy construction paper cut into leaf-shaped pieces.
15. Magic Wands
These one-of-a-kind wands made with elements from nature are a magical idea to boost your child's outdoor playtime! Each wand is hand-crafted with natural elements like sticks, stones, shells, pinecones, and more. They are the perfect tool to unleash your child's inner wizard!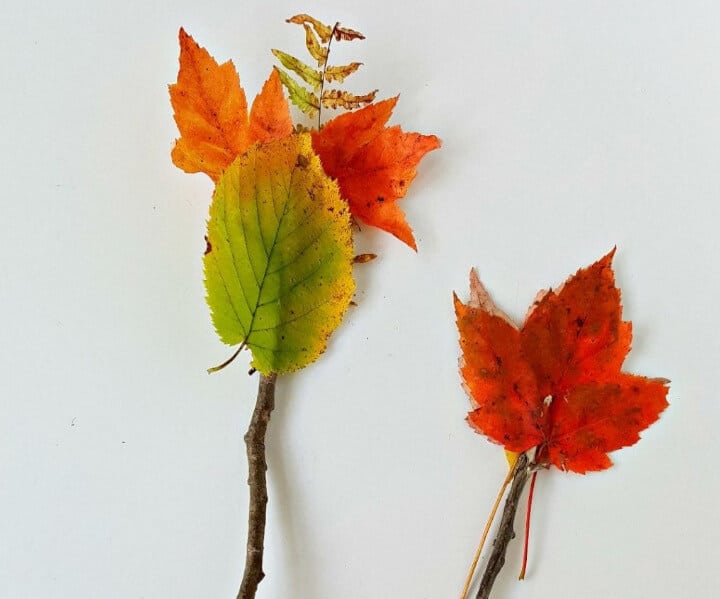 16. Pine Cone Apple
Make your next craft project extra sweet following this pine cone apple craft. Follow the instructions in this post and allow your kids' crafty side to shine through.
Related craft: 20 Fun Apple Crafts for Kids
17. Acorn Mice
If you're on the hunt for a cute fall craft project that's equal parts creative and outdoor-approved, this adorable little mice craft made with acorns will not disappoint! This fun nature craft will have you and your little ones enjoying the great outdoors in style.
Here's what you'll need: Acorns, craft eyes, glue, paint, and yarn. First things first—gather some acorns! If you don't already have them lying around your property, this is a great opportunity to go out on an adventure and explore nature at its finest
18. Fall Mobile
You won't be able to resist this magical fall-themed mobile!
Follow the easy step-by-step instructions and help your kids make their own. You'll only need embroidery thread and some natural twigs, pine cones, and leaves!
By Red Ted Art
19. Helicopter Seed Wall Decoration
Let your child's imagination fly high with this adorable helicopter wall decoration craft made with seeds! It's the perfect decor piece for any little one who loves aircraft.
20. Acorn Frame
Add an autumn vibe to your decor by making this acorn frame with the little ones! Making frames with the kids is always a good and fun crafting activity kids of all ages enjoy.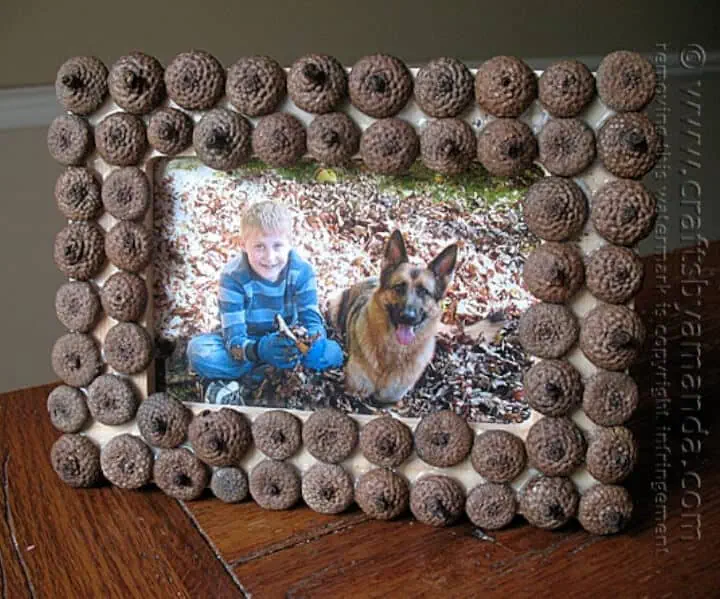 21. Fox Leaf Craft
Isn't this fox leaf craft adorable? All you need are leaves, googly eyes, and some paint!

This leaf craft is perfect for little hands, but you can definitely help out your kids if they need it. When you are done, let your child choose how and where they want to display their masterpiece! Whether it's in their room, on your fridge, or on a window sill, they'll be so proud of their creation.
This is a great way for kids to use nature to get creative and learn about colors and textures, too!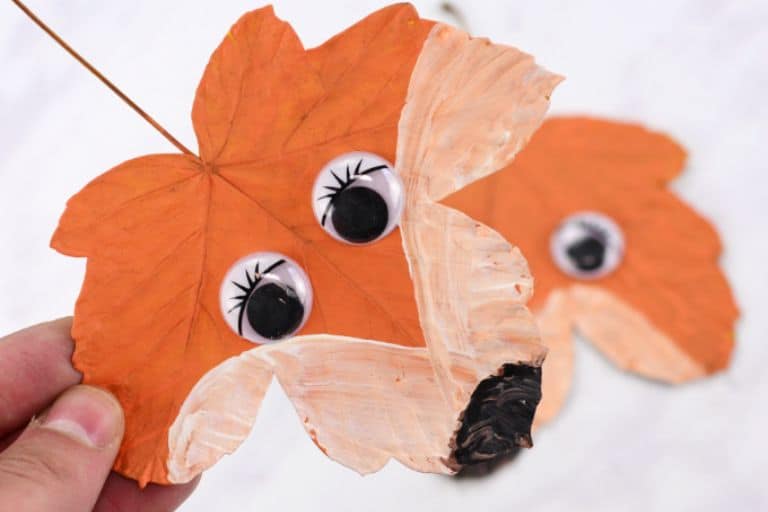 22. Nature Scavenger Hunt
One of the best things to do on a nice fall day is go on a scavenger hunt! Use this fun scavenger hunt to collect supplies for some of these other craft projects. From leaves to acorns, this scavenger hunt will bring the fun of the outdoors inside for a crafty time!
So grab a brown paper bag, print off this scavenger hunt, and explore!

Once you have all your supplies gathered, it's time for crafting! Try making any of the above fun nature crafts for kids!
23. Rock Painting
Paint and rocks, could it get any more simpler?
Rock painting is a fun and creative way for kids to express themselves. You can create fun fall designs on rocks using paint, markers, and other decorative materials. With a few simple supplies, you can make your own fall rock art!
24. Fall Tissue Paper Suncatchers
Every child loves acorns, so why not give this neat acorn suncatcher a try!? You will need some tissue paper, printer paper, glue, and scissors. Cut out the shape of an acorn from the paper. Then, cut up small pieces of tissue paper for your child. Let them arrange the pieces on top of the paper acorn. Glue them down and let it dry.
Hang it up in a window for your own crafty suncatcher! It's an easy and fun activity that kids of all ages will love. Enjoy!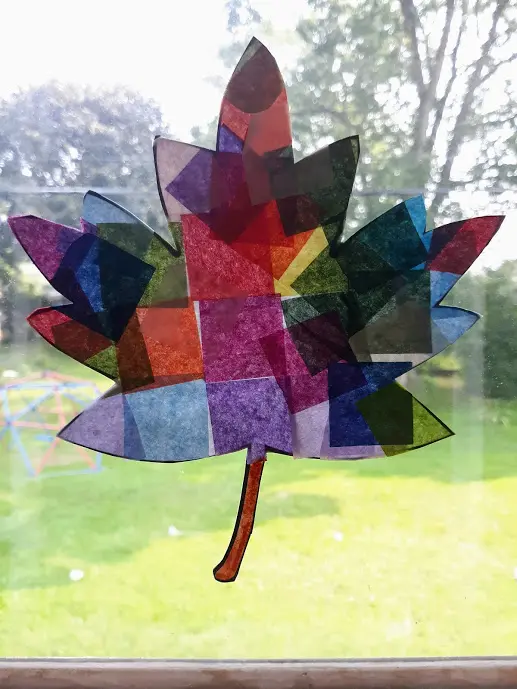 25. Art with Acorns
Have you ever tried making art with acorns? It's a great way to create fun and unique artwork. Acorns come in all sizes and shapes, so you can get creative with your designs! The possibilities are endless – from paintings to collages and more.
Plus, it's an easy activity for kids of all ages. Gather some acorns on your next nature walk, or buy them in bulk online and get crafting! You can paint them, glue them together, or use them as part of a larger project.
By Art-by-Day
Fall Nature Crafts for Kids- Summary
Fall nature crafts for little kids are a great way to engage their imaginations and explore the great outdoors. Simple activities like creating leaf rubbings or an acorn wreath can be easily adapted to suit different age groups.
These activities encourage creativity, get kids outside, and help them learn about nature in a hands-on way.

Looking for more ideas? Check out our Fall Crafts section to find lots of fun tutorials and fall craft ideas!
If you enjoyed this craft, save it for later and follow us on Pinterest for more fun craft ideas for kids.
Fun fall craft ideas: