21 Super Cute Bug Crafts for Summer
Summer's nearly here, and that means bugs are everywhere. Though we tend to think of many of them as pests, insects are essential to our ecosystems.
Help your kids develop an appreciation for all things creepy and crawly (or cute and crawly) with these fun bug crafts for summer.
Notice: This post contains affiliate links. To learn more, read our Disclaimer Here.
From ants to butterflies and everything in between, you're sure to find an interesting insect craft to make!
Bug Crafts for Toddlers, Preschoolers, and Beyond
Discover 21 simple bug crafts suitable for young kids of all ages. If your little one is fond of insects, they'll surely enjoy these engaging bug crafts that are perfect for kids!
Bee Crafts
Make one of these fun bee crafts with your busy little bees. Use the crafts as a springboard for discussion about the critical role bees play in pollination.
1. Bee Paper Cone Craft
You'll be surprised at the cute critters you can make using paper cones. We love this bright yellow bee craft with a paper cone body, big paper wings, and a cute smile on its face. This project is easy and inexpensive since all you need is paper, scissors, and glue.
by Look, We're Learning
Other fun summer crafts:
2. Handprint Bee Craft
Handprint crafts not only serve as memorable keepsakes for parents, but they're a lot of fun for kids, too. Plus, they're sweet and adorable.
It doesn't get much cuter than this handprint bee craft from Simple Everyday Mom. To make it, draw and color in stripes on the bee's body (the handprint), and then attach the face, wings, and antennae from the template. Easy, right?
by Simple Everyday Mom
3. Fingerprint Bees and Beehive
We think this easy paper strip beehive with fingerprint bees is perfect for toddlers or preschoolers. Add it as a creative project while studying a bee unit or just to learn more about those small, buzzy black and yellow bees we see every spring and summer.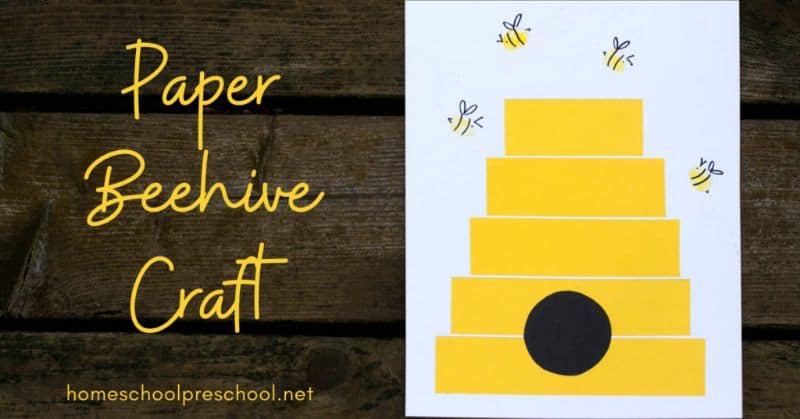 by Homeschool Preschool
Butterfly Crafts
Butterflies are some of the most beautiful insects, fascinating to children and adults alike. Encourage your child's wonder with one of these beautiful butterfly crafts.
4. Beaded Butterfly Craft
Our adorable beaded butterfly craft is a hit with kids! Threading beads on the pipe cleaner is great for fine motor practice for a child's hands. Plus, it makes the butterfly all the more colorful and gorgeous.
Clip several to a piece of twine to make a pretty butterfly banner to hang in your child's room.
by Kidz Craft Corner
5. Butterfly Life Cycle Craft
Learn all about the life cycle of a butterfly while making a cute insect craft with the kids. This life cycle project includes the following stages: egg, caterpillar, chrysalis, and butterfly.
A free printable template is included. All you have to do is find a stick, some cardboard, and a marker to write the stages.
by The Best Ideas for Kids
6. Tissue Paper Butterflies
Fluttery, brilliant butterflies are emerging from the egg carton garden. These frilly bugs are colorful, bold, and kid-friendly. What a charming way to add some color to your home this summer.
by Play Party Plan
Ladybug Crafts
Who can resist a cute ladybug? They're popular symbols of good luck and are often one of the first insects children become comfortable with.
7. Ladybug Headband
Easily everyone's favorite beetle, the ladybug is both a symbol of good luck and pretty cute to look at. Make these ladybug headbands with your little love bug for an afternoon of crafting and play. It's also an excellent craft for the classroom, particularly during spring.
by Simple Everyday Mom
8. Ladybug Life Cycle Sensory Bin
Gather some smooth rocks outside to make ladybug rocks for this educational and fun sensory bin on the ladybug life cycle. Round rocks are perfect for the pretty spotted beetles… your kids could even make pet rocks out of them!
Once you're finished with them in the sensory bin, add the rock ladybugs to a potted plant or hide them in a local park for others to find.
by Natural Beach Living
9. Paper Plate Ladybug
The humble paper plate can become just about anything with a dash of creativity and a bit of paint. Try a red and black color scheme to make a lovely ladybug in no time.
Want to avoid the mess that comes with painting? Start with a red paper plate, and add black paper circles instead.
by Frugal Mom Eh!
10. Ladybug Toilet Paper Roll Craft
Grab a toilet paper tube to use for this ladybug toilet paper roll craft. You'll also need construction paper, googly eyes, and plastic wire. The wire is optional, though. You can easily substitute a brass fastener or simply glue the wings to the ladybug instead. The windowsill is the perfect place for this cute ladybug.
by Look, We're Learning
11. Ladybug Magnets
Jazz up your fridge, locker, or file cabinet with these stunning glass ladybug magnets. Made with glass gems, paint, googly eyes, and magnets, children will love making bugs in all sorts of different colors.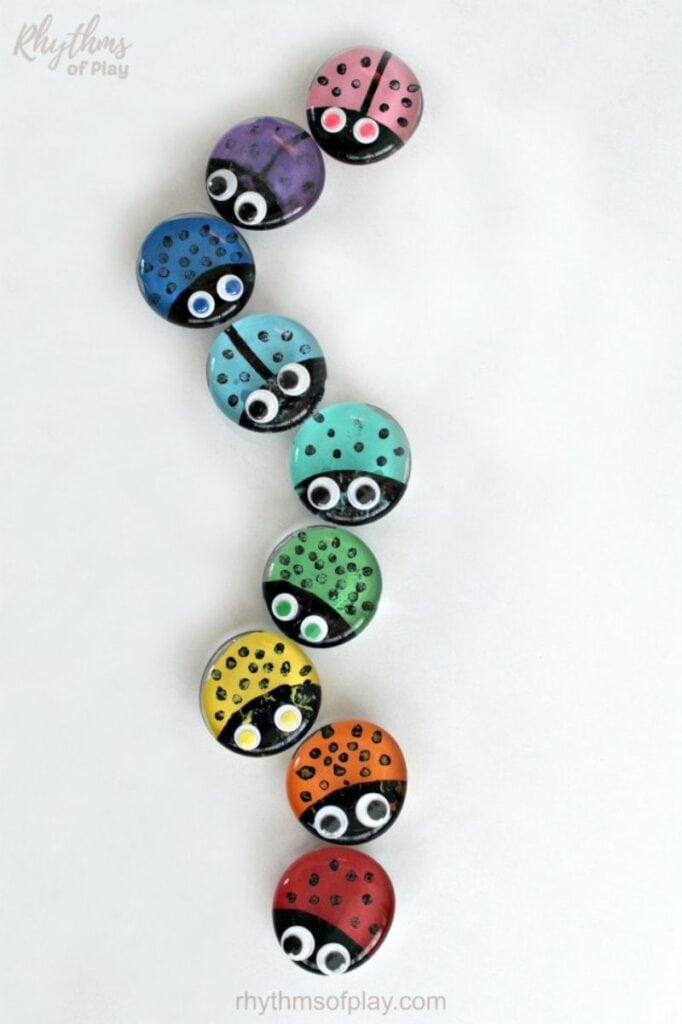 by Rhythms of Play
Ant Crafts
Did you know ants can carry as much as 20 times their weight? These fascinating bugs are powerhouses! Stir your kids' interest in learning about them with these playful ant crafts.
12. Walking Ant Puppets
We start seeing ants in spring, and by summer, small anthills are everywhere. If your child is curious about these powerful yet tiny insects, you have to make these cute "walking" ant puppets. By holding on to the popsicle stick on the back, kids can walk their puppets along the table, or floor, or take them out in the grass to play with.
by Kids' Craft Room
13. Bottle Cap Ant Craft
Here's a simple and adorable ant craft for the classroom or at home. Paint some recycled bottlecaps black, add feet, antennae, and eyes, and place them on the super simple leaf template. Your ant is ready for display!
by Affordable Homeschooling
More Fun Bug Crafts for Kids
Need more beautiful bug craft ideas? Try the projects below! You'll find fun projects like fingerprint bugs, mix-and-match insects, and plastic egg lightning bugs that really glow!
14. Cork Painting Bugs
Use a cork to stamp out all kinds of creepy crawlies! This project is easy, fun, and really gets the creative juices flowing. Think about how to turn simple stamped circles into caterpillars, bees, beetles, snails, and other insects, mollusks, and arthropods.
If you don't have a cork. Let your child use their fingerprint! This simple preschool insect art project will be loved by many.
by Kids Activities Blog
15. Mix and Match Bugs
Kick-off spring or summer break with these adorable mix and match bugs featuring a butterfly, ladybug, and bee. Kids will have so much fun swapping out the bugs' heads for their own faces!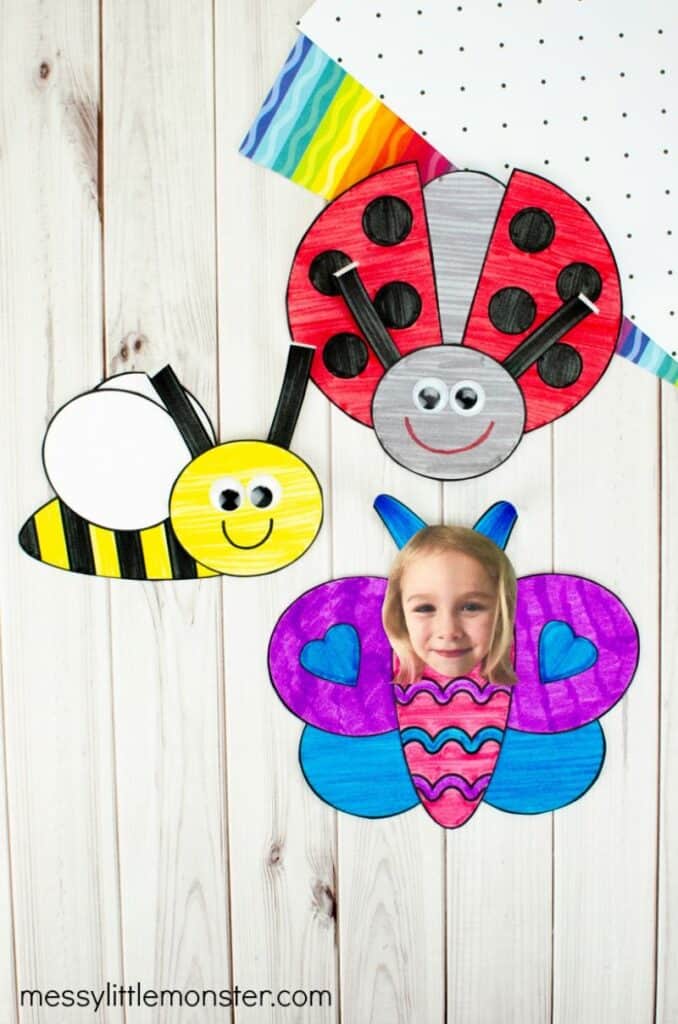 by Messy Little Monster
16. Plastic Spoon Bugs
How adorable are these plastic spoon bugs on a branch? They look like pretty beetles enjoying a leafy lunchtime treat. It's a fun way to use leftover plastic spoons and felt scraps to make something creative for summer.
by Crafts by Amanda
17. Plastic Egg Fireflies
Save some of your plastic eggs this Easter to turn them into fun, light-up bugs. Add pipe cleaner legs and antennae, googly eyes, duct tape wings, and a battery-operated tealight inside to make it light up.
If you don't have tealights, mini glow sticks will work for a few hours. This fun preschool insect craft will be the life of any party! It would also make a great camping activity as well.
by Frugal Coupon Living
18. Paper Snails
Kids who get frustrated with complicated crafts will enjoy this super easy paper snail craft made from a single strip of paper cut from a template. All they need to do is color and decorate the strip, fold it at the neck, and roll the rest of the strip up to make its shell.
Aren't they adorable?
by Picklebums
19. Q-Tip Painted Dragonflies
Dragonflies are some of our favorite insects. They dart around so quickly, their wings nearly invisible, but with their long iridescent bodies sparkling in the sun.
Celebrate the wonder that is the dragonfly with these gorgeous Q-Tip-painted dragonflies. Use this opportunity to teach the kids about pointillism (dot art) while you learn about this magnificent bug.
by Projects with Kids
20. Clothespin Cicada
Can you believe how lifelike these clothespin cicadas look? The speckled cardboard wings really do blend in with the leaves and grass outside. You'll have so much fun using the clothespin function to hide them around the house and yard for your family to find.
by Barley and Birch
21. Paper Plate Caterpillars
Turn simple paper plates into colorful caterpillars with markers (or paint), pipe cleaners, and a bit of imagination. Make sure you use unwaxed paper plates if you plan to use markers or tempera paint. Each paper plate can make two cute caterpillars.
by In the Playroom
Summary – Bug Crafts for Kids
We hope you enjoyed this list of bug crafts for kids as much as we enjoyed putting it together. Get creative and create your own unique version of each craft or even come up with some new related insect projects.
From creating caterpillars to decorating dragonflies, the possibilities for these 21 amazing bug crafts are endless. They will truly spark joy and inspiration for all ages. Unleash your inner artist and have some quality family-fun crafting with the coolest bug crafts!
Need More Bug Craft and Activity Inspiration?
Pin this list to come back to it whenever you need some creative inspiration.
More Summer Crafts for Kids: