Easy Paper Bag Ghost Craft for Kids
This paper bag ghost craft is perfect for kids! It's easy to make and only requires a few supplies. Plus, it's a great way to recycle old paper bags.
Ghost puppets are one of our favorite crafts to start the celebration of all things Halloween. So join us! Go grab a paper bag, and let's make this super fun paper bag ghost!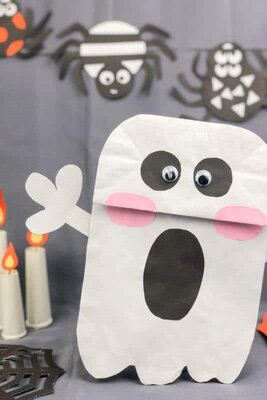 Notice: This post contains affiliate links. To learn more, read our Disclaimer Here.
Supplies Need for Your Paper Bag Ghost Craft:
Below is a list of the supplies you will need to make your Halloween ghost craft. Collect the items on the list, and let's get started!
–Paper bag: A small brown lunch bag works best. If you have a white paper bag, skip steps one and two.
–Colored paper: (pink and black)
–Bond paper: You won't need this if you have a white paper lunch bag.
–Cardboard/or cardstock paper: Either one will work perfectly
–Marker: Any marker will work.
–Glue stick: Glue sticks work the best for this ghost paper project.
–Googly Eyes: My favorite googly eyes are the ones with the adhesive backing.
Tip: When working on this ghost craft, feel free to alter the craft as needed, depending on your child's age. Also, feel free to add or change items on this supply list to items you already have at home.
More Halloween-themed crafts:
Instructions for Your Paper Bag Ghost:
Step 1. Create Your Paper Bag Ghost Craft
Start this project by covering your paper bag with bond paper. Have your child or, with your help, cut any extra bond paper that sticks past the edges of the paper bag.
Then, using a glue stick, glue the bond paper to your paper bag. If you don't have bond paper, feel free to use printer paper or even construction paper.
Make sure you glue the paper to the back of the paper bag, like a puppet.
Related craft: 25 Cute Paper Bag Puppet Crafts
Step 2: Trace Out Your Ghost
Use a marker to trace a ghost from the paper bag. Use whatever design you want your ghost to have. When you're done tracing it onto the bag with your marker, carefully cut it out with scissors.
Now you have a paper bag ghost puppet ready for a face!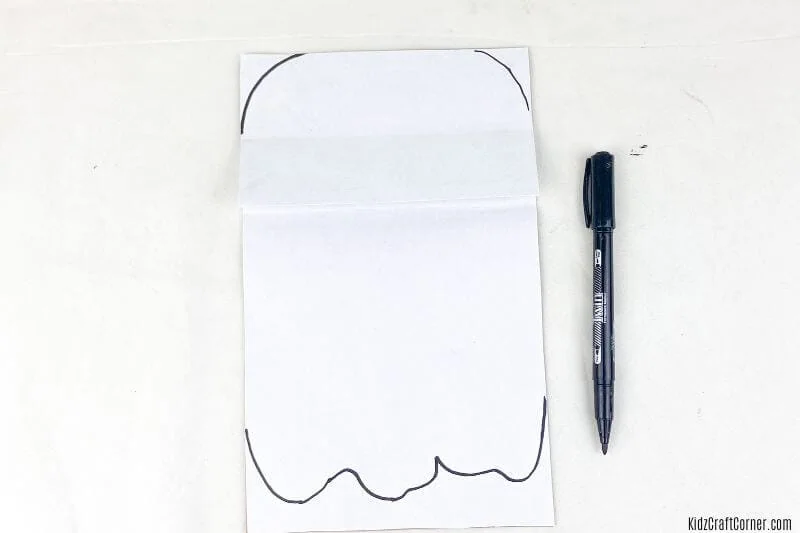 Step 3: Create Your Paper Bag Ghost Face
Using your scissors, cut two circles and one big oval shape from the black-colored paper. Use your glue stick to paste these cutout pieces onto the paper bag.
Does your paper bag ghost look spooky yet?
Step 4: Add Cheeks to Your Ghost
Cut two oval shapes from the pink-colored paper, which are going to form the cheeks. Then, cut both ovals in half and place once on each side of the flap on the brown bag.
Step 5: Add Some Character to Your Ghost
If you have googly eyes with adhesive backing, let your child place a pair of googly eyes on the ghost's face. If not, add the googly eyes with a glue gun or Elmer's glue.
If you want to add any additional customizations to your ghost puppet, this is the time to do it! You can bring out the craft supplies, markers, paint, and anything else you need to give your ghost puppet that special added touch.
Be sure to check out our Fall Busy Book!
Step 6: Trace and Cut Hands
We decided to add hands to our ghost craft! This is an optional step! Start by drawing the ghost's hand with fingers on cardboard or any hard paper you have. Then have your child cut them out!
Step 7: Assemble Your Ghost Puppet
Attach the hands to each side of the paper bag. Finally, your Ghost is now ready, AH-WOOOOO!
TIPS:
Be careful when using the scissors.
Choose the proper materials to achieve the desired outcome.
Let your creativity flow in your work!
You're free to add any designs you want.
Let's Read About Ghosts!
No craft is complete without a fun ghostly tail! Let's keep the fun going with these fun reads! There are so many benefits to reading aloud to kids.
The Little Ghost Who Lost Her Boo
Follow this little ghost as she goes on the hunt for her lost boo! Let the adventure begin!
Follow Boo the ghost as he celebrates his first Halloween!
Ghost Crafts For Kids Summary
Halloween is almost here, and that means it's time for some fun crafts! This paper bag ghost craft is perfect for kids of all ages. All you need are a few supplies and about 15 minutes to create these adorable ghosts.
Hang them up in your windows or around the house for a spooky touch this Halloween. Have you tried this project yet? If not, what are you waiting for? Get started today and have some fun with the kids!
For more creative kid crafts and activities, follow us on Pinterest!
More fun Halloween-themed crafts:
Grab our FREE Fall Bucket List for Kids!