21 Cute Easter Chick Crafts for Kids
It's that time of year again! Time to celebrate Easter with all of your loved ones. What better way to kick off the festivities than by making some adorable Easter chick crafts with your kids?
These crafts are perfect for all ages, and they're a great way to get everyone in the Easter spirit. So gather up your craft supplies and get started—you're going to have so much fun creating these cute little chicks. Happy crafting!
Notice: This post contains affiliate links. To learn more read our Disclaimer Here.
You don't want to miss these Easter Bunny Crafts while you're here
Supplies Needed for Easter Chicks!
Here are some of the supplies you might need for each of the following Easter chick crafts.
Get creative if you don't have an item on the supply list! Feel free to substitute googly eyes for paint or a paper plate for cardstock paper.
Spring Chick Crafts for Easter
1. Balloon Chicks and Hens
Turn yellow and white balloons into adorable chicks and hens for Easter. These balloons make cute Easter decorations, and kids will also love playing with them. They can use tennis rackets or fly swats to bat them back and forth for a fun and festive game.
2. Fluffy Chick Craft
How darling is this fluffy chick craft made with loads of yellow pom-poms? Use the printable template to add the eyes, beak, cheeks, wings, and feet. The kids will enjoy it because it's easy and so soft to the touch.
Related craft ideas: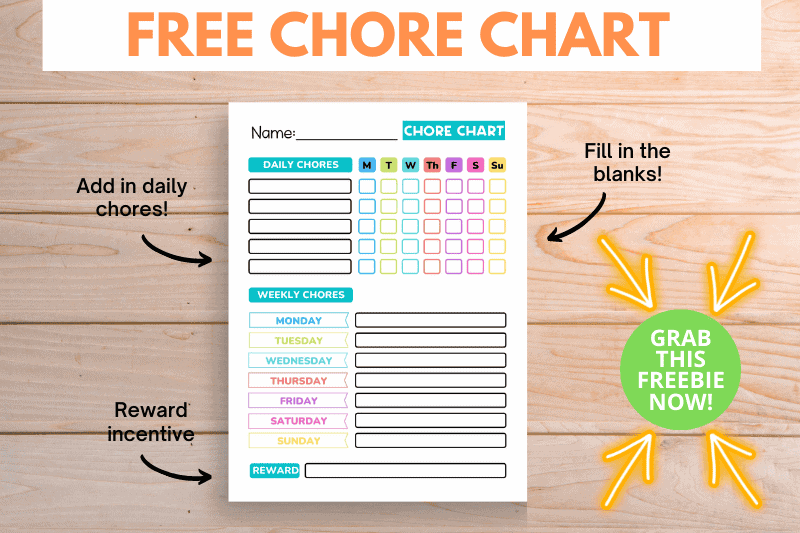 3. Easter Clothespin Chick
Grab paper, paint, clothespins, and a few other simple supplies to make bright yellow chicks for the big day. You'll also find directions for making cute sheep and bunnies to display along with the chicks.
4. Paper Plate Chick Craft
Cut a paper plate in half to make this charming little chick. Doesn't it look like it's prancing about the yard? There's a printable template to go along with the craft, but it's also simple enough to remake from the pictures.
5. Fuzzy Pipe Cleaner and Cork Chick Craft
If you're not yet saving your wine corks, you need to start. They're perfect for lots of miniature crafts like these tiny chicks covered in fuzzy yellow pipe cleaners. Wrap them, add wings, googly eyes, and a beak, and they're all finished. Turn them into magnets or ornaments to put on an Easter tree.
6. Painted Rock Chicks
This Easter craft is so much fun, and it's really easy to do. Kids simply paint rocks and then draw on the chicks with markers. The smooth surface of the rocks makes them ideal for painting and drawing. You can buy rocks for painting online or in craft stores if you don't have river stones around your house.
7. Bleeding Tissue Paper Chick Craft
Look for bleeding tissue paper in the craft section for this craft—regular tissue paper won't work. Layer pieces of yellow and orange to make a chick-shaped print on the paper. It has a lovely textured look that makes this craft special. Follow the rest of the instructions to add the wings, face, and feet.
8. Chick Easter Slime
This chick slime is bright yellow, soft, and squishy. Kids love it! You can use it in the jar as an Easter decoration or give little ones Easter egg molds to make slime eggs with. This chick slime will make a wonderful addition to Easter baskets, too.
9. Easter Chick Card
This fun Easter card features a cracked shell on the front with an adorable Easter chick inside. The beak pops out inside the card for an extra-cute touch. This is the perfect kid-made card to send to grandparents, neighbors, and friends.
10. Construction Paper Chick Craft
You can make so many cute things with paper loops, like this simple paper chick craft. You don't have to stick to the traditional yellow color, either. Make chicks in all sorts of pretty pastels, and add them to your table for Easter brunch or dinner.
11. Easter Chick Coozie
Keep drinks nice and cold this spring with a chick-themed coozie that's totally cute. Make extras to give as gifts to teachers and friends. A bunny coozie would look cute, too.
12. Easter Chick Bookmarks
Put basic origami skills to work to make chick bookmarks. Use them to save your spot in fun Easter books. Donate some to the library, too.
by Red Ted Art
13. Yarn Easter Chick Craft
Yarn-wrapping is excellent for fitting in fine motor practice while having fun. This craft combines both and will make a cute decoration to put on the fridge or table.
14. Easter Handprint Chick Card
A handprint craft becomes an adorable card to send to family or a sweet keepsake to add to the scrapbook. Either way, you need to add this handprint chick card to your crafting list for spring.
15. Chick Stick Puppet
The 5 Little Chicks song is a lot more fun when you have a puppet (or 5) to move along with the verses. Cut out the shapes using the printable template, glue them together, and add a popsicle stick. Boom—your little chick puppet is complete.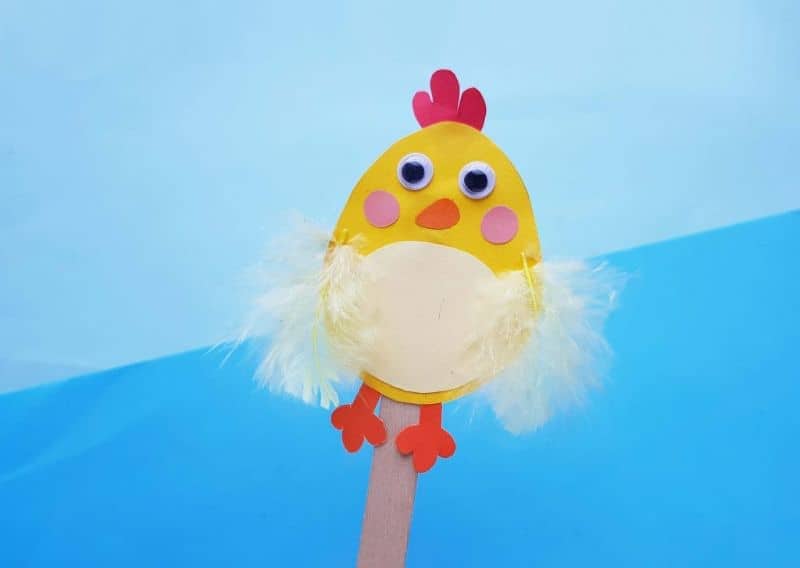 16. Easter Potato Stamp Art
Potato stamping is an easy way to create art quickly with toddlers and preschoolers who may get frustrated with more complicated projects. Try the potato stamp bunnies, too. They're lots of fun.
17. Paper Plate Easter Chick Wreath
Channel your inner decorator with fun chick-themed wreaths that the kids can make for their bedroom doors. It looks like the baby chick is peeking out of a colorful Easter egg.
18. Hatching Paper Plate Chick Craft
You won't be able to resist the big, adorable eyes of this hatching chick craft made with paper plates, cardstock, and the easy printable template.
19. Towel Chicks
Surprise your kids on Easter morning by putting one of these lovable towel chicks in their baskets or on their beds. Towel animals require no sewing at all—just folding, rolling, and securing the towel to make the chick shape.
20. Handprint Chick Puppet
Yellow handprints sit atop paper straws to make fun little chicks kids will love to play with. They'll especially enjoy the accordion fold legs that move and bounce as they play with their puppets.
21. Mix and Match Chicks
For an adorable twist on the traditional chick craft, try these mix-and-match chicks with various wings, eggs, baskets, and more to accessorize with. Adding your child's photo to the chick's body is the cutest part.
Summary- Chick Easter Craft
These 21 Easter chick crafts for kids are a wonderful way to celebrate this special time of year. With so many different options to choose from, there is something for everyone. The possibilities are endless!
So make sure to check out these amazing Easter chick craft ideas today and make some amazing memories with your family this Easter season!
Don't forget to share how your easter chick craft turned out in the comments section below- Happy Crafting!
Must-Read Easter Chick Books:
There Was an Old Lady Who Swallowed a Chick
Follow along as the hungry old lady swallows a chick!
Follow along with this fun story about a little chick that doesn't want to hatch until Easter!
Please pin it and share it so others can join in the fun!
Related craft ideas: