20 Fun Straw Craft Ideas for Kids
Do you have a lot of leftover straws from parties or drinks on the go? Why not put them to good use and make some crafts with the kids? Straws are a cheap, easy-to-use crafting material that can be used for a variety of projects.
Here, we're sharing 20 straw craft ideas to try. From simple bracelets to 3D straw structures, there's something for everyone. Gather your straws and let the crafting begin!
Notice: This post contains affiliate links. To learn more, read our Disclaimer Here.
Supply List for Straw Activities for Kindergarten
Here are common supplies you will need for a majority of these crafts. Pick and choose what supplies you use for which projects. Most importantly, have fun!
20 Cool Things to Make with Straws
Most of these projects are easy and require minimal supplies, so they're perfect for kids of all ages. Let's get started!
Draw a rainbow on paper with paint and use a straw to blow the paint around so that the colors run together. It's a novel take on a painting that requires no paintbrush at all.
Once you've tried the rainbow, see what other fun designs you can make with the blow painting technique.
Also, be sure to check out this rainbow activity as well!
by Kidz Craft Corner
2. Sensory Rainbow
Fill a tray with shaving cream and use colorful straw segments to make a rainbow. Introduce kids to the ROYGBIV color concept for rainbows while you're making it.
Kids will love squishing their hands in the fluffy shaving cream as they create and play.
If your kids enjoy this activity, be sure to check out how to make foam paint!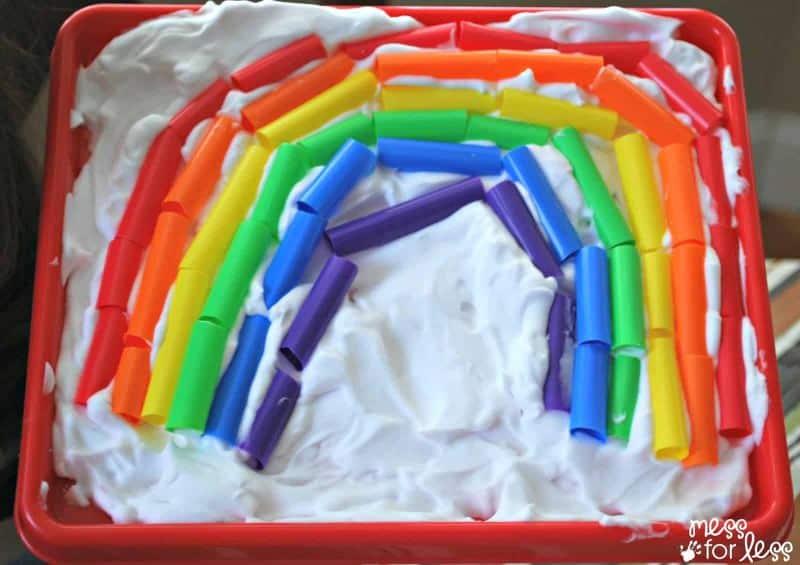 Learn more @ Mess for Less
More fun craft ideas: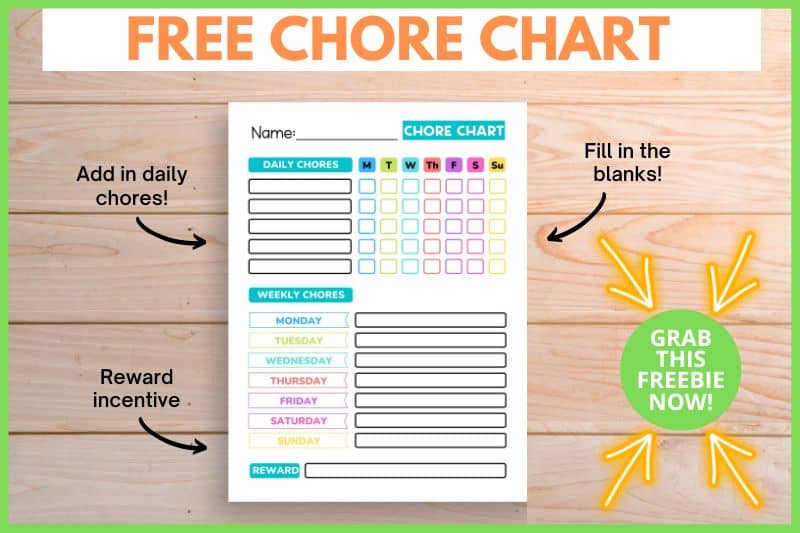 3. Heart Straw Necklace
Make some fun jewelry using straws! These straw heart necklaces are totally cute and easy enough for toddlers to make. Threading the straw pieces is excellent for fine motor practice for tiny fingers.
Learn more @ Glue Sticks & Gumdrops
4. Snowflake Busy Box
Put together a snowflake busy box to keep toddlers and preschoolers entertained and engaged in the winter. Busy boxes are handy for long car rides, or anytime you need a moment of quiet time to get things done around the house.
Also, make sure to check out this Pre-K Busy Book!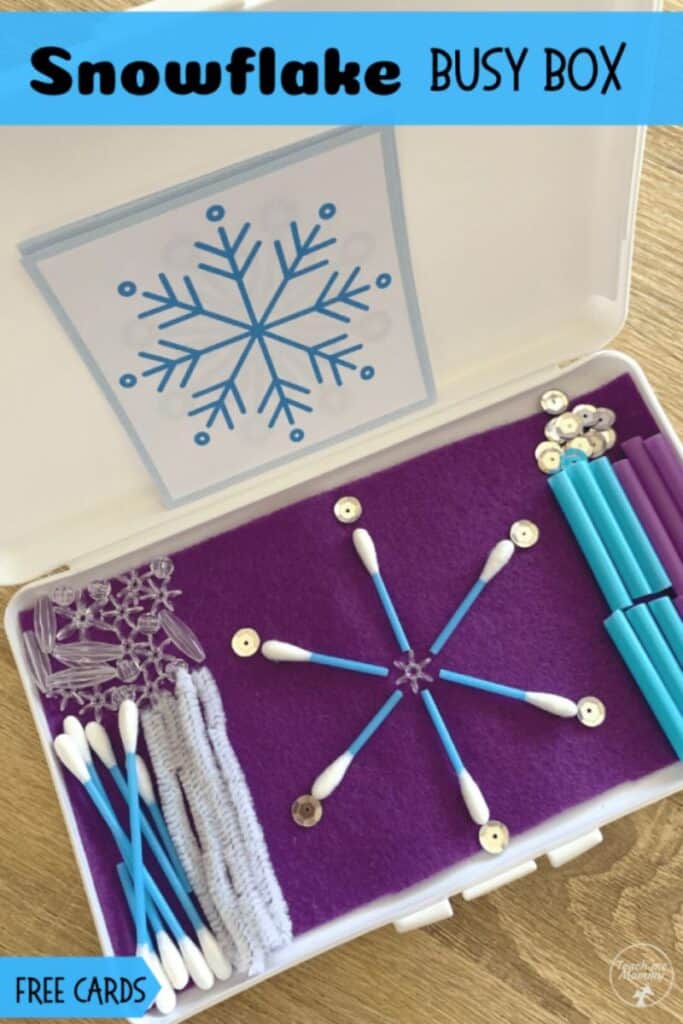 Learn more @ Teach Me Mommy
5. Straw Rockets
Celebrate summer by making these straw rockets to take outdoors. Use the printable template and a pretty decorative straw to put them together quickly. How far will your rocket go?
Learn more @ Artsy Fartsy Mama
6. Biting Shark Paper Plate Craft
When Shark Week arrives, you'll be ready with a fun paper plate shark that really "chomps" with its mouth. One straw serves as the handle, while the other helps move the shark's jaw up and down.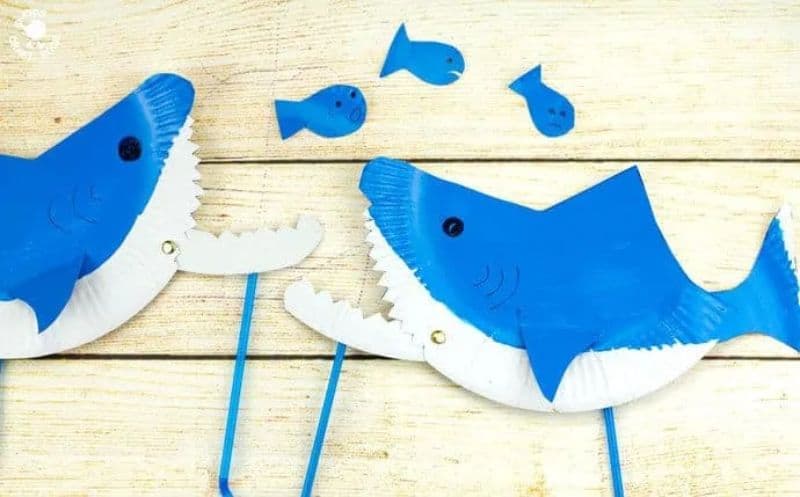 Learn more @ Kids' Craft Room
Related article: Paper Plate Rain Cloud Craft
7. Summer Straw Shooters
Make buzzy bees and cute butterflies to shoot from the tip of straws. These summer shooters are loads of fun for kids of all ages. 
Need more summer crafts? We've got 'em!
Learn more @ Red Ted Art
Related article: Easy Beaded Butterfly Craft For Kids
8. Straw Spider and Spiderweb
You'll need lots of straws to make this creepy spider and colorful spiderweb. What a wonderful Halloween craft or project for a study on arachnids.
Learn more @ Your Cub
Related article: 17 Best Halloween Sensory Bins For Kids
9. Straw Airplane Glider
Forget paper airplanes. This straw and paper glider is easy to make and flies even better than many paper airplane designs. It's the perfect family activity, with everyone making their own gliders and then having a contest to see whose plane can fly the farthest. 
Learn more @ Mombrite
10. Watermelon Pinwheel
Capture the essence of summer in this craft that's as much fun to make as it is to play with. The straw serves as the handle for the pinwheel, and a plastic straw may be the sturdier choice for a DIY toy like this. If you prefer to use a paper one, however, it will work just fine.
Learn more @ Kids' Craft Room
11. Paper Straw Skeleton
No bones about it. This paper straw skeleton is a simple craft for Halloween or for a quick, kid-friendly study of the skeletal system. It's ideal for the classroom because the supplies are minimal, and it's not messy at all. 
12. Bat Shooters
Make bat rockets using the printable template and paper straws. They'll be fun at Halloween parties, where you can shoot them and compete with others to see whose bat flies the highest.
Also, be sure to check out this easy cup bat craft!
Learn more @ Buggy and Buddy
13. Pipe Cleaner and Straw Apples
Back-to-school season is the perfect time to make apple crafts like this one using pipe cleaners, straw pieces, and buttons. Kids can practice cutting, threading, counting, and color sorting with one simple activity.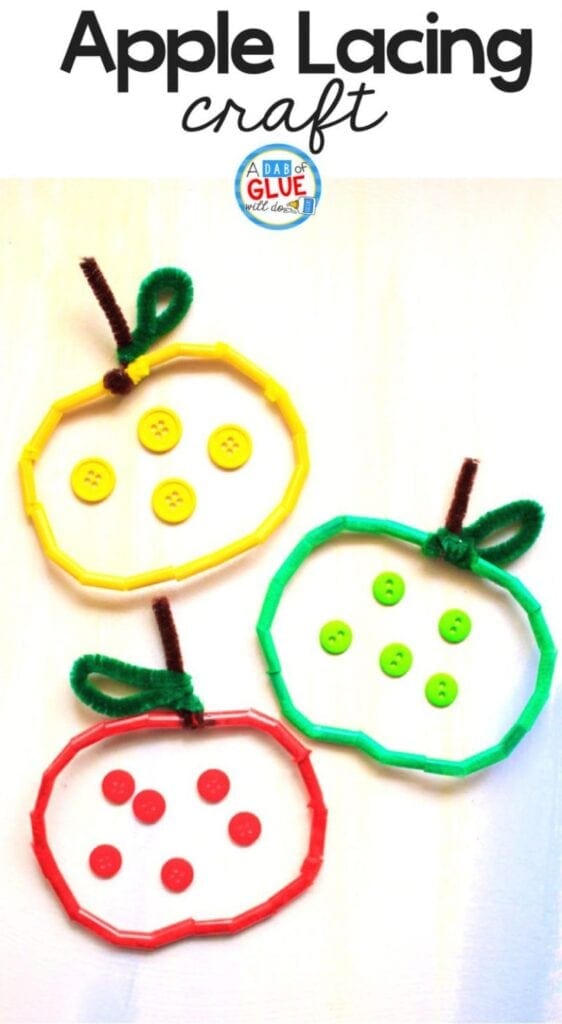 Learn more @ A Dab of Glue Will Do
14. Paper Plate Sun Craft
Whether you're studying a weather unit or simply want to bring a little sunshine into your home, this paper plate sun craft fits the bill. The pipe cleaner sunrays are capped with straw pieces, which is wonderful threading practice for kids.
Learn more @ Buggy and Buddy
15. Paper Straw Spiders
These cute spiders will make fantastic Halloween crafts. They're not scary at all! Paint large circles, give the spider colorful straw legs, and add big googly eyes to complete the craft. They look silly and friendly rather than scary.
Learn more @ Our Kid Things
16. Fireworks Straw Rockets
Ribbon and sparkly pipe cleaners top these straw rockets made to look like fireworks. Don't they look dazzling? Make some for your 4th of July or New Year's gathering. They're perfect for kids who may be afraid of fireworks. 
Check out these 4th of July Fireworks Crafts!
Learn more @ Fantastic Fun and Learning
17. Engineering With Straws and Playdough
Have a budding engineer on your hands? Try this STEM activity with straws and playdough. It's simple to set up and leaves so much room for open-ended creativity. You'll be surprised at what children can build using only these two materials, straws, and playdoh.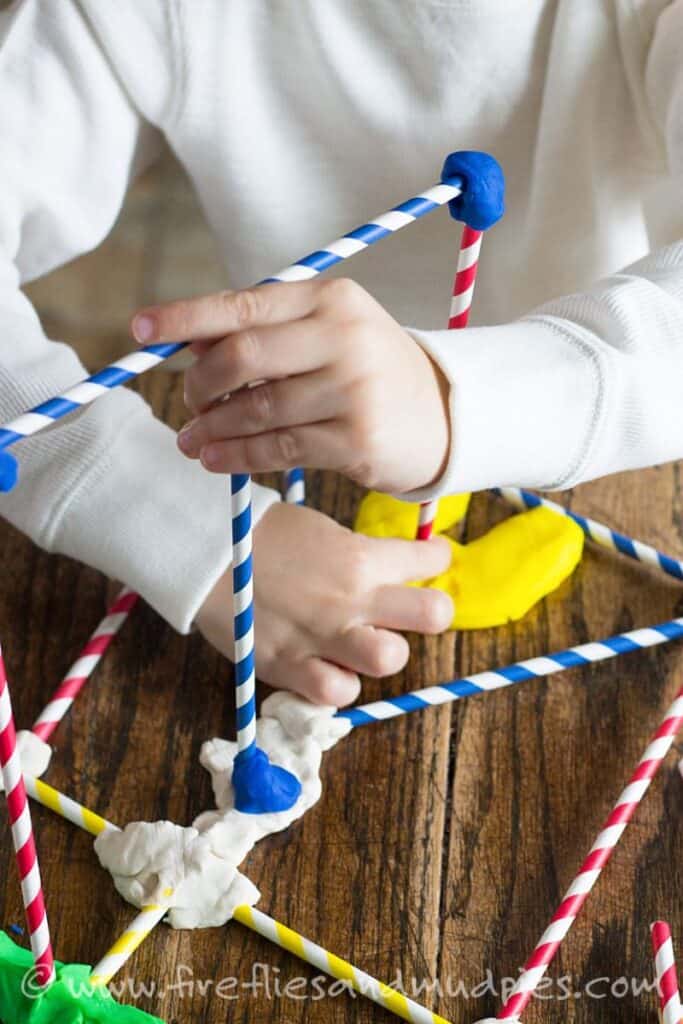 Learn more @ Fireflies and Mud Pies
18. Marble Maze Craft
Create a marble maze using straw segments and a shallow cardboard box. This simple DIY toy is a children's classic. Even older children will enjoy making marble mazes.
Learn more @ Kids Activities Blog
19. Paper Straw Christmas Tree Cards
Create gorgeous Christmas cards for family and friends using decorative paper straws. Add mini pom-poms and a gold star to complete the tree. You can use the same idea to make cards for Easter and other holidays.
Learn more @ Honey and Lime
20. Fabric and Straw Bracelets
Strips of fabric and pieces of paper straws make for trendy-looking bracelets that kids will love wearing and sharing with their friends. You can use any fabric scraps you have on hand to make them. Recycle old t-shirts and turn them into fun jewelry!
by Mama Miss
Crafts With Straws- Final Thoughts
Straw arts and crafts are great for children of all ages to enjoy. If your child loves taking on projects that allow them to unleash their creativity, then these 20 fun and unique crafts with straws are sure to help them have a blast.
With such an easy and reliable material, you'll soon find you can make a variety of beautiful things with your kids! Not only can they brighten up your child's day, but they can also be enjoyed by the entire family! They also make decorations or even as presents for friends and family members.
So get creative, get inspired, and above all, enjoy making these 20 different crafts using straws! With the right technique, it's surprising how easily straws can help to bring out their inner artist.
Do you have a favorite straw craft? We'd love to hear about it in the comments. Make sure you pin this post for later when you need some fun and easy craft ideas to keep kids entertained for hours.
If you enjoyed this ice cream craft, follow us on Pinterest for more kid's craft ideas!
Other fun crafts: