25 Easy Dinosaur Crafts for Dino-Loving Kids
Easy dinosaur crafts your child will LOVE!
Do you love dinosaurs as much as your kids do? If so, you'll want to check out these 25 easy dinosaur crafts for kids! From simple paper projects to dino pencil holders and DIY fossils, there's something for kids of any age.
Notice: This post contains affiliate links. To learn more, read our Disclaimer Here.
Best of all, most of these dino crafts can be made with materials that you probably already have around the house. So get ready to dig into some prehistoric fun!
Common Supplies Needed for Dinosaur Crafts for Kids
Here are some of the most commonly used supplies for these dinosaur craft ideas.
Fun Dinosaur Craft Ideas
Get ready for 25 fun dinosaur crafts that will have your child begging for more!
1. Paper Plate Dinosaurs
The Craft Train has 12 fantastic paper plate dinosaurs, each more incredible than the next. It'll be hard to choose which one to make first! Personally, the pterodactyl is our favorite, but the velociraptor is pretty cool, too.
All you need for these dynamite dinos are paper plates, paint, construction paper, scissors, and glue. Simple right?
2. Dinosaur Pencil Holder
Make your homework station look a little more fun with this fantastic dinosaur pencil holder from Our Kid Things.
Use toilet paper rolls for the legs (which hold the pencils) and cardstock to make his head and tail. Stapling the tubes together helps make this pencil holder sturdier.
More fun craft ideas:
3. Dinosaur Paper Bracelets
Any dino-loving kid will adore these paper dinosaur bracelets. Simply print, color, cut, and tape them around your wrist. This is a terrific summer camp or VBS craft if you're going with a dinosaur theme.
4. Cut and Paste Pterodactyl
An easy cut-and-paste craft is perfect for the classroom or a quick craft at home. This one features a smiling pterodactyl with his wings spread wide. It's so cute!
This would make an adorable dinosaur party decoration, too.
5. Dinosaur Number Match
Number recognition is important for toddlers, preschoolers, and kindergarteners. Use this fun dino number match to practice number identification in a hands-on and engaging way.
Not only will kids learn their digits, but they'll use their fine motor skills to squeeze and attach the clothespins.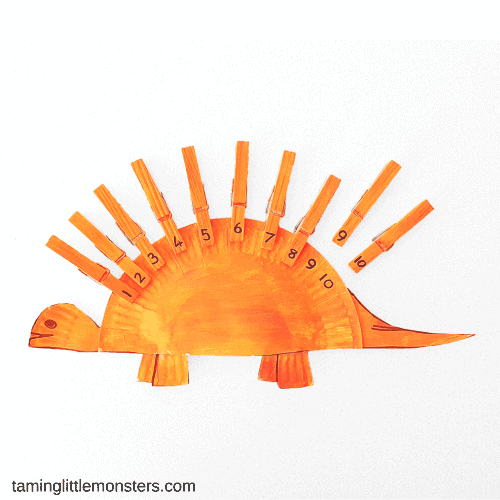 6. Toilet Roll Dinosaurs
Recycle and paint toilet paper rolls to turn them into cool and colorful dinosaurs. Aside from paint and scissors, you don't need any extra supplies, so it's an affordable project that's great for any dinosaur fan!
7. Dinosaur Card
You don't have to wait for Mother's Day to make this dinosaur card featuring a sweet little dino holding a heart. You can write whatever message you like on it for a parent, teacher, friend, or relative. They'd make cute dinosaur party invitations, too.
8. Clothespin Paper Plate Dinosaur Craft
Paper plate crafts are so easy and fun to make, and if you're like most of us, you probably have plenty of paper plates in your cupboard right now. Use scissors to cut out a simple dino shape, and then paint it in bright and cheerful colors. Add clothespin legs, and you've got a standing dinosaur craft to add to a shelf.
9. Dinosaur Watercolor Craft
Freehand or find dinosaur templates to trace onto cardboard to make these watercolor dinosaurs. These dinosaur stencils are a great starting point. You can add googly eyes when you're finished or leave them as-is and hang them up for wall art.
10. Tissue Paper Dinosaur
Make a tissue paper pterodactyl! This cute craft is an excellent way to work on building hand muscles by scrunching and crumpling tissue paper. We love the cool color combinations of the dark green and light green and the orange and yellow versions.
11. Egg Carton Dinosaurs
If you've never upcycled egg cartons to make crafts, you're missing out. You can turn those egg cups into all sorts of cute things, like these adorable craft dinosaurs. You'll need pipe cleaners to make the spikes, googly eyes, and paint, of course, to make them colorful.
12. Dinosaur Egg Craft
It doesn't get much cuter than this hatching dinosaur craft with a sweet little dinosaur peeking out of the polka-dot egg. It's an easy cut-and-paste craft that's perfect for the classroom. 
Be sure to check out these fun dinosaur facts!
13. Salt Dough Dinosaur Fossils
Learn about how fossils work by making salt-dough dinosaur fossils of your own. You'll need some toy dinos and salt dough (or air dough). Grab our salt dough recipe here.
That's it! Your future paleontologist will love it.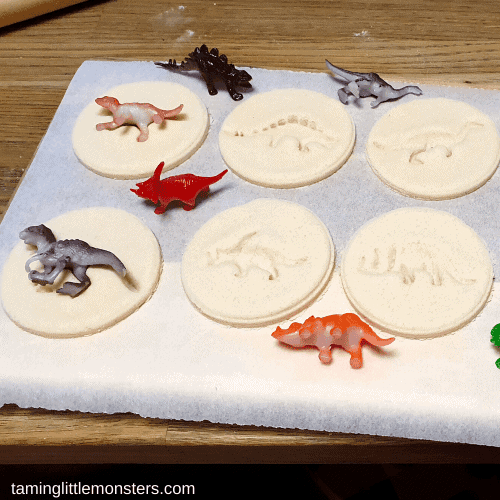 Easy Dinosaur Arts and Crafts
14. Cardboard Dinosaur Feet
Stomp around as the dinosaurs did in your very own pair of cardboard dinosaur feet. Combine this with the dino headbands below for an awesome homemade dinosaur costume!
15. Dinosaur Headband Craft
Preschoolers love headband crafts that allow them to "become" something else during pretend play. These dinosaur headbands are sure to be a hit. Kids can make them any color they like—green, orange, pink—art doesn't have to be true to life. With a colorable version and a craft version, this project can be adapted to any age level.
16. Stegosaurus Craft
Grab some craft sticks and clothespins to make this standing stegosaurus craft that's fun for kids of all ages. The whimsical pattern on the stegosaurus's spikes makes these dinos pop. The kids will have a blast playing with their dinosaurs, making them stomp around on their clothespin feet.
This craft is also featured in our Popsicle Stick Animal Crafts!
17. Printable Stegosaurus Craft
Preschoolers will adore this easy paper stegosaurus craft that's as simple as cutting out the shapes and pasting them together. With a color version and a colorable version, children can choose which one they'd prefer.
18. Scratch Art Dinosaur
If you've ever made scratch art as a kid, you know how much fun it can be. This dinosaur version is extra exciting!
You'll first complete a colorful layer using crayons. Then, the crayon coloring is covered in black paint and allowed to dry. Finally, kids can scratch designs in the black paint, revealing peeks of color underneath.
19. Printable Triceratops
Pair this printable triceratops craft with the other cut-and-paste dinosaur crafts to make silly decorations for your child's room or for a dinosaur birthday party.
If your kiddo is really into triceratops, there's one featured in our list of Crafts with Real Leaves, too!
20. Dinosaur Garden in a Jar
Instead of a fairy garden, make a dinosaur garden in a jar! You'll need sand, pebbles, faux plants, and a dinosaur or two to make your totally awesome dino display.
21. Dinosaur Fridge Magnets
Deck your fridge out in dinosaur magnets using these printable templates and designs. Print them out in full color and cut them out or color them first.
Either way, they'll make a cute addition to your kitchen. Thin magnetic tape will let you turn just about any craft into a magnet!
22. Printable T-rex Craft
We can't forget the mighty T-rex! This charming little version has bright eyes and a cute smile. Wouldn't it look adorable in a dinosaur-themed nursery?
23. Geometric Dinosaur Art
If you like geometric art, you'll love this dinosaur art project, which are dinosaur coloring sheets made with triangles and polygons. Color in the shapes with crayons or markers, or grab your watercolors and paintbrushes and get to work.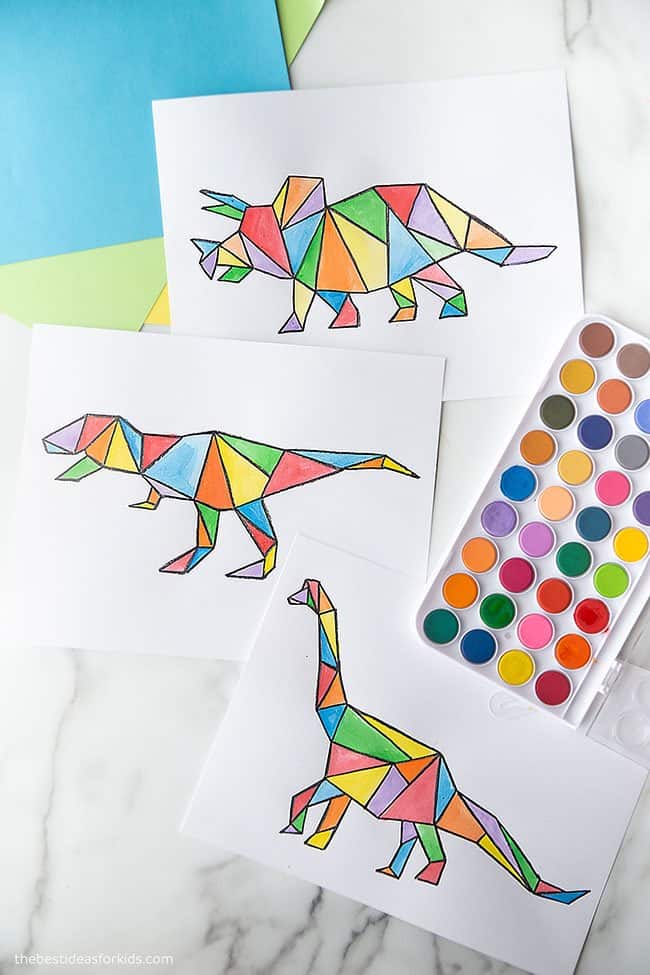 24. Cupcake Liner Dinosaur Craft
Cupcake liners are handy for crafting. You can turn them into all sorts of fun objects, like these dinos with cupcake liner bodies and cardstock accents. Add googly eyes, and you have a delightful cupcake liner dino to add to a card or canvas.
25. Movable Dinosaur Craft
Make a dinosaur that really moves! Use paper fasteners attached to the head, legs, and tail so those parts can be slid back and forth to create movement. Set your dinosaur up in all sorts of amusing poses.
Must Read Dino Books For Kids
Fascinating crafts are always accompanied by great books! Check out these captivating dinosaur reads.
This is such a fun dinosaur book for kids! Let your child follow along as they teach the ABCs with dinosaurs.
Come follow this story as a dragon gets lured in with Tacos!
National Geographic Little Kids First Big Book of Dinosaurs
Come learn all about dinosaurs with this National Geographic Dinosaur book!
Dinosaur Craft For Preschoolers- Summary
Whether you're a teacher looking for ideas to keep the little ones entertained or a parent who wants to have a few fun dinosaur crafts up your sleeve, we hope this post has inspired you. Be sure to share these crafts with your friends and family—after all, who doesn't love dinosaurs?
Pin this post for later, and follow us on Pinterest for more craft ideas for kids!
More Easy Crafts for Kids