18 Fun Water Activities For Kids (Perfect For Summer)
Summer is the perfect opportunity to enjoy some water fun with your kids. Whether you're looking for some creative ways to keep them entertained during those long, hot days or just want to enjoy some quality time together, water activities are always a hit.
Here are 18 of our favorite ideas that are sure to keep everyone cool and happy. You'll find the perfect water idea from a good old-fashioned water fight to water table play.
Notice: This post contains affiliate links. To learn more, read our Disclaimer Here.
Supplies For Water Fun For Kids
Here are common supplies you will need for a majority of these crafts. Pick and choose what supplies you use for which projects. Most importantly, have fun!
Rubber ducky
Foam letters
Water toys
Sponge
Ocean animals
Cool Off With These Simple Water Activities For Kids
Get ready to get wet with these simple water day activities for kids- it's going to be a blast!
1. Summer Lemon Sensory Bin
If summer reminds you of lemonade, you'll love this lemon sensory bin for the kids. The fresh scent of lemon is invigorating, and kids will love using their ladles to scoop water and lemons into glasses, bowls, or buckets.
2. Alphabet Slap Water Play
Practice letter recognition while getting wet and wild with a fun water-slapping game that kids will ask to play again and again.
Even the older kids will want to join in! It's easy to play — call out a letter, let them find it, and then slap it with the fly swatter, sending water splashing everywhere.
Related crafts:
3. Feed the Ducks Sensory Bin
This duck pond sensory bin is the cutest thing ever! With lots of rubber duckies, lily pads, and wine cork "duck food," kids can have a wonderful time pretending they're feeding ducks. This activity pairs well with the song 5 Little Ducks or a duck-themed book.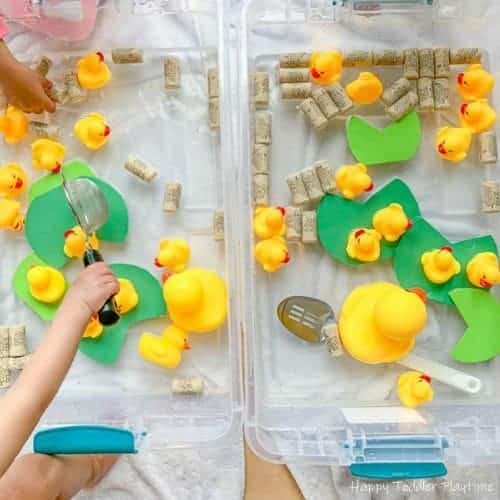 4. Water Transfer Activity with Sponges
Kids can do this water transfer activity outdoors when the weather is nice or bring it indoors and play over a towel when it's not. Give your child a bin or bucket with water and another container to transfer to.
The goal is to dip the sponges in to let them soak up the water and then squeeze the water out into the other container. This helps kids build their fine motor skills and hand strength in a fun and engaging way.
5. Summer Flower Sensory Soup
Gather gorgeous, fresh flowers to make sensory soup. This is a classic childhood activity you probably tried as a kid. Grab leaves, flowers, and other bits and bobs from nature to make "soup" in water.
It's fun, allows kids to pretend play, and encourages the use of tools like whisks, spoons, and ladles, which are important for more independent fine motor tasks.
6. Super Soaker Sponge Balls
Enjoy a water fight on a hot summer day! Instead of water balloons, which make an enormous mess with bits of latex that you have to clean up afterward, you can use these water sponge balls again and again.
It's a fun activity to do together as a family, and kids of all ages enjoy doing it. Make some sponge bombs today!
7. Whisking Bubbles
You can't get much simpler than this water activity for toddlers. If you're a fan of low-prep activities, you'll love this one. All you need is a big container, water, dish soap, and a whisk.
Optionally, add essential oils for a sensory element and food coloring to give the bubbles a pop of color. You'll be surprised at how much foam the kids can whip up when given a few minutes with a whisk.
Or make your own homemade bubbles!
by Emma Owl
8. Water Sensory Play with Colored Ice
Give your child a bin of water and some ice dyed with food coloring, and watch as the play ensues for a solid 15-20 minutes or more. Add boats to push around the ice or fish to "eat" it.
What color will the water turn as you add different colors?
9. Sink and Float Water Play
Explore the great outdoors either on a nature walk or in your own backyard. Gather various materials like leaves, twigs, rocks, and flowers to hypothesize whether they'll sink or float.
This water activity encourages critical thinking and problem-solving skills. But more than that, it's just plain fun to play in the water.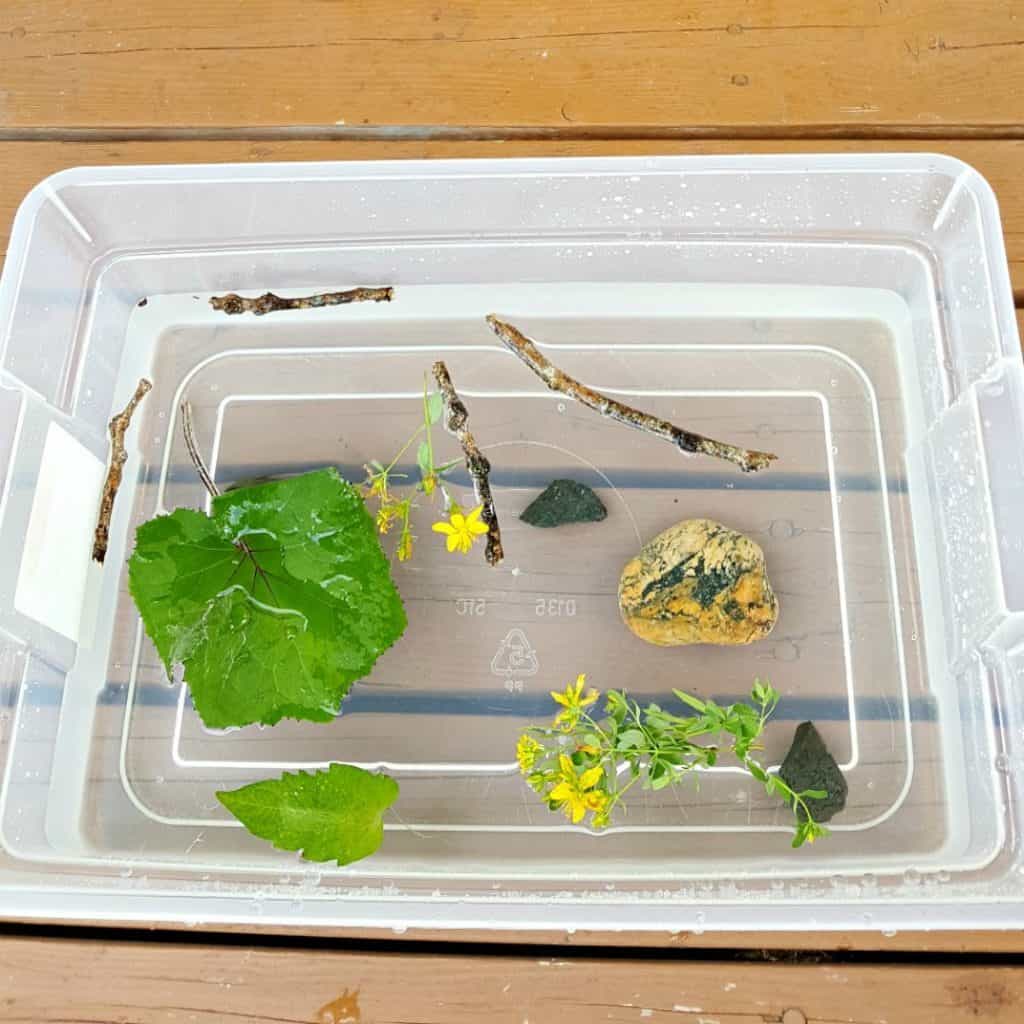 10. Vegetable Soup Water Table Play
Do you have a water table? It's a wonderful toy to set up for activities in the spring and summer. But even if you don't have one, you can grab a wide bin and set it up with plastic fruits and veggies for the kids to play with.
They can pretend to be chefs making a yummy soup. You could even write up little recipe cards for them to follow as they add their ingredients.
11. Sponge Boat Activity
Boat races are lots of fun, and you can have one in your own backyard! You'll need a washtub, a large bin, a kiddie pool, or a nearby stream to test your sponge boats in once you've made them.
Let the kids try out different boat designs to see which boat can sail the farthest. This water for toddlers is so much fun!
12. Ocean-Themed Water Play
Get ocean vibes with this fantastic ocean bin complete with faux seaweed, ocean animal toys, and plenty of water. You can leave this an open-ended play and exploratory activity or work in a brief lesson about various ocean animals or the saltwater ecosystem.
If you are looking for fun water activities, make sure to add this to your list!
by Danya Banya
13. DIY Kid Car Wash
Kids think that washing the car is a lot more fun than adults do. Now they can wash their own toy cars in a DIY kiddie car wash that's made for fun.
What a creative way to cool off on a scorching hot day. All the neighborhood kids will want in on the fun!
14. Ocean Sensory Bin with Two Materials
All you need are two simple materials—water beads and ocean animal toys—for this engaging sensory bin. Your kids will get hours of fun out of this simple combination.
The bin can last for several days before enjoying some water bead squishing on the last day. Let them squish with their hands and their feet for a full-body sensory experience.
by Fun-a-Day
15. Soapy Animals Sensory Bin
This simple water sensory bin combines animals like fish, penguins, and whales with soapy blue water and lots of scooping tools to transfer water.
It's colorful and fun, with many tools for kids to explore and work with. Splash to make waves, measure the water using measuring cups, add boats to the mix—so many fun ways to play!
16. Water Play with Fly Swatters
Here's another inexpensive bin idea with jumping frog toys and fly swatters. Kids can make tremendous splashes as they swat at the frogs and bugs.
Slap the water to help the frogs jump around and swim. This creates waves in the water, and it's fun to see how that movement affects the other objects in the bin.
17. Shark Sensory Bin
Get ready for shark week with a sensory bin dedicated to these fearsome (but totally cool) creatures. Potatoes make excellent ocean rocks, but of course, you can grab some real rocks and plants from outside if you'd prefer.
This is a fun opportunity to talk about how misunderstood sharks are, but also give some practical tips about what to do if you're ever in the water and a shark swims near.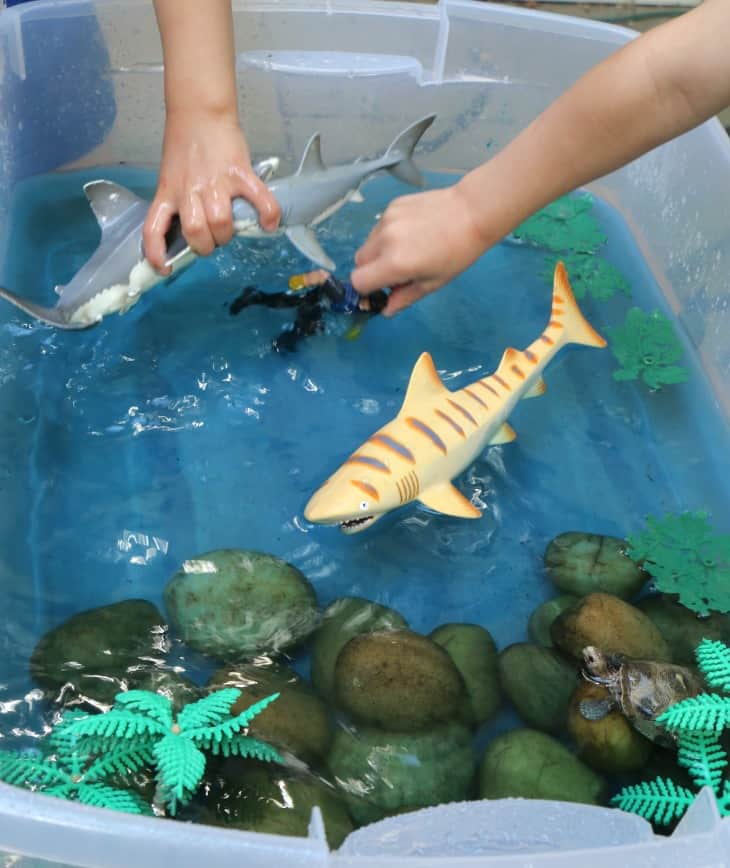 18. The Snail and the Whale Bin
Create a beach in a bin with this adorable activity based on The Snail and the Whale books. You'll need sand, tinted blue water, and whale and snail toys. Add other items as you see fit.
Kids can play with these toys and even re-enact their favorite parts of the books while you're reading.
Must-Read Summer Books:
Keep the fun going with these fun summer books. There are so many benefits to reading aloud to kids. It's even been found that reading books to toddlers can help build their empathy, aiding in social-emotional development.
The Night Before Summer Vacation
A girl and her family are preparing for a summer vacation. Follow her along as she prepares.
Get ready for summer with this fun read! From flip-flops and hide-and-seek to fireworks. This is a great book to end the last day of school! Let's get ready for summer!
The Very Hungry Caterpillar's First Summer
Are you ready to celebrate summer? Follow along with the Hungry Caterpillar and his friends as they welcome summer!
Outdoor Water Activities For Kids- Summery
Summer is the perfect time to enjoy outdoor activities with your kids! From splashing around in sensory bins to a DIY car wash, these fun water activities for kids will keep even the most rambunctious little ones entertained while they cool off.
Don't be afraid to get creative either; homemade sponge boats or boats made from recycled plastic bottles can be great DIY projects that allow little ones to express their creativity while also having fun.
So gather up some supplies and pick out some of these fun water activities for kids today—you won't regret it!
After all, there's nothing quite like watching your children experience the joy of summer waterplay, so jump in and try these activities on those hot summer days ahead.
If you enjoyed this craft, save it for later and follow us on Pinterest for more fun craft ideas.
Related Posts: