21 Super Fun Spider Crafts for Kids
With Halloween just around the corner, it's the perfect time to round up a list of creepy-crawly spider crafts for kids. We've found loads of silly and spooky spiders that will encourage your kids' creativity, improve dexterity, and help them learn a little about these fascinating eight-legged animals.
From fuzzy pom-pom spiders to wiggly spider puppets, each project approaches spiders in a different way. Plus, you have most of the materials needed for these crafts around the house already, so they're also budget-friendly.
Crafting with kids helps them express their creativity and develop fine motor skills, spatial awareness, and problem-solving abilities. The beaded spider craft, for example, is perfect for working on concentration and precision.
Whether you're looking for a fun family afternoon of crafting or want to make some spooky decorations for your annual Halloween party, these spider crafts are a great way to bond with your kids.
Materials for Making Spooky Spider Crafts
Want to get started on one of these crafts ASAP? Here's a list of some of the materials needed. It is not an all-inclusive list, but it does contain most of what's needed to make the spider of your choice.
Recycled tin cans
Mason jar lids
Rocks
Bottle caps
Spider Crafts for Preschoolers
Here are some of the easiest spider crafts around, perfect for toddlers, preschoolers, and kindergarteners. They're short and sweet on time and effort but still super cute.
1. Handprint Spider Craft
Make a not-so-spooky Halloween memento that preserves your child's handprints! You'll turn the four fingers into cute spiders dangling from sparkly webs made of black glitter glue.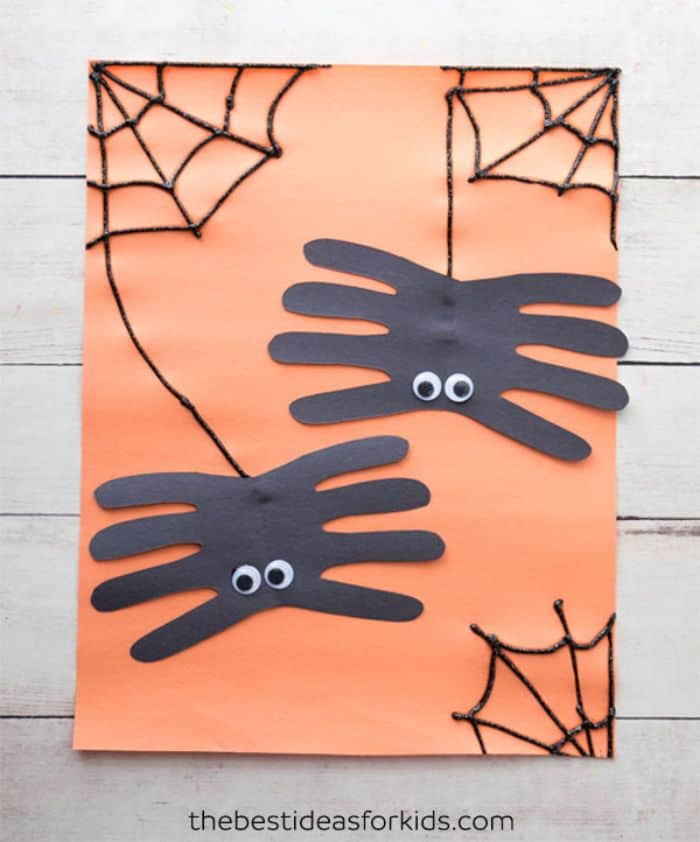 2. Spider Headband Craft
Bring out lots of googly eyes for this exciting headband craft. Using construction paper, create a fun spider to wear on top of your head like a hat. With plenty of eyes on the front and dangling accordion-fold legs, kids will have a blast dressing up as a spider for a fun afternoon of creative play.
Other fun craft ideas:
3. Paper Straw Spider Craft
Get ready to make some adorable eight-legged friends with paper straws. Begin by painting a circle black to form the body of your spider, then fix a pair of googly eyes on it. The legs are the real showstopper — made of colorful paper straw segments; they bring a pop of color and a twist of fun to this craft.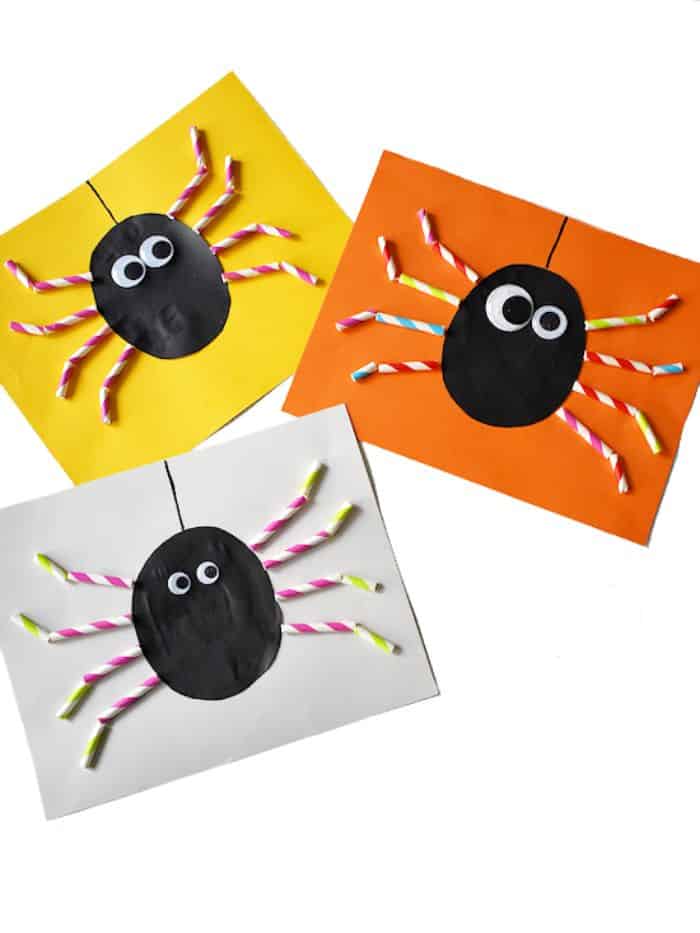 4. Paper Plate Spider
Make a classic paper plate spider with just a few simple materials. Take a paper plate and paint it black to form the spider's body, then add googly eyes and pipe cleaner legs. Pair this quick activity with your favorite Halloween book!
For more paper plate crafts, check out these paper plate animals!
5. Toilet Paper Roll Spiders
Repurpose an everyday item into a delightful spider craft. Take a toilet paper roll, cut it into three segments, then let your child's imagination run wild with paint, googly eyes, and a drawn-on mouth. Attach pipe cleaner legs, and you have a trio of colorful spiders ready to crawl around. What a fun way to recycle!
6. Pom Pom Painted Spider
Use a clothespin to hold a pom-pom, dip it into black paint, and then dot it onto the paper to form the spider's body. Add legs made of black paper strips to complete your creepy-crawly spider. This activity is beneficial for kids' development, helping to strengthen fine motor skills as they grip the clothespin and control the pom-pom.
7. Wiggly Spider Craft
Here's a craft that literally brings your creations to life! Construct your spider out of paper rolls, then attach it to a skewer or stick to make a bouncy puppet. The accordion-fold legs wriggle up and down when you move the puppet, giving the impression of a spider in motion. Children will love the dynamic, interactive nature of this craft.
8. Mason Jar Lid Spider Craft
Recycle your mason jar lids into fun, friendly spiders with this craft. Cover the lid with pieces of torn black construction paper, then add googly eyes and a smile to give your spider some personality. Complete your spider by adding legs made with painted black clothespins. This craft also serves as a great exercise for little hands, as squeezing the clothespins helps build fine motor muscles.
9. Painted Spider Rock
Transform ordinary rocks into spooky spiders for your Halloween décor. Paint the rock black to form the spider's body, stick on a whole cluster of googly eyes, and attach eight pipe cleaner legs. Kids will love having their spiders on their desks, in their rooms, or out on the porch!
10. Bottle Cap Spiders
Create a squad of mini spiders with this creative bottle cap craft. Paint the bottle caps black, add mini googly eyes, and use segments of pipe cleaners to create spider legs. This is a perfect craft for groups of kids. They can even create some wild and wacky spider colors!
11. Pom Pom Spiders
Cute, fuzzy, and loads of fun to play with, kids of all ages will adore these pom-pom spiders. Use a large pom-pom for the spider's body and attach segments of pipe cleaners to create its legs. Use whatever colors you like to make them look spooky or silly!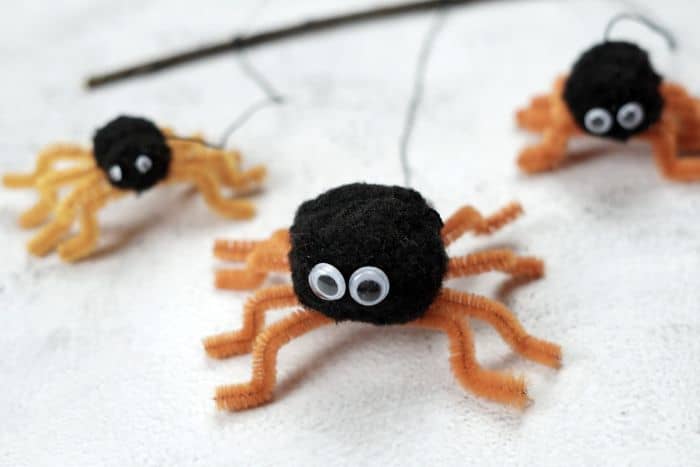 More Cute Spider Crafts
Older kids will enjoy these spider crafts, which take a little more time but make great decorations for Halloween.
12. Beaded Spider
Similar to the pom-pom spider, this craft uses pipe cleaners for legs, but with an exciting twist — threading beads onto the pipe cleaner legs. This activity is not only a great way to create an amazing arachnid, but it also helps kids practice their concentration and fine motor skills.
13. Tin Can Spiders
Transform your recycled tin cans into spooky spiders that double as functional items. Paint the can black, stick on some googly eyes, add pipe cleaner legs, and voila! You have a quirky spider that can hold Halloween treats or even serve as a unique pencil holder. A craft that's fun, practical, and environmentally friendly.
14. Accordion Fold Paper Spiders
You only need paper, glue, scissors, googly eyes, and a marker for this project. Use a paper circle for the spider's body, and then create legs with accordion-folded paper strips. Kids will enjoy the rhythmic folding process, and the spiders — with their zigzag legs — are sure to bring a smile to their faces.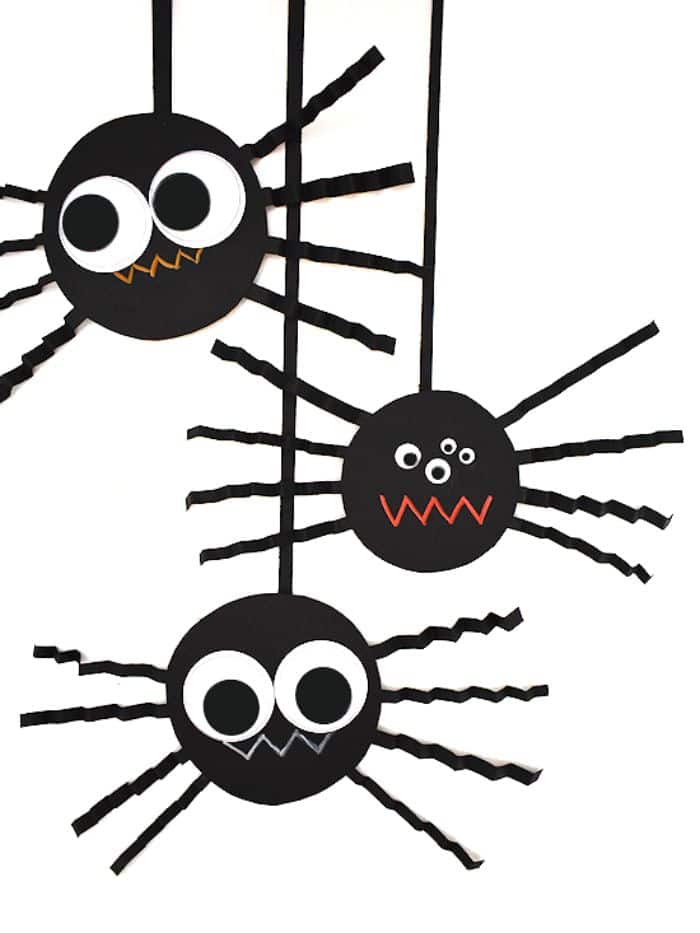 15. Yarn Spider Craft
How adorable are these bright and bold spiders? Use balls of yarn in different colors for the spider's bodies, stick on some googly eyes, and add colorful pipe cleaner legs. The contrasting colors and fluffy texture make these spiders truly stand out. This is a perfect craft for kids who love working with yarn and want to create something vibrant and fun!
16. Clay Pot Spiders
These clay pot spiders are so much fun! Paint a pot black, add a face and some pipe cleaner legs, and you'll have a set of cute clay pot spiders!
17. 3D Paper Spider
Get ready for some spooktacular 3D crafting with these paper spiders. Create a 3D paper ball by gluing folded paper circles together for the spider's body. Add eyes and paper legs to give your spider shape and character. Finally, attach a string for hanging – it's the perfect addition to a Halloween tree or any spooky space in your house.
by Red Ted Art
18. Popsicle Stick Climbing Spiders
These popsicle stick spiders bring an exciting interactive element to craft time. Construct spiders out of popsicle sticks and attach them to strings. Pull the strings to see your spiders move up and down, just like they're climbing! For younger children, you can opt to remove the strings and simply enjoy making the popsicle stick spiders.
Also, be sure to check out these awesome popsicle stick animal crafts!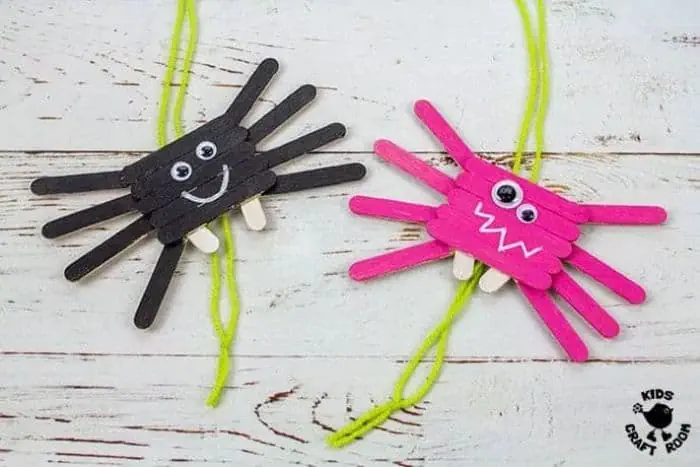 19. Paper Cup Spiders
Add a glowing twist to your spider crafts with these paper cup spiders. Paint paper cups in fun colors, attach googly eyes and pipe cleaner legs, then add a battery-powered tealight inside. The "flame" pokes through the cup, creating a glowing nose for your spider. If you're short on time, you can skip the glowy nose, but it does add a fun touch to these adorable spiders.
If you love making spooky creatures out of paper cups, be sure to check out this paper cup bat and paper cup ghost!
20. Paper Strips Spider Craft
Sharpen those scissor skills with this 3D paper strips spider craft. Using paper strips, you can create a 3D spider, which not only looks amazing but also provides an excellent opportunity for kids to practice their cutting skills.
21. Paper Quill Spiders
Ideal for older kids, the paper quill spiders provide a more intricate and engaging craft challenge. This project combines the fun of creating spiders with the art of quilling, allowing kids to explore a new crafting technique while making something fun for Halloween.
Spider Crafts For Kids – Summary
Crafting can be a great way for kids to develop skills such as fine motor skills, creativity, and critical thinking. With 21 spider craft ideas, there is something to suit every age of child! From making a web out of string and beads to creating a site-seeing spider wall hanging that will brighten up any room in the house.
Get inspired by these spider craft ideas today, and let the creative juices flow! And if the little ones are worried about creepy crawlies during the night – don't forget to include some softer designs like cute spider finger puppets to provide comfort and safety during their bedtime routine.
Whether it's Halloween, science week, or just Saturday morning – why not get your kids involved in these spider crafts for kids? The possibilities are endless, and so are the messy memories they will form!
Don't forget to pin this roundup of spider crafts to come back to whenever spooky season comes around!
More Halloween Fun for Kids