23 Super Fun Summer Crafts for Kids
It's summer — the best time of the year, with long days, warm nights, and plenty of free time for the kids. If you're looking for fun summer crafts to enjoy those fleeting days, you've come to the right place.
We have loads of creative and fun ideas to keep your little ones entertained, from simple paper crafts to nature art.
Notice: This post contains affiliate links. To learn more, read our Disclaimer Here.
Materials for These Easy Kids Crafts For Summer
Here are common supplies you will need for most of these easy summer crafts for kids. Pick and choose what supplies you use for which projects. Most importantly, have fun!
Easy Summer Crafts for Kids
Get out the paint, glue, and craft supplies, and make something beautiful (and summery) with the kids!
1. Handprint Pineapple Craft
Celebrate the sweet days of summer with a fun pineapple craft that combines handprint art with lots of scissor practice. It makes a wonderful keepsake and is cute enough to display all summer.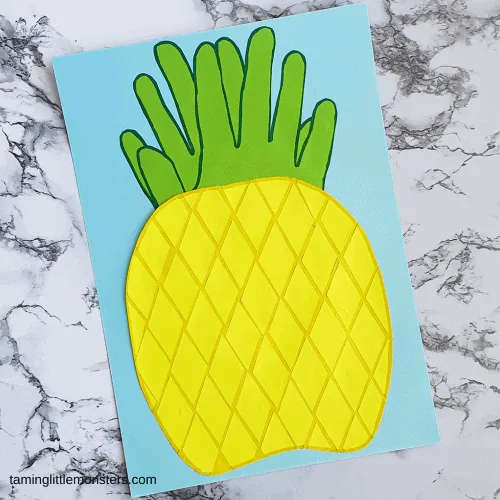 Nothing is better than spending sunny days outdoors. If you're looking for something crafty to do outside, making your own puffy sidewalk paint is a great place to start. Once you've made it, create beautiful designs on your driveway or sidewalk.
If you know a neighbor won't mind you drawing on theirs, head on over and write a friendly message to spread a little kindness.
Related crafts:
3. Popsicle Craft
What's the most iconic summer food ever? Why, popsicles, of course! Nothing tastes better than an ice-cold popsicle after a morning spent in the scorching sun. So come indoors and enjoy one while letting the kids work on this printable popsicle craft.
Use the simple template in the link below; you'll be done in about 15 minutes or less.
4. Seashell Fish Craft
Do you have an extensive shell collection from your beach vacations? Or perhaps you've bought some craft shells you don't have a project for. Try these seashell fish using items collected outdoors to create cute fish of all shapes and sizes.
Flower petals, seeds, leaves, rocks, twigs, and more are all fair game when it comes to creating your seashell fish art.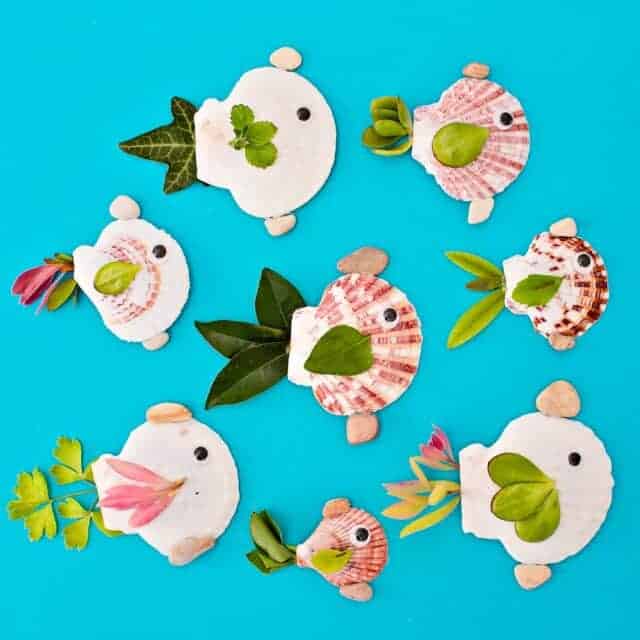 5. Hawaiian Plumeria Paper Flower
Feel like you're in Hawaii with this beautiful plumeria paper craft for kids. They're super simple to make and can be strung together to create a flower garland or glued to a canvas to make wall art.
They'll also make great decorations for a luau party.
Your child will just love this paper plate ice cream craft! This one incorporates coloring and gluing on sprinkles. Adding sprinkles is a fun touch that adds to the realistic ice cream look.
Amazon Favorites:
7. Paper Plate Beach Craft
Turn an ordinary paper plate and cupcake liner into a fun beach scene reminding you of a relaxing summer vacation. You probably have everything you need to make this craft right now in your kitchen cupboard and craft closet.
8. Seashell Fish in an Aquarium
Here's another fantastic paper plate craft for summer that incorporates painted seashells to make gorgeous tropical-looking fish.
Add some natural shells at the bottom in the "sand," just like you'd find in the ocean.
9. Fine Motor Sun Craft
You can't have summer without lots of sunshine. This cheerful craft isn't only fun to make, but it's engaging to play with, too.
Working with clothespins is good for pincer grasp, and aligning the pegs with the correct number reinforces number recognition skills.
10. Toilet Paper Roll Popsicles
Try this version made with craft sticks and painted toilet paper tubes for another fun summer craft featuring frosty popsicles. This is an easy, cute project for summer camp or VBS.
by Little Ladoo
11. Mix and Match Paper Bugs
Combine your child's picture with adorable paper bugs in this mix-and-match craft that is perfect for spring and summer. Perhaps you can work on a brief lesson about insects while you're at it!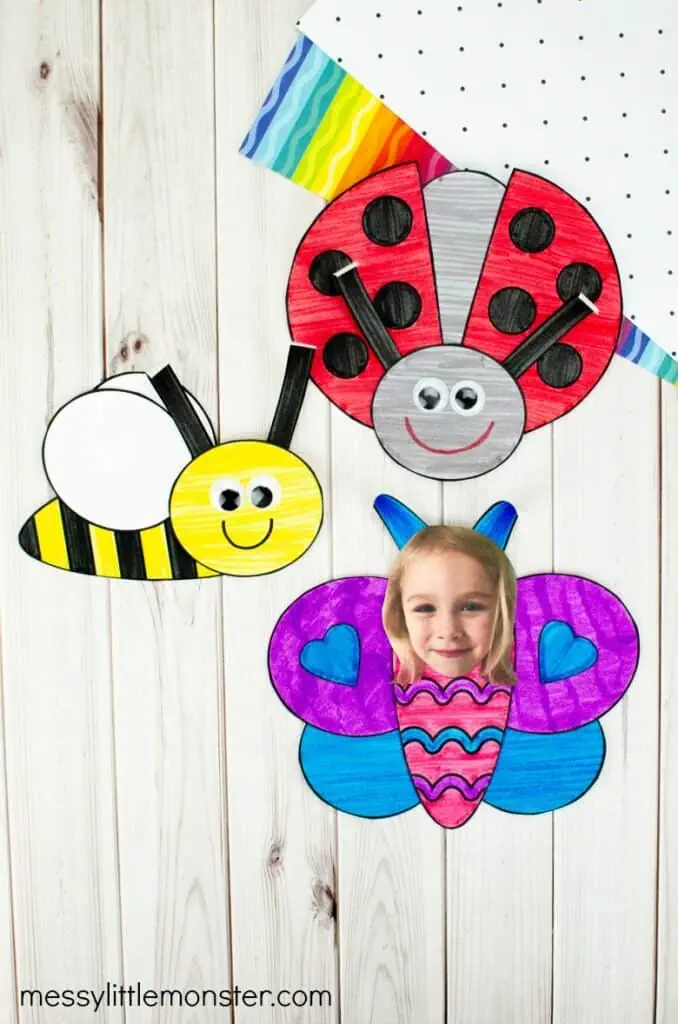 12. Curled Paper Ant Craft
Speaking of insects, how about those pesky ants? While the real thing isn't welcome in the home, these adorable paper versions sure will be. Not only is it super cute, but kids will have time to practice their scissor skills (by making fringed paper for the grass) and their paper curling skills for the ant.
13. Shark Toilet Paper Roll Craft
Your favorite toothy start of summer is here in a fun toilet roll craft that's sure to get kids excited for shark week. It's super simple to make, only requires a few cuts, and is loads of fun to play with when you're done making it.
If you don't want to fuss with paint, cover the paper tube in gray construction paper instead.
14. Paper Plate Camping Craft
One of the best parts of summer is camping out under the stars. Whether you head into the forest or camp in your own backyard, there's something adventurous and memorable about setting up a tent and falling asleep listening to the crickets chirp.
That experience is what this adorable paper plate craft captures.
15. Seashell Necklace
Want to remember that relaxing vacation for years to come? Use some shells you've collected to make necklaces that'll remind you of all those fond memories each time you wear them. You could also use this tutorial to make a fun keyring, too.
16. Tie Dye Beach Towels
If you plan on spending time by the pool or at the lake or beach, making some tie-dye towels to take with you is a fantastic idea! Each one is unique and beautiful.
17. Melon Paper Fans
Cool off with paper fans featuring a pretty watermelon theme. Kids will love making these and fanning themselves on a hot summer day. It's a terrific craft for summer day camps and scouts, too.
by Red Ted Art
18. Paper Pool Art
Create a relaxing pool scene using recycled materials like corrugated cardboard, lids, and paper. Now, this looks like a pool party I'd want to attend!
19. Ocean Slime
Kids can't get enough of slime. It's stretchy, squishy, and oh-so-fun to play with. It's amazing how many ways you can make it, like this ocean slime that really looks like gorgeous blue ocean water.
Add some ocean animal toys to the mix, and the kids will have fun for hours.
20. CD Suncatcher Craft
You probably no longer use those old CDs in your CD case, so let the kids use them for their art projects instead. This bejeweled suncatcher will look beautiful hanging in the window and catching those gorgeous sun rays.
21. Paper Jellyfish Craft
Jellyfish are some of the most fascinating creatures in the ocean. Although you don't want one swimming up next to you, there's no denying that they're beautiful and mysterious.
Capture their unique features in this delightful paper jellyfish craft. Use the printable template below, and you can't go wrong.
by Mombrite
22. Paper Mosaic Sunset Boat
This mosaic craft is one of our favorites on the list. The gorgeous yellows, oranges, and pinks really look like the sunset. Plus, the mosaic ocean creates texture and visual interest when you're working with a silhouette form of a boat.
23. Ladybug Magnets
Who couldn't use a few extra magnets in their lives? You won't mind fridge magnets when they're this cute. Use large glass gems, paint, googly eyes, and magnets to create these lovely ladybugs.
Summertime Crafts For Kids- Final Thoughts
We hope you enjoyed this list of easy summer crafts for kids. From suncatchers to seashell art, there are plenty of options to keep your children entertained and help them make memories.
Must-read Summer Books
Be sure to check out these great books about SUMMER!! These make for a great addition to any Summer themed craft.
The Very Hungry Caterpillar's First Summer
Follow the Hungry Caterpillar along with his exploration as he explores summer!
The Night Before Summer Vacation
Follow along with this family as they prepare to go on summer vacation!
Join in the fun with this summer I spy book! This book is great for kids 2-5!
Save this post for later, and come join us on Pinterest for more fun summer craft ideas for kids!
Related Posts: