20 Fun July 4th Crafts For Kids (Neat Fireworks Crafts)
Get ready for some explosive fun on this Fourth of July with these incredible fireworks crafts for kids. No matter if your kid is into real fireworks or not, they are sure to enjoy these sparkly, colorful, and fun crafts.
From firework rings to sparkling wands, we've put together a roundup of 20 creative fireworks projects that are perfect for celebrating America's birthday in style.
Notice: This post contains affiliate links. To learn more, read our Disclaimer Here.
Supply List For Fireworks Crafts
Here are common supplies you will need for a majority of these fireworks crafts for kids. Pick and choose what supplies you use for which projects. Most importantly, have fun!
Toilet paper rolls
Cupcake holders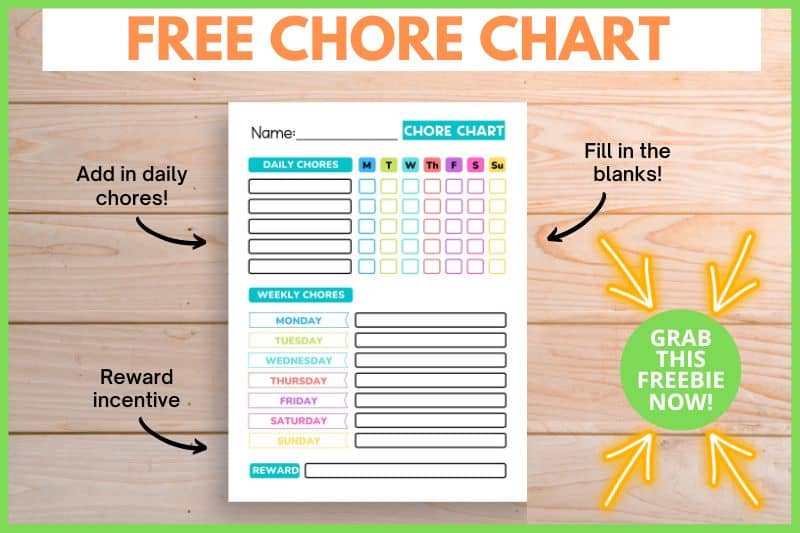 Fourth Of July Crafts For Kids
Let's dive in with these colorful and cool 4th of July crafts for kids!
More fun craft ideas:
1. Toilet Paper Roll Fireworks Painting
Save your empty toilet paper tubes for fun crafts like these toilet roll-painted fireworks. Fringe one end of the tube, dip it in blue or red paint, and stamp it on the page. You'll have a patriotic fireworks painting in no time.
Learn more @ The Best Ideas for Kids
2. 4th of July Fireworks Wand
Not only are these fireworks wands fun to play with, but they'll make gorgeous decorations for your 4th of July cookout. You'll need colored craft paper to make the loops and some gold glitter paper for the star, and to add some sparkle in the background.
Learn more @ Artsy Craftsy Mom
3. Paper Fireworks Craft
Let kids practice their scissors skills with this fun paper fireworks craft. Instead of regular scissors, try scrapbooking scissors that create decorative edges around whatever you're cutting. They add a touch of whimsy to this papercraft.
Learn more @ Non-Toy Gifts
4. Salt Painted Fireworks
If your kids have never tried salt painting, they're in for a treat! It's a fun and easy way to add texture and grit to any creative project. Salt painting is super simple—trace your design in glue, sprinkle salt on the glue, and let it dry. When it's completely dry, shake off the excess salt and then paint over the salt-glue ridges. Pretty cool, right?
Learn more @ The Best Ideas for Kids
5. Cupcake Liner Fireworks
Grab lots of cupcake liners from your kitchen cabinets (or from your local dollar store or craft store). You'll need several colors to make this project pop. When you have a good variety of colors and sizes, cut the ridged sides toward the center to make them look frayed.
Arrange them in a fireworks pattern, and you've got a fabulous piece of Independence Day art that's totally wall-worthy.
Learn more @ A Little Pinch of Perfect
6. Coffee Filter Fireworks
Try a fun watercolor dye technique with markers to make these dazzling coffee filter fireworks. When you're done, pop them on decorated craft sticks along with pipe cleaners and pom-poms, and they'll look like an exploding firework. So pretty!
Learn more @ Our Kid Things
7. Pointillism Fireworks
Learn about the pointillism technique with this patriotic project. Using a Q-Tip to paint not only creates cool dot patterns but it challenges kids to work on their pincer grip and other fine motor skills.
Learn more @ Coffee and Carpool
8. Fireworks Blowers
Kids will have loads of fun playing with these fireworks blowers on the 4th of July. You can adapt the color scheme to the holiday by painting the toilet roll red, white, or blue and using those colors in the streamers, too.
Learn more @ Red Ted Art
9. Paper Fireworks Puppets
Kids can wave around these beautiful paper fireworks at your hometown parade or while playing and watching the fireworks at night. They're a safe alternative to sparklers and are just as pretty. Plus, they're a lot of fun to make, too.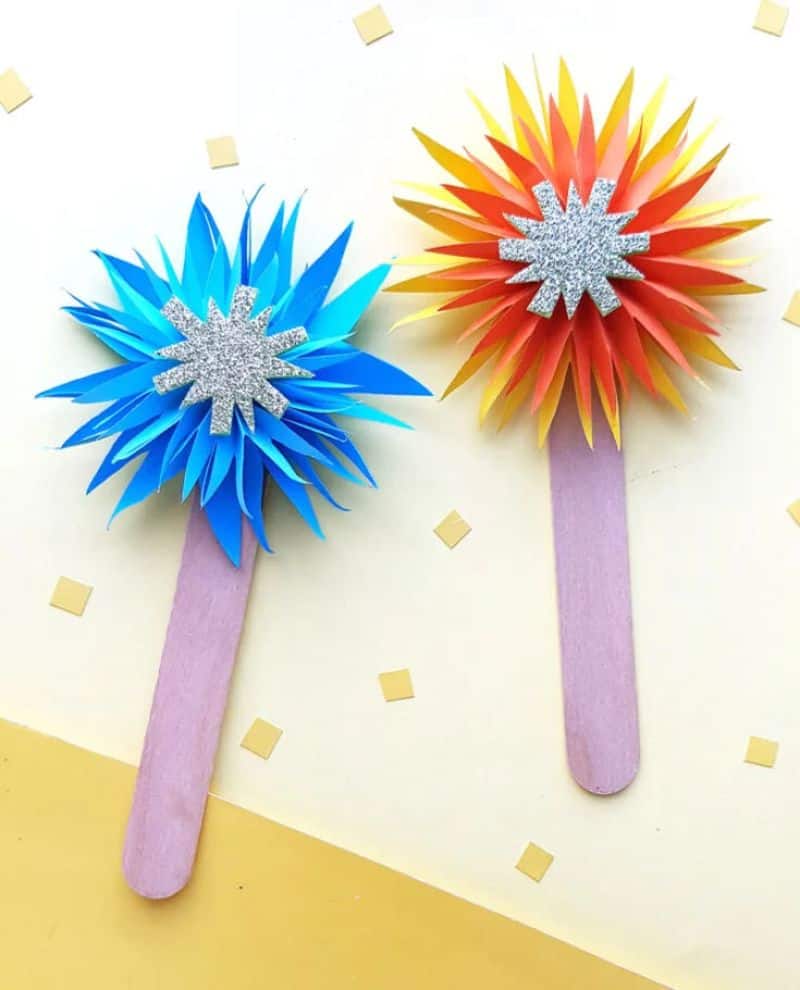 Learn more @ Moms and Crafters
10. Fireworks Paper Plate Lacing Craft
Punch holes in paper plates and then use red or blue yarn to create fireworks patterns. There's no right or wrong way to do it… just crisscross that yarn! This project is excellent for helping kids build hand strength and finger dexterity.
Learn more @ A Little Pinch of Perfect
11. 3D Paper Fireworks
Use the printables in the link below to create a cityscape with 3D fireworks exploding in the night sky. Kids can practice their paper curling skills and create a variety of fireworks of different shapes and patterns.
Learn more @ Projects with Kids
12. Sparkler Fireworks Craft
Turn cellophane sheets and aluminum foil into fun, shiny sparklers for the kids to play with on the 4th. The supplies are inexpensive, and the kids will have a blast making their sparklers. They'd be great for a football game or other sporting event, too. Just make them in your team's colors!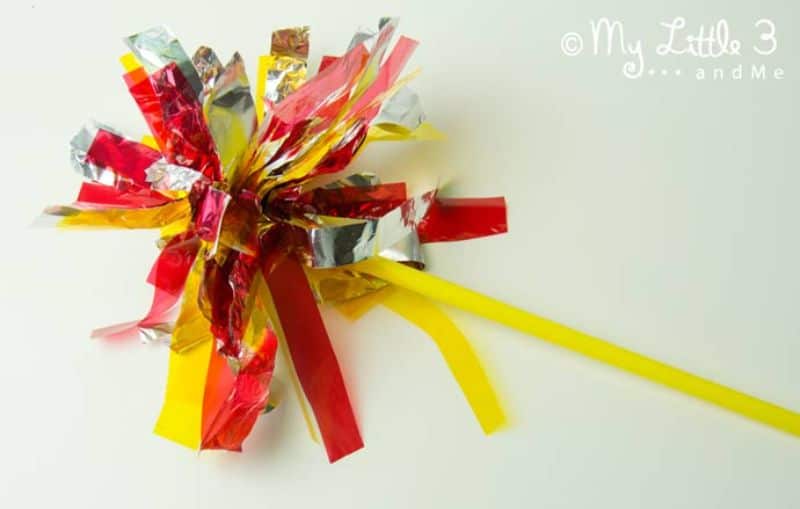 Learn more @ Kids' Craft Room
13. Fireworks Flextangle
Grab the free printable to make these cool fireworks flex angles for the Fourth of July. They're easy to print, assemble, and play with. If you've never heard of them before, they're a form of hexagonal origami. As you fold and turn the shape, you'll see different fireworks patterns. They make great fidget toys.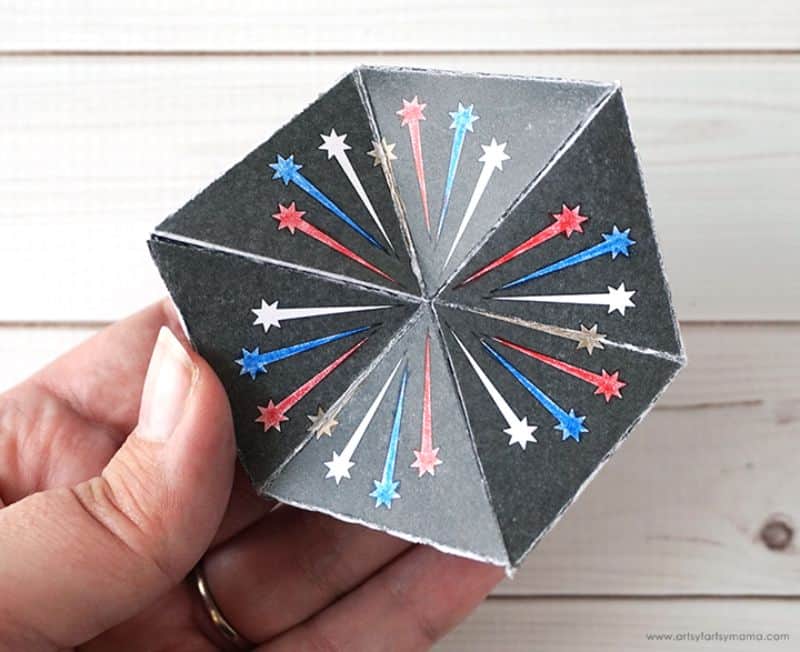 Learn more @ Artsy Fartsy Mama
14. Popup Firework
Raid your ribbon stash to make this fun pop-up firework toy with the kids. You'll need a wooden spoon, plenty of ribbon, paper to make a cone, and tape and stickers to hold it all together and decorate it.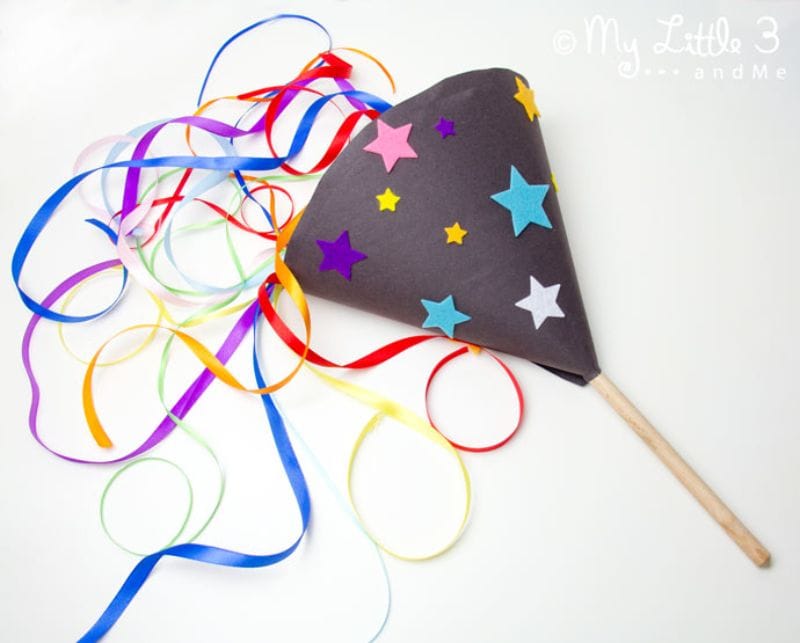 Learn more @ Kids' Craft Room
15. Chalk Pastel Fireworks
These bright and bold fireworks are some of our favorites on the list. It's quick and easy to customize for the 4th of July, New Year's, and other fireworks-related holidays. Use photos of fireworks for inspiration, or follow the patterns that you see here. Chalk pastels can get a bit messy, so make sure the kids are wearing old clothes and protect your work surface.
Learn more @ Projects with Kids
16. Painted Fireworks
Here's another fantastic piece of fireworks art that kids can make. This tutorial features townhouses, but you can adapt the buildings to whatever your home, apartment, etc., looks like. It's amazing that all those gorgeous fireworks were painted with the edge of the paper.
Learn more @ Arty Crafty Kids
17. Tissue Paper Fireworks
If you've ever made tissue paper flowers, these tissue paper fireworks will be a breeze. They'll make gorgeous table decorations or hanging decorations for your Independence Day festivities.
Learn more @ Hey Let's Make Stuff
18. Cardboard Fireworks
How festive are these cardboard fireworks with trailing yarn tails? Use whatever cardboard scraps you have on hand to make these cool fireworks in various sizes.
Learn more @ Our Kid Things
19. Fireworks Rings
You can't create a list of Fourth of July crafts without these sensational, sparkling fireworks rings. The coolest part is that you only need pipe cleaners for this project. That's it! The kids will love rocking their shiny rings while watching the real thing at night.
Learn more @ Fantastic Fun and Learning
20. Pipe Cleaner Fireworks
Speaking of pipe cleaners, here's another project to make with them. You'll need some scissors, glue, and a piece of black construction paper to serve as the night sky against the brightly colored pipe cleaners.
Learn more @ 3 Dinosaurs
Summary- Firework Crafts for the 4th of July
As the Fourth of July approaches, many families look for ways to celebrate the holiday with their children. One fun and creative way to do so is through Fourth of July fireworks crafts for kids. From sparkly pipe cleaner fireworks to painted handprint flags, there are countless options for children to express their patriotism and creativity.
Not only do these crafts provide a fun activity for children, but they also offer an opportunity to teach them about the history and meaning behind the Fourth of July. By discussing the significance of the holiday and its traditions, parents can help their children gain a deeper understanding and appreciation for their country.
In conclusion, Fourth of July fireworks crafts for kids are a wonderful way to celebrate the holiday and engage children in a fun and educational activity. By providing opportunities for creativity, learning, and family bonding, these crafts can help make the Fourth of July a memorable and meaningful experience for children and adults alike.
Make sure you pin this post to come back to it when you're ready to get started.
Related craft ideas: