Birds are beautiful creatures and watching them while they feed is a fun activity for people of all ages. If you're looking for a way to get into bird watching, or just want to add a new element to your current routine, why not try making your own bird feeder?
There are many different designs that kids can make, and it's a great project for getting creative in the kitchen! Plus, when you're finished you'll have a nifty new addition to your yard or garden.
Notice: This post contains affiliate links. To learn more read our Disclaimer Here.
So, whether you're a beginner or an experienced bird watcher, check out these 16 different DIY bird feeders that kids can make!
Bird Feeder Crafts for Kids
Do you have a mason jar sitting around your home? If so, this would make the perfect bird feeder for your tree. Tie a string around the handle and secure a stick for birds to land on. Add bird feed and watch and birds come to enjoy.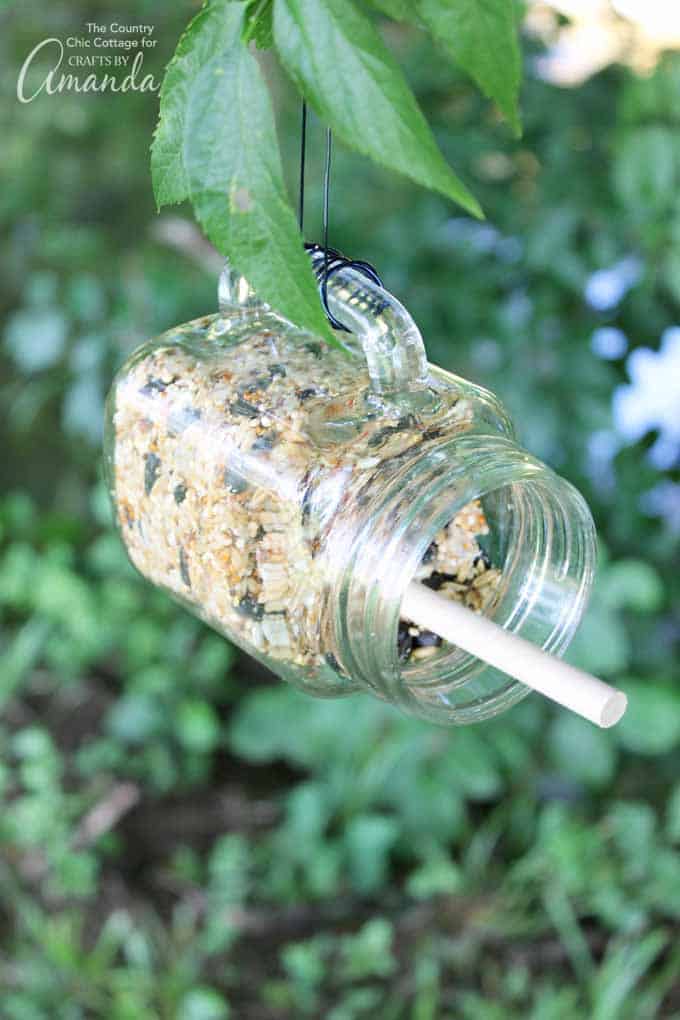 via Crafts by Amanda
What is it about popsicle sticks that kids love crafting with? Have your child paint popsicle sticks an assortment of colors and then fill them with birdseed. This craft stick bird feeder will be the highlight of their day!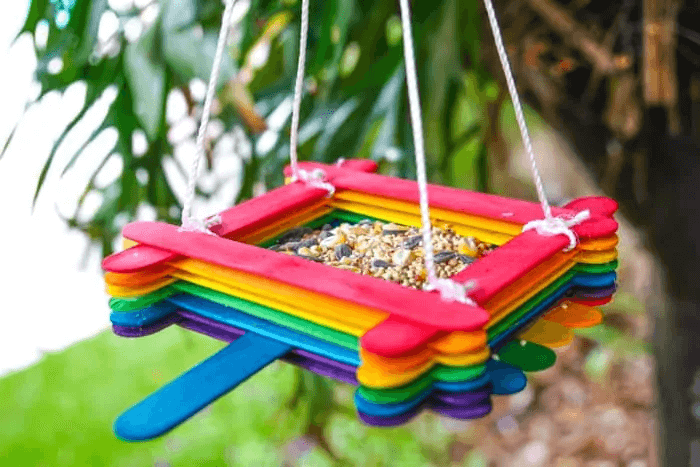 via Made with Happy
Related craft ideas:
Every child has to make at least one pine cone bird feeder as a child. Have your child go collect a pinecone outdoors. Tie a string to the top, cover in peanut butter, and then roll in bird seeds.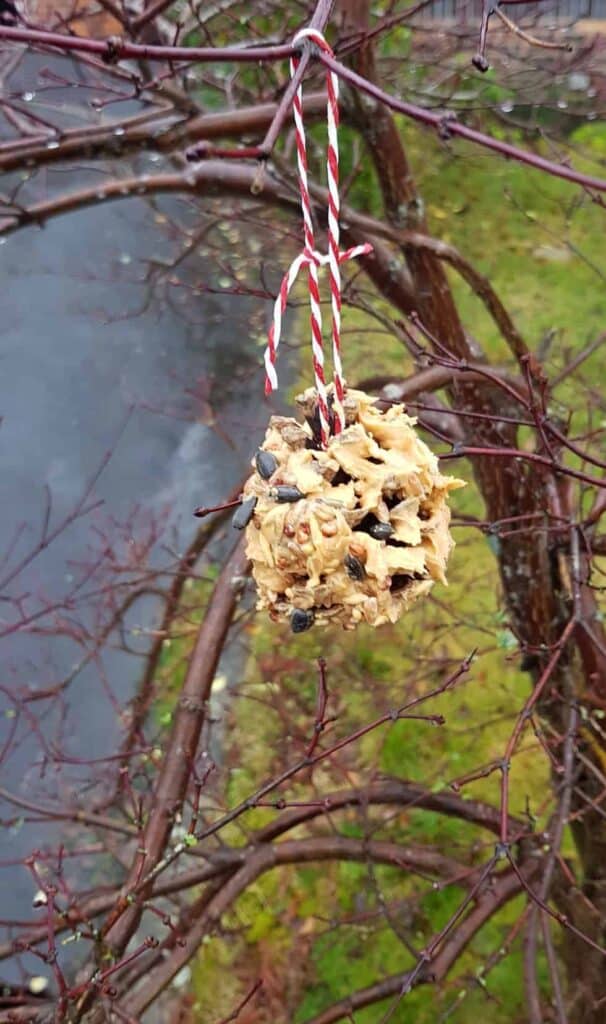 via The Ladybird's Adventure
This is a great winter bird feeder! Use an old coffee container, cut out a small door, and add some color and birdseed. Your child will have a cute bird feeder that the birds will continue to return to.
via Mom Wife Busy Life
This unique canning jar lid bird feeder is a genius idea for kids. Follow the steps in the link above to make your own.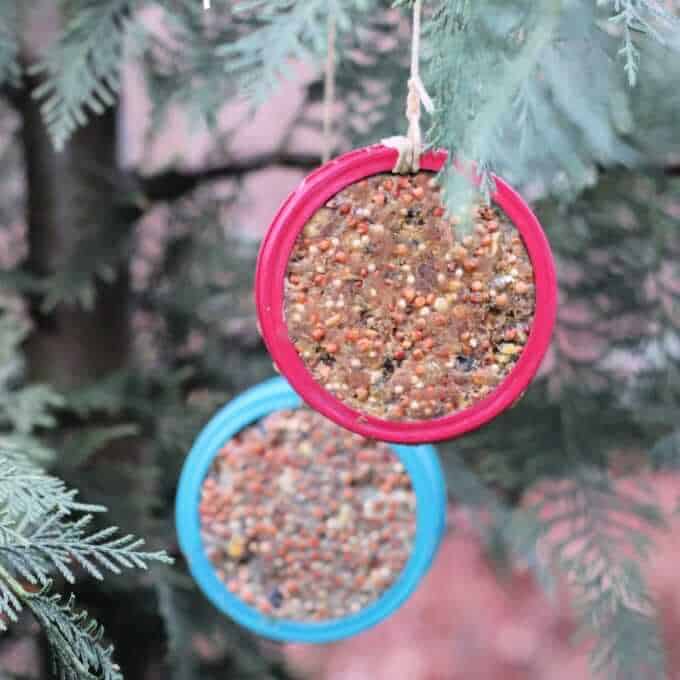 via Juggling Act Mama
Egg cartons make the best crafts! Next time, you have an egg carton lying around this is a great craft idea. All you need is an egg box, birdseed, and some yarn.
via Crafts on Sea
Doesn't this birdhouse bird feeder look so much fun to make! If you have some extra cardboard, and twine this birdhouse would be a great addition to your outdoors. Your kids are going to be asking to make one of these every year.
via Non-Toy Gifts
Who would have guessed that you can make a DIY bird feeder out of an orange peeling? Follow along using the link above to make your own.
via Thimble and Twig
These apple bird feeders are so cute! Kids love crafting with fruit so they will definitely love these apple bird feeders.
via Natural Beach Living
You can make such a wide variety of crafts with toilet paper rolls. These toilet roll bird feeders are so fun to make. Your child can make one or a handful at a time. Then go outside and hang them from tree branches.
via Fireflies and Mud Pies
This bird seed feeder is made from a tin can. Let your kids use paint, and lace to decorate their own tin can. Fill them with birdseed and pick a tree to hang them on together.
via Mom Endeavors
This paper bowl with fruit loops is such a fun creative way to create a bird feeder. Have your child decorate their bowl and then have them string cheerios on each string.
via Non-Toy Gifts
What a fun way to make a bird feeder! Your kids will thoroughly enjoy making this bird feeder wreath.
via Sugar, Spice, and Glitter
Birds love cheerios! So, what better way to make a bird feeder ornament than these fun heart-shaped fruit loop feeders. All you need is pipe cleaners, twine, and some cheerios and you will be on your way to making your own.
via Natural Beach Living
Who would have thought that you could make a bird feeder out of a milk jug? Let your child get creative making this bird feeder milk jug.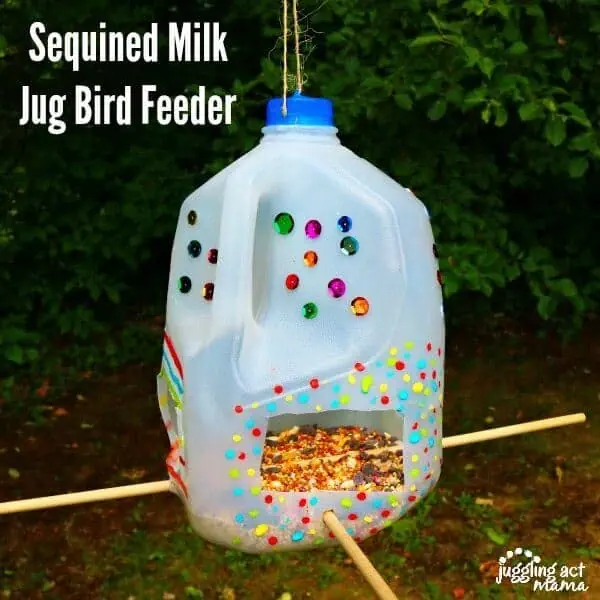 via Juggling Act Mama
Do you have a coffee mug or two to spare? If so, let your child try making a coffee mug bird feeder. This unique feeder will last the test of time. Grab a coffee cup, plate, twine, glue, and get started.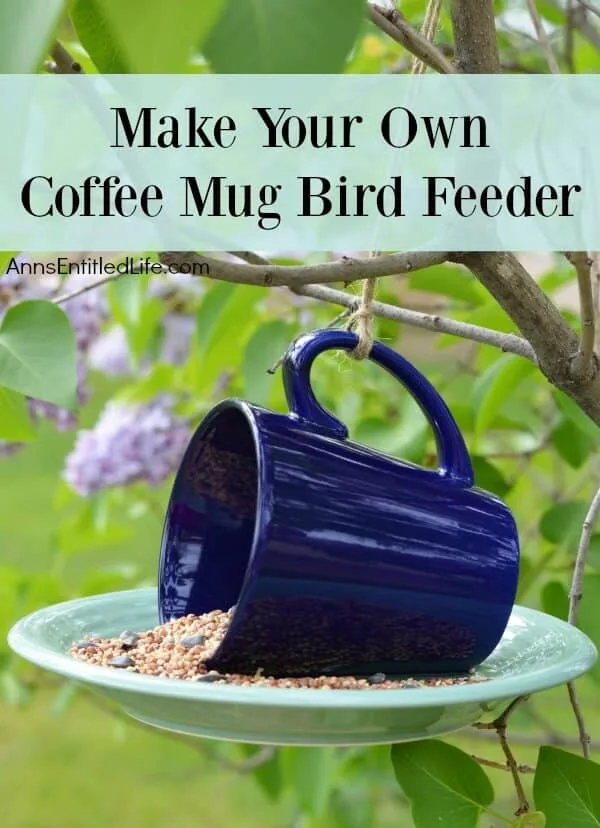 via Ann's Entitled Life
I hope you enjoyed these 16 different bird feeders kids can make at home! Hopefully, at least one of these ideas caught your child's eye! Now start crafting! =)
For more kids' craft ideas, make sure to save this post for later and follow us on Pinterest.
Related crafts you'll enjoy: