17 Best Halloween Sensory Bins For Kids
Halloween is the perfect time of year for kids to get creative and explore their senses.
A sensory bin can be a fantastic way to do that! Sensory bins are containers filled with materials like rice, sand, beans, or other fillers that allow children to explore textures, shapes, and colors hands-on.
They're also great tools for teaching basic concepts like counting and sorting and motor skills such as pouring, scooping, and grasping.
And even though it might seem intimidating at first, making one of these colorful trays is surprisingly easy—just use these Halloween sensory bins to inspire some spooky sensory fun.
Notice: This post contains affiliate links. To learn more, read our Disclaimer Here.
Fun Fall craft ideas:
Here Are 17 Spooky Sensory Bins For Halloween
Looking for a Halloween activity that's spooky, slimy, and super fun? You've found it!
This sensory bin filled with purple spaghetti and squishy eyeballs- will keep your kids happily entertained for hours.
by Simple Everyday Mom
Halloween is spooky witches' season, and this fun (and budget-friendly) Witches Potion is the perfect sensory bin for some otherworldly fun!
Put a fun educational twist on this witch potion and read these awesome spider facts to your child while they are mixing their potion!
by Taming Little Monsters
Toddlers can work on their fine motor skills with this Halloween-themed sensory bin! Made with rice and beans, this bin is easy to put together, and little ones can play in different ways!
Click the link above and read how to make one at home.
by Simple Fun for Kids
Younger kids can get scared fast, but they can still enjoy Halloween fun. This option offers all the spookish fun for the younger kids in the family.
by Finding Myself Young
This sensory bin option made with water beads and creepy Halloween toys guarantees your little ones will have a spooktacular time!
by Messy Little Monster
This post includes tips for setting up your own melting witch sensory bin at home. It's perfect for exploring some fizzy textures and introducing little ones to science in a fun way.
by Sugar, Spice, and Glitter
Is your child not a big fan of slimy textures? No worries! Use yarn and pom-poms to make a Halloween-themed sensory bin. Click the link above and follow the step-by-step instructions to set one up at home.
by My Bored Toddler
Colored spaghetti and a couple of spookily cute Halloween props are all you need to make this awesome sensory bin!
by Finding Myself Young
Short on time? Try this sensory bin! You can make this in no time, and your children will have a blast playing with the jiggling jello eyes.
by Taming Little Monsters
Halloween would not be complete without a sweet edible sensory bin. All you need is jelly and some Halloween-themed candy for this one.
by The Inspiration Edit
Invite your kids to explore textures with this cloud dough sensory bin in Halloween colors!
by Simple Fun for Kids
This sensory soup takes little prep time, which makes it an ideal last-minute Halloween activity for the little ones.
by And Next Comes L
This spider soup screams Halloween fun! Your kids can work on their measuring skills while enjoying a spookish good time!
by The Keeper of the Memories
Bring the Halloween magic to your little one's playtime with this bubbly sensory bin! To make this, you will need baking soda, vinegar, and a few everyday items you probably already have. To create your own, click on the link to see the instructions.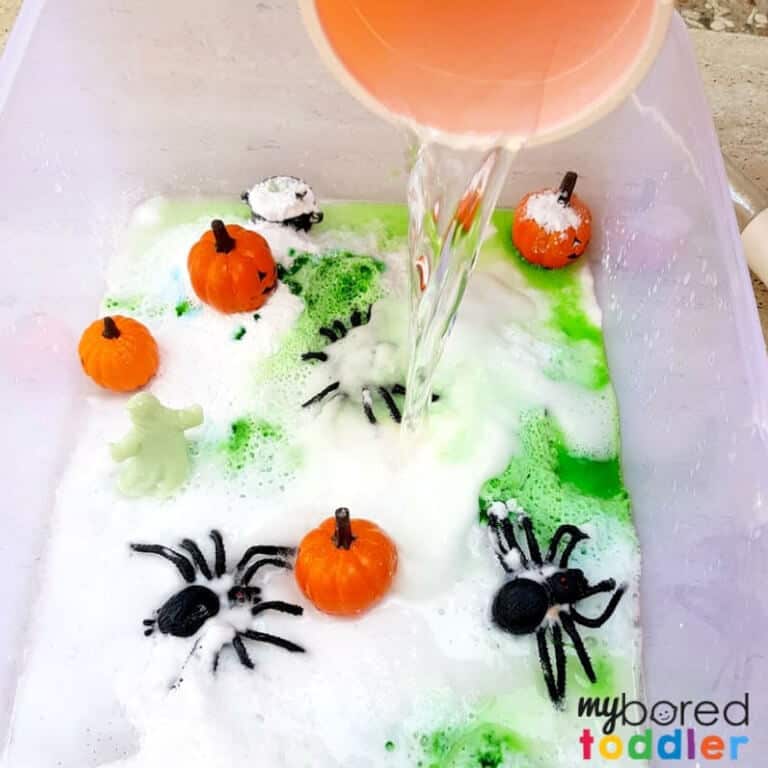 by My Bored Toddler
Your kids will have lots of fun making their own magical witches brew this Halloween. You can make this sensory bin using a few ingredients. Kids will have loads of fun strengthening their fine motor skills as they dig and scoop!
by Natural Beach Living
Got packaging paper to spare? Use it in this adorable spider sensory bin where kids can experiment with textures!
Click the link to get the full instructions and more fun ideas on using this spider-themed bin.
by Sugar, Spice, & Glitter
Sticky fluffy slime and Halloween are a match made in sensory bin heaven! This bin is awesome for kids who love slime and explore spooky textures.
by The Chaos and the Clutter
Halloween Sensory Bin Summary
There you have it. Seventeen different sensory bins to make your Halloween extra special. Make sure to try out one or a handful of these sensory bins this Halloween season!
If you enjoyed this craft, make sure to save it for later and follow us on Pinterest for more fun craft ideas.
Fun Halloween crafts: