Easy homemade bubble solution!
Bubbles are a classic childhood pastime that never seems to get old. And luckily, making your own bubble solution is easy and affordable. This week, we'll show you how to make your own bubble solution using just a few simple ingredients.
Your kids will love playing with bubbles all summer long!
Notice: This post contains affiliate links. To learn more, read our Disclaimer Here.
How To Make Bubbles At Home
This homemade bubble solution is easy to make so you'll be blowing bubbles in no time. You probably have all of the ingredients you need already in your kitchen. Here's what you'll need to make homemade bubbles:
Ingredients:
– 1 cup dish soap
– 6 cups of warm water (works best with distilled water)
– 1/4 cup corn starch (or corn syrup)
Instructions:
1. Combine dish soap and warm water into a jar or bucket.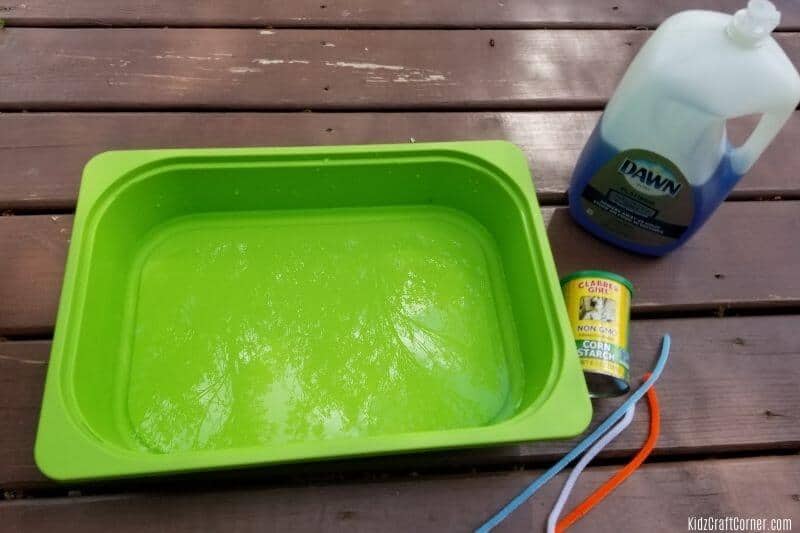 Fun Summer Craft Ideas:
2. Gently stir dishwashing liquid and water until combined. To make the best bubbles make sure to stir the mixture slowly (this can be hard for younger kids to do). You will know if you are stirring too fast because small bubbles will start appearing on the surface.
3. Add corn starch to the mixture and stir gently until fully dissolved.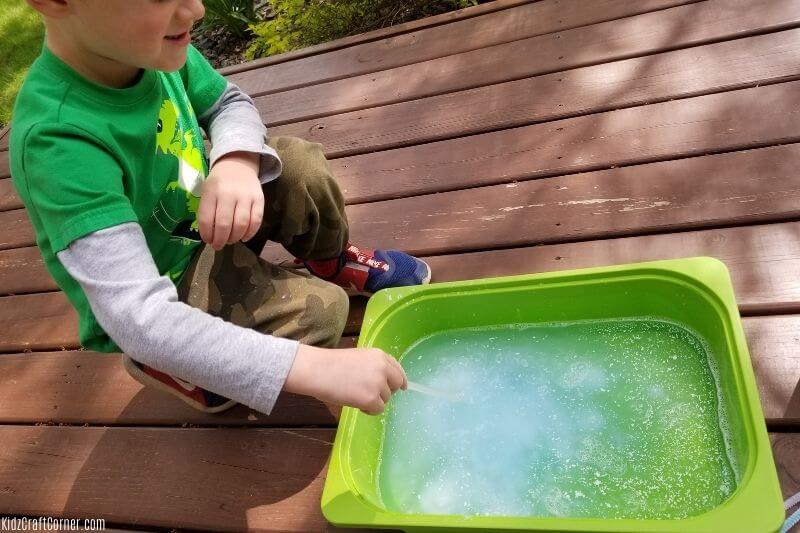 4. The longer you let your homemade solution sit the bigger the bubbles turn out. However, we tend to use this homemade bubble recipe right away and we still get some pretty giant bubbles.
5. Dip your DIY bubble wand or bubble tool of choice into the homemade bubble solution and start making bubbles!
How Do You Make Giant Bubbles?
Want to learn how to make giant bubbles? The bigger the bubble wand the bigger your bubbles will be.
If you have a small kiddy pool you can double or triple the above recipe then grab a hula-hoop to use as a giant bubble wand. Dip the hula hoop into the bubble solution and bring it up. It will create some massive bubbles.
Learn How To Make A Bubble Wand?
We usually make our bubble wands using pipe cleaners! These are easy to make. Grab a simple pipe cleaner of your choice and shape it however you want.
There are other ways to make simple DIY bubble wands but these pipe cleaner wands literally only take a minute to make.
Popular Questions:
Can you make bubbles with glycerin? Most bubble recipes actually call for glycerin in place of corn syrup. The above recipe calls for basic ingredients that you probably around have around your home.
How do you make strong bubbles? To make strong bubbles let your bubble mixture sit out overnight.
Can you make a homemade bubble solution with dish soap? Yes, the above recipe calls for dawn liquid dish soap.
Homemade Bubble Solution- Summary
So now that you know how to make bubble solution, grab the kids and some bubble wands and get ready for hours of fun. With a little bit of science and a whole lot of imagination, you can create bubbles that are bigger, better, and more beautiful than ever before.
What kind of shapes will your bubbles take on? Will they be solid or liquid? The possibilities are endless! Go ahead and give it a try – we promise you won't be disappointed.
So, are you ready to make your own homemade bubble solution? If you come up with any great variations on this recipe, be sure to let us know in the comments below. We always love trying out new bubble solutions!
For more fun craft ideas and activities- follow me on Pinterest!
Must try crafts: