I don't know about you, but my kids LOVE rainbows!
I've never seen two kids get so excited about rainbows.
If your kids are anything like mine and are obsessed with rainbows, you're in the right place!
Today I'm going to show you how to create a really cute paper rainbow craft.
Notice: This post contains affiliate links. To learn more read our Disclaimer Here.
I love this craft because it's super simple and it can double as a lesson in learning colors for younger kids. Not to mention it, this craft is quick and easy.
The best part is that you probably already have a lot of the supplies you'll need laying around the house.
If your kids love rainbows, you have to try this one out!
Rainbow Paper Craft Details:
Age Group: 2 – 6 yrs
Difficulty: Easy
Time To Complete: 20 – 30 min
Supplies To Make Paper Rainbow Craft
The supplies for this craft are pretty minimal and that's why I love it! You really only need a couple of things and you probably already have the supplies at home.
If you have to buy all the supplies it will cost you a few dollars but will make you more paper rainbow crafts than you'll know what to do with!
Here's what you'll need to successfully complete this craft:
> Colored Paper – 1 page for each color of the rainbow
> Cotton Balls – 8 to 10 needed
> Rainbow Template
Use the links above if you don't have the supplies required for this project laying around the house.
To get the rainbow template, sign up below and we'll send you the template for FREE below.
Other fun crafts:
How To Make The Rainbow Paper Craft
Alright, let's get to it. It's time to show you how to make this rainbow papercraft.
Crafting is a great way to spend quality time with your children and get their creative juices flowing. This simple craft is a good place to start.
Before you can get going with this one, you'll have to do a little prep work.
The first thing you'll want to do is cut up the colored paper into little squares so you can glue them to the template. Cut them into squares that are 1 inch by 1 inch or smaller.
Make sure you cut enough to cover the length of the rainbow template. You'll need more of the red and less of each color as you move down the colors of the rainbow.
Step 1: Organize Your Supplies
To make sure this craft runs smoothly and your kids have a lot of fun doing it, you'll want to organize everything.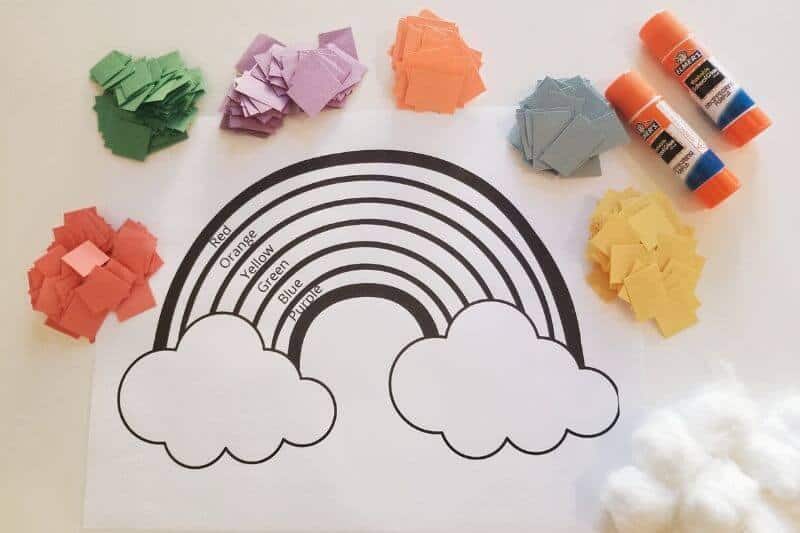 This is where the learning part of this craft comes into play. Depending on the age of your child, you can have your kids practice their color matching by creating piles of each color.
There's also some reading that can be done. The template has all the colors written where they belong on the rainbow. If your child can read, have them figure out where each color belongs to the rainbow.
Step 2: Glue and Stick
If you haven't picked up the rainbow template yet, this is the time to do it. You'll need it now.
Once you have everything organized, it's time to start gluing the paper squares to the template.
There are two ways you can do this. You can either glue each individual square of paper and then place it on the template or you can glue one whole row at a time on the template and then stick the squares to it.
Either way works just fine!
You can start anywhere on the rainbow that you like. My daughter started with red and then jumped to purple-blue and green.
Let your child's creative mind decide where to start!
Step 3: Add The Clouds
Once you have all the colors on the rainbow, it's time to add the clouds!
Take the cotton balls and rip them in half. This will give them a nice fluffy cloud look.
Place some glue in the cloud areas on the template and then stick the cotton balls on the paper.
Once you have the clouds on the template you're all done!
Here's how my daughter's craft turned out!
This simple paper rainbow craft is a great way to spend time with your children and help them express their creativity.
Give it a try today!
If you liked this craft, make sure you share it with others and come follow us on Pinterest for more kid's craft ideas!
Related craft ideas: