Blow Painting With Straws: Fun Rainbow Project For Any Age
We're sticking to the rainbow theme today with this super fun craft where we create a rainbow blow painting with straws.
It's a really simple project that is good for kids of all ages. The best part is it's so much fun!!
You might start out with what looks like a rainbow, and it can turn into so much more!
Let your kid's creativity run wild with this one, and you never know what you'll end up with!
Notice: This post contains affiliate links. To learn more, read our Disclaimer Here.
Other fun crafts:
Rainbow Blow Painting Project Details:
Age Group: 2+ yrs
Difficulty: Very Easy
Time To Complete: 20 min (dry time not included)
Supplies Needed To Complete Rainbow Blow Painting
The supplies for this project are pretty minimal. It's really 3 things you'll need:
> Paint (colors of the rainbow)
> Paper
My Amazon Picks:
How This Rainbow Blow Painting With Straws Works
This craft is really easy and is great for younger children. It only requires one step to get to the fun part.
Honestly, the hardest part for kids to do on this craft, is having the patience to wait until it's dry to hang it up!
Just a little warning, there's going to be a lot of paint involved here. Make sure you do this craft somewhere you won't mind if the paint goes off the paper.
Step 1: Lay Out Your Paint
Alright, parents, this is your time to shine.
The first step in this project is to lay out the paper you'll be painting on and then put squirt the paint on the paper in the shape of a rainbow-like this: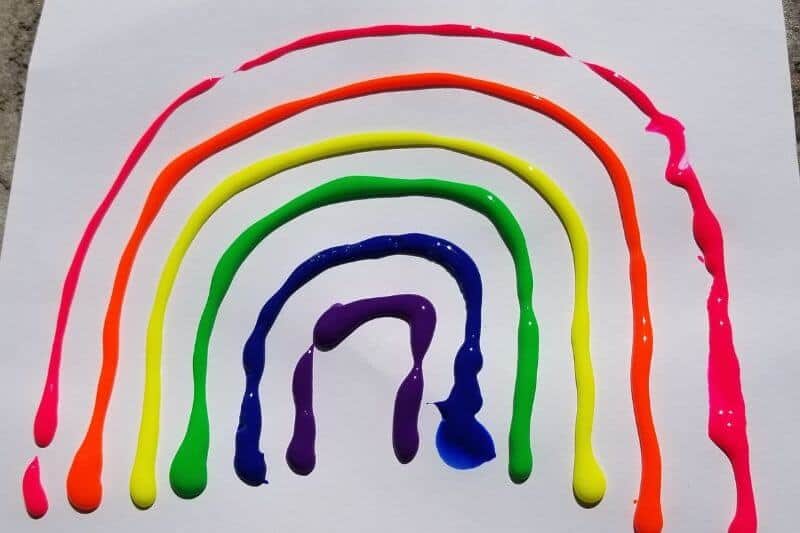 We chose to use normal white printer paper, but you could use colored paper or even do this on canvas if you wanted.
The options are endless!
Step 2: Start Blow Painting With Straws
This is the part your kids will love the most because it's the part where they get to start PAINTING!!
Give your child a straw and tell them to blow the paint around.
We found that blowing straight down on it spreads the paint out the best, but even blowing at an angle was still fun.
Remember, this is about letting your kids have fun and be creative. Let them create the rainbow of their dreams.
Step 3: Let The Blow Paint Art Dry
This step is arguably the most difficult because your child is going to want to hang this beauty up right away.
Make sure you give it plenty of time to dry, or you might end up with paint all over the house.
Check out the rainbow blow painting that our three-year-old did: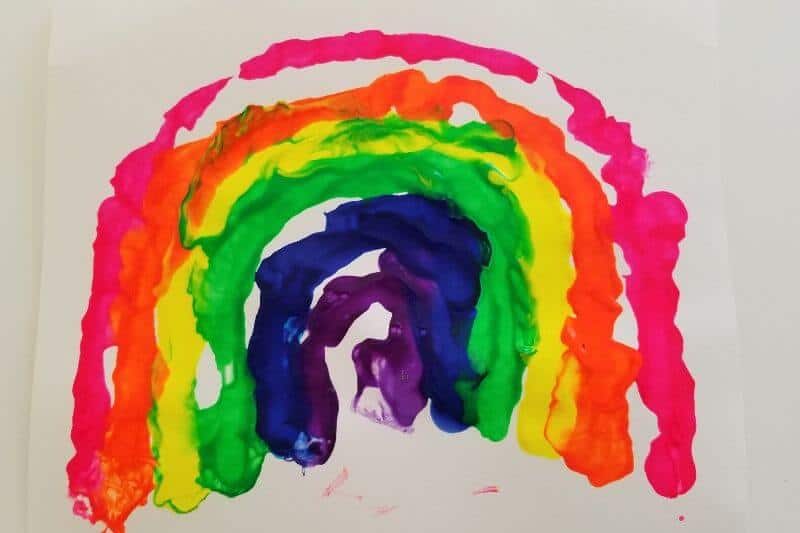 Blow Painting With Straws -Summary
This is a really simple craft that kids of all ages can do. You don't even have to make it in the shape of a rainbow.
Just put some globs of paint on the paper and let your kids blow it around. See what cool designs their creative little minds can come up with!
For more fun kid's craft ideas, visit us on Pinterest!
Fun crafts: