23 Easy Homemade Playdough Recipes
Little hands love to explore the world around them, and what better way to encourage that sensory play than with a batch (or three) of playdough? But you don't have to run to the store to buy the stuff in the little yellow containers. You can make your own at home with these 23+ easy homemade playdough recipes.
You'll find taste-safe options, glow-in-the-dark dough, and even color-changing dough. But don't worry; you'll also see that there are plenty of basic recipes, including some no-cook versions.
Playing with playdough is the perfect way to spend a rainy afternoon, a snow day, or some quiet time indoors. Check out the recipes below to find one to make today!
Notice: This post contains affiliate links. To learn more, read our Disclaimer Here.
Homemade Playdough Recipes
Your little ones will love the easy playdough recipes below-featuring celebration playdough, a Kool-Aid version, and some made out of marshmallows and peanut butter that are totally safe to eat.
Other fun craft ideas:
1. Basic Playdough Recipe
If you need a basic, tried-and-true recipe for homemade playdough, you can't beat this one. It's made with flour, cream of tartar, salt, oil, water, and food coloring. It does involve 5 minutes of cooking, but it lasts for months, so it's worth the effort.
2. Kool-Aid Playdough
Get bright colors and delicious scents by making playdough with Kool-Aid packets. Kids will love squishing and sniffing the different colors and scents.
3. Celebration Playdough
Have a special occasion coming up? Celebration playdough is a great choice for New Year's Eve, kindergarten graduations, birthdays, or summer kick-off parties. Although the black dough makes the sparkles really stand out, you can make it any other color you'd like to match your theme.
4. Cake Mix Playdough
Celebrate the birthday boy or girl with edible cake mix playdough! It's made with real cake mix, oil, cornstarch, powdered sugar, and sprinkles.
5. Pumpkin Playdough Recipe
Ring in fall with this gorgeous orange pumpkin playdough. Use it to make pumpkins and gourds, or grab some cookie cutters to cut out leaves of all shapes and sizes. The added pumpkin pie spice makes it smell incredible.
6. Sand Playdough
Planning a beach vacation? Grab some sand to make this fun, gritty-textured sand playdough. If you'd prefer not to use actual beach sand (in some places you're not allowed to remove it), you can buy sand at craft stores and home improvement stores. Don't forget to gather some shells, sea glass, and other bits and bobs at the beach to make imprints in the dough.
7. Rose Scented Playdough
Nothing beats the scent of real roses. Use dried roses and rose water to make a naturally-scented dough. You can add food coloring to make it pink or red or leave that out entirely for a more natural recipe.
My Amazon picks:
8. Lavender Scented Playdough
Speaking of floral scents, lavender is the most calming of them all. Whip up a batch of lavender playdough for the kids to play with an hour or so before bedtime. It'll be a wonderful calm-down tool and will smell lovely, too.
9. Easy Marshmallow Playdough
Do you have mini marshmallows, coconut oil, powdered sugar, and sprinkles at home? If so, you have everything you need to mix up a magical batch of marshmallow playdough. All the ingredients are taste-safe, so there's no need to worry about taste-curious kids.
10. Lemon Playdough
This pretty yellow lemon playdough is absolutely perfect for spring or summer. With its bright citrus scent, it'll be an instant mood booster for the kids.
11. Peanut Butter Playdough
Peanut butter lovers will find this playdough recipe absolutely irresistible. It's made with marshmallows, powdered sugar, and peanut butter. That's right — just 3 simple ingredients! It would probably work with almond butter, too, if you prefer.
12. Pudding Playdough
Sensory materials don't have to be expensive. At around 50 cents a batch, you can make pudding playdough anytime you'd like. Use instant pudding mix, cornstarch, and water to whip some up for yourself.
Play Dough Recipes to Make at Home
Need more? How about a slow cooker playdough recipe or playdough that changes colors or glows in the dark? There are lots of cool ideas here.
So go grab your slow cooker, and let's make some playdough!
13. Slow Cooker Playdough
If you're the type to use your slow cooker for everything (like me), then you'll love this slow cooker playdough… even better if you have multiple crock pots! Remember to let the dough cool completely before letting the kids play with it.
14. Strawberries and Cream Playdough
Make a sweet, pink strawberry playdough for Valentine's Day! This recipe includes edible glitter, but you can leave it out or use sprinkles if you prefer.
15. Hot Cocoa Playdough
Chocolate lovers will adore this hot cocoa playdough, filling mugs with it or decorating it like reindeer. It gets its yummy scent from unsweetened cocoa and vanilla extract.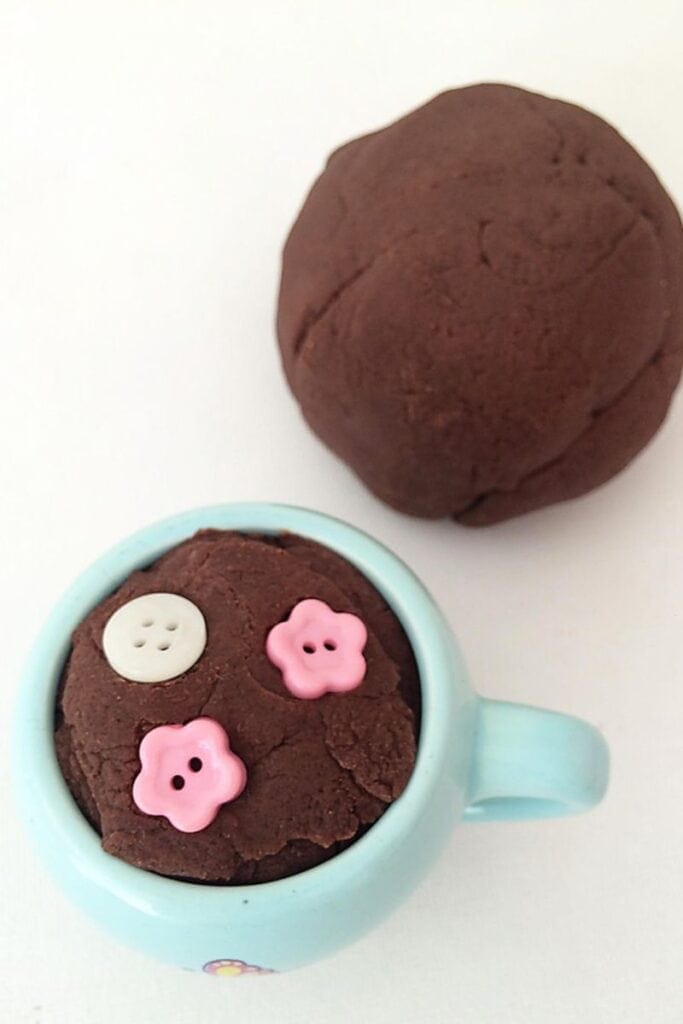 16. Color Changing Playdough
Shock and amaze the kids with a batch of color-changing playdough. The thermochromic pigment changes color as the dough is heated with your hands while playing with it. How cool is that?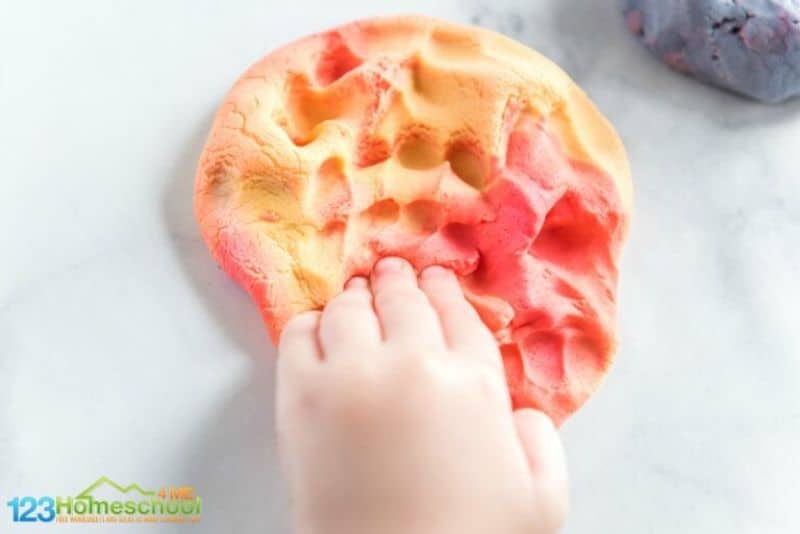 17. Glow in the Dark Playdough
Glow-in-the-dark toys are always a hit with the kids, so why not turn it into a sensory experience by making some glow-dough? The glow medium craft paint gives it its glowing ability, and you can make it any color you'd like.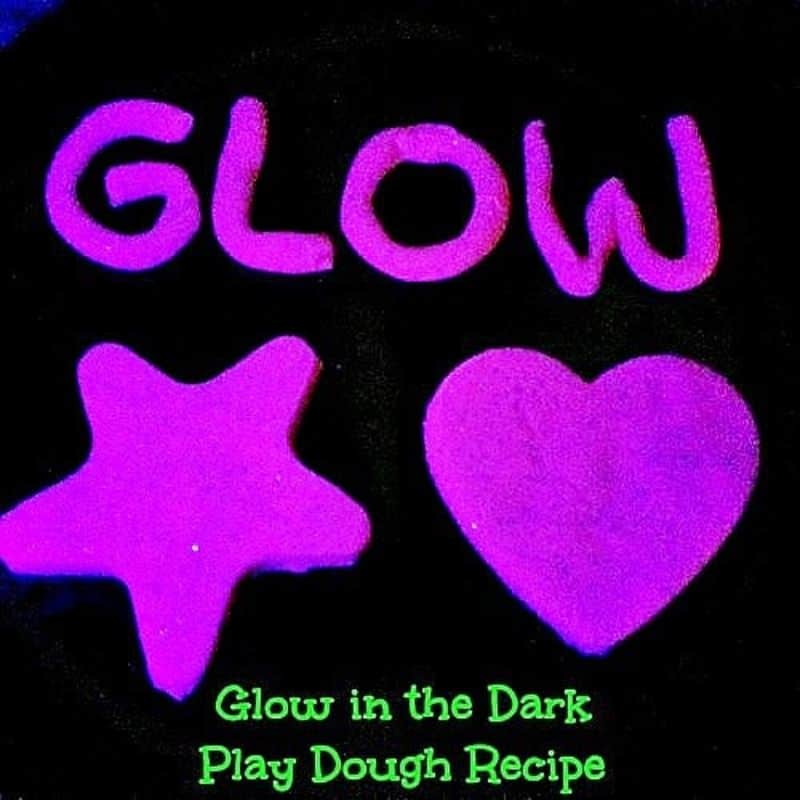 by Surviving a Teacher's Salary
18. Apple Pie Playdough
Get cozy this autumn with some apple pie playdough scented with real apple pie spice mix and some extra cinnamon. Use it to make playdough apples, pies, or leaves.
19. Cookie Dough Playdough
For an adorable activity to go along with the book, If You Give a Mouse a Cookie, make some chocolate chip cookie dough playdough! Made with vanilla frosting, cornstarch, and chocolate chips, it's safe if the kids sneak a bite.
20. Galaxy Playdough
You'll feel like you're soaring through a colorful galaxy of stars and meteors while playing with this gorgeous playdough! With hues of blue and purple and lots of sparkly stars and glitter, it'll be a favorite with little kids and older ones, too.
21. Rainbow Foam Dough
Try playdough with a different texture! This foam dough recipe creates a fluffy and light version, but it's not taste-safe, so keep that in mind if your little one is still in the mouthing stage. It's made with shaving cream and cornstarch and is best played with once as it doesn't hold up well to storage.
by Little Bins for Little Hands
22. Jelly Bean Playdough
Save all those Easter jelly beans to make some of this fun playdough. Colorful, squishy, and peppered with jelly beans in various colors, it's a fun way to work on fine motor skills. You'll love our list of bunny crafts and chick crafts, too!
23. Minions Banana Playdough
Any Minions fan will have a blast playing with this banana-scented playdough. Use the dough and some loose parts to build your own squishy little minion.
Which playdough recipe do you think your kids will like best? Don't forget to pin this list of easy homemade playdough recipes to come back to whenever you need a quick and easy playdough recipe.
More Fun Sensory Activities for Kids
Must try craft ideas: