Simple Mermaid Popsicle Project For Preschoolers
Are you ready to have some fun with popsicle sticks? This simple popsicle stick mermaid project will be the talk of your house.
My kids have put on endless puppet shows with these mermaids, and I'm sure yours will too. So let's get crafting!
Notice: This post contains affiliate links. To learn more, read our Disclaimer Here.
Simple Mermaid Popsicle Craft Details:
Here are a few details on this specific mermaid craft.
Age Group: 4+ yrs
Difficulty: Medium
Time To Complete: 25 min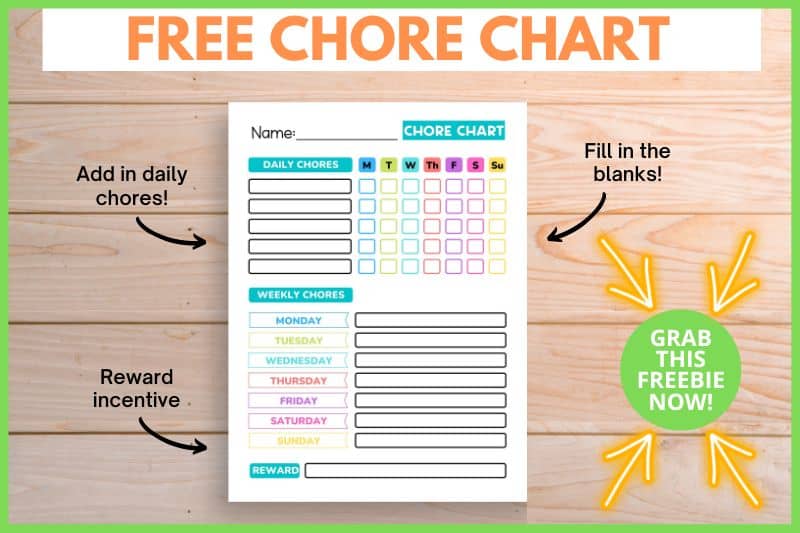 Supplies Needed For This Popsicle Stick Project
What I love most about this mermaid popsicle stick project is that you can substitute supplies and make this work with what you already have in your home.
My daughter really loves doing projects with felt, so felt is what we used. If you see something below you don't have, find something else to replace it.
Here's what you'll need for this simple popsicle stick craft:
How To Create This Simple Mermaid Craft
Let's get started making this cute mermaid craft!
Step 1: Cut out your mermaids tail
Start by cutting out the mermaid's tail from felt. You can make your mermaid's tail any shape you want and from whatever material you would like. As I mentioned, we like using felt, so we used felt!
How to make the perfect mermaid tail?
I traced out their tails on a white piece of paper. Then cut it out and lay it on top of the felt as a guide. Lastly, I traced the piece of paper onto the felt.
By doing this, my 6-year-old was able to follow the lines and cut out her own mermaid tails. If I didn't have some guide for her, she probably would have gone through how many pieces of felt trying to make her mermaid's tail just right.
Other fun crafts:
Step 2: Attach the tail
Grab your popsicle sticks and glue each tail onto a popsicle stick. We used Elmer's glue to do this, but fabric glue would also work.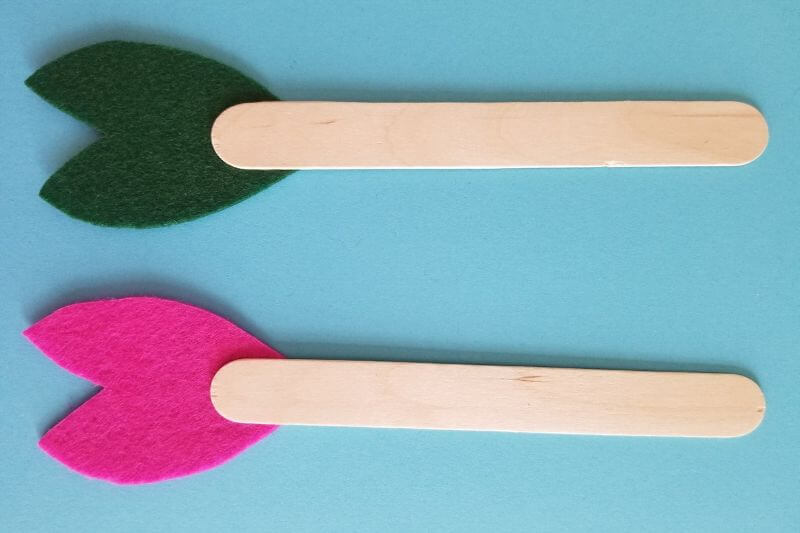 Step 3: Attach a pipe cleaner
Next, we used pipe cleaners for the body of each mermaid. Start at the bottom of the popsicle stick (where the tail and popsicle stick meet). And work your way up with the pipe cleaner.
Another idea: Color your popsicle stick with a magic marker if you don't have pipe cleaners on hand.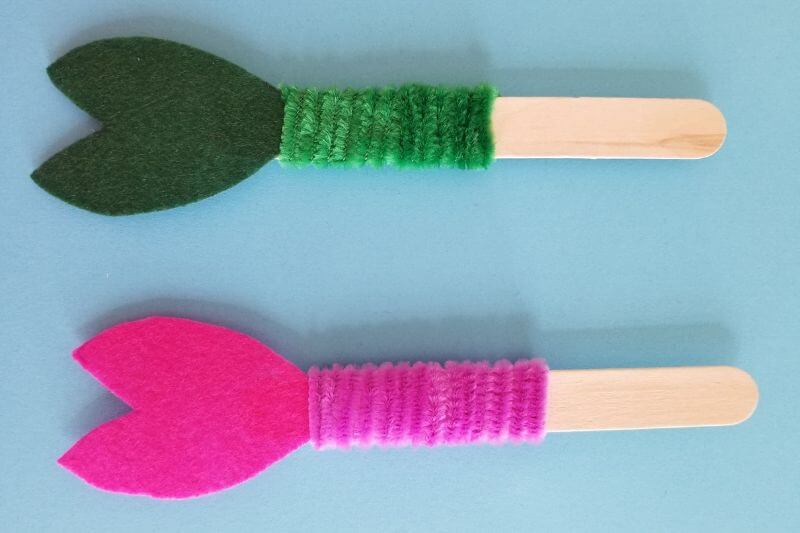 Step 4: Add hair and eyes
Are you ready to add hair and eyes to your mermaid? We have an endless amount of googly eyes at our house, so we used them on our mermaids.
If you don't have googly eyes lying around, feel free to draw on the face with a marker.
Next, get creative with their hair. I used both felt and sparkle paper for their hair.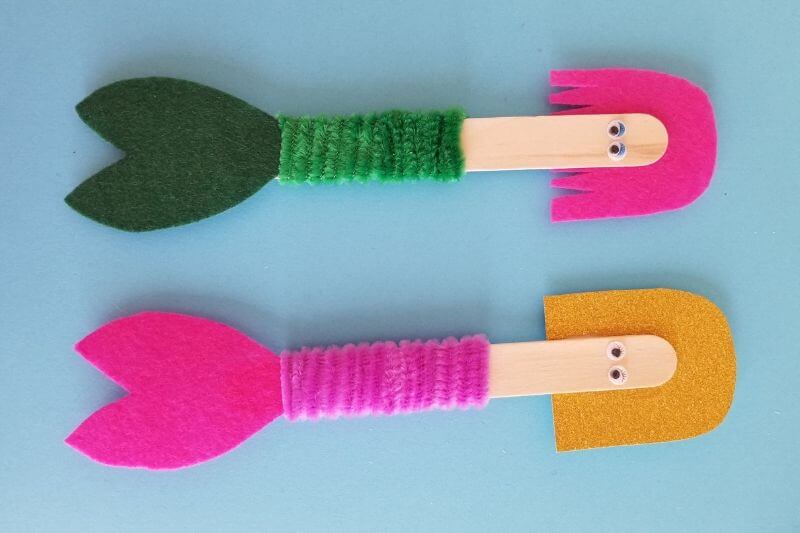 Recommend supplies:
Step 5: Final steps
Finish out this mermaid art project by adding a mouth and cutting out a top for your mermaid. I also used leftover felt and glitter cardstock paper for their bikini tops.
Once again, we are all about using what craft supplies you have on hand. If you don't have everything on the supply list, send your child on a scavenger hunt around the house to find things they would like to use.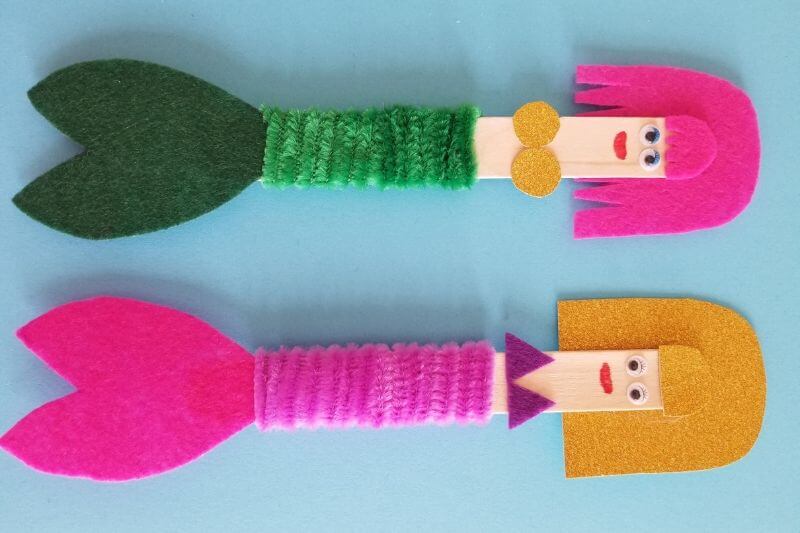 This fun popsicle stick mermaid craft is so much fun! Make sure to give it a try. Your child is guaranteed to love it. =)
Here is the finished project!!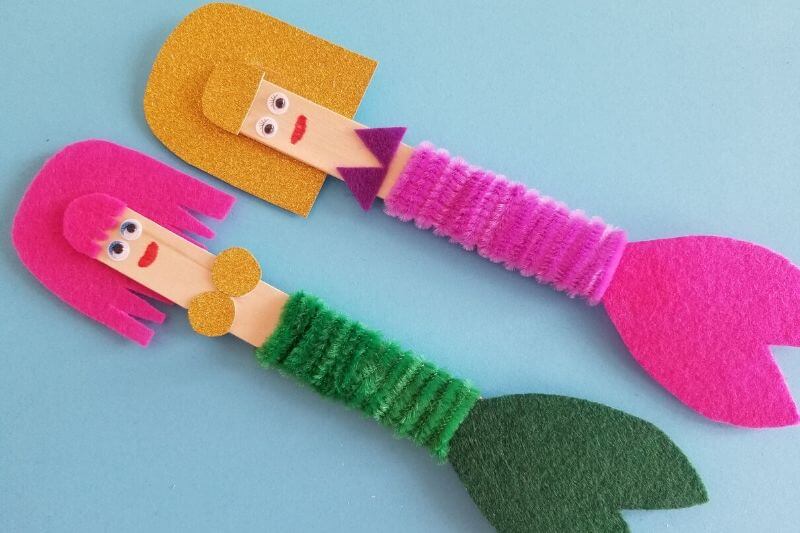 Let's read about mermaids!
Let's keep the fun going with these reads! There are so many benefits to reading aloud to kids. It's even been found that reading books to young children can help build their empathy, aiding in social-emotional development.
Come follow the story of a mermaid named Lola who has a magical bracelet that brings her courage!
It's Molly's first day at school. Follow her along, as there is so much to learn!
Summary- Little Mermaid Craft
This mermaid craft project is sure to bring a little bit of magical, oceanic fun into your house! Plus it's something the whole family can do together, so you can make it even more special. Even if you don't have all the supplies listed, don't let that stop you from giving it a try. Get creative and use what you have around the house, like buttons and fabric scraps for decoration.
Let your imagination be your guide, and before you know it, all those popsicle sticks will come together to make a beautiful mermaid masterpiece. It's time to unleash your inner mermaid!
If you enjoyed this popsicle stick craft, make sure to save it, and follow us on Pinterest for more kid's craft ideas!
More fun crafts:
Recommended supplies: