How To Make Colorful Puffy Sidewalk Paint In Under 5 Minutes
This is the perfect craft project for a warm summer day!
We had a blast squirting the paint around and it might have turned into a bit of a paint fight! The good news is that no clothes were stained!!!
Sidewalk Foam Paint is super simple to make and I that's one of the reasons I think you'll love it!
Painting with this is a ton of fun. You can create elaborate drawings and even write words with it!
This simple craft only requires a couple supplies to complete and I'm going to give you an insider tip down below to make this one a success!
Notice: This post contains affiliate links. To learn more, read our Disclaimer Here.
Puffy Sidewalk Paint Details

:
Age Group: 2+ yrs
Difficulty: Super Easy
Time To Complete: 5 min
If your child is old enough to squeeze painting foam out of a plastic bottle, he or she is old enough to do this project.
This project keeps my 3-year old busy for about 10 minutes beacuse he just sprays it everywhere, whereas it keeps my 6-year old busy for about 30 minutes.
I love this project because it can double as an art lesson. You get to play with primary colors and you can teach your kids how to mix primary colors to make other colors.
More fun crafts:
Supplies Needed For Puffy Sidewalk Paint Recipe
This sidewalk paint recipe is pretty straightforward. If you're lucky, you might even have all the supplies at your home.
Here is what you'll need for this sidewalk foam paint project:
I bought a large bottle of dawn dishsoap for this. A smaller bottle of dishsoap will work; you just won't be able to make as much sidewalk paint.
Make sure whatever condiment bottles you get, that they have a really small whole in the top. The smaller the hole the better for this project.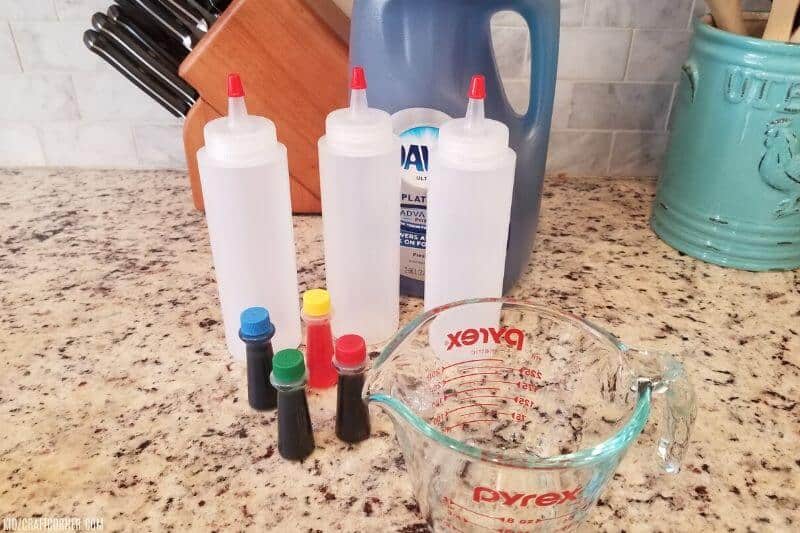 Recommended supplies:
How To Make Puffy Sidewalk Paint
This is a really simple recipe and shouldn't take you more than a couple minutes to do each color.
First, you'll want to prep your condiment bottles. If yours end up being like ours, you have to cut the tip to create an opening. Cut it so that the opening is as small as possible. This will create better foamy paint.
Next, get out a glass measuring cup and a 1 Tablespoon measuring spoon.
In the glass measuring cup add 3 Tablespoons of Water, 2 Tablespoons of Dish Soap, and 1 drop of the food coloring of your choice.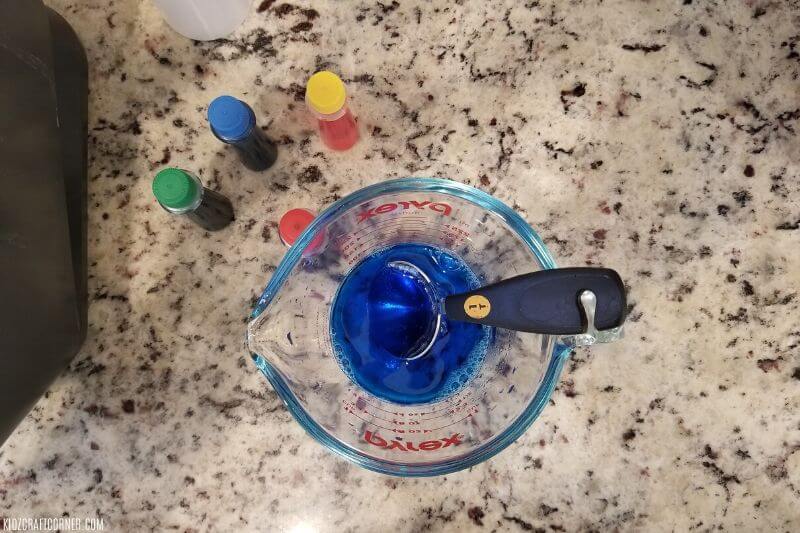 Stir it all together until the color is mixed in evenly. It's important not to have equal parts water and soap, it won't give you a very good sudsy concotion.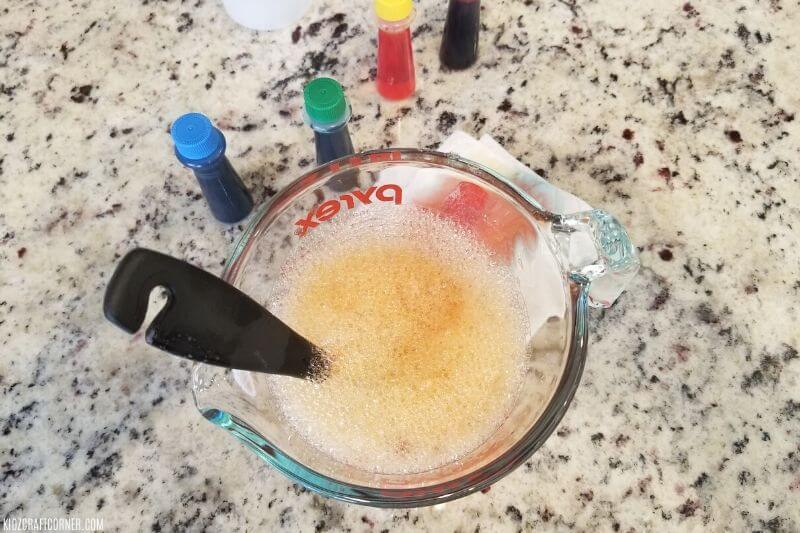 With the mixture stirred up, pour it into one of your condiment bottles. It won't look like there's a lot in there but it will be enough.
Plus, it doesn't take much effort to make more.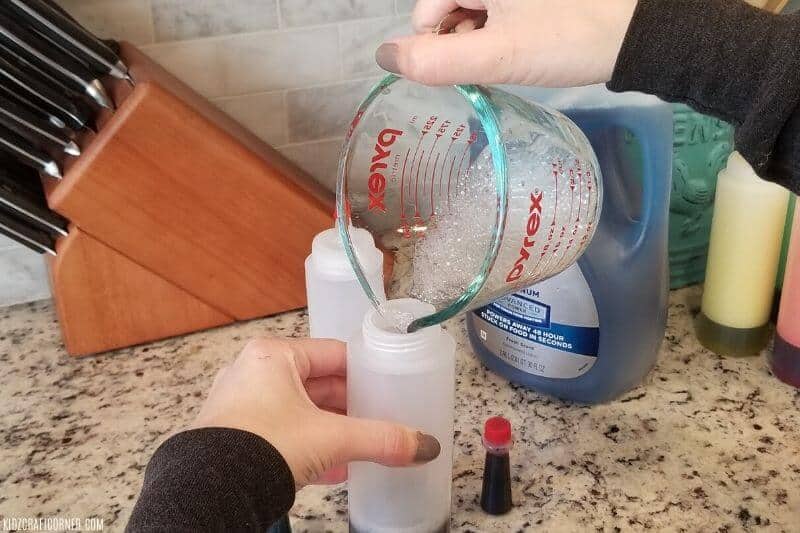 Once you fill up all your bottles, it's time to get them outside and have some fun! Make sure you shake them really good before you use each one.
Insider Tip: Hold the cap on your bottle when you shake it, you don't want it to pop open and spray all over you! Also instead of shaking the mixer, you can add it to your blender instead. Blend on high and then pour into your bottle.
When you're ready to draw, quickly point the bottle down and squeeze the bottle hard. This is the part where cutting the spout hole really small helps.
The smaller the whole in your bottle top, the more turbulent and foamy it will be when you squeeze it out. Get creative with your puffy sidewalk paint. We drew houses, sailboats and wrote words!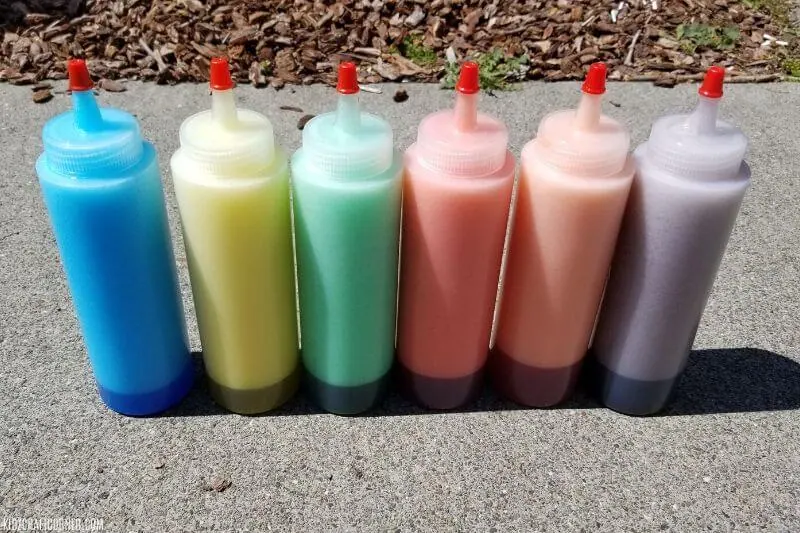 I hope you enjoyed this craft. It's a really easy one to complete and it's a lot of fun for the kids.
Get creative with this craft and try mixing and matching colors!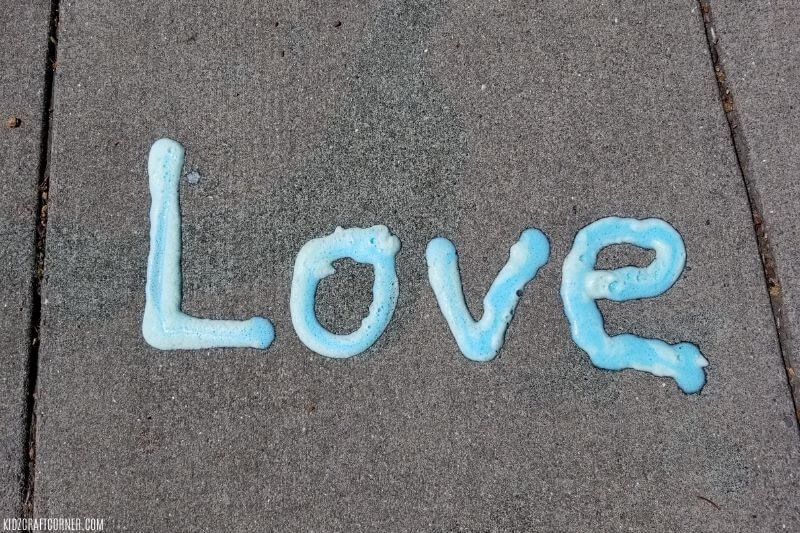 If you enjoyed this article make sure to save it for later, and follow us on Pinterest for more fun kids craft ideas.
Other fun crafts:
Must have craft supplies: