21 Fantastic Father's Day Crafts For Kids To Make
Looking for the best way to show your love for Dad this Father's Day? Why not try making him a craft? We've gathered 21 of the cutest Father's Day crafts for kids, so you will find the perfect one for the dads and grandpas in your life.
From shirt-and-tie-themed crafts to adorable baseball gloves and toolbox cards, these projects are sure to make Dad feel special on his big day.
Notice: This post contains affiliate links. To learn more, read our Disclaimer Here.
Fun Father's Day Arts And Crafts
Get started today to show Dad just how much he means to you on Father's Day!
1. Father's Day Toolbox Craft
For the handy dad, this toolbox craft is perfect. You'll need colored cardstock (or construction paper), scissors, glue, and the printable template. This is great for dads who work in construction or who just enjoy DIY projects around the house.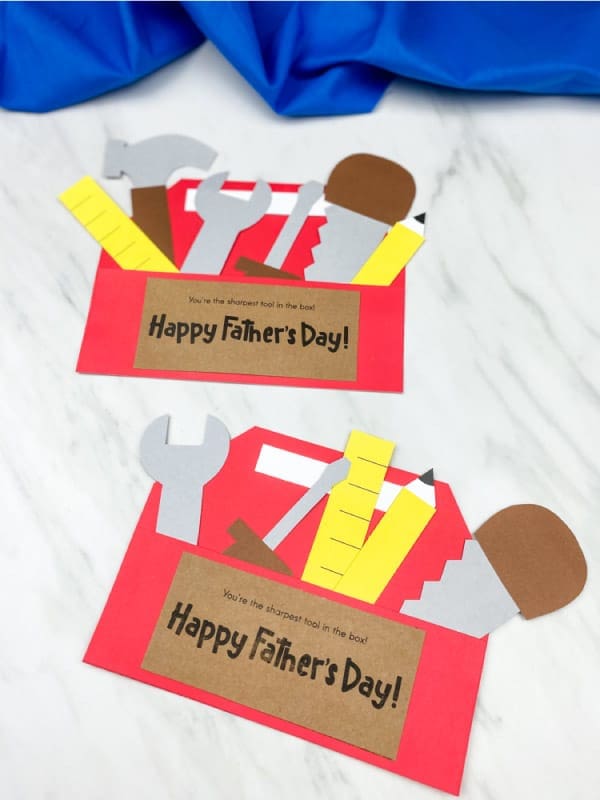 2. Origami Shirt Father's Day Card
Make this simple and cute origami shirt card for all the dads in your life. Decorate the shirts to suit any dad, from a police officer to a golf enthusiast. Unfold the shirt to reveal a cute picture of your child inside.
Related crafts:
3. Marble Run Art Father's Day Card
Have you ever tried creating art with marbles and paint? It's a really fun process art technique that yields unique results every time. Using masking tape to create the wording is such a creative idea.
by Little Ladoo
4. Rock Father's Day Photo Frame
While the post recommends that you have a Cricut (for the wording on this Father's Day photo frame), it's not necessary if you don't have one. Instead, just use the idea of adding smooth pebbles to a photo frame. The kids can write their own message to put inside or add a photo of themselves.
5. Father's Day Rock Paperweights
For the dad who's always at his desk, a paperweight can certainly come in handy. A personalized paperweight is even better. Use paint pens or markers to color on painted white rocks. Make the rock look like Dad and leave him a sweet message like "Dad rocks."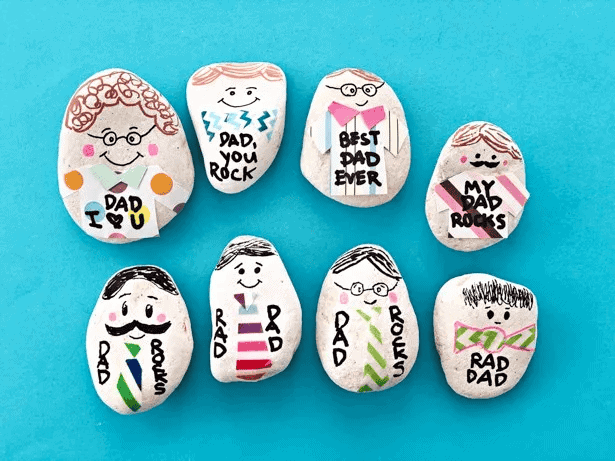 Must have craft supplies:
6. Father's Day Trophy Card
Do you have the world's number 1 dad? Show him with an adorable trophy-themed card. Write a message like "Best Dad" or "Award-Winning Dad" or "#1 Dad." This is a great card to make for grandpas, too.
7. Father's Day Printable Andy Warhol Art
Study the techniques of a popular modern artist while creating something cool for dad. This printable is based on Warhol's pop-style art, which is really bright and bold, exploring lots of different colors. Make coffee mug art or necktie art—or both!
by Kindergarten Worksheets and Games
8. Father's Day Printable Frame
There's no need to run to the store if you don't have a photo frame for your child's picture with Dad this Father's Day. Grab this frame for the kids to color instead. Print it on thick cardstock so it's nice and sturdy (and so it can hold up to markers or paint). You can leave it as-is or add it to a frame.
by Simply Bessy
9. Fish-Themed Father's Day Card
Dads who love to fish will get a big smile from this fish-themed card that reads, "Dad, you're fin-tastic." Decorate the fish with paint and fingerprints to make it super special and personalized.
10. Father's Day Superhero Craft
Many children feel like their father is their own personal superhero. What better way to commemorate that sentiment than with this adorable superhero printable that's made to fit over a chocolate bar? Kids can further personalize this craft by writing a few lines on the back of the cape where it reads, "My dad is my superhero because…"
11. Shark Father's Day Card
For the totally awesome (or "jawsome") dad, a shark-themed card is in order! This idea is another great one for dads who enjoy fishing, sailing or just living it up at the beach. It's also a good fit for the dads who are obsessed with Shark Week!
12. Father's Day Candy Bar Wrapper
Give Dad an inexpensive but tasty gift with this adorable candy bar wrapper that looks like a shirt and tie. The printable template also includes an "All About Dad" fact sheet that kids can fill out to show their knowledge of their fathers. It's a sweet (literally) and sentimental gift.
13. Father's Day Handprint Art
Making handprint art is a surefire way to make a craft personalized and really special to the recipient. Kids can make these handprint art cards to look just like Dad! Change out the hair, skin, shirt, and tie color to look like the dad in your life.
14. Fingerprint Daddy and Me Coffee Mug
How darling is this Daddy & Me mug made with a fingerprint each from Dad and the kiddo? It's a cute keepsake that he'll love drinking his morning coffee from every day.
15. Spanish Father's Day Activities
Get four fun-filled Father's Day activities that are perfect for toddlers and preschoolers to work on. Two are coloring pages, one is for practicing scissor skills, and the other is a sweet printable that tests the kids' knowledge of their papa.
Must-have craft supplies:
16. Handprint Father's Day Grill Card
The dad who's the master of the grill will get a kick out of this grill-themed Father's Day card featuring the kids' handprints as flames. The kids can work on this together with each child contributing a handprint to the flame, or make them individually. Any "grill-y great" dad will love it.
17. Necktie Books in 3 Different Languages
If you're working on languages, these trilingual neckties feature Father's Day messages in Chinese, Korean, and English. The kids will have so much fun decorating them for Dad.
18. To the Moon and Back Rocket Craft
Give this sweet rocket craft to the dad who's out of this world. With a darling little footprint rocket and a precious message that reads, "I love you to the moon and back," this craft will make any dad's heart melt.
19. Baseball Glove Photo Card
Dads who coach or just love to play catch with the kids will smile when they get one of these cute baseball glove cards featuring their child's photo underneath. The photo pops up under the baseball by pushing the popsicle stick up in the back. Isn't that fun?
20. Father's Day Tomato Card
If Dad loves puns, he's going to laugh when he reads this tomato-themed card from the kids. Although this craft uses foam sheets, you can totally make it with construction paper or cardstock only and it will look just as cute.
21. Turtle Handprint Father's Day Card
The "turtle-y" awesome dad needs a darling little turtle card to celebrate their special day. Kids will love adding some texture and dimension to this craft by adding fluffy green pom-poms. Out of pom-poms? Layer different shades of green and brown tissue paper instead.
by Red Ted Art
Father's Day Craft Ideas- Final Thoughts
We hope you found this list of Father's Day crafts helpful. We know Dad will love whatever crafty creation the kids make. Have a Happy Father's Day!
Related Crafts: