How To Make Coffee Filter Snowflakes With Markers
Do you have a child that loves snowflakes and snow? Is it too chilly outside for him/her to play outside?
Here is a craft that is super simple and neat to make. Creating snowflakes out of coffee filters was a fun and pretty craft to make, and it looked beautiful catching the sunlight from the window.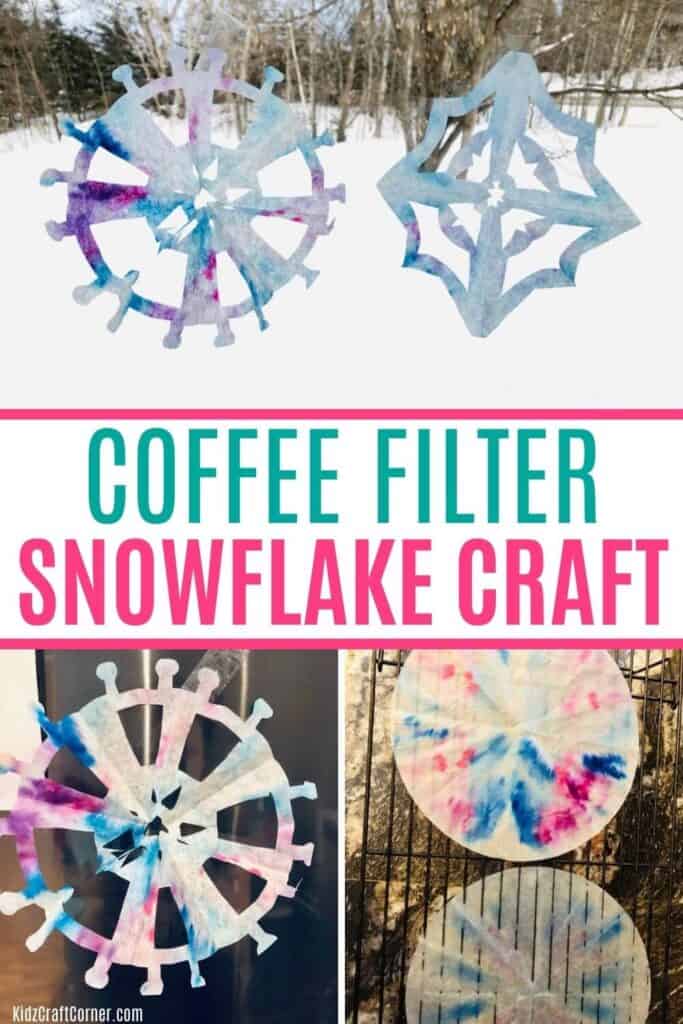 Notice: This post contains affiliate links. To learn more, read our Disclaimer Here.
Coffee Filter Snowflakes Details:
Age group: 1+
Difficulty: EASY
Time to complete: 15 minutes
My son had a blast coloring the coffee filters. He had even more fun getting them wet for the colors to create a tie-dye effect. The dry time can take a bit longer depending on how saturated your child makes the filter.
Related crafts:
Supplies Need For Coffee Filter Snowflake Craft:
This craft supply list is minimal, and all of the crafting supplies you should have at home. But if you don't, here is what you'll need.
Here is what you'll need to make snowflakes with coffee filters:
I used a Tylenol syringe for my son to drip water onto the filters. It was a bit more controlled than giving him the cup of water.
You could also use a spray bottle, but again I didn't want to have my son spraying himself and everything else in range. That's toddler life.
Older children could probably handle using a spoon to dribble water onto the filter.
How To Make Coffee Filter Snowflakes
Step 1:
Gather your supplies listed in the supply list above. Next fold the coffee filters into ¼ looking pie slices.
Step 2:
Let your child color the filter. I had my son use blue, pink, and purple marker colors, but allow your child to be as creative as they want.
Step 3:
Fold the coffee filter one more time, and drip water on it. The colors will start to bleed together, making a neat tie-dye effect. It doesn't take much water to achieve the effect.
Unfold the coffee filters and set them aside to dry. (I used a cookie cooling rack to place ours on)
Step 4:
Once filters are completely dry, refold them into ⅛ slices and cut them into snowflakes. Unfold them and hang them in a window, on the fridge, or from the ceiling.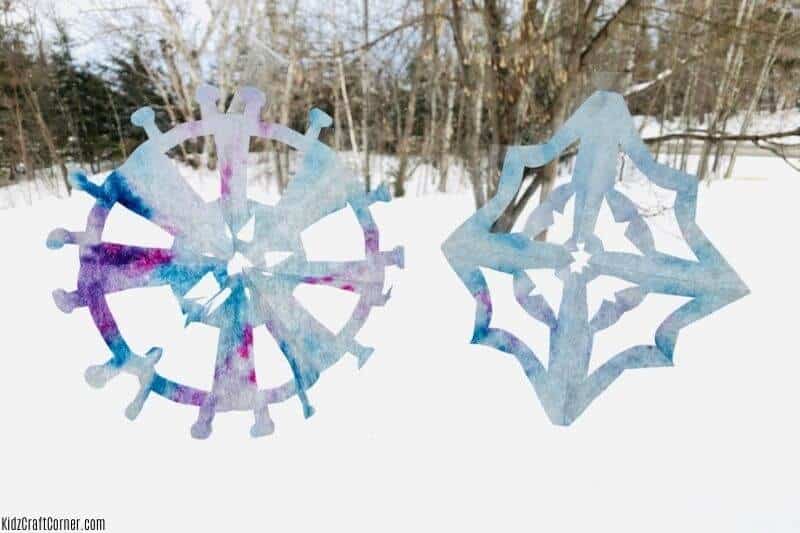 This craft was so simple and easy; my son could have colored snowflakes forever! We hung them up on his bedroom window, and he admired his artwork and wanted to show everyone who would follow him.
He loved showing us the colors he saw and telling us all about snowflakes…. Or as much as a toddler knows about snowflakes. 😉
---
If you enjoyed this craft, make sure to save it for later and follow us on Pinterest for more fun ideas.
Other fun crafts:
Must have art supplies