27 Cute Farm Animal Crafts for Preschoolers
If you're looking for fun and easy farm animal crafts for preschoolers, you've come to the right place. These crafts are a perfect blend of creativity, simplicity, and hands-on learning that your little ones will absolutely adore. From cow headbands to origami chickens, these activities provide an entertaining way to spend time together while working on fine motor skills, creativity, and knowledge about farm animals.
Notice: This post contains affiliate links. To learn more, read our Disclaimer Here.
This list of crafts uses common household items, like toilet paper rolls, paper plates, or simple printables. As a bonus, many of these crafts also make adorable decorations or keepsakes. Get ready for some farmyard fun with these adorable farm animal crafts. Whether you're a parent or a teacher, you're sure to find the perfect project for your little artists.
Materials Needed
While not all-inclusive, this list of materials provides a general overview of items you'll need for many of these farm animal crafts.
Toilet paper rolls
Cupcake liners
Now that you're all set with materials, let's dive into these fun animal crafts!
Cow Crafts
1. Paper Strips Cow Craft
This craft is cute enough for preschoolers to love but also challenging enough for your K-3rd graders. Kids will cut paper into strips, draw cow-print patterns on them, and then assemble them into a 3D ball shape to make the cow's head and body. What a fun way to work on scissors skills and dexterity!
2. Cow Headband
Kids can rock this cute cow headband while visiting a farm, petting zoo, or just learning about all the curious critters that you can find on a farm. The printable includes a craft version or a colorable version, depending on the kids' ages and abilities.
3. Paper Plate Cow
Turn a paper plate into an adorable cow with a few art supplies like construction paper, scissors, glue, and googly eyes. Attach a paint stick to the back if you want to turn it into a puppet for playtime.
4. Foam Cup Cow
Use styrofoam or paper cups to make a charming little cow that's chewing on grass! You'll need some black paint for the spots, two colors of pink paint for the nose, and pipe cleaners to make the ears and grass.
5. Printable Cow Craft
Want a low-prep fun activity? All you need here is a printer, scissors, and glue for a easy printable craft kids can cut out and assemble. What a cute little barnyard cow!
6. Toilet Roll Cow
An empty toilet paper roll is a wonderful blank canvas for a craft like this toilet roll cow. Cut out the pieces of the printable template, add spots where needed, and glue it all on the cardboard tube to make a cow that stands up on its own. This is a great project to pair with the book, "Click, Clack, Moo."
7. Cow Corner Bookmarks
Bookworms will have a blast making a cow-themed bookmark to save their spot in their favorite books. Follow the simple tutorial to fold your way into a cool corner bookmark!
Pig Crafts
8. Pig Toilet Roll Craft
Turn cardboard tubes into pretty pink piggies! Cover them in pink construction paper or paint them pink, then add a snout, googly eyes, ears, and a curly paper tail on the back if you want.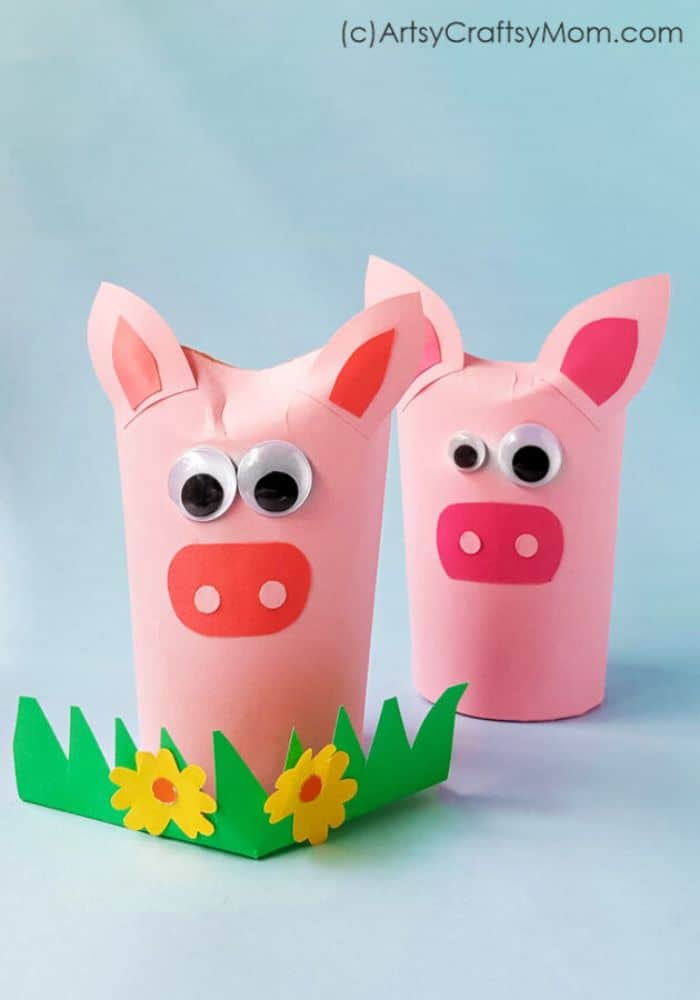 9. Rocking Paper Plate Pig
Interactive crafts are loads of fun. This paper plate piggy rocks back and forth, which makes it way more interesting! You only need paint, scissors, glue, and construction paper for this simple project.
by Red Ted Art
10. Coffee Filter Pig
Grab a coffee filter and color it pink to start this super simple craft. Add it to a brown background to make it look like a pig in mud. This one is simple enough for all ages.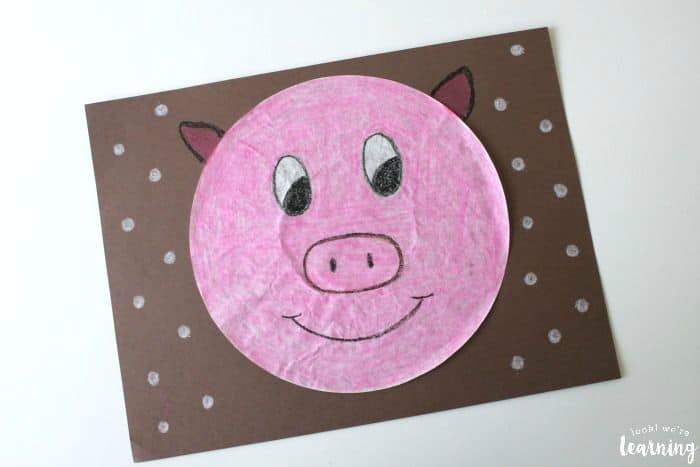 11. Cardboard Pig Craft
Upcycle a cardboard box to make this happy pig adorned with a flower. Of course, you can leave the flower off if you want. It's cute enough to hang in the nursery or to decorate the playroom with.
12. Handprint Pig
Make a cute memento and a fun pig craft all in one. Kids can trace their handprints, and embellish them with a black marker and a snip of the scissors to make the hooves. Add the face and some brown spots to make it look like the pig has been rolling in mud.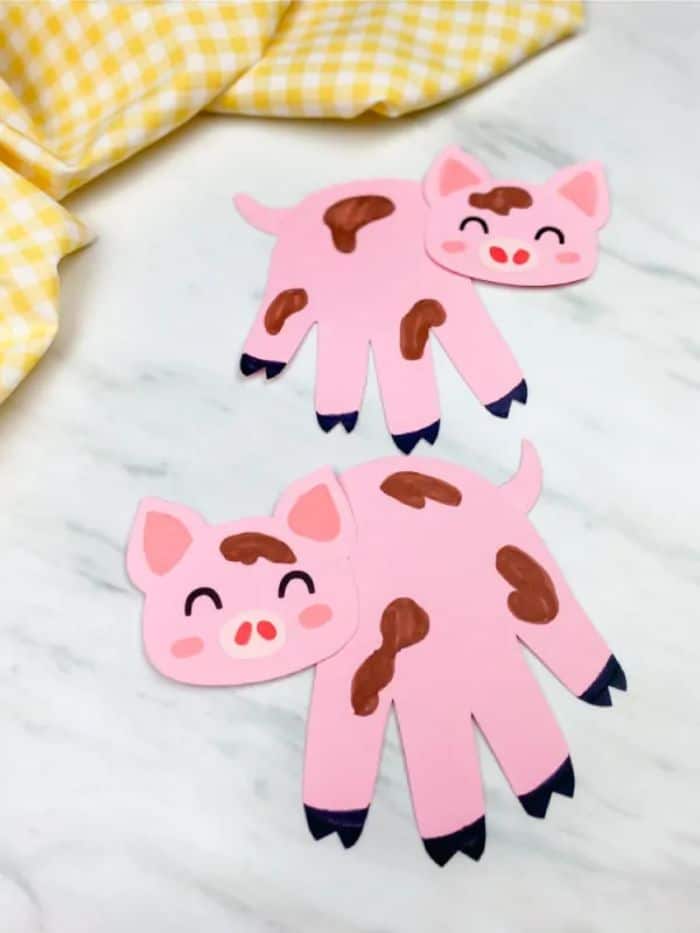 Horse Crafts
13. Paper Roll Horse
Harness your child's creativity with this cute paper roll horse. Transform a paper roll into a galloping companion with some cardstock, glue, and a bit of imagination. Add a mane and tail made with yarn or cut paper, and don't forget to draw a friendly horse face. This project even has a saddle and bridle! Make it a black horse to pair with a read of "Black Beauty."
14. Paper Plate Horse
Who knew a simple paper plate could transform into a whimsical horse? Paint the plate brown or any color your child fancies for their horse, add paper cutouts for ears and snout, and a swish of hair for the mane up top. Don't forget the big, expressive eyes! It's super simple using the template.
15. Cut and Paste Horse Craft
Ideal for those rainy days, this printable horse craft is quick, fun, and requires minimal supplies. Just print the template, let your child color it in, cut out the pieces, and assemble a majestic horse. The template includes both a craft version and a colorable version, depending on how much time you have and the skill level of the kids.
Duck Crafts
16. Handprint Duck Craft
Add a personalized touch to craft time with this adorable handprint duck. Let your child trace their handprint onto yellow craft foam or construction paper, with fingers making the duck's fluffy feathers. Cut out, add an orange beak, eyes, and webbed feet for the final touches. It'll make a wonderful keepsake of their growing hands.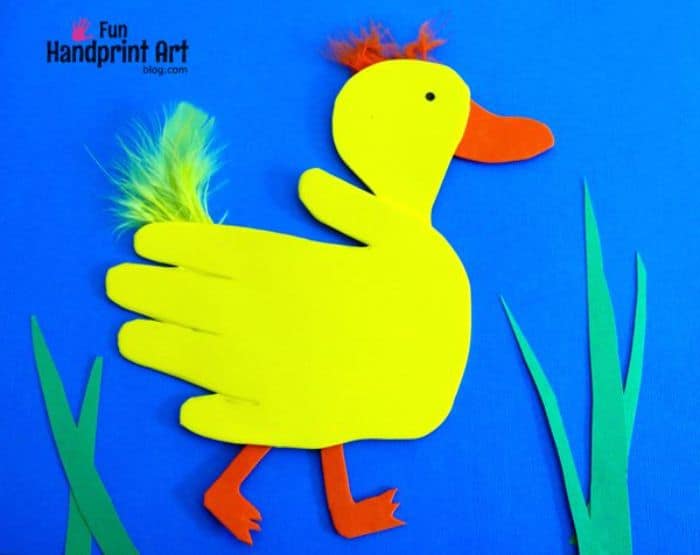 17. Cute and Paste Duck Craft
Make a dapper duck quick with this printable duck activity. Have your child color in the duck template, snip out along the lines, and assemble. This easy craft is an excellent way to discuss the life cycle of ducks or to pair with stories like "Make Way for Ducklings."
18. Five Little Ducks Craft
Bring the classic nursery rhyme to life with the 5 Little Ducks Egg Carton Craft. The egg carton becomes the pond, and you'll make cute little ducks out of soft yellow pom-poms. It's an interactive way to strengthen counting skills while having fun, as children can play along while singing the rhyme.
Chicken Crafts
19. Geometric Chicken
Mixing art and math, the Geometric Chicken Craft is a fun and educational activity for preschoolers. Using different shapes cut from colorful construction paper, children can assemble a mama hen and three baby chicks underneath her wing. This craft is a fantastic way to introduce shapes and colors.
20. Origami Tangram Chickens
Try your first origami project with this easy tangram chicken. Following step-by-step instructions, kids can fold colored paper into a perfect chicken shape. This craft is a simple introduction to the Japanese art of paper folding and a fun way to enhance spatial thinking.
by Red Ted Art
21. Paper Plate Chick
Little ones will adore this easy paper plate chick. Using a yellow-painted paper plate as a base, add orange feet and a beak, yellow paper feathers, and big eyes to bring your adorable chick to life. Check out our list of Easter Chick Crafts if you're making these around springtime.
22. Handprint Chicken
Make this Handprint Chicken craft as you learn all about some of the most important animals on the farm. Trace your child's hand onto colorful construction paper, with the fingers as the chicken's tail feathers. Cut out, then add eyes, a beak, a rooster comb, and little chicken feet for a creative keepsake. It's an excellent craft for capturing the memory of those tiny hands!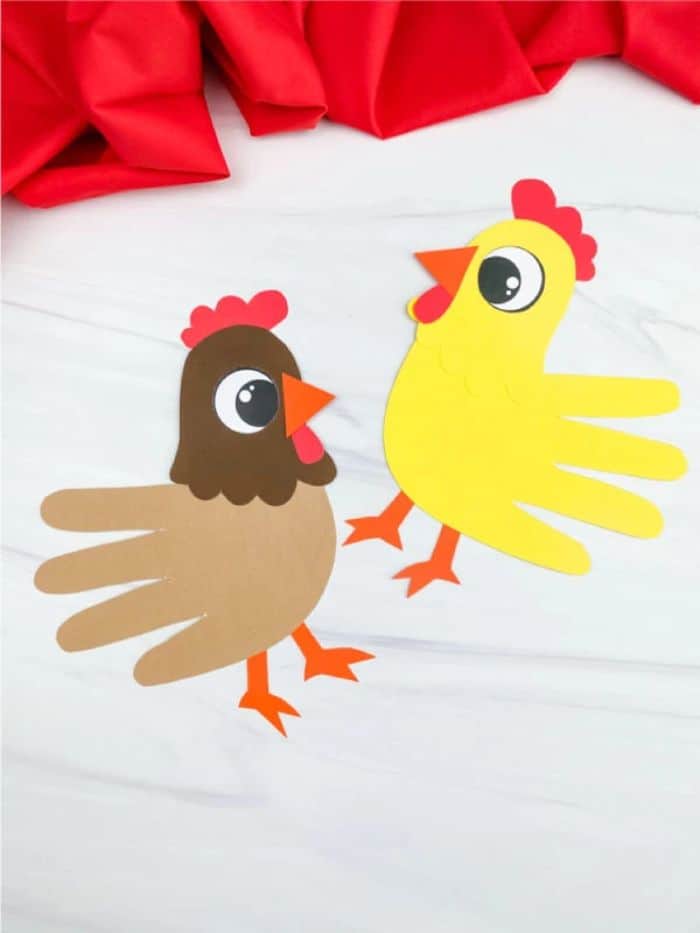 23. Rooster Egg Cup
Decorate sections of egg cartons to look like cute roosters, then nestle a boiled egg (or faux egg) inside. While this is a great project for Easter to make breakfast more special, there's never a bad time to incorporate creativity into table settings.
by Red Ted Art
Goat Crafts
24. Printable Goat Craft
It doesn't get much easier than this cut-and-paste goat craft. Print the template, let your little one color it in, and then assemble the pieces. This hands-on project can be paired with a lesson about goats or farm life.
25. Goat Corner Bookmark
Make reading even more fun with a corner goat bookmark. With some construction paper and a marker, kids can create an adorable goat face that peeks out from the pages of their favorite book. It's a simple craft that encourages a love of books. Plus, it makes a great companion for a reading of "The Three Billy Goats Gruff."
by Red Ted Art
Sheep Crafts
26. Paint Splat Sheep Craft
Simply splat white paint onto colorful paper and fold it over for a perfectly symmetrical design. Once dry, add a face and legs for an adorable fluffy sheep. It's a fun, tactile activity that also provides a surprise element when revealing the paint splat.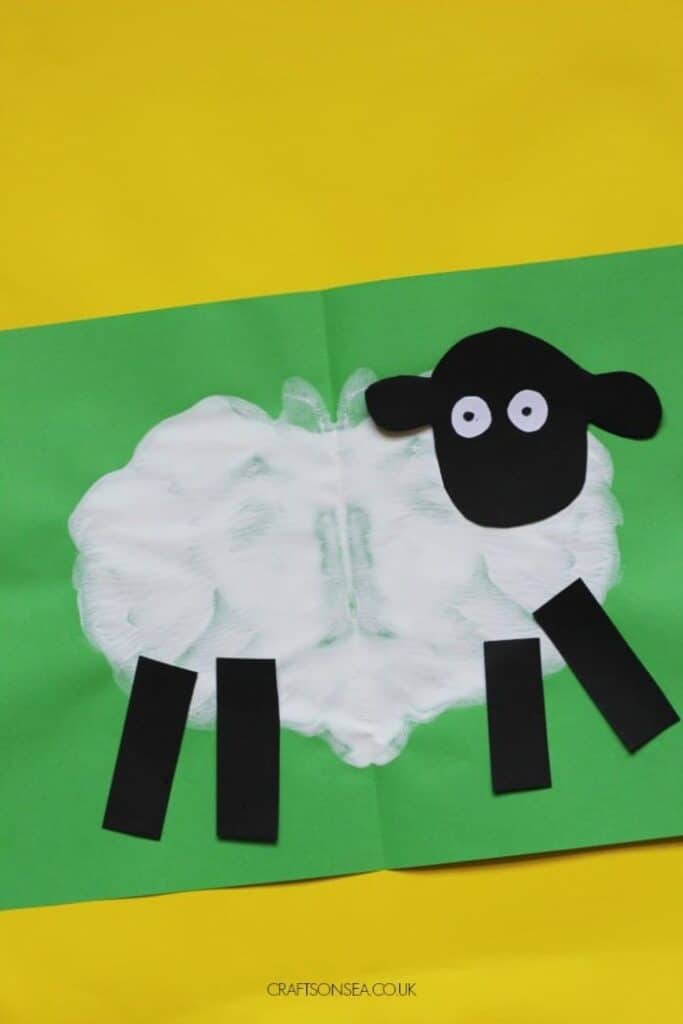 27. Cupcake Liner Sheep
Who knew cupcake liners could be so baa-rilliant? Create an adorable sheep with a cupcake liner body, adding several layers of liners plus a layer of cotton to make it extra fluffy. Glue on a cute face made with construction paper and grass made of shredded paper.
by About a Mom
Let's read about farmyard animals!
Let's keep the fun going with these fun reads! There are so many benefits to reading aloud to kids. It's even been found that reading books to toddlers can help build their empathy, aiding in social-emotional development.
National Geographic Kids Look and Learn
Come meet your favorite farm animals in this colorful board book.
Every child loves a good I Spy book! Follow along and see how many farm animals you can find.
Summary – Farm Animal Craft Ideas
Farm animal crafts for kids are a great way to get children creative and help them explore the world of animals. Not only do they provide loads of fun, but they also aid cognitive development in children.
Whether your child is crafty or just starting out with easy projects, there are plenty of farm animal crafts that offer something for all ages and abilities. Plus, they're a great family activity, too – working on projects together helps build strong connections between individuals and can be an enjoyable way to spend quality time together.
So grab some paper, paint, glue, and pipe cleaners, then start exploring the amazing world of farm animals! Let's get crafting and have some fun – let's make farm animal crafts for kids!
Pin this craft for later, and follow us on Pinterest for more fun craft ideas!
More Cute Craft Ideas
If you enjoyed this list of farm animal crafts, you'd also like: