23 Paper Plate Animal Crafts for Kids
It's time to get wild and creative with some fun paper plate animal crafts. Perfect for preschoolers and kids of all ages, these crafts are a fantastic way to bring the excitement of the zoo, farm, or aquarium right into your home.
They're super fun and easy to make, and they also provide a great opportunity for kids to learn about different animals. Whether your child is an aspiring zoologist or just loves arts and crafts, these paper plate animals are sure to spark their imagination.
Notice: This post contains affiliate links. To learn more, read our Disclaimer Here.
Making these adorable critters is a breeze (and super affordable). You don't need a lot of supplies — just some basic craft materials that you probably have on hand already. Crafting is a great way to spend some quality time with your kids or pass a rainy afternoon away.
Before you start on one of these paper plate crafts, gather your materials. Here's a handy list of common materials you may need. Specific lists of materials are found when you click through to each project.
Materials for Making Paper Plate Animals
Here's a list of materials you'll typically need for these crafts:
Remember, these are just the basics. Feel free to add any additional materials or embellishments to make your paper plate animal crafts uniquely your own!
Easy Paper Plate Animal Crafts
1. Owl Paper Plate Craft
You'll have a hoot with this paper plate owl from yours truly. Create the owl's wide-eyed face and add some colorful feathers made out of construction paper. If you don't want to cut all those tiny pieces, you could substitute the paper with craft feathers instead, and it would look fabulous.
2. Dog Paper Plate Craft
Bring man's best friend to life with a dog paper plate craft. Add floppy ears, a wagging tongue, and a friendly face to your paper plate. This craft is ideal for all the little dog lovers out there and makes for a great companion for imaginative play.
3. Cat Paper Plate Craft
Isn't this kitty adorable? Make a cute paper plate cat complete with pointed ears and fuzzy whiskers. It's a purr-fect craft for any child who loves cats. While you can certainly make the cat a solid color, this pattern created by the crumpled tissue paper is lots of fun!
4. Turtle Paper Plate Craft
Slow and steady wins the race with this paper plate turtle. Use tissue paper squares to create a colorful and textured shell pattern. It's a fantastic way to learn about these fascinating reptiles and their beautifully patterned shells.
5. Pig Spiral Twirler Paper Plate Craft
Your kids will love this swirly, twirly pink pig. Made with pink and black paint and two paper plates, it's a fun twist on the usual paper plate craft. Add it to a farm animals unit study or make it to play with just for fun.
6. Turkey Paper Plate Craft
Gobble up some craft time with this paper plate turkey. The plate is cleverly turned into a cone shape to form the turkey's body. The colorful feathers are made with pipe cleaners — isn't that fun? This turkey can be a festive addition to your Thanksgiving décor.
by Kidz Craft Corner
7. Parrot Paper Plate Craft
Let your imagination soar with this paper plate parrot. Add bright red to the plate, a sharp beak, and long, colorful craft feathers to your paper plate. Use this craft for a lesson on tropical birds or for a pirate-themed activity.
8. Chick Paper Plate Craft
Chirp, chirp! Make this adorable chick paper plate with bright yellow paint and a cute little beak for Easter or for a farm animals lesson. You can see more spring chick crafts here!
9. Frog Paper Plate Craft
A paper plate frog will make you feel so "hoppy." Create a wide-mouthed frog with big eyes and a long, red tongue. Try this craft for an engaging way to learn about these fascinating amphibians and their life cycle.
10. Cow Paper Plate Craft
Moo-ve over, boredom! Making a cow paper plate craft is a fun way to spend an afternoon. Use black construction paper or paint to create a black-and-white cow face on your plate. This craft pairs well with a lesson on farm animals.
11. Sheep Paper Plate Craft
This fluffy sheep paper plate craft is simply adorable! With a plate as the base, you can add a layer of cotton balls to recreate the sheep's woolly coat. Don't forget to add a cute face made with construction paper. This project is particularly nice for tactile and sensory exploration and can be a fun addition to a farm unit.
12. Lion Paper Plate Craft
You'll have a roaring good time making this king of the jungle craft. Create a gorgeous mane around the face by alternating stripes of golden yellow, red, orange, and brown. Add googly eyes, a nose, and a smile, and your little lion is complete. It's a wildly fun craft before or after a visit to the zoo.
13. Monkey Paper Plate Craft
Time to monkey around with this adorable monkey craft! Recreate the primate's playful features, like its big ears and long tail, using construction paper and a bit of imagination. Feel free to paint the plate any shade of brown you prefer, and maybe add a banana for your monkey to hold! This craft is fantastic to pair with a jungle-themed study.
14. Ladybug Paper Plate Craft
Did you know that ladybugs bring good luck? Make your own luck with this fun bug craft. Paint the plate red, add some black spots, and don't forget the head and antennae. This charming insect craft is perfect for a summer craft day, a bug unit, or for a reading of "The Grouchy Ladybug."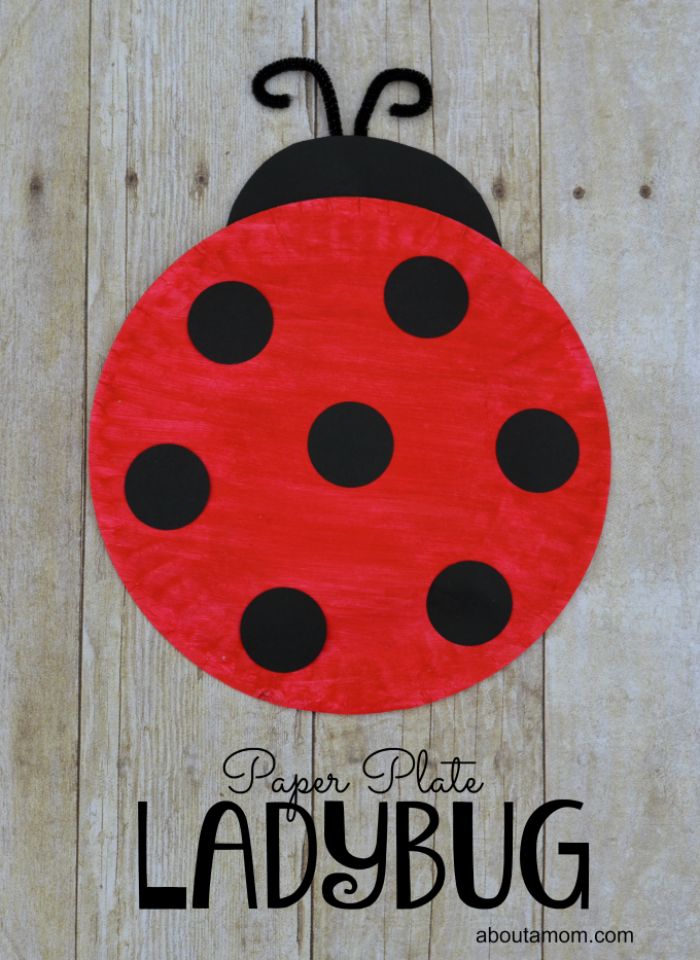 by About a Mom
15. Bee Paper Plate Craft
Buzz into summer with this bee paper plate craft, complete with your kiddo's adorable handprints! Paint the plate with classic yellow and black stripes, and add some handprint wings and a smiling face. It's a bee-utiful project for teaching kids about pollinators.
16. Octopus Paper Plate Craft
Dive right into crafting with this fascinating paper plate octopus. Paint the plate any color you like, and then add eight wiggly tentacles made out of strips of bubble wrap. To make the craft even more fun, use some BIG googly eyes.
If you love octopus, make sure to check out these cute octopus crafts!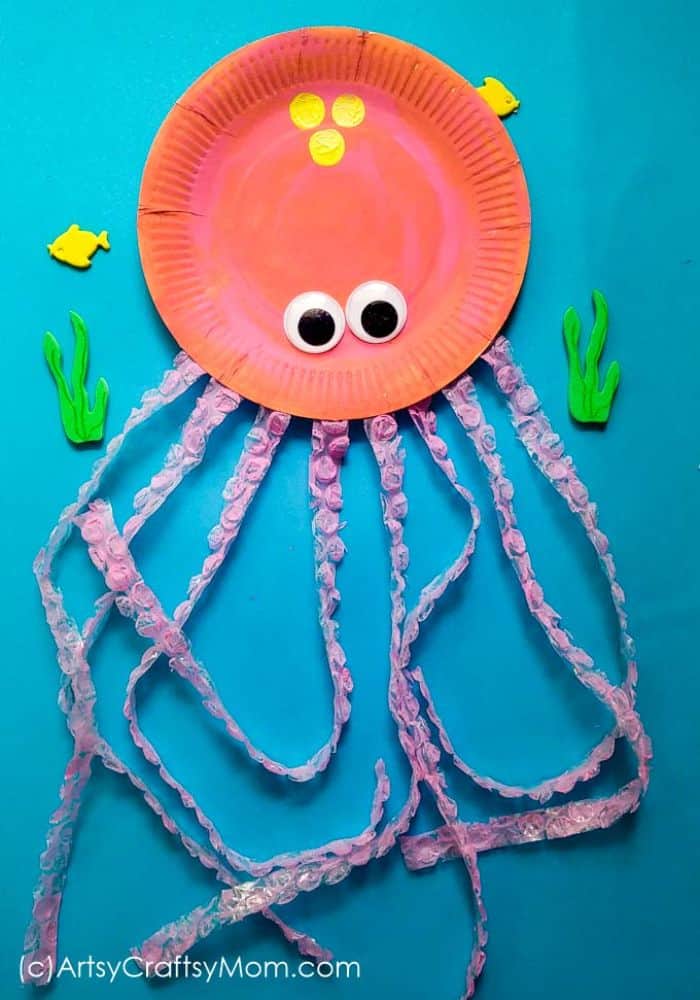 17. Rainbow Fish Paper Plate Craft
Create your own shimmering rainbow fish using a paper plate, some construction paper, and glitter. Paint the plate a vibrant blue and then add multi-colored scales made from craft paper or even metallic foil for a shiny effect. It's such a cute project to pair with a reading of the popular book, "The Rainbow Fish."
18. Orca Paper Plate Craft
Take a trip to the icy oceans with this orca paper plate craft. Paint the plate black and white to match the distinctive colors of these majestic killer whales. Adding a dorsal fin and tail will make your orca look true-to-life!
19. Giraffe Paper Plate Craft
It doesn't get much cuter than this paper plate giraffe. Using a yellow plate as your base, add brown patches, a pair of ears, and those iconic ossicones on top (the things that are similar to antlers). This is an excellent craft for a safari-themed study.
20. Polar Bear Paper Plate Craft
Chill out with this super cool polar bear craft. A white paper plate makes the perfect base for our frosty friend. Add a face with a pair of round ears, a cute black nose, and some googly eyes. Make this as a wintertime craft or as part of an Arctic animals unit study.
21. Koala Paper Plate Craft
Nothing will brighten your day like making a cute koala. Paint a gray plate for the base and those characteristic big, round ears. Use black construction paper to make a big koala nose, and you've got an adorable Aussie pal! This craft is great for a study on Australian animals.
22. Penguin Paper Plate Craft
Paint a pretty paper plate penguin today. Use black and white paints for the classic penguin look, then add an orange beak, feet, and a pair of wiggly eyes. Don't forget the flappy wings!
23. Tiger Paper Plate Craft
Transform a simple paper plate into a fierce (or friendly) tiger with some orange paint, black construction paper stripes, a pair of pointy ears, and a smiling snout. It's such fun for kids who love learning about the creatures of the jungle.
Summary – Paper Plate Animal Crafts
Crafting paper plate animal crafts allows for endless creativity. Using multiple techniques such as painting, cutting, and gluing, you can make anything from zoo animals to mythical creatures. Paper plate animal craft activities are an enjoyable way for kids to spend their time and also a great way for parents to have fun with their children creatively.
We hope you enjoyed this list of paper plate animal crafts. Pin it for your next rainy day or crafting session! And make sure to follow us on Pinterest for more kids' crafts!
More Fun Animal Crafts for Kids: