25 Fun Paper Bag Puppets for Playtime
Who said a brown paper bag is boring? This collection of paper bag puppets will show you just how versatile this simple household item is. From amazing animals to mythical creatures and beloved children's characters, these easy puppets are a fantastic way to spark your kids' imaginations.
They're not just entertaining — paper bag puppets are a great way for kids to engage in role-play, develop their storytelling skills, and learn about different characters and animals. Plus, making puppets out of paper bags is super affordable!
Whether you're planning a puppet show, looking for a themed party activity, or just want to spend a cozy afternoon crafting with your little ones, there's something here for you. You'll be amazed at what you can create with a paper bag and a little creativity.
While you're here, don't miss our paper bag ghost — such a cute craft for Halloween.
Now, let's get to what you need to make these cute puppets.
Materials Needed for Paper Bag Puppets
Below you'll find a list of common materials you'll need for these paper bag puppet crafts.
Easy Paper Bag Puppets Kids Can Make
1. Pete the Cat Puppet
Time to groove with this cool Pete the Cat puppet. Transform a paper bag into the popular blue cat with some paper cutouts for the face and clothes. He even has some groovy buttons! It's a fun way to bring this favorite children's book character to life, perfect for storytelling.
2. The Lorax Puppet
Create your very own guardian of the forest with this Lorax paper bag puppet. Using an orange paper bag as the base, add the Lorax's distinct mustache, eyes, and fluffy eyebrows. This craft pairs perfectly with a read-aloud of Dr. Seuss's "The Lorax" and a discussion about protecting our environment.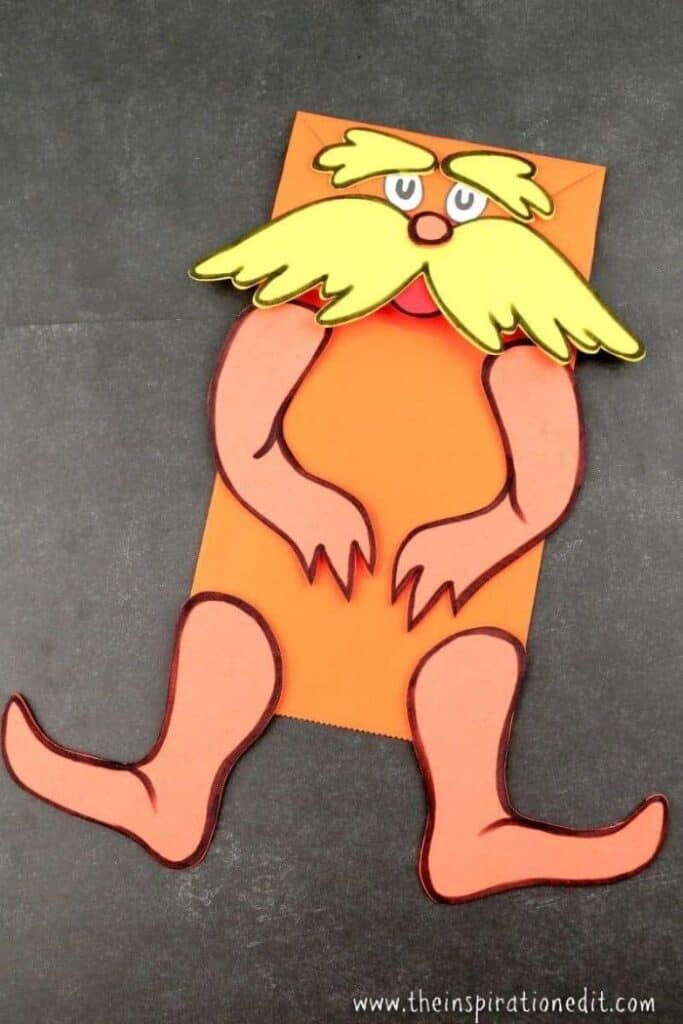 3. Mermaid Puppet
Go on an under-the-sea adventure with this lovely mermaid paper bag puppet. Decorate your bag with colorful scales and fun accessories. You may even want to add glitter or sequins to give your mermaid puppet a little sparkle.
4. Owl Puppet
This owl paper bag puppet is a real hoot to make. Using colorful paper and simple shapes, design a wise paper owl complete with big, round button eyes. This puppet could be a fun addition to a lesson about nocturnal animals or just for a playful puppet show!
If you love owls, be sure to check out this cute paper plate owl project!
5. Pirate Puppet
Ahoy, mateys! Get ready for swashbuckling fun with this pirate paper bag puppet. A sword, bandana, and pirate hat can transform your ordinary bag into a sea-roving buccaneer. With three different variations, this is perfect for imaginative play and pirate-themed parties.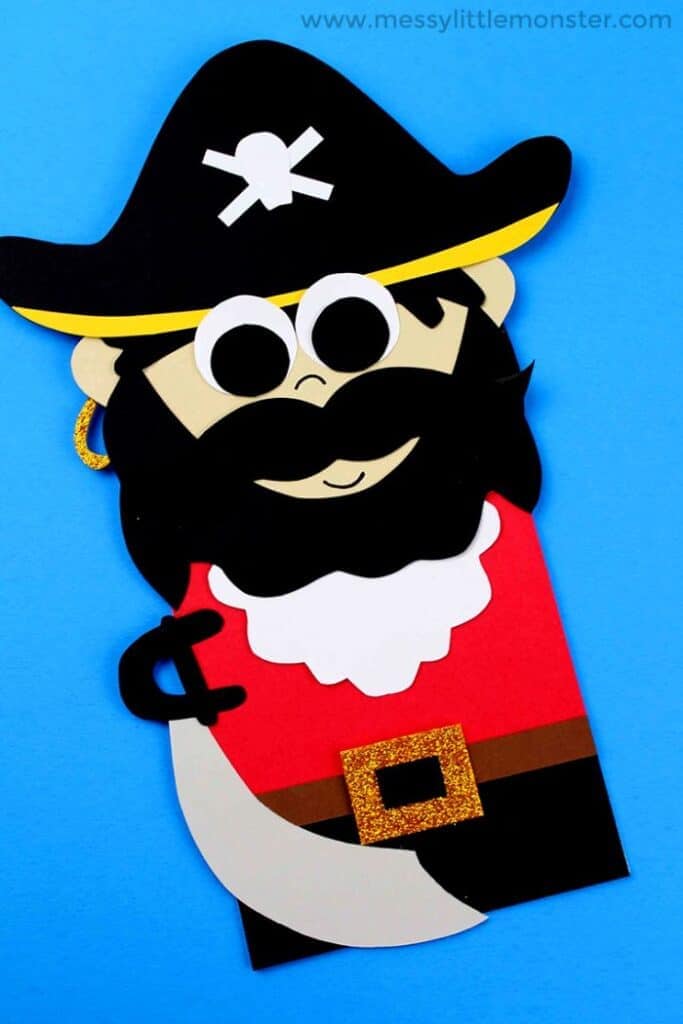 6. Ladybug Puppet
Bring the beauty of the garden indoors with this adorable ladybug paper bag puppet. Use red and black construction paper to make the ladybug's distinctive pattern. It's a fun way for kids to learn about these helpful insects while engaging in pretend play. Read "The Grouchy Ladybug" with this one.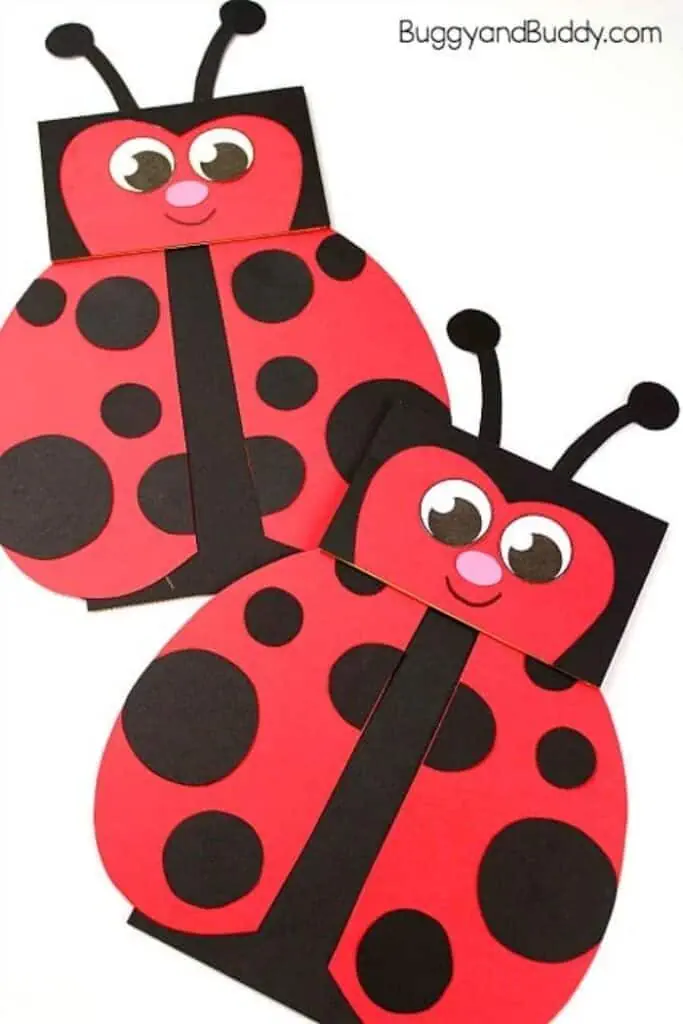 7. Yoda Puppet
May the craft be with you! Turn a paper bag into the wise Yoda from Star Wars. Add big ears, googly eyes, and a green face for an out-of-this-world puppet. It's the perfect craft for young Star Wars fans and can be used for epic galactic adventures!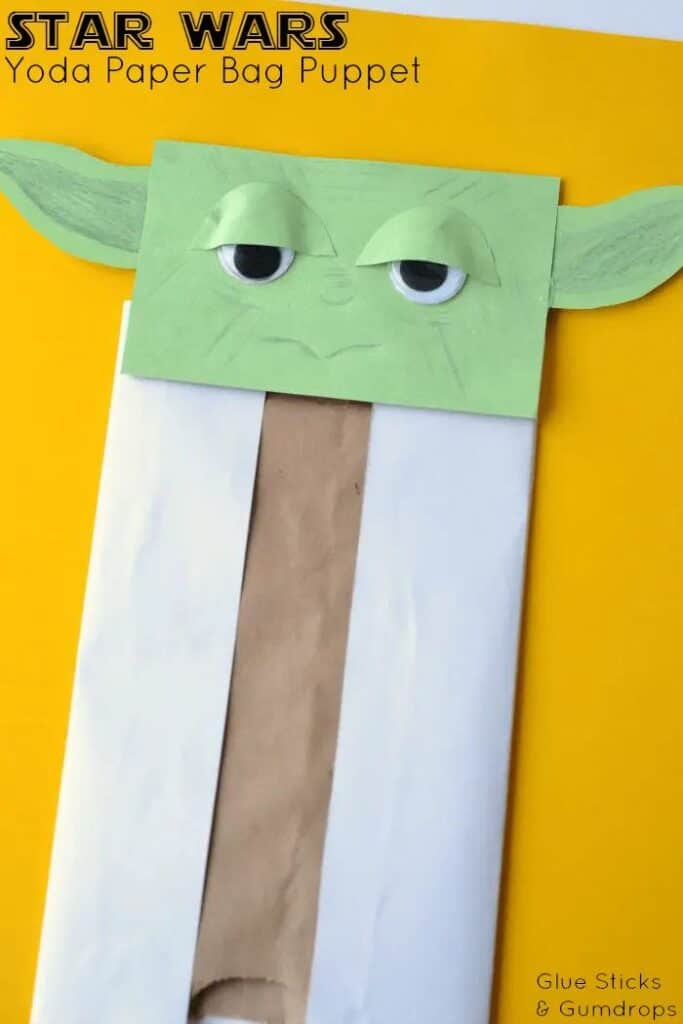 8. Monkey Puppet
Create a mischievous monkey paper bag puppet that's ready for jungle play. Use brown paper or paint to cover the bag, and don't forget to add a pair of large ears and a curvy tail. This craft is a fun addition to any animal-themed lesson or story time involving cheeky monkeys.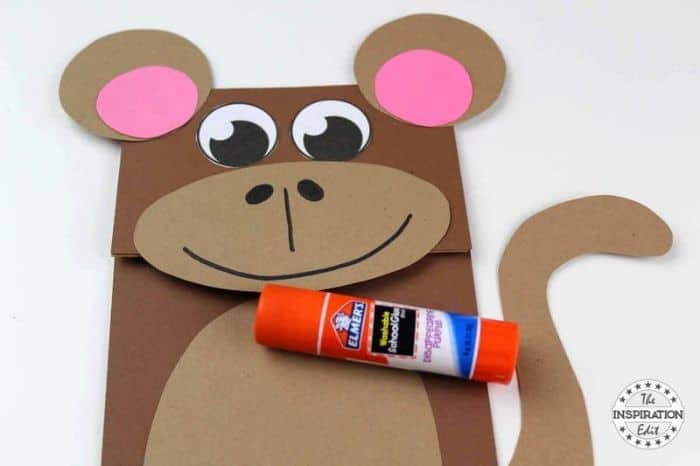 9. Cat in the Hat Puppet
Celebrate the whimsical world of Dr. Seuss with this Cat in the Hat paper bag puppet. Use the printable template to add the cat's signature red and white striped hat, a big bow, and an impish grin. Perfect for enhancing reading time or for a Dr. Seuss-themed party.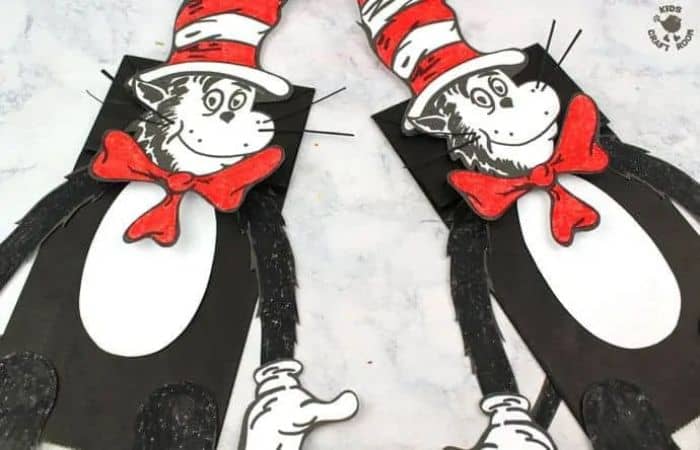 10. Racoon Puppet
If your kids like Chester the Racoon books, they'll love this cute raccoon paper bag puppet. Use paint, gray, and black paper to create the raccoon's unique face mask and striped tail.
by Artsy Momma
11. Unicorn Puppet
Bring some magic to craft time with this dreamy Unicorn paper bag puppet. Decorate the bag with bright, pastel, or rainbow colors, add a horn, a flowing mane, and a sweet face. Don't be afraid of adding some sparkle if you want!
12. The Mandalorian Puppet
Here's an exciting craft for all Star Wars fans – a Mandalorian paper bag puppet! Use silver or gray paper for the helmet, and don't forget the distinctive T-visor. This puppet is sure to provide hours of fun for your little space explorers right in your living room.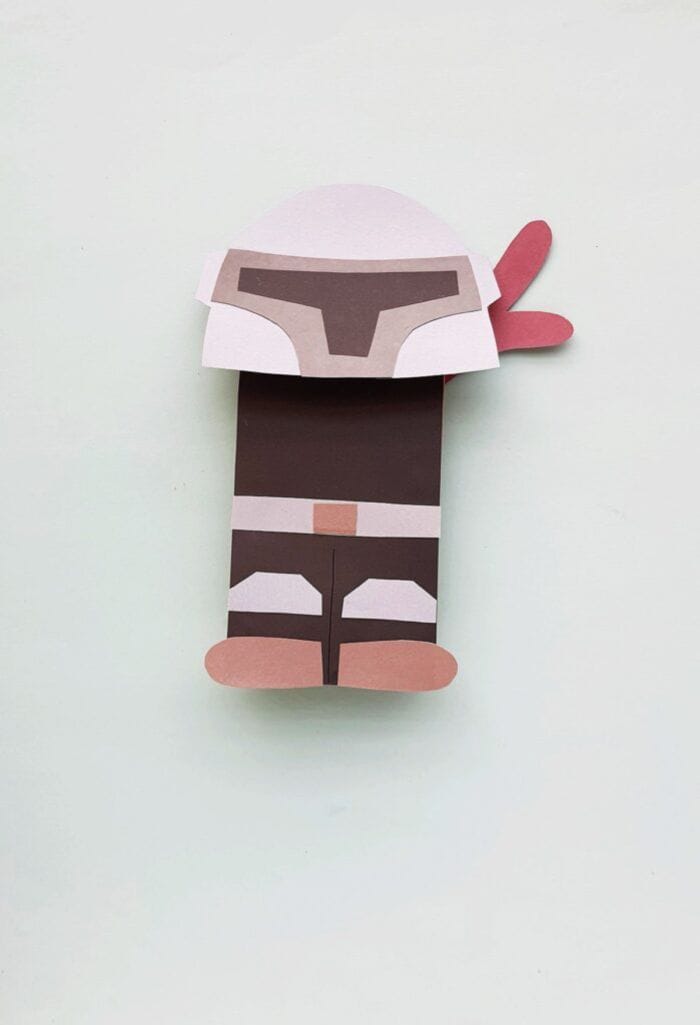 13. Cat Puppet
Create a purr-fect puppet following this cute cat tutorial. Your cat can be any color you like — I'm especially fond of the orange one. Add pointy ears, whiskers, and a little pink nose. This craft is great for any kitty-loving kid.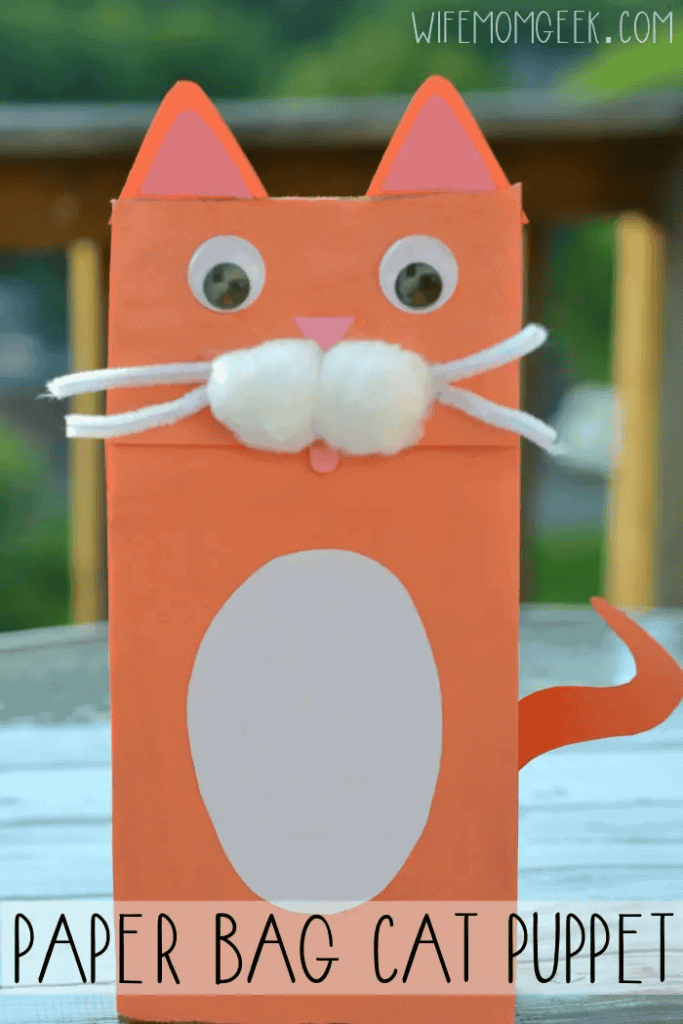 14. Farmer Puppet
Celebrate the hard work of farmers with this farmer paper bag puppet. Create a friendly face, add a hat and some overalls, and put a rake in the farmer's hand, and your puppet is ready for a day on the farm. It's a fantastic craft to pair with lessons about farming and food sources.
15. Crocodile Puppet
Snap into some fun with a toothy crocodile puppet. Decorate the bag with various shades of green paper, and don't forget the sharp teeth! It's a playful craft that can spark discussions about these fascinating creatures or be a fun accompaniment to a reading of "The Enormous Crocodile."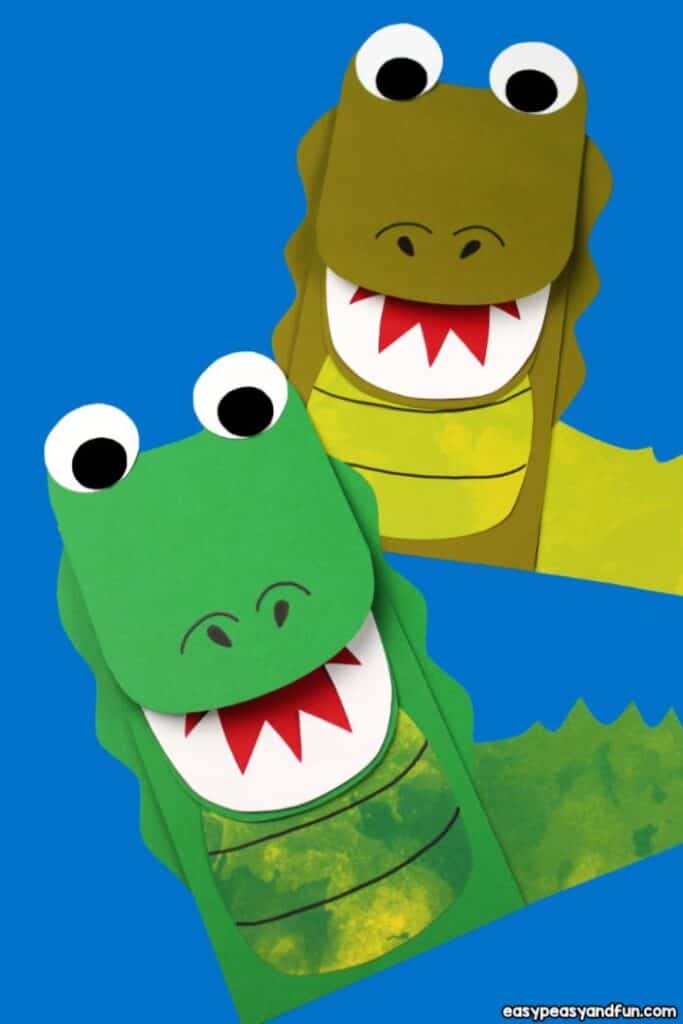 16. George Washington Puppet
Combine craft and history with a George Washington paper bag puppet. Use craft paper, pom-poms, or cotton balls for his distinctive hat and hair. Make this puppet as an engaging way to teach children about the first president of the United States.
by Surviving a Teacher's Salary
17. Pikachu Puppet
Pikachu, I choose you! Craft a Pikachu paper bag puppet with yellow paint or paper, and adding the distinctive pointy ears, face, and lightning tail. Any Pokémon fan will have a blast making this cute puppet, and it's a great craft for a Pokémon party.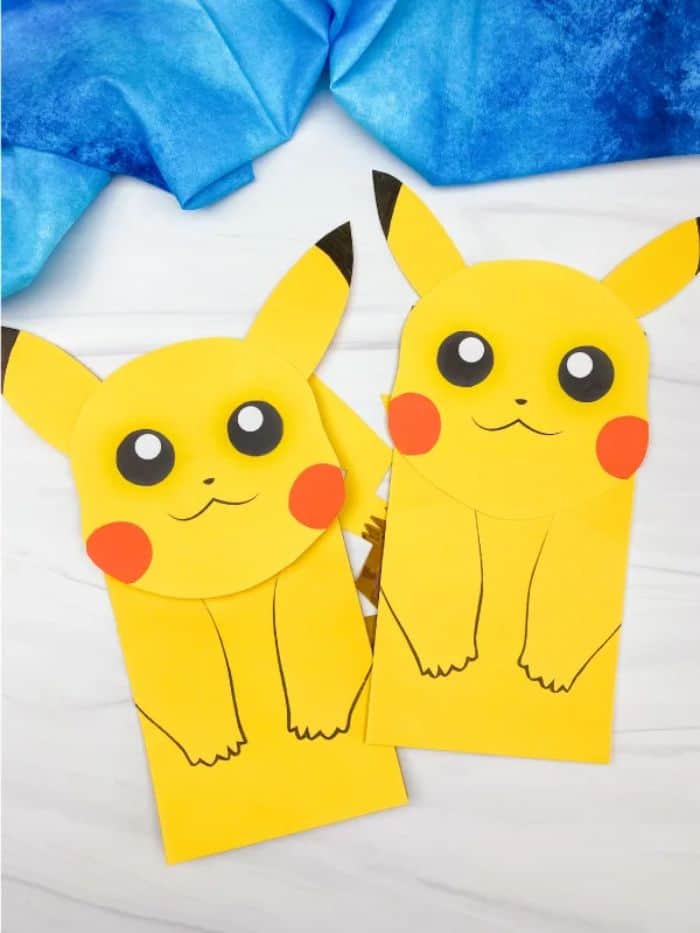 18. Puppy Puppet
Who can resist a puppy? Craft your favorite breed using craft foam or construction paper for the ears and tongue, and don't forget to color in some spots for good measure.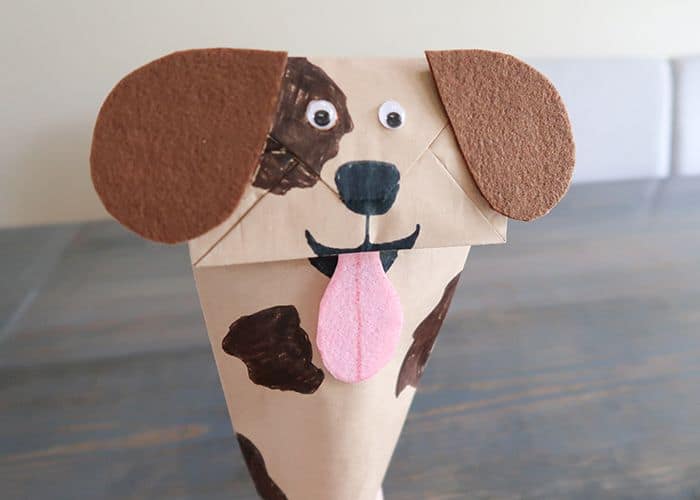 by Woo Jr.
19. Community Helpers Puppets
Celebrate everyday heroes with Community Helpers paper bag puppets. Kids can create puppets of firefighters, chefs, construction workers, doctors, and more, using paper cutouts for uniforms and equipment. What a fun and creative way to teach kids about different professions and their importance in our communities.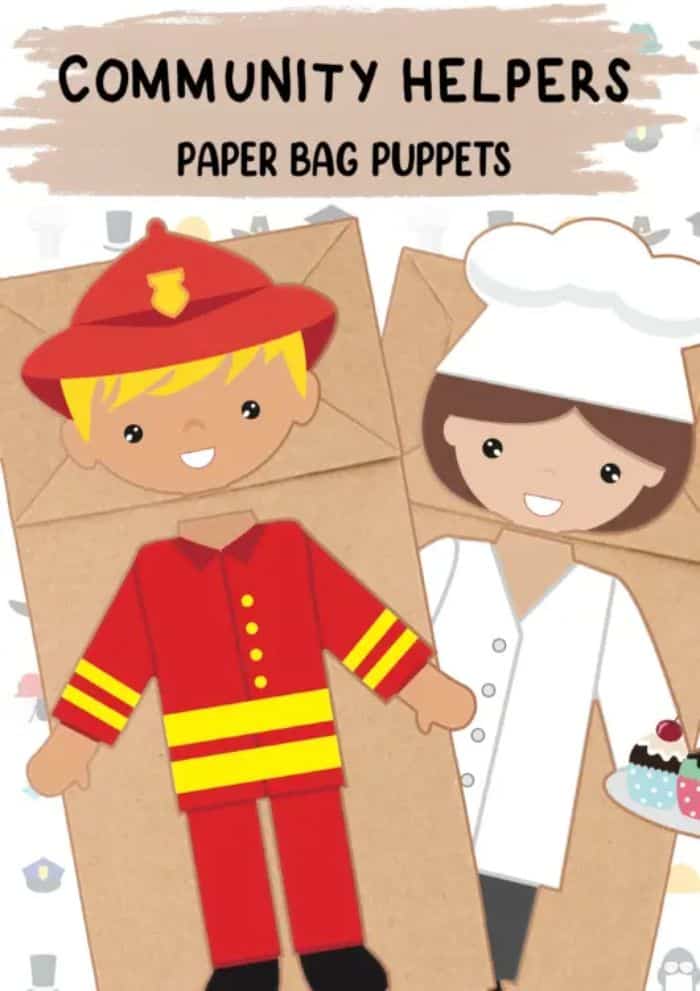 20. Lion Puppet
Roar into a crafty afternoon with a lion paper bag puppet. Decorate the bag with shredded paper in golden, orange, and red hues to make a fluffy mane. It's a jungle of fun that can be a great supplement to a lesson about wild animals, a visit to the zoo, or a reading or viewing of "The Lion King."
21. Bear Puppet
Create a cuddly and cute bear paper bag puppet in no time. A brown paper bag, some additional brown paper for the snout, arms, and ears, and you're all set. But to make it look "fuzzy," like you see here, use a fork to paint the fur on. It gives the bear a cool, textured look. Pair this puppet with a reading of "Goldilocks and the Three Bears" to share a classic with your kids.
22. Sea Otter Puppet
Make a splash with this adorable sea otter paper bag puppet. Use shades of brown or tan to recreate the otter's arms and legs, and don't forget its cute little face. It's an excellent craft for a lesson on marine animals.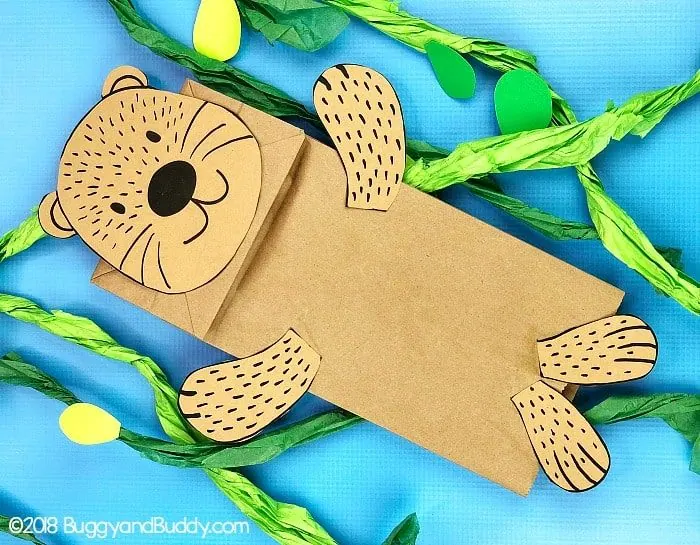 23. Wookiee Puppet
Calling all Star Wars fans (again)! Create your very own Wookiee paper bag puppet, just like Chewbacca. Use brown paper with fringe cut into it for the furry body, and don't forget the bandolier. This puppet will be the perfect sidekick for imaginative space adventures and recreating favorite Star Wars scenes. Add it to the Yoda and Mandalorian puppets mentioned above.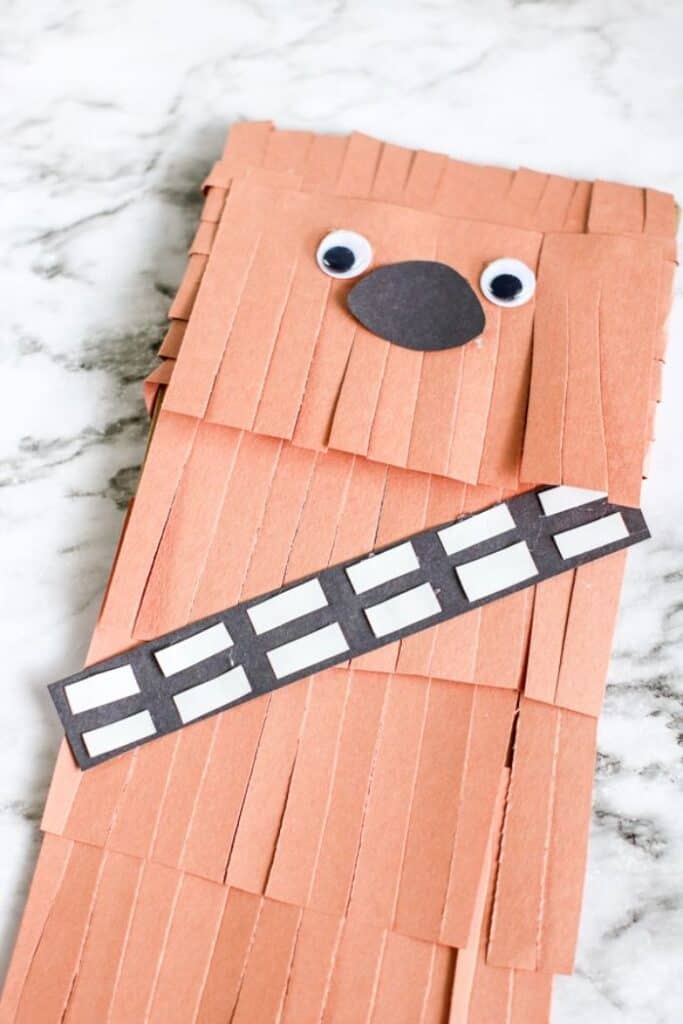 24. Dragon Puppet
Fire up your child's imagination with this fiery Dragon paper bag puppet. Decorate the bag with green paper, large wings, and a big, strong tail. While this is a happy dragon, you can certainly make it a fire-breathing dragon by adding flames coming out of its mouth. Perfect for fairy tale reenactments or a game of knights and dragons, this craft is sure to be a hit with your little adventurers.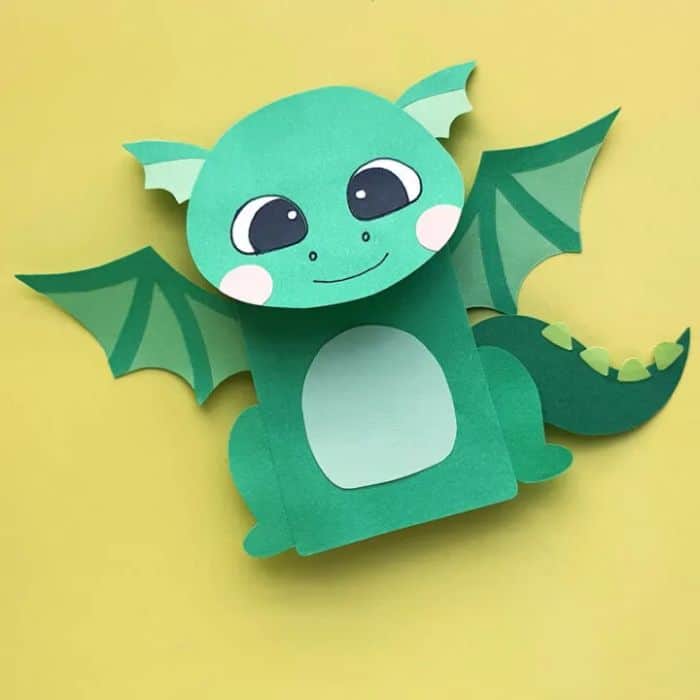 25. Firefighter Puppet
Help kids appreciate our everyday heroes with a Firefighter paper bag puppet. The printable template includes everything a firefighter needs, including a helmet and fire extinguisher. This puppet can ignite conversations about fire safety and the important role firefighters play in our communities.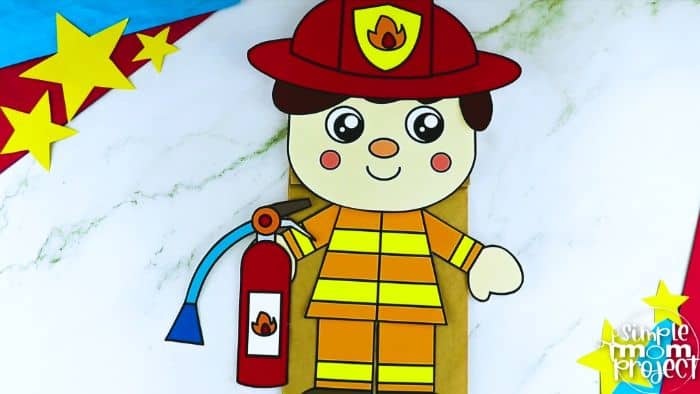 We hope you and your little ones have a blast bringing these characters to life. Don't forget to pin this post, so you can return anytime for more crafty inspiration and puppet-making fun.
Summary- Paper Bag Hand Puppets
Kids will love crafting and playing with these fun paper bag puppets! Whether it's for a school project, rainy day activity, or bedroom decoration, each one is sure to be just as unique and creative as the last. Not to mention, it can be particularly fun watching kids construct and portray the puppet they've made from simple paper bags using their own imaginations.
With 25 projects to choose from, your child can have hours of endless playful opportunities. Embrace the crafty process with your child, and they're guaranteed to never forget all of the special memories that come along with these handmade paper bag puppet crafts.
We hope you enjoyed this list of paper plate animal crafts. Pin it for your next rainy day or crafting session! And make sure to follow us on Pinterest for more kids' crafts!
More Fun Puppet Crafts for Kids