Free Chore Chart Printable For Kids (Chore Chart PDF Included)
As a parent, one of your priorities is to teach your kids about responsibility. One way to do that is to give them chores to do around the house. But how can you keep track of what they're supposed to be doing?
A chore chart!
You can easily make your own chore list with this free printable. Just download the chore chart printable below, print it out, and get started!
Did I mention it's free?
How To Use This Free Printable Weekly Chore Chart
Once you have this blank chore chart printed off, add your child's name to the top. Then fill in daily chores dependent on your child's age. Here is a great chore list for all ages.
Below fill in their weekly chores. This will be something that won't be done every night, such as taking out the trash on Tuesdays.
Lastly, find a place to put your chore chart so that your child has access to it. Depending on their age, they can check off each of the chores they complete.
Chore Incentive Chart
There's no doubt about it kids work harder when there is some incentive involved! The reward box at the bottom is their incentive. Feel free to use it as you please.
I always add a dollar amount! However, it could be a treat, a new book, or a movie date with your child. The sky is the limit!
Reuse the Same Chore List Printable
I recommend slipping this printable into a plastic sleeve or laminating it with a laminator. This way, you can use this chore list for kids repeatedly! Instead of printing out a new chore list each week.
Chore Chart Free Printable – Summary
This chore chart printable is so easy to use that even your kids can do it!
If you're looking for a way to help motivate your kids (or yourself) to get chores done, this free chore chart template will help! This handy tool will help you and your family get on track with chores and make sure everyone knows what's expected of them.
Having a plan in place for household tasks will help reduce stress, chaos, and conflict.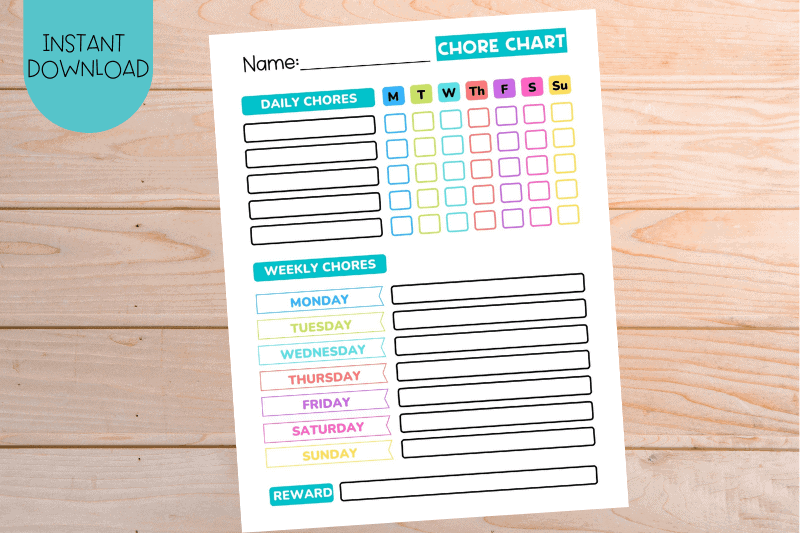 We can't wait to hear how the chore chart works for you – let us know in the comments section. This truly is the perfect chore chart for kids of any age!
If you loved this chore list for kids, be sure to check out some of our other popular posts below. Also, check us out on Pinterest for kids' crafts, activities, and printables.
Fun craft ideas: