20 Printable Christmas Crafts Kids Can Make
Christmas is a time for family and fun, but it can be hard to find the time to slow down during the hectic holiday rush. With these 20 printable Christmas crafts for kids, you'll have more things to do with your children during the holiday season!
We'll share our list of fun tutorials for elf crafts, Santa puppets, ugly sweater crafts, printable ornaments, and so much more. You can even make a little Advent tree out of paper! Plus, these adorable printable crafts help kids practice their scissor skills while crafting with their parents or teachers.
Notice: This post contains affiliate links. To learn more, read our Disclaimer Here.
All you need for most of these crafts is a printer, paper, something to color with, scissors, and glue. That's pretty simple. Right? Plan a cozy evening of crafting with your kids today!
Supplies for Free Printable Christmas Crafts
Here are common supplies you will need for a majority of these crafts. Pick and choose what supplies you use for which projects. Most importantly, have fun!
Easy Printable Christmas Crafts
1. Buddy the Elf Craft
No time for complicated crafts? No problem! Give this super fun Buddy the Elf activity a try! Pop over to the Simple Everyday Mom blog using the link below the image, grab the printable template for free, and use it to create this fun and easy craft!
2. Ugly Christmas Sweater Craft
This is such a fun and original take on the Ugly Christmas Sweater tradition! Using a printable template as the base, this fun craft encourages kids' creativity to go all-out by making any design they want on their sweaters using simple things like confetti, glitter, stickers, and more.
by Simply Bessy
Related Christmas crafts:
3. Santa Letter and Craft
Wanna make writing practice extra fun this Christmas? Encourage your children to write a letter to Santa and practice letter recognition and writing skills while having a blast!
4. Christmas Lights Printable Book
The holidays are a fantastic time to create homemade books with our little ones and encourage them to express their creativity.
The Christmas lights printable book is free to download, making the whole process much easier. Use the link below to grab your free copy.
Also, be sure to check out these best Winter books all about SNOW!
by Fun-a-Day
5. Printable Reindeer Antlers
Cuteness-overload alert! These reindeer antlers are just adorable, and you only need this free printable, a piece of string, tape, scissors, and a hole puncher.
by Picklebums
6. Build a Snowman Printable
Snowmen are that special tradition that brings a smile to everyone's face. If there is no snow in your area yet, or if it is far too cold to go outside and build one, this printable has your back!
It's an awesome option for little ones to have fun building their own snowmen indoors.
7. Printable Santa Paper Puppets
These adorable Santa paper puppets are just a joy to make for both kids and adults. The whole family can have so much fun together!
8. Paper Angel Printable
You can bring these charming angels to life using paper and this easy-to-use printable! Whether you use them on your Christmas decor or as part of imaginative play, this is such a cute craft to make with your kiddos!
by Red Ted Art
9. Spiral Christmas Tree Ornaments
Looking for a fun way to practice those fine motor skills? Then, you'll love this spiral Christmas ornament activity!
The spiral printable that you can download makes this activity fun, hands-on, and mess-free. This activity is great for practicing scissors skills and developing fine motor skills.
10. Mix and Match Santa Craft
It doesn't get more adorable than this mix-and-match Santa craft! Kids will have SO much fun! They can either use their own photo, or the Santa included in the printable… or both!
11. Printable Paper Reindeer
Grab some card stock, glue, scissors, and this printable reindeer template from The Craft Train, and get crafty! Making these magical little paper reindeer is a perfect activity for children of all ages, and they make for such a whimsy holiday ornament!
12. 3D Paper Advent Tree
If you're tempted to make an advent calendar this Christmas but don't have time, Amanda from Barley And Birch has your back!
She shared a simplified version that's just as adorable as the traditional one, just much easier to make!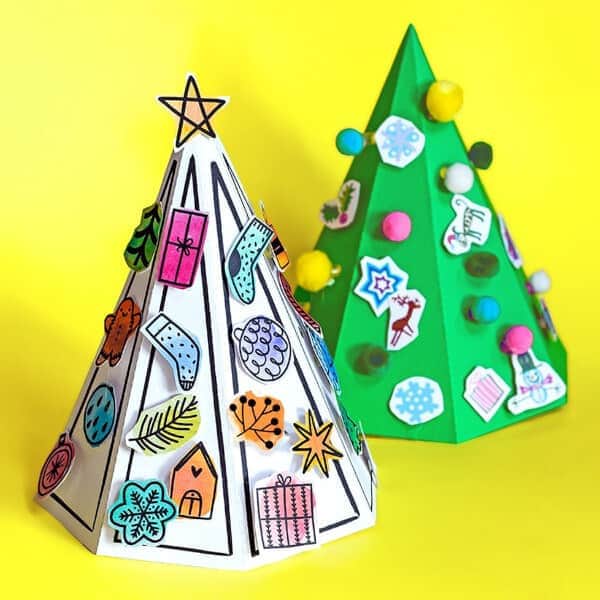 13. Printable Santa Beard Advent Calendar
Give a fun spin to the Christmas countdown with this gorgeous printable Santa beard advent calendar and a few cotton balls! It's a quick, inexpensive, and super cute way for little ones to wait for the magical night.
14. Printable Reindeer Busy Bag
If your kids are totally obsessed with Rudolph, this reindeer busy bag craft is just perfect. Besides being a cute craft that children will enjoy making, it's also an excellent way to teach little ones about reindeer anatomy!
15. Elf Headband
Dressing up is not just reserved for spooky Halloween, at least not in our books! Use the free printable to help your kids put together this Elf headband and make the most of your holiday time.
16. Christmas Tree Tissue Paper Suncatchers
Make these dreamy Christmas suncatchers with your little ones, and you'll have a lovely homemade ornament to brighten up the holiday decor in no time!
17. Printable Paper Tree Ornaments
Need some inspiration to kick off the Christmas crafting season? We feel you! Head over to Hello Wonderful and try this adorable paper tree printable craft. Your kids will have so much fun mixing and matching all sorts of gift wrap scraps to make these eye-catching little paper trees!
18. Printable Reindeer Ornament
This is a fun-filled craft that your kids are sure to enjoy! The result looks amazing, but it's actually quite easy to do, making it perfect for kids of all ages.
19. Snowman Christmas Card
You can't get much cuter than this snowman Christmas card! Kids can color the printable using pencils, markers, and add even sparkles. Your kids won't need much guidance to make this snowy friend, which makes it a perfect art project for most ages.
20. Mix and Match Snowman Craft
Too cold outside to go out and play? Then, bring the fun indoors! This mix-and-match Santa craft is a wonderful opportunity for your kids to explore their creative side while enjoying fun winter crafting!
Must-Read Christmas Books:
Keep the fun going with these must-read Christmas books. There are so many benefits to reading aloud to kids. It's even been found that reading books to toddlers can help build their empathy, aiding in social-emotional development.
Furthermore, one study found a direct correlation between being read to as a child and higher academic achievement later in life! Regardless of age, the advantages of instilling a love for reading early on should not be overlooked.
Follow the Little Blue Truck on Christmas! This is another great Little Blue Truck book; your littles will love how the book lights up at the end.
Twas The Night Before Christmas On The Farm
Enjoy this retelling of the classic story, The Night Before Christmas, but this time on a farm.
Follow along as the green crayon thinks he is the only Christmas color in the crayon box. These "crayon books" remain among our favorite reads in our house.
Free Printable Christmas Crafts – Summary
Christmas is such a fun and exciting time of the year that can be made even better with a little extra creativity and fun! Remember to take advantage of these free printable Christmas crafts to bring some holiday cheer into your home.
From snowmen to Christmas tree suncatchers, your kids will love crafting together with you and making memories that will last forever. The possibilities are endless when you get creative with these printables!
Get ready for laughs, smiles, and plenty of holiday spirit as you make these free printable Christmas crafts together with your family.
So what's stopping you? Start crafting now by downloading these free printable Christmas crafts today!
If you enjoyed this craft, save it for later and follow us on Pinterest for more fun craft ideas.
Related holiday crafts: