Make This Fun Paper Cup Santa Craft This Christmas
With Christmas around the corner, I felt the need to come up with an easy Christmas craft the whole family could join in on.
Thankfully this paper cup Santa craft hit the spot. Grab your craft supplies, and let's recreate this fun Santa Clause made from a cup.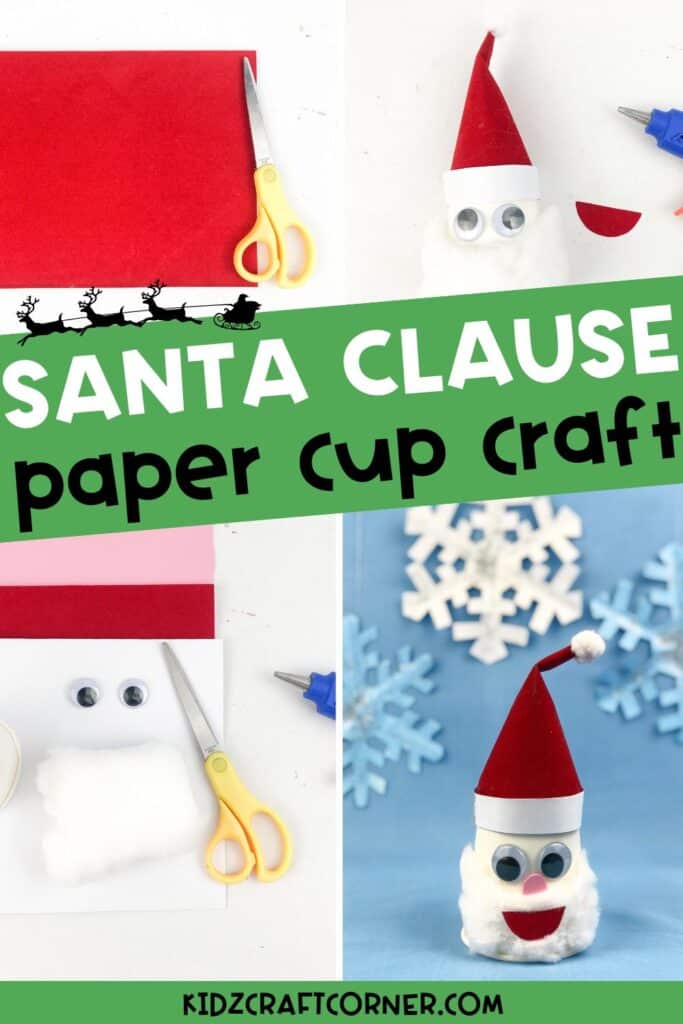 Notice: This post contains affiliate links. To learn more, read our Disclaimer Here.
Materials Needed For Your Paper Cup Santa Craft
Below is a list of the supplies you will need to make your Santa craft. Collect the items on the list, and let's get started!
– Paper cups: A white paper cup works best for this Santa craft!
– Cotton balls: If you have a few cotton balls floating around your bathroom cupboards, they work perfectly for this craft.
– White paper: Any white paper will work for this Santa craft.
– Pink foam sheet: We love this rainbow foam paper. We use it for so many different crafts.
– Red felt paper: Red paper is a great substitute if you don't have red felt on hand.
– Glue gun or Elmer glue: Depending on your child's age, choose the appreciate glue for them.
– Scissors: Always give your child a chance to cut out the pieces themselves with child-friendly scissors. However, they might need help cutting thicker material like felt.
– Googly Eyes: Any googly eyes work. Or you can draw them with markers.
Tip: When working on this paper cup craft, feel free to alter the craft as needed depending on your child's age. My 9-year-old likes using a hot glue gun for gluing on the pieces. However, I have my 5-year-old stick to using Elmer's glue and glue sticks.
Other fun Christmas crafts you MUST try:
Paper Cup Santa Kids Craft
Step 1. Carefully cut one-half circle, a triangular shape, from the red felt paper, and make a cone out of it (triangle). Its size should be proportioned to the size of your paper cup.
Then glue the cone with a glue gun or tacky glue. Set aside the cone to dry.
Step 2. Attach the cone to the top of the paper cup using the glue of your choice.
Step 3. Cut one long rectangle from the white paper and glue it around the lower part of the red cone, aka Santa Clauses hat.
Step 4. Now for the fun part! Your paper cup is going to transform into Santa. Start by gluing the cotton to the paper cup. You can pull apart the cotton balls, so they form one large beard. Or let your child independently glue on multiple cotton balls.
Add googly eyes right underneath the edge of Santa's hat. I love these adhesive googly eyes. Also, cut out a half-moon from the red felt for the paper cup Santa's smile.
Step 5. Take the half circle you cut and attach it to the cotton.
Step 6. Cut a tiny arc shape from the pink foam sheet and attach it right below the googly eyes, and your Santa Paper Cup is now ready!
There you have your Paper Cup Santa Craft. You did it!
Tips:
Be careful when using the scissor and the glue gun.
Choose the proper materials to achieve the aspired outcome.
Let your creativity flow in your works!
You're free to add any designs you want.
Most importantly, have FUN!
Paper Cup Santa Clause Craft – Summary
I hope you had a blast creating your own paper cup Santa craft! With so many different Santa Clause crafts out there, this one is easy, and everyone in the family or classroom can participate.
Feel free to share how your Santa paper cup turned out in the comments below.
For more creative kid crafts and activities, be sure to follow us on Pinterest!
Holiday crafts: