Popsicle Stick Scarecrow Craft For Preschoolers
Fun Preschool Scarecrow Craft
Do you want to give your preschooler something fun and educational to do this fall? A scarecrow craft is the perfect way for them to learn about nature, while having fun at the same time. With a few simple supplies like popsicle sticks, construction paper, and yarn, your little one can create a one-of-a-kind scarecrow in no time.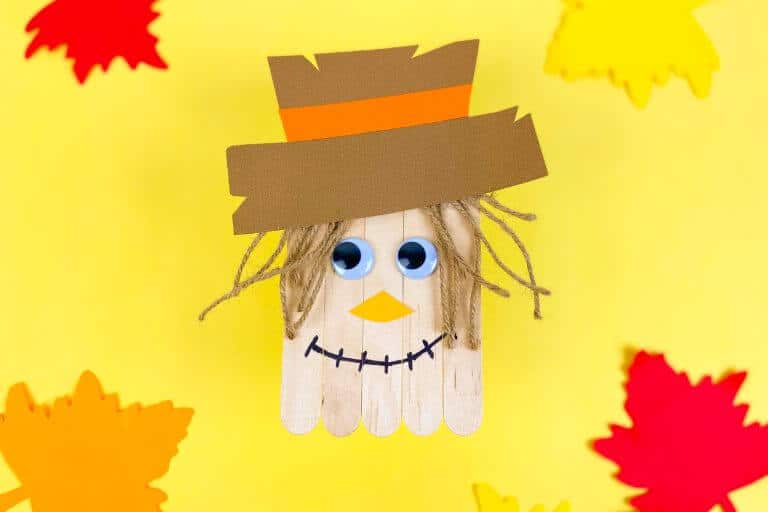 Notice: This post contains affiliate links. To learn more, read our Disclaimer Here.
Are you ready to make your own scarecrows? Let the fun begin!
Popsicle Stick Scarecrow Craft Details:
Age Group: 3+ yrs
Difficulty: Easy
Time To Complete: 20 minutes
The time needed to complete this craft depends on multiple factors, such as the age of your child. That said, the average time needed to complete this craft is approximately 20 minutes.
Other fun fall crafts you must try:
What You Need For Your Scarecrow Craft
The supply list for this scarecrow craft is minimal, making it an ideal craft for preschoolers.
Supply List:
Preschool Scarecrow Craft Step-by-Step Instructions
Step 1. Collect Your Supplies for Your Scarecrow
Begin by collecting the supplies you will need from the supply list above.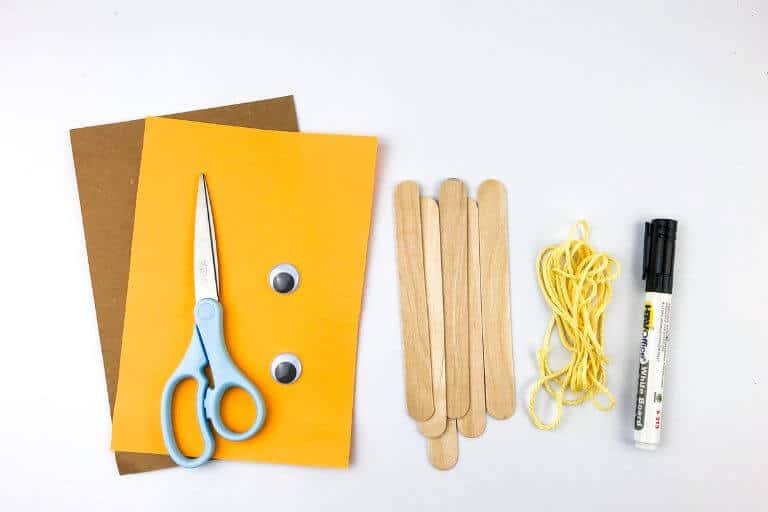 Step 2.
Begin by assembling the head of the scarecrow. Glue 5 large popsicle sticks together in an even rectangle shape. If you are using small popsicle sticks use 8 popsicle sticks.
I recommend using a glue gun to glue the popsicle sticks together (have an adult do this part). However, if you child wants to give it a go you can have them glue the popsicle sticks to a piece of construction paper using elmers glue in the same rectangle shape. Then cut off the access paper.
This is an easy and safe way for your kid to participate in the crafting project.
Step 3.
Grab your orange construction paper and cut out a long strip for the scarecrow's craft, like shown in the picture. Next, cut your yellow yarn into small pieces. They can be as long or as short as you'd like.
Step 4:
Next, grab your brown construction paper to make the scarecrow hat! You can see little chunks out of its brim to make it look rustic.
Step 5:
To finish the hat, glue the orange paper to his hat, as well as his yellow hair, to the back of his hat. To finish the hat, glue the orange paper to his hat, as well as his yellow hair, to the back of his hat.
Now, you can see that this super cute scarecrow activity is really coming to life!
Step 6:
To finish, grab the scarecrows googly eyes and nose. Then use a black marker to draw on a mouth. You can also add some fun accessories like scarves to your scarecrow craft to make it more unique.
For an extra challenge, you can add some details with fabric scraps or buttons.
Tips for a Successful Scarecrow Craft
When making your scarecrow craft, here are a few tips to keep in mind:
Allow your child to be creative.
Provide guidance and supervision as needed.
Work with your child step by step. This will help ensure the project is completed successfully.
If you have more than one child, consider having them work together to make the project more fun.
Have a plan for where you're going to display your scarecrow when it's finished.
Creating this scarecrow craft with your child will provide a great way to spend some quality time together, while also introducing them to crafting and understanding nature. Plus, they'll have a one-of-a-kind reminder of your time together when it's finished.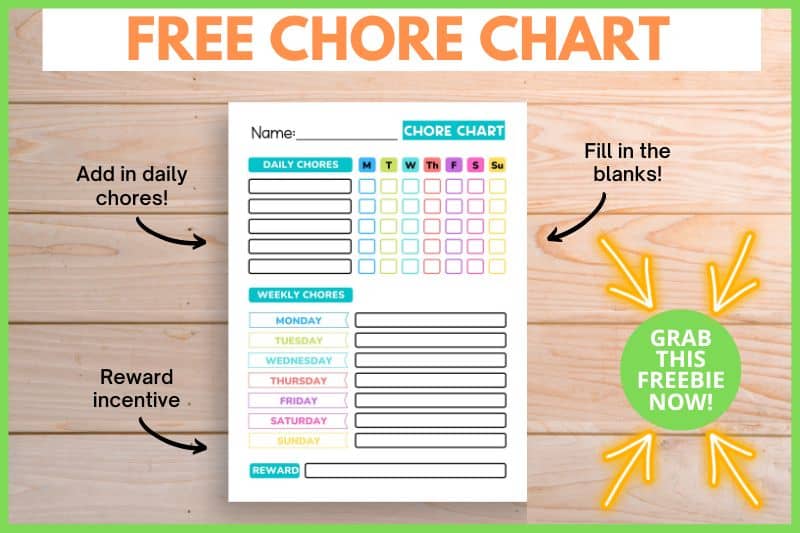 Scarecrow Craft for Preschoolers – Summary
In conclusion, this popsicle stick scarecrow craft is an engaging, fun-filled, and educational project to undertake with your preschooler. With minimal supplies such as popsicle sticks, paper, yarn and a dash of creativity, you can create a charming scarecrow craft that not only entertains but also provides an opportunity for your child to learn about nature and improve their fine motor skills.
This easy-to-follow craft, designed specifically for preschoolers, ensures success in approximately 20 minutes, making it a perfect activity for a cozy fall afternoon.
Don't forget to let your child's imagination soar by adding unique elements to their scarecrow – perhaps a scarf or buttons! Enjoy this project and the quality time spent together.
Let's read about scarecrows!
Let's keep the fun going with these fun scarecrow books! There are so many benefits to reading aloud to kids. It's even been found that reading books to toddlers can help build their empathy, aiding in social-emotional development.
If you enjoyed this scarecrow popsicle craft, follow us on Pinterest for more kid's craft ideas!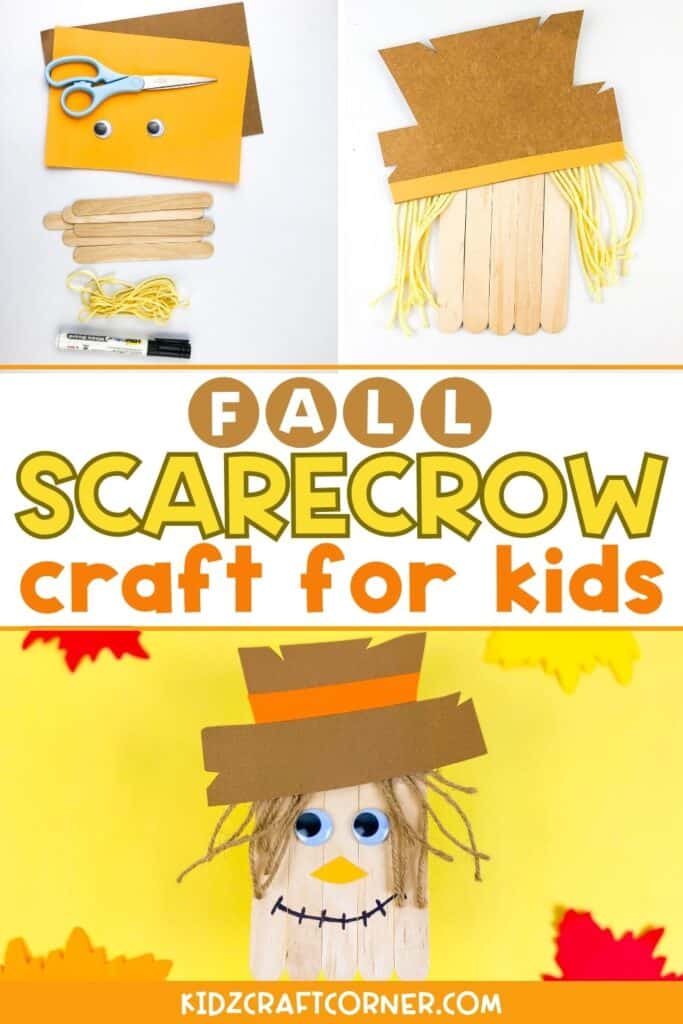 Related fall crafts: