80 Good Elf on the Shelf Names for Your Elf
Christmas is just around the corner, and it's time to start thinking about Elf on the Shelf. This fun tradition has taken the world by storm, and every year, families around the world join in the fun.
If you're wondering what name to give your elf, we have 80 Good Elf on the Shelf Names to make your Christmas more fun! Whether you're looking for boy Elf on the Shelf names, girl Elf on the Shelf names, funny Elf on the Shelf names, or Christmas elf names, we've got you covered.
Notice: This post contains affiliate links. To learn more, read our Disclaimer Here.
Good Elf on the Shelf Names
Are you ready to name your elf on the shelf? It's time to get creative and think of a name that will make your little one smile.
Some ideas to help you get started include:
– Naming the elf after a favorite character or celebrity
– Combining two words together, like Nutty Buddy
– Giving the elf a holiday-inspired name like Jingle Bells
– Making up a silly name like Squiggles

Once you have your elf's name picked out, it's time to write it down and put it somewhere safe. That way, the special elf will always remember his or her name! Have fun and happy elf-naming! 🙂
Once you have named your elf, make sure to check out these fun Elf on the Shelf ideas! And grab your free "What's your elf name printables!"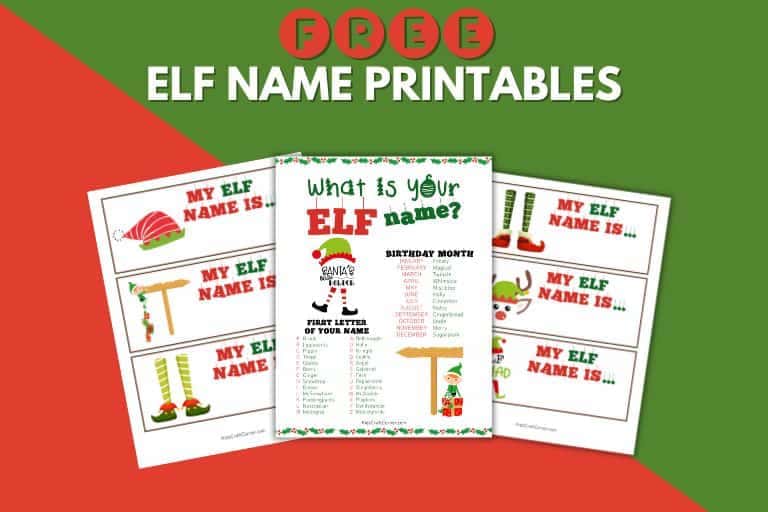 Boy Elf on the Shelf Names:
1. Jingle
2. Buddy
3. Dasher
4. Rudolph
5. Kris
6. Jack
7. Jasper
8. Sparky
9. Max
10. Tinsel
11. Twinkle
12. Chipper
13. Hank
14. Benny
15. Ziggy
16. Tuck
17. Dash
18. Boomer
19. Felix
20. Finn
Favorite holiday crafts:
Girl Elf on the Shelf Names:
21. Holly
22. Joy
23. Ginger
24. Noel
25. Sugar
26. Belle
27. Angel
28. Twinkle
29. Candy
30. Jolly
31. Sparkle
32. Merry
33. Piper
34. Ruby
35. Ruby
36. Gidget
37. Stella
38. Rosie
39. Lulu
40. Snowflake
Funny Elf on the Shelf Names:
41. Elfis
42. Gumdrop
43. Jolly McJingles
44. Candy Cane
45. Sprinkles
46. Gingerbread
47. Peppermint
48. Hot Cocoa
49. Tinsel Toes
50. Snowball
51. Snickerdoodle
52. Jack Frost
53. Marshmallow
54. Mistletoe
55. Nutmeg
56. Cinnamon
57. Eggnog
58. Sleigh Bells
59. Frostbite
60. Holly Jolly
Christmas Elf Names:
61. Nicholas
62. Mary
63. Joseph
64. Gabriel
65. Bethlehem
66. Emmanuel
67. Nativity
68. Shepherd
69. Silent Night
70. Epiphany
71. Yuletide
72. Manger
73. King
74. Balthazar
75. North Pole
76. Frosty
77. Blizzard
78. Carol
79. Kringle
80. Rudolph
Names for Your Elf on the Shelf – Summary
Elf on the Shelf is a fun way to add some magic and excitement to the holiday season. These 100 Good Elf on the Shelf Names are sure to inspire you and help you find the perfect name for your elf. Whether you choose a boy elf, a girl elf, a funny elf, or a Christmas elf, there are so many options to choose from. So, don't wait any longer. Pick your elf's name and get ready to enjoy a fun-filled holiday season with your loved ones.
Related holiday craft ideas: