What is your Elf Name Game (FREE Printable)
It's that magical time of the year again – when the elves come out to play, spreading joy and cheer wherever they go. But have you ever wondered what your elf name would be if you were one of Santa's little helpers?
No need to wonder anymore because our fun and engaging printable will help you discover your elf name in no time! Perfect for kids and parents alike, this activity is not only FUN, but also a great way to get everyone into the festive spirit.
Notice: This post contains affiliate links. To learn more, read our Disclaimer Here.
What's Included With our Elf Name Printable?
So you might be asking yourself, what's included with these free "What is your elf name printables?" You will receive three printables when you download our free elf name printables.

The first printable is a cute elf name generator. This fun printable will provide you with different combinations of words that can be used to create your own unique elf name. The second and third printables are empty "my elf name is" printables. You can use these to write down your unique elf name.
These free elf printables really are fun for the whole family!
Supplies Needed for Whats Your Elf Name
To find out your elf name, you will need a few supplies to get started!
Now that you have gathered everything you need for the free elf name printables, it's time to get set up!
How Does the What's Your Elf Name Printable Work?
1. Print off your elf name printable
If you don't already have the free elf name printables in hand, go print enough copies for all the kids and grown-ups participating. I recommend printing a few copies of the elf name page.
2. Gather around
We did this fun elf-naming worksheet together as a family. However, if your family is larger or you are doing this at an event or at school, you can print out multiple copies of the worksheet for everyone.
3. Figure out your elf name
This is the fun part! Using the first letter of your name on the left-hand side, figure out your elf name and then write it down. Next, on the right-hand side, figure out the rest of your elf name using your birth month.
Then write it down!
4. Share your elf name
This is the best part! Share your elf name with others!
How to Print the What is Your Elf Name Worksheet?
Printing our elf name worksheet is as easy as pie! Follow these simple steps to print:
Download What's My Elf Name: First, download the free printable What's My Elf Name. Simply click on the download link and save the PDF file to your device.
Open the File: Open the downloaded file. It should be in a PDF format, which can be easily opened with any PDF reader.
Check Your Printer: Make sure your printer is ready to go. Check that it has enough ink and that the paper size is set to standard letter size (8.5″ x 11″).
Print your elf name printable: Now, you're ready to print! Click on the 'Print' icon in your PDF reader. In the print settings, make sure to choose 'Fit to Page' or 'Scale to Fit' so that the edges of the printable do not get cut off.
What Is Your Elf Name – Summary
These elf name printables are a great way to get your kids creative juices flowing while they figure out their perfect elf name. This activity is also a wonderful addition to any Christmas celebration, as it will bring the whole family together in a spirit of joy and creativity.
So don't wait — download our free elf name printables today! And enjoy the laughter this fun printable creates.
Grab your Free Elf Name Chart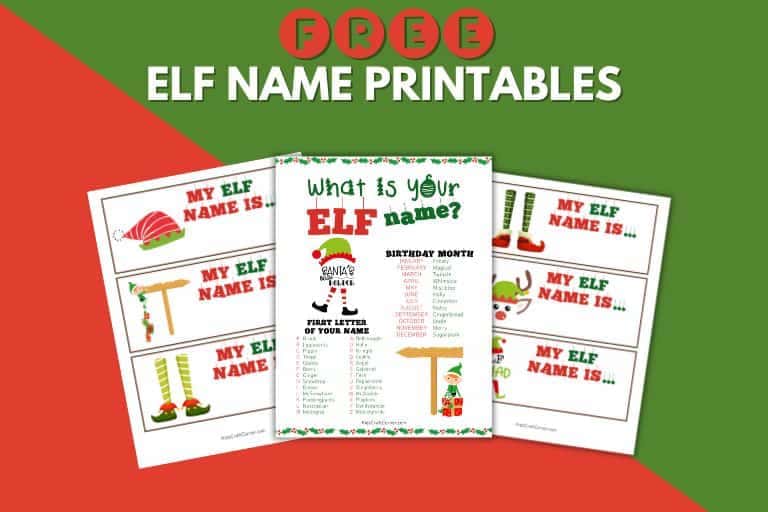 I hope you enjoy this fun "what is your elf name chart." If you did, let us know in the comments section. This truly is the perfect activity for kids of any age! Enjoy around the dinner table or even at your next family gathering.
If you loved this free printable for kids, be sure to check out some of our other popular posts below. Also, check us out on Pinterest for kids' crafts, activities, and printables.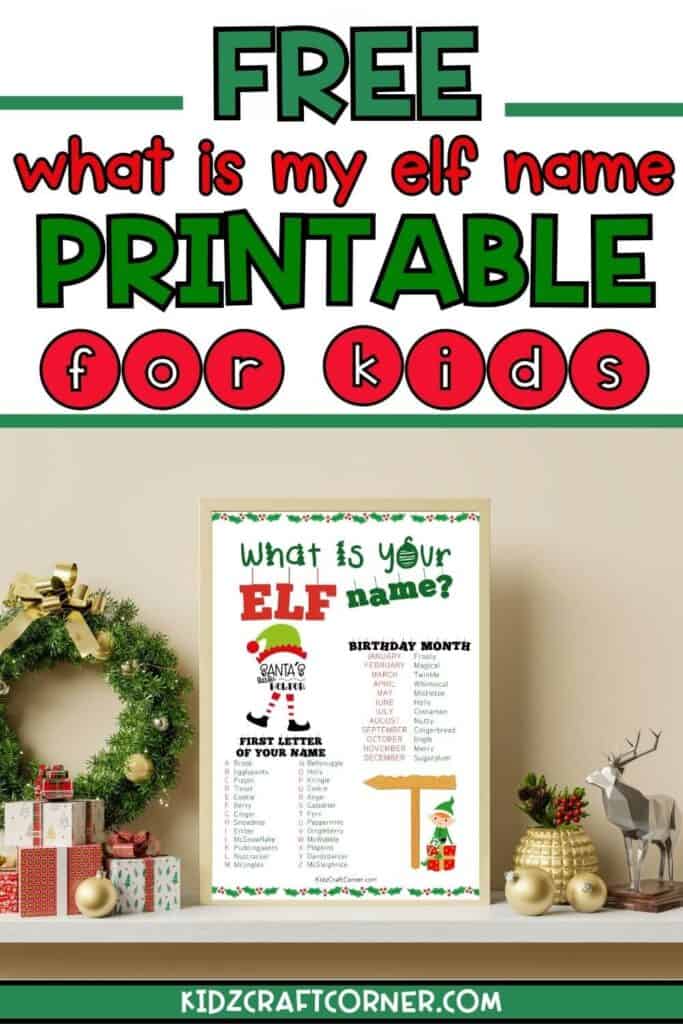 Related crafts: