The Best Healthy Banana Blueberry Muffins Your Kids Will Actually Love
If you're looking for a morning snack for your kids that's healthy and delicious, look no further!
We've got a Healthy Banana Blueberry Muffin recipe that's sure to make your kids happy and fill their belly's!
One of my favorite things about these muffins is that they are highly customizable. Want to add chocolate chips? How about strawberries, coconut or walnuts?
Anything is possible with these muffins. Let your imagination, and kid's eating habits, help you decide how to make these muffins perfect!
Healthy Banana Blueberry Muffin Recipe Details:
Recipe Difficulty: Medium (be careful around the oven)
Batch Size: Makes 18-24 Muffins
Recipe Prep Time: 20 – 25 min
Additional Time: 22 – 24 min to bake
Total Time: ~45 min
Why You'll Love These Banana Blueberry Muffins
Breakfast is the most important meal of the day. It gives you're kids the nutrients they need to stay energized all day!
Why not give them something they will actually enjoy that's also packed full of good ingredients! My favorite part of this recipe is that there is minimal sugar added.
There's enough sugar in any store bought snacks that I don't want to add more to my children's diet.
Not only do our kids love eating these healthy muffins, they also really enjoy making them!
Baking is a great way to teach children about attention to detail, patience and the benefits of hard work.
If they follow the recipe, don't rush the process, and mix everything correctly they end up with a really tasty treat!
Other yummy recipes:
Making Your Muffins
I know that baking muffins might seem like a daunting task, but I can assure you these muffins are pretty easy.
It'll probably take you about 20-25 minutes of mixing ingredients, less if you're fast, and then another 22-24 minutes of baking.
For this recipe you'll need two bowls, one small and one medium. We really like these ones. One will be for dry ingredients, the other for wet ingredients. I always like to start with the dry ingredients.
Before we get to mixing ingredients, it's a good idea to pre-heat your oven to 325 degrees Fahrenheit.
Now, take your smaller bowl and add the flour, oats, baking soda, cinnamon, sugar, and salt. Give it a little stir to mix the ingredients.
In your larger bowl, you'll want to start by smashing the bananas. This is my son's favorite part!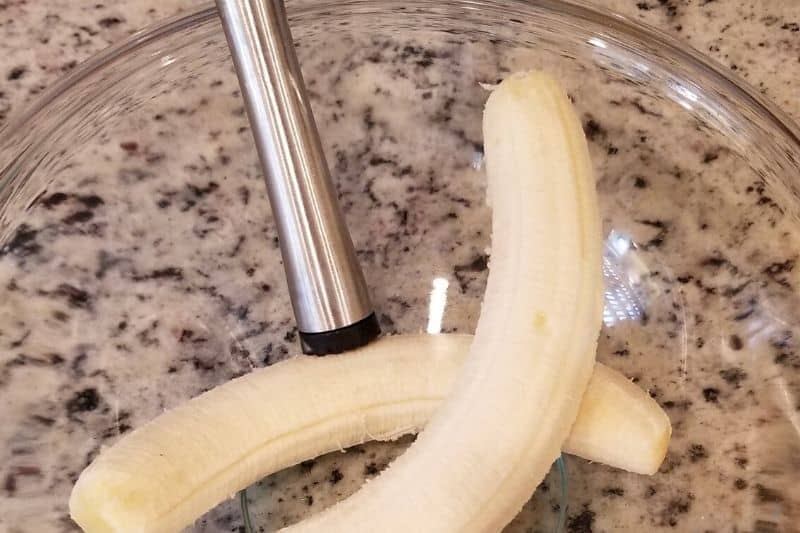 Smash the bananas until they are nothing but a bunch of mush. You want to get all the clumps out.
After the bananas are smashed, add the rest of the wet ingredients to the bowl and stir.
With both the dry and wet ingredients mixed, it's time to combine them. Slowly add the dry ingredients into the wet ingredients, stirring with a whisk while you do.
The batter should be a little thick when you have it all mixed up. It looks pretty amazing before it's even baked!
If you're adding blueberries, chocolate chips, coconut or anything else to these muffins, now is the time to fold them into the batter before you put it in the muffin pan.
Before you fill the muffin pan with batter, make sure you grease your pan even if it is a non-stick pan. Better to be safe than sorry.
Use a large spoon to transfer the batter to the muffin pan. Once you're pan is full, pop it in the oven for 22 – 24 minutes at 325 degrees.
Your muffins are ready when they are golden brown and a toothpick can be inserted and removed without anything sticking to it.
These healthy banana blueberry muffins are so GOOD!!
I love the simplicity of these muffins and the minimal amount of sugar used in them.
Ingredients For Healthy Banana Blueberry Muffins
1 3/4 Cup Whole Wheat Flour
1/2 Cup Oats
1 tsp Sugar
1 tsp Baking Soda
1 tsp Cinnamon
1/2 tsp Salt
2 Ripe Bananas (smashed)
2 Eggs
1/3 Cup Sugar Free Maple Syrup
1/3 Cup Canola or Olive Oil
1/3 Cup Almond Milk
1 tsp Vanilla Extract
3/4 Cup Blueberries or Other Fruit
1/2 Cup Mini Chocolate Chips (Optional)
Steps To Make Kids Banana Pancakes
Step 1: Heat oven to 325 degrees Farenheit
Step 2: In a small bowl add the Flour, Oats, Sugar, Baking Soda, Cinnamon, and Salt. Stir to mix then set aside.
Step 3: Place 2 ripe bananas into the larger bowl and smash them until they're mushy and no clumps are left
Step 4: In the larger bowl with the banana, add the Eggs, Maple Syrup, Oil, Almond Milk, and Vanilla Extract. Stir with a whisk to mix.
Step 5: Combine the dry ingredients into the wet ingredients and stir with a whisk.
Step 6: Fold Blueberries (other fruit or chocolate ships) into the batter.
Step 7: Fill the muffin tin cups half full with batter and place in the oven on the middle rack for 22 – 24 minutes. Muffins are done when they are golden brown and a toothpick can be removed from the muffin with nothing stuck to it.
Muffins can sit at room temperature in a sealed container for a couple days and even longer in the refrigerator.