Hey parents! With Thanksgiving coming up, you're probably looking for a few activities to keep the kids busy. That's why we've put together 15 of our favorite turkey crafts for kids that are sure to be a hit with young ones on your holiday guest list.
These spectacular projects will help your little one celebrate Thanksgiving in style and craft their own special memories of this wonderful time of year. From easy paper turkeys to thankful turkey crafts that help kids think about what they're thankful for, you're sure to find something that your kids will love to make.
Happy crafting!
Notice: This post contains affiliate links. To learn more, read our Disclaimer Here.
Fun winter crafts:
15 Turkey Crafts For Kids
You can't do a more fun or easier craft idea for Thanksgiving than this Potato Stamp Turkey Craft!
A fresh potato, paint, cardstock, and some googly eyes are all you'll need.
Check out the tutorial for a complete guide with some tips to make it even more fun for your kids!
Captivate your little one's mind for hours with this Paper Turkey Craft!
Even though it looks amazing, it is actually quite easy to put together and requires almost no prep time.
Using leftover scraps of ribbon, pine cones, and googly eyes, you can help your children to make a super unique and adorable craft. In addition, even the youngest children will be able to follow the easy steps!
These turkey treat bags are an ideal craft to make with the whole family! It is a simple and fun DIY project kids of all ages will enjoy. Plus, it makes for an excellent gift!
If your little ones are fans of papercrafts, then they will love this quilted turkey craft!
Make this fun and easy Thanksgiving craft to help your kids improve their fine motor skills while having lots of fun. You'll just need tons of colorful buttons!
Making this craft is a wonderful opportunity to spend some bonding time with the kids and teach them the meaning of being grateful. You'll need toilet paper rolls, a bit of glue and paint, cardstock, and some google eyes!
Add a special touch to your Thanksgiving crafts ideas with this charming turkey craft! In this tutorial, the step-by-step instructions are simple to follow and show you a super easy technique to make the accordion feathers. Plus, if you're not into drawing turkeys, don't worry because this DIY includes a free printable!
Tap onto your kid's creativity with this one-of-a-kind turkey craft! Children will be fascinated by this colorful craft that uses chalk pastels and black paper.
During this holiday, some little ones can get a bit fuzzy with so much going on.
That's why we love this Thanksgiving handprint craft option! It's a simple activity that encourages quiet creativity time.
Give your kids a chance to practice math in a fun and hands-on way by creating this cute turkey craft.
It's a perfect way for kids to explore their creative side while learning about shapes and rotational symmetry!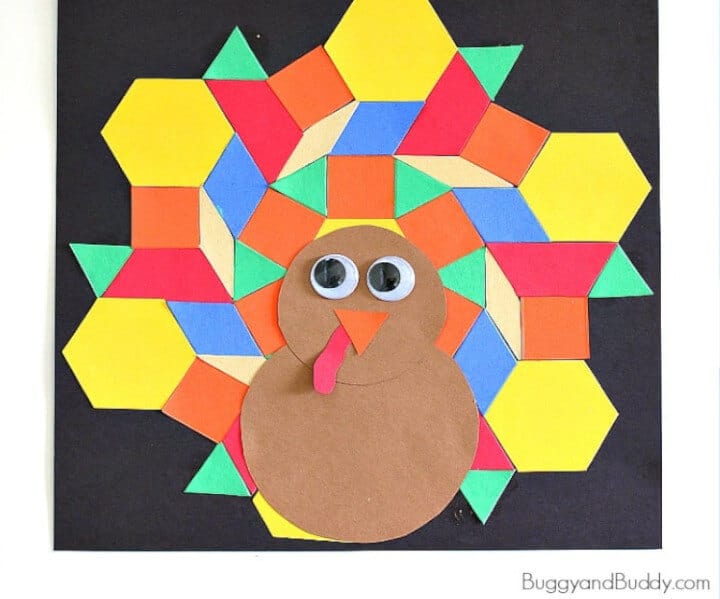 Add a fun spin to your math lessons by making this turkey craft and let your kids learn about shapes in a fun and hands-on way!
Thanksgiving is all about being grateful, and this Thankful Turkey Craft is a fun way to celebrate this holiday's spirit with the little ones.
Looking for a special and unique-looking craft to make with preschoolers this Thanksgiving? Give this Turkey craft a try! Using yarn and paper; this craft will surely be a total success at home.
You can't get a cuter DIY project than this turkey puppet with colorful feathers!
This DIY craft is a wonderful and easy-peasy craft even the littlest ones in the family can make!
Turkey Craft Summary
I hope you found some great turkey craft ideas to make this season. Let us know in the comments below which turkey craft was your favorite.
If you enjoyed this craft, make sure to save it for later and follow us on Pinterest for more fun craft ideas.
Fun craft ideas: