18 New Years Crafts For Kids (The Perfect Way To Ring In The New Year)
New Year's Eve is coming up soon. If you're planning a party (and you have kids), you need something to keep them happy and excited through the evening. How about a few of these New Year's Eve crafts for kids?
Kids can make their own noisemakers, construct a countdown clock, and even make sparkly slime. The hours will fly by quickly with these engaging crafts and activities. Entertain your little ones with cute crafts so they can celebrate with the whole family this New Year's Eve.
Notice: This post contains affiliate links. To learn more, read our Disclaimer Here.
New Year's Eve Crafts for Kids
Here are 18 creative new years eve crafts for kids!
After all, what's better than ringing in the new year with creativity and family time?
With just popsicle sticks, colored paper, and some glue, your mini crafters will have a blast making this adorable Wishing Wand.
It's the perfect craft to celebrate the upcoming new year and allow your kiddos to make their wish when the clock strikes midnight!
by Life Over C's
Need a last-minute New Year'sYear's craft idea? These sparkly rings made with red and silver tinsel stems will dazzle your little ones. These sparkly rings are a fun craft for little ones, thanks to the easy step-by-step instructions.
by Fantastic Fun and Learning
More fun crafts ideas:
With easy steps and a couple of simple-to-find craft supplies like glitter and glue, this handmade New Year'sYear's countdown paper plate craft is a perfect no-fuss project to make with your little crafters!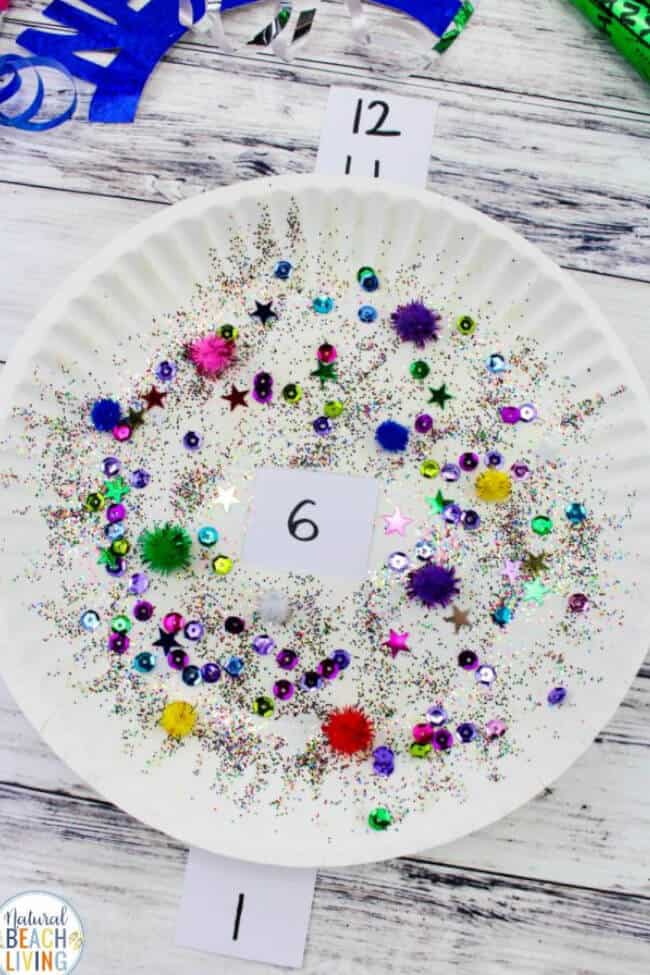 by Natural Beach Living
Grab a TPR, construction paper, a bit of rice, and some glitter glue, and invite your child to explore their creativity! After a few simple steps, you'll have a new years eve shaker perfect for ringing in the new year.
by Easy Peasy and Fun
This sparkly golden rocking craft makes a wonderful celebration-themed craft that toddlers and preschoolers will love. Kids will love folding the paper plate to create their rocking craft and gluing all that glitter!
On top of being a fun activity, this craft project is also an amazing way for kids to build their dexterity and hand-eye coordination skills.
by Kids' Craft Room
This is a creative countdown clock craft idea that even adults can have fun making themselves. You only need paper plates, markers, and some sparkly tinsel to make these cute little paper plate clocks!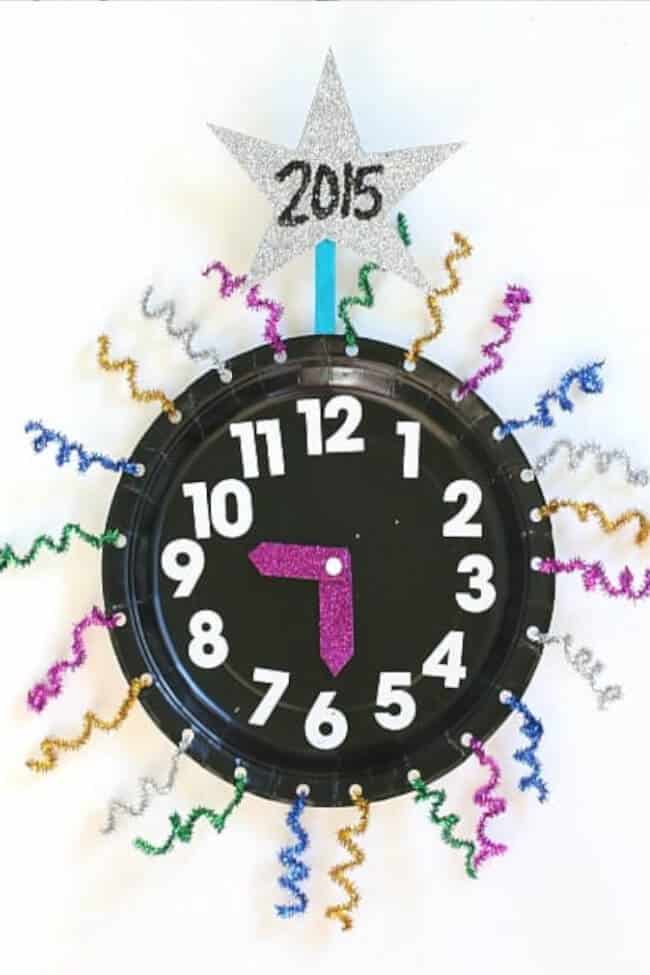 by Buggy and Buddy
Let everyone know that the party has begun by making these one-of-a-kind noisemakers! Kids can give their own personal touch to this noisemaker by decorating it with crayons, glitter glue sticks, stickers, markers, or anything their heart desires.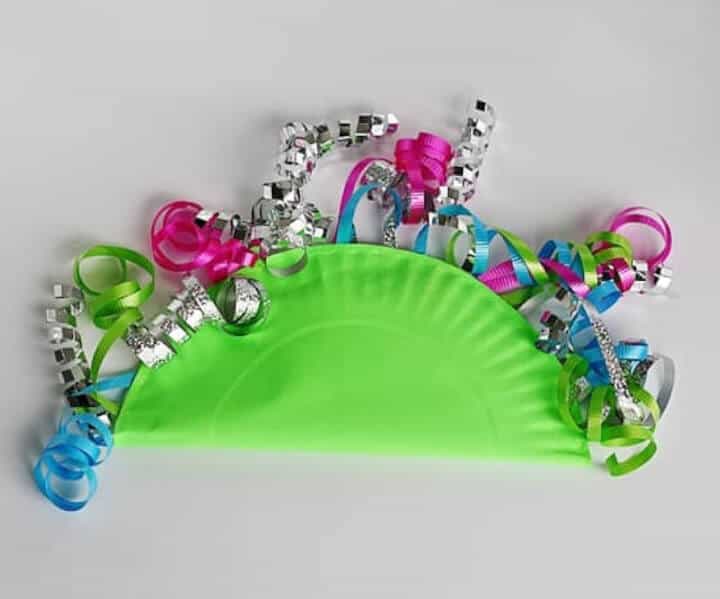 by Crafts by Amanda
These Bubble Wands are sure to delight your little ones! Blowing bubbles is a gentler way to celebrate the new year but in no way less fun.
These instructions will show you how to make your own star-shaped wand to blow bubbles with just a few simple materials!
Make your own homemade bubbles here!
by Red Ted Art
Bring some glitz and glam to your new year festivities with this easy balloon clock craft that comes together with just a couple of materials. It's a unique and gorgeous craft that children will love creating. Also, it adds a gorgeous touch to any new year's party decor!
by The Suburban Mom
From kiddos to adults, this wishing wall activity will make everyone smile! This fun activity is a budget-friendly option that your whole family can enjoy.
Everyone can gather around and write their wishes for the new year and display them on this wishing wall. Such a cute family project.
by Buggy and Buddy
These sparkly party crackers will give your kids an out-of-this-world time! Learn how to make these adorable party crackers in this post, and get ready for a fun and crafty afternoon with your little ones.
by Happiness is Homemade
Channel those festive vibes with some shiny and twinkling fireworks wands. Make these fun silver and gold wands with your kids, and they'll have a blast. The steps are easy and don't require much supervision, which makes it perfect for kids of all ages.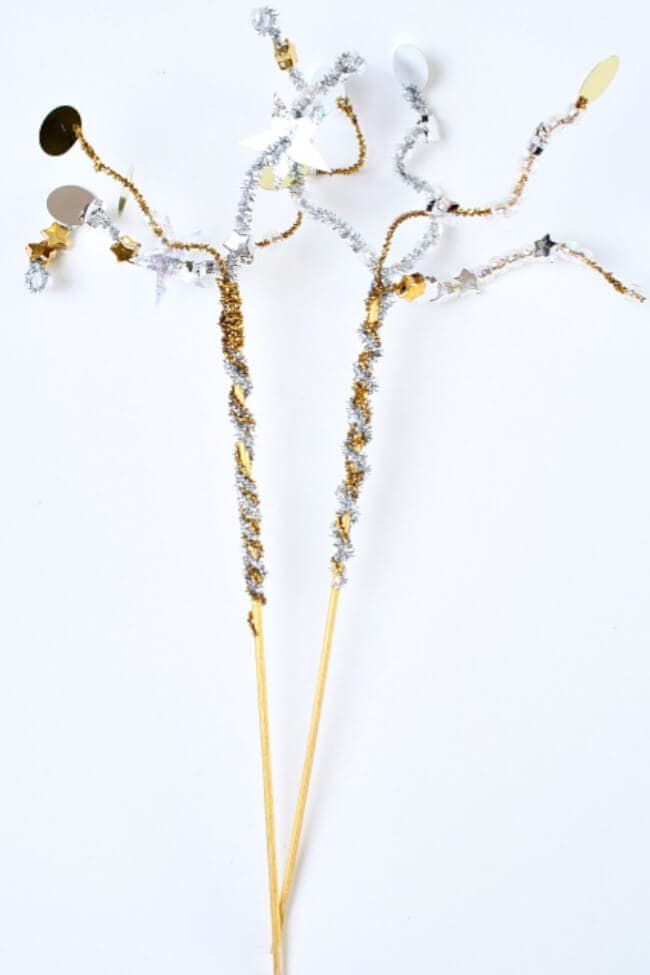 by Fantastic Fun and Learning
When the clock strikes midnight on New Year's Eve, this adorable party the popper craft will steal the show. The whole crafting process is so much fun and ideal for little ones to work on their fine motor skills.
by Kids' Craft Room
If your little ones love making crafts with paper scrapes, these fortune cookies are a must! Perfect for sparking up your kids' excitement about the new year, these endearing fortune cookies are an easy and inexpensive option to make last minute.
by Messy Little Monster
What could be better than some squashy slime? Some festive-themed squashy slime, of course! Pop on over to this post and check out this amazingly simple tutorial on how to make this New Year's Eve glittery slime.
by Natural Beach Living
Time to make some jingling noise! This brilliantly simple craft project involves just a few supplies and makes for one shiny party noisemaker! Putting these noisemakers together isn't just a fun craft; it will also hone your kids' fine motor skills. A total win-win!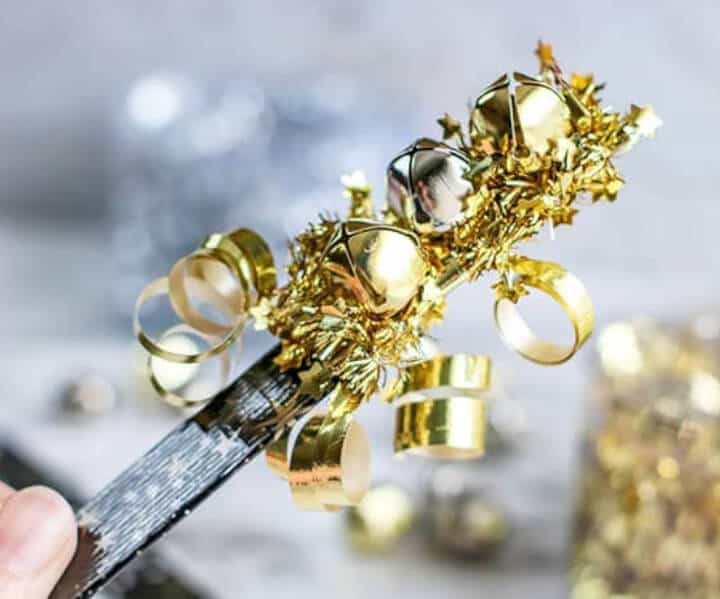 by Life Over C's
Make this New Year's Eve extra special by whipping up this celebration-themed playdough full of confetti. The recipe is super easy to follow, and your little ones will have tons of fun while engaging their manual dexterity.
by Buggy and Buddy
This Noisemaker craft is ideal for little ones to have tons of fun when the ball drops and celebrate the beginning of the new year. You'll little ones will love the sound of the dried beans and the festive colors of this craft.
To top it off, this is a frugal-friendly craft. You probably have all the materials needed somewhere in your house!
by Childhood 101
New Year's Crafts For Kids- Final Thoughts
I hope you thought that these new year's craft ideas were exceptional! If you enjoyed these craft ideas as much as we did, make sure to let us know in the comments below.
For more kids' craft ideas, make sure to save this post for later and follow us on Pinterest.
Related crafts: