18 Free Teacher Appreciation Printables
Grab one of these free teacher appreciation printables to make your gifts extra special!
As the academic year comes to a close, many schools are celebrating Teacher Appreciation Week to show their support for their educators. We all know how much love and dedication teachers put into shaping the minds and hearts of our little ones.
As a parent, you probably want to show your appreciation for these superstars, too. Grab one or more of these free teacher appreciation printables to pair with gifts or sweet letters from your children.
Need some practical teacher gift ideas to pair with the tags and prints below? Check out the list below.
Notice: This post contains affiliate links. To learn more, read our Disclaimer Here.
Practical Teacher Gifts
Gift cards or gift certificates
Hand sanitizer or anti-bacterial wipes
Low-maintenance plant
Personalized tote bag
Snack basket or gourmet food gift basket
Now let's get to those free printables, shall we? The link to each printable is located under each image.
Other fun craft ideas: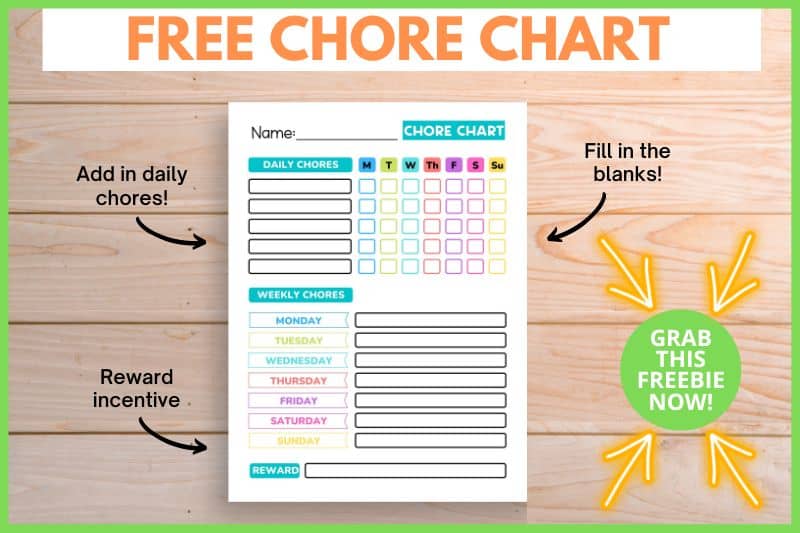 Free Printables for Teacher Gifts
Thanks a Latte Printable
Any Starbucks-loving teacher will appreciate this fun "Thanks a Latte" printable paired with a gift card or coffee mug. You can also tie it to a bottle of Frappuccino, making it an easy and inexpensive gift.
School Bus Gift Card Holder
Cuteness overload! This free printable school bus gift card holder is great for teachers, aides, and bus drivers, too. Just print, follow the assembly instructions, and pop your gift card into the slits. Super adorable!
Couldn't Have Picked a Better Teacher Printable
How sweet! I love this tag that reads, "I couldn't have picked a better teacher." Tie it around a jar of the teacher's favorite candy or an apple-flavored treat. You can use this printable at the beginning or end of the year.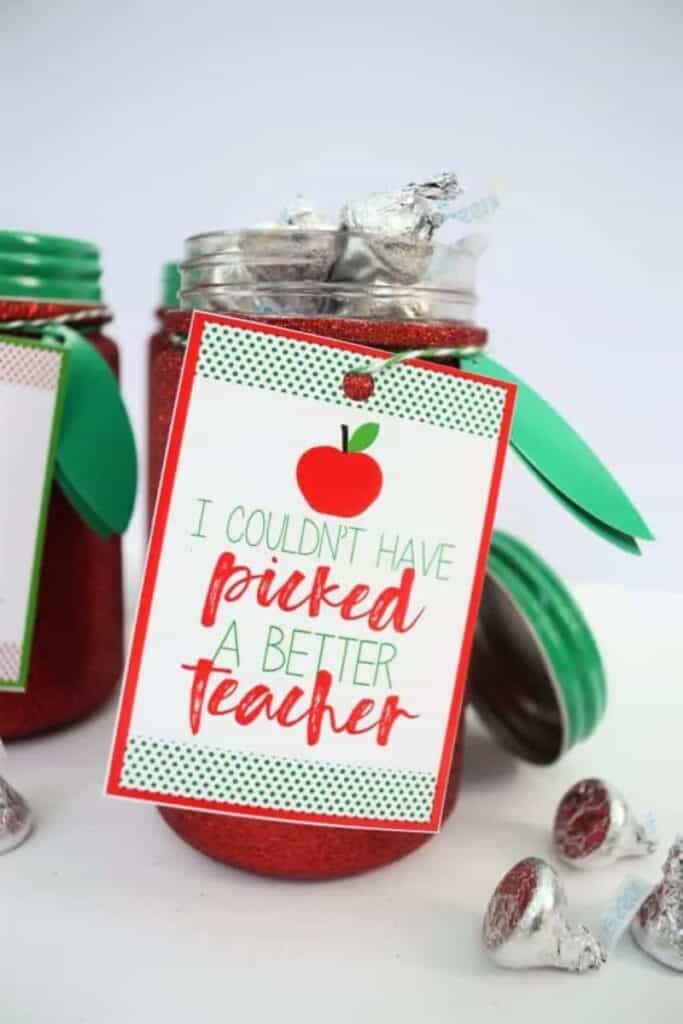 Nacho Average Teacher Printable
Who doesn't love nachos? This gift basket idea, paired with the free printable is the perfect way to celebrate the end of the school year. Pair it with chips, salsa, cheese dip, and a cute drink cup. You could also simply give a gift card to a local joint that serves amazing nachos!
Amazin' Teacher Gift Card Printable
Print this one out for all the amazin' teachers in your child's life. Use glue dots to attach an Amazon gift card, and you have a simple and thoughtful gift in no time at all.
Thank You Teacher Printable Worksheet
If you're looking for a "thank you" the whole class can participate in, print this cute worksheet. Each child can personalize the thank you note with all the things that make their teacher special. Love the little area for drawing a picture of the teacher!
Sonic Blast Teacher Gift Printable
When you're heading into the heat of summer, what could be better than a Sonic gift card? They have amazing ice cream treats, milkshakes, slushes, and limeades. Grab an empty Sonic cup, stuff it with the gift card, and tie this cute tag around it. Easy peasy.
Thank You for a Great Year Printable
Attach any gift card you'd like or a simple note from your child to this cute and colorful printable for the end of the year. All the little graphics between the letters are adorable!
Printable Coffee Cup Sleeves
Here's another fun printable for coffee lovers — printable coffee cup sleeves. You'll find three options here. My favorite is, "It's such a perk to be in your class." What's yours?
by I Should Be Mopping the Floor
EOS Lip Balm Printable
Give the gift of protected lips right before summer kicks off. At just a few dollars a pop, this is a budget-friendly gift for those parents whose children have lots of different teachers.
Cut Above the Rest Printable
Teachers in early elementary often need basic supplies like scissors, so add this tag to a pair of child-safe scissors for a cute and practical gift.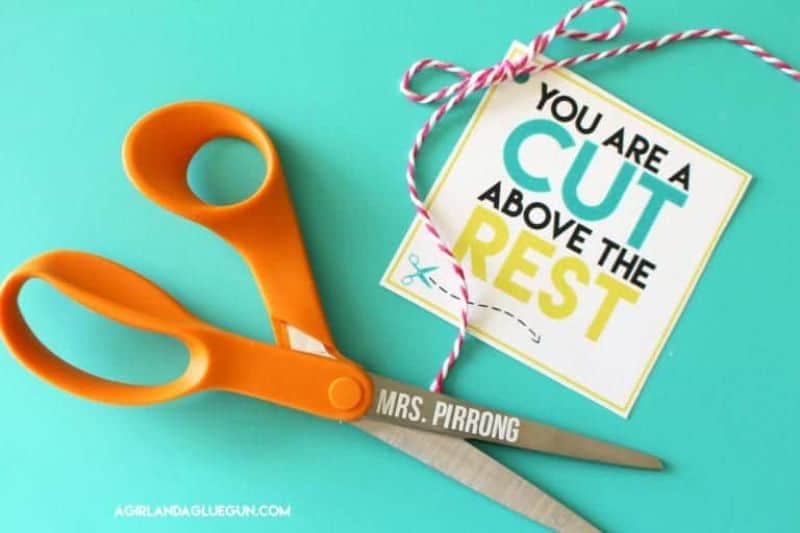 One Child One Teacher Printable
Frame this hand-lettered teacher printable and give it along with a notebook and pen. It's a sweet way to celebrate the impact that a good teacher can have on a child.
Printable Candle Wrappers
These adorable printables read, "You've made my future bright," and "The world is brighter because of you." You can find inexpensive candles at Dollar Tree or places like Bath & Body Works when they're on sale to pair with these print-outs.
Tortoise Teacher Card
Does your child love a good pun? I know I do! This one reads, "I'm so glad you tortoise to love reading and writing this year," and has an adorable tortoise on the front. What a fun way to say thanks to a terrific teacher.
by Kenarry
Write Stuff Printable
Print out this awesome, colorful tag, and attach it to a pretty notebook or a nice pen. It's perfect for any teacher who has the "write stuff!" You could also pair this with a pack of pencils or Sharpies to help replenish the teacher's supply before the next year.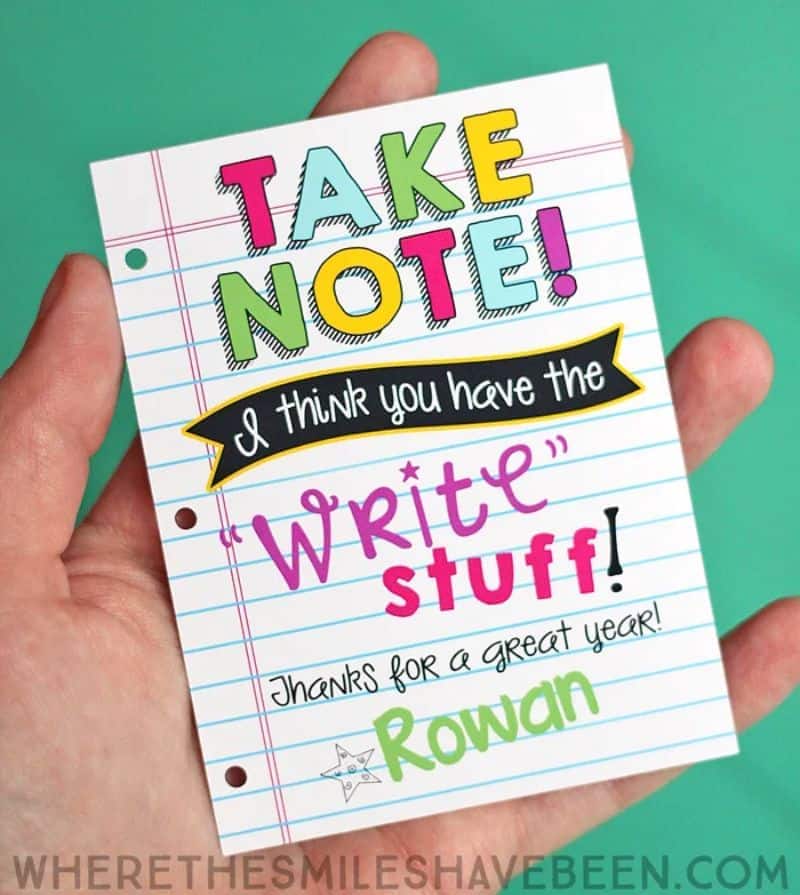 Thanks for Helping Me Grow Printable
Add this printable card to a skewer and stick it in a bouquet of flowers for a sweet note to end the year. The card reads, "Thanks for helping me grow," and is a nice addition to flowers or seeds.
S'more Teacher Snack Mix Printable
For teachers with a sweet tooth, you can't beat this s'more snack mix printable. And if you'd rather not make up your own mix, you can find pre-packaged versions at just about any grocery store.
If You Give a Teacher a Cookie Printable
Another goodie for snacks that's really budget-friendly pair this simple printable tag with any size package of cookies. Add it to a box of gourmet cookies from the local bakery or a simple snack pack of Oreos.
by Bre Pea
Summary – Teach Appreciation Day Printables
I hope you found a fabulous gift idea for the teachers on your list. Don't forget to pin this list of free teacher appreciation printables to come back to next year!
More Fun Printables for Kids
More craft ideas: