15 Free First Day of School Printables
Must have – 1st day of school signs!
Ah, the first day of school! It's a mix of excitement, jitters, and the thrill of new beginnings. One of the best ways to capture this milestone moment is with a memorable photo, and what better way to highlight it than with one of these free first day of school printables?
These signs showcase the grade your kiddo is entering into, and a few also include fun details like the school's name or their teacher's name, making that first-day snapshot even more special.
Notice: This post contains affiliate links. To learn more, read our Disclaimer Here.
We all know how quickly kids grow up. One moment they're taking their first steps, and the next, they're stepping into a new grade. With these back-to-school printables, you can freeze that fleeting moment in time. Whether it's your little one's very first day of kindergarten or they're proudly entering their senior year of high school, these signs are the perfect prop for your back-to-school photos.
So, grab your camera, pick your favorite printable, and let's make some memories!
Speaking of back-to-school, check out these preschool apple crafts and teacher appreciation printables!
Materials Needed to Print First Day of School Signs
While you don't need all of these materials, they can help you jazz up the signs to make them more unique.
Here's what you'll need:
printer (I recommend an eco-tank or HP Instant Ink printer if you print a lot during the school year)
printer paper (use cardstock if you want a sturdier sign)
8×10 or 11×14 if you want a mat around your sign
markers (to write the date)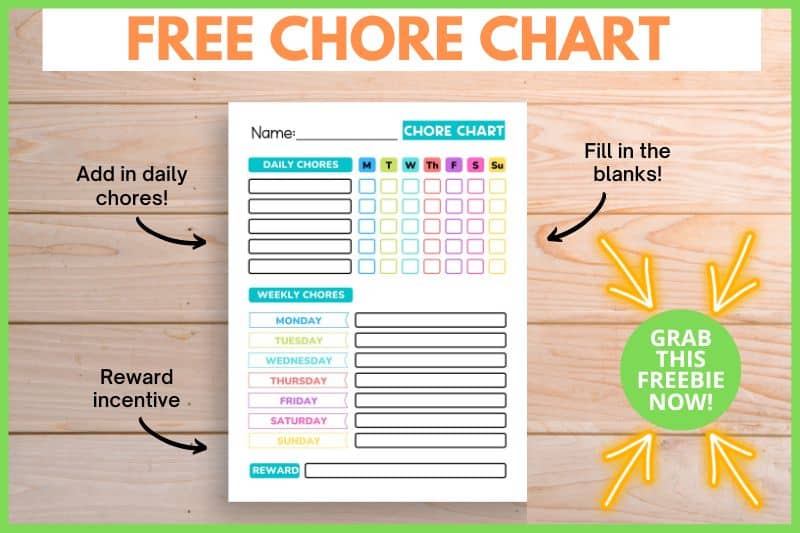 Printable Back to School Signs
1. School Supplies Theme First Day of School Sign
You'll love the bright colors and fun designs on these first day of school signs. They feature cute school supply characters and fun lettering that's perfect for younger kiddos like preschoolers and kindergarteners.
2. Bright Circles First Day of School Printable Signs
There's a sign here for everyone, no matter what educational route you take. The printables include all of the grades, from preschool through college. Homeschool versions are available as well! And if you do virtual learning or distance learning, use the blank signs to customize them to your particular program.
3. Orange and Blue Back to School Signs
Personally, I love orange and blue colors together, and that's the color scheme for these simple signs. With big, bright circles and colorful school supplies along the bottom border, these signs will really stand out in your first day of school photos.
4. Large Number Signs for Back to School
The large sketch-style letters and numbers are so fun for little kids. The printable sheets are in bright, fun colors and go from preschool or pre-K through grade 6.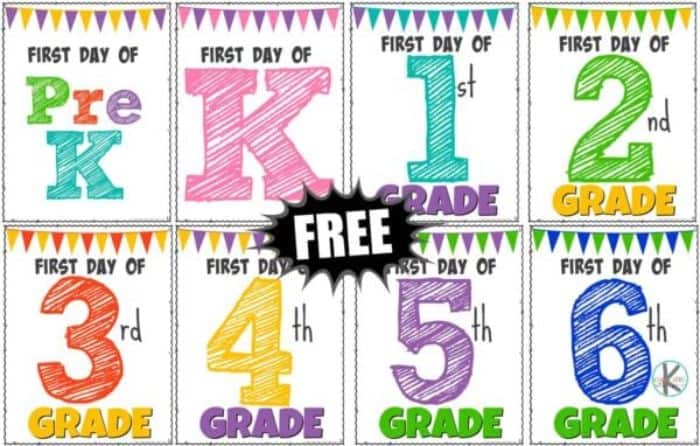 by Kindergarten Worksheets & Games
More fun crafts and activities:
5. Bulletin Board Style First Day Signs
Don't these cute back to school sheets remind you of classroom bulletin boards? The colorful scalloped border along the edges really makes these simple signs pop.
6. Color Block Border Signs
Kids who love a rainbow of colors will adore these color block signs. They run from pre-K through grade 12, and no email sign-up is required. Just download the pages for the grades you need!
7. Spelled Out Signs
The grade levels are spelled out on these back-to-school signs with a minimalist style. And if you're into matching the first-day and last-day photos, there are matching last-day-of-school signs for these as well.
8. Editable First Day of School Signs
Use these files to keep your photos consistent over the years. You can edit them yourself to swap out the years, and they're cute enough that you'll want to use them again and again.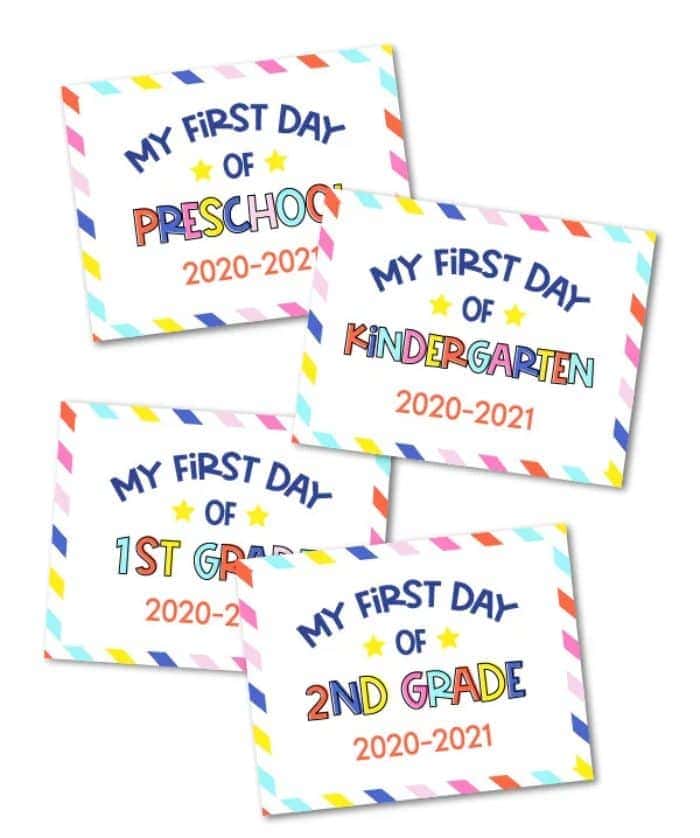 9. Apple Theme First Day of School Printables
What symbol do you think of when school is back in session? Why, apples, of course! These free printables feature an apple along with each grade level written in red. There's also a fill-in-the-blank date so you'll be able to remember exactly which years your kids were in each grade for years to come.
10. Black and White Back to School Signs
If the minimalist look is more your speed, you'll like these simple signs with sans-serif lettering. Put the sign in a black frame to give it an elegant look. A great option for older kids.
11. Black Background Back to School Signs
These signs kind of look like bright and colorful chalkboards with a black background and lettering in white and neon colors. They'll look really great if you're taking a picture against a light background or your child is wearing light colors on the first day of school.
by Inkhappi
12. Editable Black First Day of School Sign
Don't you love those back to school signs that have the school, grade, teacher's name, and all those other details you want to remember forever? Well, here's a handy printable version that's editable in Canva and can be used year after year.
13. DIY Sign with Ruler Border
This is a printable with a black background and an apple theme, but I love that the creator shows a cute way to make this look craftier. Gluing rulers around the edges is such a fun idea. You could also make a frame with crayons, pencils, or erasers.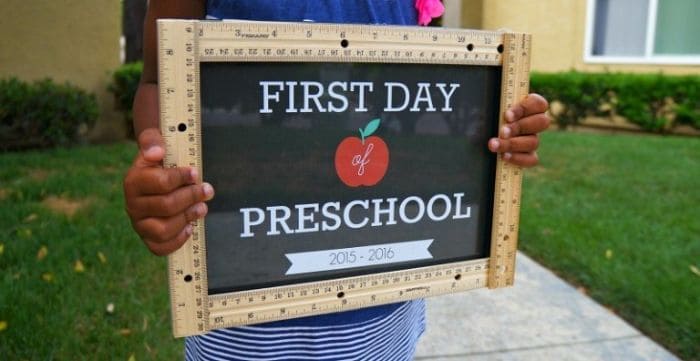 14. Color and Decorate First Day Sign
Have a little artist on your hands? Grab this sign to decorate and color. Use markers (or crayons), glue, glitter, stickers, and other embellishments. It's an easy way to create a one-of-a-kind sign.
by Angie Holden
15. Mom's First Day Back to Sanity Sign
This is a bit different and gave me a good chuckle. While summers are magical, it's safe to say that many moms feel a sigh of relief to get back to the routine of the school year. This is a sign Mom can hold up along with her kids in those first day of school photos.
Welcome Back to School Signs – Final Thoughts
That rounds out our list of free first-day-of-school printables. As the school year dawns upon us once again, there's no better way to embrace the excitement and anticipation than by crafting personalized "Welcome Back to School" signs with your little ones. Through vibrant colors, imaginative themes, and heartfelt messages, children express their eagerness to embark on a new academic adventure.
Make sure to pin this for later so you can come back to it every year! Also, join us on Pinterest for more fun printables, crafts, and activities.
Other fun craft ideas: