Grab your free printable Saint Patrick's Bingo Cards!
St. Patrick's Day is just around the corner, and you know what that means—time to break out the green! Whether you're looking to host a fun family game night or a virtual party with friends and kids, bingo is always a great option.
And lucky for you, we have some amazing free St. Patrick's Day bingo printables that will make your celebration even more special!
Notice: This post contains affiliate links. To learn more, read our Disclaimer Here.
From Shamrocks to Leprechauns – Our Bingo Printables have it all. Our free St. Patrick's Day bingo printables are perfect for kids of all ages. Each card is filled with festive symbols like shamrocks, rainbows, pots of gold, and leprechauns.
They'll love crossing off each picture as they fill their boards in search of the elusive "bingo"! If you want to keep them entertained for hours on end, this game is a must!
St. Patrick's Day Bingo Printables
Included in this bundle are 8 bingo sheets and a game call card.
Grab the free bingo cards down below and print them off.
My Amazon Picks:
Printable St. Patty's Day Bingo Cards – Summary
With our free St. Patrick's Day bingo printables, hosting an epic celebration doesn't have to be complicated—all you need is paper and ink (and maybe some snacks!).
Whether you're having a family game night or a big celebration, these festive cards will help keep everyone entertained while they search for the elusive "bingo."
Get out your favorite green attire and let your kids play the part of the leprechaun—it's time to play some bingo!
St. Patrick's Day Books
Reading is a fun, engaging way to celebrate St. Patricks Day! There are plenty of great leprechaun books out there. Grab one of these great books, cuddle up with your kids, and start reading!
Pete The Cat: The Great Leprechaun Chase
Pete gets ready to catch a leprechaun for his friends. Join in on his chase to see what happens.
Is this the year you will finally catch a leprechaun? Find out! Start off your St. Patrick's day right with this fun book.
The Night Before St. Patrick's Day
It's the night before St. Patrick's Day, and Tim and Maureen are excited to see if they catch a leprechaun in their traps. Come find out if they were actually able to catch a leprechaun in their trap.
Follow Kidz Craft Corner over on Pinterest for more crafts and free printables!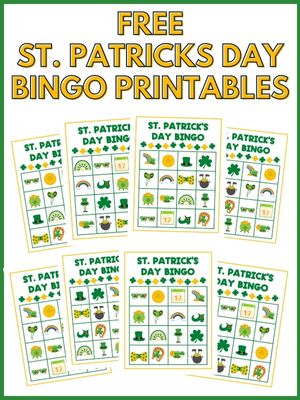 Similar articles: